Boston Celtics:

2012Game27
February, 12, 2012
2/12/12
9:35
PM ET
BOSTON -- A collection of news and notes after the Boston Celtics defeated the Chicago Bulls 95-91 Sunday evening at TD Garden:
Quick links
:
Wilcox starting to click
|
Marquee win?
|
Dooling just one of the soldiers
WILCOX STARTING TO CLICK
With starting center Jermaine O'Neal (shoulder, knee) and top reserve Brandon Bass (knee) sidelined for Sunday's game, Chris Wilcox got thrust into a starting role and responded with another solid effort, chipping in 11 points on efficient 5-of-6 shooting with nine rebounds and a block over 26:17.
Wilcox thrived in transition, generating all of his points at the rim (his only miss was an 11-foot jumper in the second quarter). Four of those five buckets came off feeds from Rajon Rondo. Whether it was a fancy between-the-legs dish for a first-half dunk or an alley-oop lob that gave Boston a 14-point cushion in the fourth quarter, Rondo made it easy for Wilcox to stack up his points.
"Once you run the floor and get a couple of easy ones during the game, it starts getting so much easier for us," Wilcox said. "I feel good right now, I'm back healthy and that's my role for this team -- run the floor."
Earlier in the season, as Wilcox struggled to be productive on the floor, he had difficulties catching some of the feeds from Rondo. That hasn't been a problem lately as everything Rondo sends his way seems to be sticking. About the only thing that evaded Wilcox on Sunday was a first-half feed from Ray Allen that he would have needed a ladder to reach.
"It's just something we had to get used to," Wilcox said of Rondo's feeds. "At first I was dropping a lot of passes and things like that, but now we're on the same page and a lot of passes I'm catching now."
Celtics coach Doc Rivers challenged his big men to get get up and down the court alongside Rondo on Sunday, knowing it would lead to easy buckets, and both Wilcox and rookie JaJuan Johnson were beneficiaries.
Said Rivers: "Chris was phenomenal with his speed."
February, 12, 2012
2/12/12
6:07
PM ET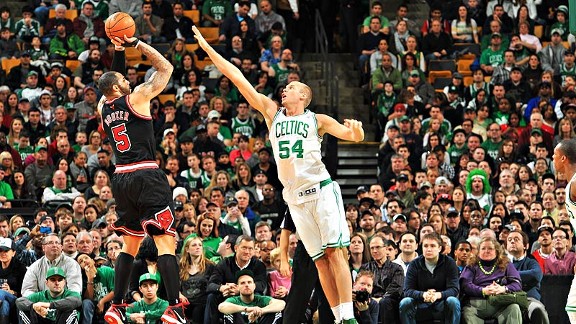 Brian Babineau/NBAE/Getty ImagesInjuries up front left the C's leaning on the likes of Greg Stiemsma against the Bulls.
BOSTON -- Rapid reaction after the Boston Celtics defeated the Chicago Bulls 95-91 Sunday afternoon at TD Garden:


HOW THE GAME WAS WON
Coming off an uninspired effort in Toronto, Celtics point guard Rajon Rondo came out in attack mode and produced a triple-double, chipping in a game-high 32 points, 15 assists and 10 rebounds over 40 minutes. Kevin Garnett added a double-double (13 points, 12 rebounds) in just 30 minutes, while Chris Wilcox (11 points, 9 rebounds) and JaJuan Johnson (12 points, 4 rebounds) were big up front for size-depleted Boston. The Celtics limited the Derrick Rose-less Bulls to 38.6 percent shooting from the floor (34-of-88). Boston never trailed, but it hardly felt that way. The Celtics opened an 11-point lead in the early going, only to watch the Bulls quickly pull back within a point. Boston could never separate until the final minute and even that was no easy task against a pesky Bulls squad.
TURNING POINT
The Bulls were within four with 9:41 to play, but the Celtics (finally) put some space between the teams. Ray Allen, who had only one field goal to that point, drilled a 3-pointer and a pull-up jumper that ignited a 14-4 run. Johnson added a layup and Pierce a triple as the lead ballooned to 11, but the real highlight of the stretch was still to come ...
LOB CITY?
... OK, so no one is going to confuse them with Blake Griffin and DeAndre Jordan, but the Celtics got all alley-oopy while stretching their lead to 14. First Johnson called for the lob from Rondo while running on the break, then Wilcox threw down a Rondo feed for a 86-72 lead with 5:08 to play. The Bulls made a furious charge late in the game, giving themselves a chance to tie with about 90 seconds to go, but Boston hung on.
JJ GETS A LOT OF PLAY
With center Jermaine O'Neal (shoulder, knee) and top reserve Brandon Bass (knee) out of the lineup, Johnson got extended floor time, including a whopping 18:10 in the first half (by comparison, Rondo played just two seconds more, a team high through the first two frames). Johnson logged a career-high 33:08, chipping in 12 points on 6-of-13 shooting with 4 rebounds, 2 steals and a blocked shot. Combined with a 22-minute stint last week against Memphis, Johnson has played roughly 53 percent of his total NBA floor time (105 minutes over 15 games) during the last two Sunday contests without Bass available.
DOOLING RETURNS
Celtics reserve guard Keyon Dooling, who had missed 16 of the team's last 17 games due to right knee and right hip ailments, returned to the floor for the first time since Jan. 26. Dooling missed both shots he took over a mere 8:36, playing off the ball with the backup unit (Avery Bradley served as point guard). Dooling grabbed two rebounds and was a minus-6 in plus/minus.
WHAT IT MEANS
Boston nearly fumbled it away in the end, but style points need not apply. After cringe-worthy losses to the Lakers and Raptors, the Celtics responded by taking down the NBA's best team. Sure, the Bulls didn't have Rose, and All-Star Luol Deng (3-of-12 shooting, 10 points) was virtually invisible. But Boston still found a way to grind out the victory, which should stem any further panic (for the moment, at least). The Celtics enjoy a two-day break and might even be able to squeeze in a rare full-throttle practice session before the Detroit Pistons visit Wednesday night. After that, the Celtics should keep their suitcases handy as they embark on a five-game road trip (with the All-Star break mixed in at the end). After Wednesday, Boston doesn't play at home again until Feb. 29.
February, 12, 2012
2/12/12
2:58
PM ET


BOSTON -- Celtics top reserve Brandon Bass will miss 10-14 days with inflammation in his ailing right knee, coach Doc Rivers said before Sunday's game against the Bulls.

Bass felt some discomfort in the knee during a win over the Knicks on Feb. 3. He sat out the following game against the Memphis Grizzlies, but played in three games last week. Rivers said the news came as a bit of a surprise to him, as he was informed by team trainer Eddie Lacerte on Sunday morning that Bass almost certainly will be out through the All-Star break.

"We knew his knee was bothering him, but then he got the treatment, and he missed that one game," Rivers said. "There was nothing said after the Toronto game. Then Eddie called me this morning and told me he was out, and out for a while. That was a surprise."

The Celtics also will be without starting center Jermaine O'Neal, who will miss his second straight game with a shoulder injury. O'Neal appeared to get dinged against the Lakers and sat out Friday's game in Toronto. Rivers suggested O'Neal was day-to-day, but asked about the injuries, he simply quipped, "Shoulder, knee, age -- I don't know."

Chris Wilcox will start at center in place of O'Neal. Rivers said the Celtics quite obviously will be forced to go small at times, while rookies JaJuan Johnson and Greg Stiemsma should see an uptick in playing time given the injuries up front.

In positive health news for the Celtics, guard Avery Bradley is, as Rivers dubbed him, "fully healthy" after battling some shoulder pain last week, while guard Keyon Dooling is back after missing 16 of the last 17 games because of right knee soreness and a right hip pointer. Sasha Pavlovic also is available after enduring a flare-up of an injured left wrist last week.

"Keyon is going to give it a go today," Rivers said. "I think Sasha [is available and] Avery is fully healthy, which is great. I think other than [Bass and O'Neal], we're pretty good."

The Bulls will be without a starter of their own as MVP guard Derrick Rose is out with back spasms.
February, 11, 2012
2/11/12
4:07
PM ET
Brian Babineau/NBAE/Getty ImagesCan Rajon Rondo and the Celtics get past the Bulls on Sunday?
All it took was consecutive losses for panic to return to Boston and two uninspired losses against the Lakers and Raptors have some fans of the Celtics (14-12) racing back out towards the ledge as the NBA-leading Chicago Bulls (23-6) visit TD Garden on Sunday afternoon (3:30 p.m., ABC). A win would go a long way towards calming the masses, while a loss could reinvigorate those leading the Occupy BlowItUp initiative. To preview Sunday's showdown, we go 3-on-3 with
ESPN Boston
's Greg Payne and
CelticsHub
's Brian Robb:
---
1. Dust off those panic meters: How concerned should we be about the Celtics after these two recent losses?

Payne
: I'd say everyone should be more frustrated than panicked. The loss to the Lakers was one of those games that gets away sometimes, but Friday's loss was much less forgivable. I don't think anyone's seen Doc Rivers as irate as he was with his team underperforming against the Raptors, and that emotion will hopefully spark his team and keep them from relapsing into any bad habits.
Robb
: Not overly concerned. The hole the C's dug for themselves early on this season make their last two losses uglier than they should be. In reality, Boston is battling the same problems they have been all year: offensive execution, turnovers, and rebounding. They did not have enough size, energy and focus to overcome those issues, especially in Toronto on Friday night. The bigger concern for me is the number of minutes Doc Rivers is playing the starters. Celtics president of basketball operations Danny Ainge has stated these next weeks will be crucial in determining whether he will make any moves at the trade deadline. Rivers is going all out with these guy minutes-wise, perhaps very well knowing this upcoming stretch could be the last chance for this core to play together. The question is now whether the starters will respond.
Forsberg
: The lack of execution Thursday was frustrating; the lifelessness Friday was worrisome. Sure, it was a trap game stuffed in between two rivals, but to get dressed down by your coach like that and still be unable to respond against an inferior opponent over the next three quarters leaves me wondering about this team's mental toughness. Some have their panic meters back on 11 already, but we'll give this team an opportunity Sunday to show how they handle this adversity before passing judgment. The beauty of this crazy schedule is that they can atone very quickly; the danger is a lopsided loss could be crushing for their already cracked confidence.
PODCASTS
Bill Simmons, NBA
Play Podcast Grantland's Bill Simmons discusses the state of the Lakers, Phil Jackson's future, the perception of Rajon Rondo, Doc Rivers' impact on the Clippers and more.
Baseball Tonight
Play Podcast Buster Olney chats with Jayson Stark about Ken Griffey Jr.'s uncomfortable interview with Linda Cohn and the value of spring training. Plus, Mike DiGiovanna on the Angels and Derrick Goold on Matt Carpenter's negotiations with the Cardinals.
John Farrell, Red Sox
Play Podcast Red Sox manager John Farrell talks about whether he expected his team to make such a turnaround in one season, his relationship with his players, fans' expectations for the squad and more.