Boston Celtics:

2012Game35
March, 3, 2012
3/03/12
1:00
AM ET
Brian Babineau/NBAE/Getty ImagesDon't call it a comeback: Rajon Rondo broke out the headband Friday night.
BOSTON -- Celtics point guard Rajon Rondo produced another solid effort Friday night in a 107-94 triumph over the New Jersey Nets, chipping in 14 points, 13 assists, and five steals over 31 minutes, 34 seconds of floor time. What's more, he spearheaded a defensive effort that saw Boston switch to a full-court press in the first half to aid the team in building a 21-point cushion.
So, of course, much of the postgame chatter centered on the unexpected return of his headband.
"I just felt like a change," Rondo said. "You may not see it ever again. It's just what I feel like. I'm 1-0 with the headband this year, so I might try to keep it alive."
Rondo ditched a headband after it was hinted that
he got scolded by the league
for turning their logo upside down in past seasons. The league went so far as to update its dress policy before the 2010-11 campaign, seemingly causing Rondo to ditch his previously trademark look.
The league logo was tucked on the backside of his all-white headband during Friday's win, but Rondo acknowledged the return to a familiar look.
"I think it was my signature statement when we won a championship, but who knows?" said Rondo. "People ask me all the time why I don't wear it any more. I tried to get a petition, but it didn't go through."
March, 2, 2012
3/02/12
9:57
PM ET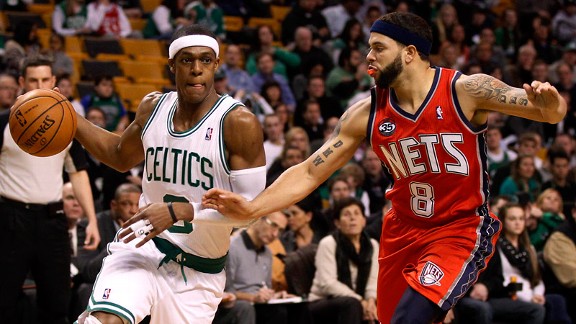 David Butler II/US Presswire
A headbanded Rajon Rondo drives on Deron Williams Friday night.
BOSTON -- Rapid reaction after the
Boston Celtics
defeated the
New Jersey Nets
107-94 Friday night at TD Garden:


HOW THE GAME WAS WON
Paul Pierce
produced his finest shooting night in weeks and Boston played its finest game in that same span as the captain's 27 points on 10-of-14 shooting propelled the Celtics to a breezy win. Pierce added eight assists, four rebounds and a block over 31:46.
Kevin Garnett
chipped in 20 points and 10 rebounds, while
Rajon Rondo
kicked in 14 points, 13 assists and five steals for the
Ray Allen
-less Celtics. Old friend
Gerald Green
-- with the Nets on a 10-day contract -- registered 11 points and a handful of jams over 25 minutes for New Jersey, who got a game-high 28 points from
Brook Lopez
.
TURNING POINT
It took the Celtics less than five minutes to build an 11-point lead and it was never a one-possession game the rest of the way. Even still, the Nets had whittled that lead to four with seven minutes to play in the second quarter before Boston blew the hinges off the door.
Mickael Pietrus
(twice),
Chris Wilcox
and Garnett highlighted a layup line as the Celtics scored 14 consecutive points (and 18 of 19 overall) while opening a 52-31 lead with little more than two minutes to play in the first half. The Celtics turned the ball over just twice (for no points) before the intermission.
GINO TIME AT THE GARDEN
Boston's favorite American Bandstand groover made a rare appearance, serenading the crowd with the Celtics on top 103-86 with 2:03 to play. Garnett gave Mickael Pietrus a rundown of all his favorite moves, then was hilariously shown on the JumboTron taking great pleasure in one of his favorite moves at the end of the clip.
WHAT IT MEANS
The Celtics (18-17) have won three in a row and have crawled back above .500 in time for Sunday's next Atlantic Division showdown with the
New York Knicks
(yes, Linsanity is about to invade the Garden; the Celtics were the last team spared before
Jeremy Lin
's emergence). The Celtics shot 51.7 percent on Friday and -- outside of a turnover spree early in the second half -- really played phenomenal ball. Yes, it was against an 11-win Nets squad, but one that's at full health now. It's still an encouraging showing for the Celtics. At a time when Boston needs to build confidence and momentum, it is doing just that.
March, 2, 2012
3/02/12
7:19
PM ET


BOSTON -- Celtics shooting guard Ray Allen will sit out Friday's visit from the New Jersey Nets due to an illness. Mickael Pietrus will take his spot in the starting lineup.

Allen has now missed five games this season, three due to a jammed left ankle suffered in late January. Ironically, he also sat out the Nets' last visit to Boston on Jan. 4 due to flu-like symptoms.

Doc Rivers, who spoke extensively about what he dubbed "silly season" and the trade rumors that swirl at this time of year, laughed and couldn't help but agree when a reporter told him that Allen's absence would probably start a batch of trade scenarios for the veteran guard.

The bigger concern for Boston is making sure the rest of the locker room doesn't come down with the same illness. With 17 games in March, sick players could wreak havoc on the the team.

Rookie E'Twaun Moore is active for Friday's game. Allen joins the inactive list alongside center Jermaine O'Neal, who Rivers said is expected to seek more opinions on his ailing left wrist while contemplating if he can play through the pain the rest of the season. O'Neal will need surgery on the oft-injured wrist at some point after electing to skip it this past offseason.
March, 2, 2012
3/02/12
2:23
PM ET
Greg M. Cooper/US PresswireCeltics point guard Rajon Rondo drives against the Nets in January.
Riding a two-game winning streak, the Boston Celtics (17-17, 12-8 home) look to climb back above .500 when they welcome the New Jersey Nets (11-25, 8-12 away) on Friday night at TD Garden (7:30 p.m., CSN). To preview the matchup, we go 3-on-3 with
ESPN Boston
's Greg Payne and
CelticsHub
's Brendan Jackson.
---
1. The Nets were without Deron Williams, Brook Lopez and Kris Humphries last time around. Who will have a bigger impact for the Nets?

Payne
: Definitely Lopez and/or Humphries. I wasn't encouraged by the way Milwaukee's Drew Gooden and Ersan Ilyasova had their way in the paint against the Celtics on Wednesday -- both in the scoring column and on the glass. Lopez is coming off of a monster 38-point performance against the Dallas Mavericks -- one of the league's elite defensive teams -- while Humphries gobbled up 15 total rebounds (four being offensive) against the defending champs. With Jermaine O'Neal still out, I'm worried Boston won't have the personnel needed to handle the trouble New Jersey's frontline pair will pose. Oh, and Deron Williams is no picnic, either, I should add.
Jackson
: Lopez. The Nets center completely shredded the Mavericks frontcourt on Tuesday, putting up 38 points against the Mavs' full complement of big men. Sure, Brendan Haywood and Ian Mahinmi aren't exactly world-beaters down low, but they are still legit 7-footers. The Celtics may not have an actual 7-footer on their roster. To combat the Nets' size, they may even consider starting Greg Stiemsma or having Kevin Garnett guard Lopez, and Brandon Bass muscle up to Kris Humphries. Whatever they decide to do, it won't be ideal.
Forsberg
: Some will laugh, but it's Humphries to me. His ability to dominate on the glass is dangerous if the Celtics put too much of a focus on limiting Lopez. It's absolutely astounding that we just did this exercise and not a single person picked Williams, but that sort of speaks to the Celtics' overall lack of size up front. But let's not skip the point guard matchup. Rondo is coming off a monster effort at both ends of the floor against the Bucks. It will be interesting to see if he can carry over that success, especially defensively, against Williams.
PODCASTS
Paul Solotaroff, NFL
Play Podcast Men's Journal's Paul Solotaroff weighs in on the characterization of Richard Sherman, the relationship between Sherman and Patrick Peterson and expectations for Darrelle Revis.
Baseball Tonight - Dominant Pitching
Play Podcast Adnan Virk talks to Tim Kurkjian about dominant pitching performances and the search for the next commissioner. Plus, Arash Madani on if the Blue Jays can make the playoffs.
Greg Cosell, NFL
Play Podcast NFL Films' Greg Cosell weighs in on whether the Browns should start Brian Hoyer or Johnny Manziel, the Jets' QB situation, Ryan Mallett's abilities and Robert Griffin III's development.