Boston Celtics:

2012Game41
March, 13, 2012
3/13/12
4:44
AM ET
Jayne Kamin-Oncea/US PresswireRajon Rondo's defense might have set him apart vs. Chris Paul and the Clippers.
LOS ANGELES -- His stat line won't garner national attention like some of his gaudy triple-doubles have this season, but Celtics point guard Rajon Rondo earned high praise from coach Doc Rivers for his efforts in Monday's 94-85 triumph over Chris Paul and the Los Angeles Clippers.
This was the first meeting between Rondo and Paul since they were linked in trade talks coming out of the lockout. Often fueled by these type of matchups, some wondered how Rondo would respond, particularly with a national TV audience watching, this showdown with Paul and the Clippers.
Rondo finished with 12 points on 4-of-8 shooting with 10 assists, 6 turnovers, 3 steals, and 2 rebounds over 41 minutes. Sure, it's hardly the 18-point, 17-rebound, 20-assist effort he produced earlier this month against Jeremy Lin and the Knicks, but Rivers thought he made a similar impact on the game.
"I thought Rondo -- I don't even know what he did offensively -- I just though, defensively, he was sensational," said Rivers. "He was absolutely wonderful. He had this one stretch where he switched a couple times [in pick-and-roll coverage] and we called a time-out and said, 'Oh, no no. We're not switching you off of Chris Paul, ever.'"
Paul finished with 14 points on 3-of-12 shooting with five assists, four rebounds, four turnovers, and two steals over 40:25. After the game he noted, "They defended us really well and forced us into some tough shots."
Like he does with the basketball on the court, Rondo spread around the praise for containing Paul.
"It was a team effort," he said. When a reporter noted that Rondo was at the front line of that defense, he added, "Yeah, but it's a team effort. He wasn't just going 1-on-1. It was pick-and-roll, that involves two people, so it was a team effort."
Asked if the matchup with CP3 brought a little something extra out of him, Rondo said simply, "No, I just wanted to get a win."
March, 13, 2012
3/13/12
1:32
AM ET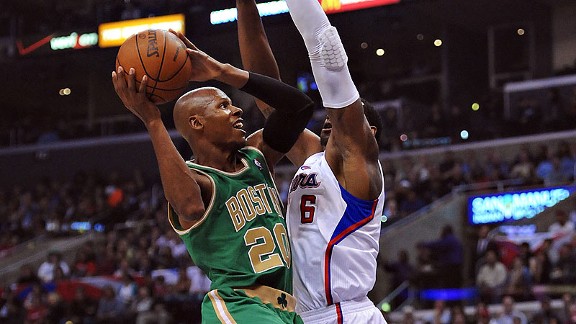 Jayne Kamin-Oncea/US PresswireRay Allen drives at DeAndre Jordan during Monday's game against the Clippers.
LOS ANGELES -- Rapid reaction after the Boston Celtics defeated the Los Angeles Clippers 94-85 Monday night at the Staples Center:


HOW THE GAME WAS WON
Celtics captain
Paul Pierce
shrugged off some early shooting woes to chip in a game-high 25 points on 7-of-16 shooting with seven assists and three rebounds over a manageable 31 minutes to pace Boston. Pierce was a whopping plus-19 during his time on the court.
Kevin Garnett
added 21 points and eight rebounds while sprinting past his 30-minute limit (he played 34). The
Rajon Rondo
vs.
Chris Paul
matchup didn't quite live up to the hype, but Rondo (despite a missed layup late that could have made the final moments a bit easier on Boston's collective stomach) ultimately won the battle by chipping in 12 points, 10 assists, 3 steals and 2 rebounds over 41 minutes. Paul finished with 14 points, 5 assists and 4 rebounds over 40 minutes.
Blake Griffin
led the Clippers with 24 points, while
Mo Williams
chipped in 21 off the pine.
TURNING POINT
The Clippers used a dominant second quarter on the glass to turn a 7-point deficit into a 9-point halftime lead. Unfazed, Boston opened the second half on a 19-4 run, which featured the Celtics scoring 15 of the third quarter's first 17 points to retake the lead. Pierce and Garnett each had a pair of buckets (and
Brandon Bass
added a tip-in) to aid the initial burst, but it only led to the ...
BOLD PLAY OF THE GAME
Whodathunk Boston would upstage Lob City on its own turf? But that's exactly what happened. After a frustrating stretch in which Boston couldn't get a bucket to pull ahead, Rondo spotted Bass ahead on the break and delivered a lob for a jam and a 51-50 lead with 6:41 to play in the third quarter.
Ray Allen
added a 3-pointer soon after and Boston's lead quickly ballooned to six with four minutes to play in the quarter.
TURNING POINT II
Even with the surge, the Celtics weren't out of the woods. Boston was up 10 with 8:50 to play when the Clippers embarked on a 17-3 run capped by a
Bobby Simmons
3-pointer for a 78-74 advantage with 4:24 to go. Even with Bass out of the game (see below), Boston fired back with a brilliant four-possession stretch. Garnett and Rondo made layups to tie the game and Pierce got fouled in the post before adding two freebies to put Boston out front again. Pierce added a 3-pointer with 2:47 to go to put Boston up five (and unlike Sunday vs. the Lakers, they'd hang on down the stretch).
ALLEN TWEAKS ANKLE ... BUT RETURNS
With the Celtics clinging to a five-point lead, Allen hobbled off after appearing to turn an ankle (or worse) as Griffin produced a putback to make it a one-possession game with less than a minute to go. It took just a couple of minutes before Allen was back on the sideline lobbying to go back in, and Doc Rivers obliged for the final seconds.
TECHNICALLY SPEAKING
Referees handed out five first-half technicals as the game got a little chippy at times -- and the referees didn't aid their cause with some questionable whistles. Griffin and
Greg Stiemsma
got a double tech for throwing the ball at each other after a whistle, while
DeAndre Jordan
and Garnett got an unnecessary double tech for a little bump as Garnett went for a post-whistle dunk attempt.
EARLY EXIT FOR BASS
Bass, who battled foul trouble all game, fouled out with 4:57 to go. Griffin made both free throws to put the Clippers out front, 75-74. The subtraction forced already undersized Boston to go small the rest of the way, operating with a lineup that put
Mickael Pietrus
next to the Big Four.
WHAT IT MEANS
The Celtics entered the game 0-6 on the second night of back-to-backs on the road this season and even though they didn't have to travel for this one, it was still a daunting game coming off a war with the rival Lakers on Sunday afternoon. Four more road-closing back-to-backs loom this season (including two more on this eight-game road trip), but the Celtics showed some grit pulling this one out. Boston now treks north for games against Golden State and Sacramento with Thursday's trade deadline tucked in between.
March, 12, 2012
3/12/12
6:45
PM ET


LOS ANGELES -- Our friends at Elias Sports Bureau passed along some noteworthy numbers in advance of Monday's Celtics-Clippers battle (ESPN, 10:30 p.m.). Here's a few that jumped out (with a hefty focus on the Rajon Rondo vs. Chris Paul matchup):
* Rondo is averaging 9.6 points per game on the second night of back-to-backs, compared to his 15.3 ppg average in all other games this season. Rondo's 5.7 ppg decrease in the second of back-to-back games this season is the largest among NBA players who have played at least five pairs of games on consecutive days.
* Paul's scoring average has increased in each subsequent quarters of games this season: 4.1 ppg in the first; 4.4 in the second; 4.9 in the third; and 6.5 in the fourth. Paul has the second-highest fourth-quarter scoring average in the NBA, behind only Kobe Bryant (6.9 ppg).
* Paul has registered at least one steal in each of the 34 games he's played this season and in 43 straight games dating back to last season (the longest current streak for any NBA player)... He has also recorded at least one steal in 90.4 percent of the games he's played during his NBA career. That's the highest percentage of its kind since the league began tracking steals in 1973. The only other NBA player to record steals in at least 90 percent of his games over that span (minimum: 10 games) was Alvin Robertson (90.1 percent).
* Paul's total of 29 alley-oop assists this season ranks him second in the league to John Wall (32). Paul had only half as many alley-oop assists all of last season with the Hornets (12). DeAndre Jordan (18) and Blake Griffin (11) have been the recipients of Paul's alley-oop passes.
* Paul has assisted on 97 field goals by Blake Griffin this season. The only NBA players with that many assists on buckets by a particular teammate are Steve Nash (130 assists to Marcin Gortat) and Russell Westbrook (117 assists to Kevin Durant).
* Only Oklahoma City (233) and Washington (231) have more dunks this season than the Clippers (228). The league's individual leaders are Blake Griffin (114), Dwight Howard (110), JaVale McGee (86), DeAndre Jordan (83) and Andrew Bynum (83).
March, 12, 2012
3/12/12
3:30
PM ET
AP PhotoA look outside the Staples Center in Los Angeles.
LOS ANGELES -- The Boston Celtics engage in a rarity Monday night by playing consecutive-day, regular-season road games in the same arena at the Staples Center (Sunday against the Lakers; Monday against the Clippers). According to Elias Sports Bureau, Boston hasn't done this since playing the Houston Rockets on consecutive days at
Hofheinz Pavilion
on the campus of the University of Houston on Jan. 2-3, 1973.
Playing consecutive games at the Staples Center isn't as foreign for Western Conference foes and, according to Elias, there have been 23 previous instances where teams have played consecutive-day road games against the Lakers and Clippers since the building opened for the 1999-2000 season. Of those games two-game series, 16 teams split the two games, five lost both, and only two emerged with a pair of victories (Memphis in Dec. 2004 and Dallas in Oct. 2009).
Both the Celtics and Clippers are coming off losses Sunday at the Staples Center. Boston fumbled away a matinee against the Lakers, while the Clippers fell to the Warriors in the nightcap.
March, 12, 2012
3/12/12
12:15
PM ET
Noah Graham/NBAE/Getty ImagesThe Celtics will be looking to avoid too much of this during Monday's battle with the Clippers.
Both the Boston Celtics (21-19, 5-11 away) and Los Angeles Clippers (23-16, 12-6 home) lost at the Staples Center on Sunday. When the two teams clash there on Monday night (ESPN, 10:30 p.m.), someone has to leave with a win . To preview the matchup, we play a quick game of 2-on-2 with
CelticsHub
's Brian Robb.
---
1. What should scare the Celtics most about the Clippers?


Robb
: Two of the league's most athletic big men in DeAndre Jordan and Blake Griffin is usually scary enough. The C's having to battle this duo, along with Mr. Rebound himself Reggie Evans, with a skeleton crew of big men is a straight-up frightening proposition. Boston did a fairly decent job holding its own on the glass Sunday against the Lakers, given the circumstances, but Monday's game will be a tall order. Everyone will have to be active on the glass for the C's in order for the visitors to remain competitive in this one.
Forsberg
: Celtics coach Doc Rivers stressed to his team that, at no point during Sunday's game, would they be bigger than the Lakers and that Boston had to take advantage in other areas (utilizing its quickness and pushing the ball). Well, the daunting thing about Monday's game is that the Clippers are going to be bigger than Boston and they might be quicker and more athletic, too. It's hard to see how Boston matches up, short of Rajon Rondo going off in revenge mode for the preseason Chris Paul rumors. Sure, Los Angeles isn't one of the better defensive teams in the league (21st in defensive rating while allowing 96.1 points pe game), but shootouts on the second nights of back-to-backs on the road seem dangerous for Boston to engage in.
March, 12, 2012
3/12/12
11:05
AM ET
Brian Babineau/NBAE/Getty ImagesFor the first time since trade rumors swirled in December, Chris Paul and Rajon Rondo meet Monday.
LOS ANGELES -- Back in November of 2009, Celtics point guard Rajon Rondo and then-New Orleans Hornets guard Chris Paul got into an on-court dust-up that forced a referee to separate the two players, escalating an already budding rivalry between the two young point guards.
After the game, Kendrick Perkins, no stranger to the double-technical dance, said, "Sometimes you get into a little noise, talking, but it ain't nothing serious, I don't think. It's nothing personal."
Well, now it is personal.
Coming out of the lockout in December, the Celtics made a full-court press to pry Paul from the New Orleans Hornets, willing to part with Rondo in order to accomplish that. When Boston failed in its quest (and Paul eventually was dealt to the Los Angeles Clippers), Celtics president of basketball operations Danny Ainge stressed to Rondo how it was a compliment for his name to be mentioned in trade talks with one of the league's elite players and has since made sure to note how Rondo is Boston's best player.
But it's no secret what fuels Rondo. He often takes his play to another level on big stages against big opponents (just ask Jeremy Lin and the New York Knicks after the 18-point, 17-rebound, 20-assist effort Rondo produced earlier this month). On Monday night, Rondo and Paul meet for the first time since the trade talks in a nationally televised battle (10:30 p.m., ESPN) and you can't help but wonder how Rondo will respond.
Before Sunday's tilt with the Lakers, we spotlighted
Rondo's affinity for the national spotlight
. The question for Monday is simply whether Rondo can prevent getting too hyped going against Paul.
Here's a game-by-game glance at how Rondo has fared as a starter in head-to-head matchups with Paul:
Overall, in eight career starts against the Hornets (one game without Paul), Rondo is averaging 11.4 points, 6.1 assists, and 3.6 rebounds over 33.4 minutes per game. His offensive game seems to pick up a bit as he's shot 50 percent (39 of 78) in that span. As for Paul against Boston, in 11 career matchups, he's averaging 16.3 points, 8.9 assists, and 5 rebounds over 35.3 minutes per game.
One thing seems certain: Monday's game won't lack for intrigue. Simply watching the Rondo-Paul matchup should be excellent theatre.