Boston Celtics:

2012Game42
March, 17, 2012
3/17/12
4:55
AM ET
Rocky Widner/Getty ImagesDeMarcus Cousins earned high praise from Kevin Garnett for his efforts Friday.
SACRAMENTO, Calif. -- It's no surprise that
Kevin Garnett
and
DeMarcus Cousins
got under each other's skin a bit during the Kings' 120-95 throttling of the Celtics Friday night at Power Balance Pavilion. What's more noteworthy might have been the praise that Garnett heaped on Cousins following the game.
Cousins chipped in 20 points on 9-of-17 shooting with seven rebounds and four assists over 25:30. He earned a technical foul for being a little too amped after a putback over Garnett and
Paul Pierce
, but was a pest for Garnett all night.
While Garnett is often limited in his praise of younger players, especially ones that tend to spar with him on the floor (say, Chicago's
Joakim Noah
), Garnett was highly complimentary of both Cousins and the Kings as a whole after Friday's loss.
"Man, you know, he's crafty," Garnett said of Cousins. "He's better. His antics and all that stuff, that come with him, it's just part of the game. He was aggressive, he got looks with being aggressive. The times when he had a chance to score, he took advantage of them.
"Collectively, I thought [the Kings] played well tonight. I probably watched their last four or five games [before Friday's visit] and they weren't playing this together. When the first option broke down, they went individual. They weren't rebounding like this. They're not a defensive team, but they do and can put up points. Tonight they played more collectively together. They looked like a unit and played like a unit."
Garnett finished with 10 points and nine rebounds over 27:46, one of his quieter efforts recently since moving to the center position.
March, 17, 2012
3/17/12
4:07
AM ET
Kelley L Cox/US PresswirePaul Pierce and the Celtics stumbled against the Sacramento Kings.
SACRAMENTO, Calif. -- During Friday's morning shootaround, Celtics coach Doc Rivers asked his players to identify the leading scorer for the
Sacramento Kings
.
"Everybody kinda looked at each until
Keyon [Dooling]
said
[Marcus] Thornton
," said Rivers. "He was the only one who knew right away. Because you don't see this team,
[DeMarcus] Cousins
-- because he gets most of the press -- you would just assume it was him. But it wasn't."
And at that moment, Rivers kinda knew it was going to be a long night. He never gets those sort of blanks stares when he asks questions about the key personnel in Los Angeles or Miami or Chicago.
Thornton erupted for a season-high 36 points to fuel a Sacramento offense that shot 53.5 percent from the field overall and exploded for 41 third-quarter points en route to a 120-95 thrashing of the Celtics at Power Balance Pavilion.
As captain
Paul Pierce
sighed after the game, "It was just one of those good ol' fashioned butt-whoopings."
Yes, it was obvious early that the Celtics were lifeless and Rivers tried, as he dubbed it, "junking up the game," hoping to give his team any sort of a spark. He went small, he switched to zone, but none of the gimmicks worked. By midway through the fourth quarter, Rivers had pulled his starters with Sacramento out front by 20 and the tail end of a back-to-back looming Saturday in Denver. But not before Pierce had twisted his right ankle stepping on Thornton's foot trying to set a fourth-quarter screen and soon limped off to the locker room.
Yes, it was just one of those nights.
March, 17, 2012
3/17/12
1:17
AM ET
SACRAMENTO, Calif. --
Boston Celtics
captain
Paul Pierce
suffered a mild right ankle sprain in the fourth quarter of Friday's loss to the
Sacramento Kings
, but said the injury was minor and hoped to play Saturday against the
Denver Nuggets
.
"It's a little sore, I just twisted it at the end," said Pierce. "It should be fine, though. We'll see how it goes. It's sore, but hopefully it won't swell up on the plane."
Pierce said he stepped on the foot of Sacramento's
Marcus Thornton
while setting a fourth-quarter screen right before Boston's starters were about to be subbed out with the team down 20 with 6:24 to go. Pierce got examined by team trainer Ed Lacerte on the bench then departed for the locker room.
Pierce appeared to be moving well after talking to reporters before departing Power Balance Pavilion. Celtics coach Doc Rivers still expressed mild concern about the injury.
"I'm always concerned, but I don't think it's bad," said Rivers. "We don't know. I was about to take him out anyway, so I just hope [Pierce going to the locker room is] more that than anything else."
March, 17, 2012
3/17/12
12:28
AM ET
Kelley L Cox/US PresswirePaul Pierce and the Celtics didn't like the looks of what they saw on the floor Friday in Sacramento.
SACRAMENTO, Calif. -- Rapid reaction after the
Sacramento Kings
defeated the
Boston Celtics
120-95 Friday night at Power Balance Pavilion:


HOW THE GAME WAS LOST
Marcus Thornton
erupted for a game-high 36 points on 13-of-24 shooting with five steals, four assists and four rebounds over 45 minutes.
Jason Thompson
added 21 points and 15 rebounds, while
DeMarcus Cousins
chipped in 20 points and seven boards for the Kings.
Ray Allen
scored a team-high 26 points on 9-of-16 shooting (5-of-10 beyond the arc) for Boston, while
Paul Pierce
overcame some early shooting woes to chip in 19 points (but was a minus-24 overall for the game, illustrating just how much the C's starters struggled on this night).
TURNING POINT
The Celtics survived a somewhat ugly first half, giving up 30 points in the paint and 18 fastbreak points, but managed to trim as much as an 11-point deficit to a single point (52-51) at the intermission. But evidently the team didn't pack its defense when departing San Francisco. The Kings erupted for a ridiculous 41-point third quarter, scoring the first 14 points of the second half. The only thing that broke up the shutout was a technical foul on Cousins, who was a little too emphatic after outworking
Kevin Garnett
and Pierce for a putback. Boston switched to a 2-3 zone and trapped Cousins, temporarily stopping the bleeding, only for the Kings to start finding the seams to rip apart both the zone and the game. Jason Thompson scored eight consecutive points for the Kings at one point, hitting a pair of trifectas and a hook shot as the lead went from nine to 21 in a hurry.
BOLD PLAY OF THE GAME
Four Kings starters -- Cousins, Thompson, Thornton and
Isaiah Thomas
-- combined to connect on 14 of 20 shots (70 percent) and make all 10 free throws they attempted as part of the third-quarter eruption. Sacramento thrived in transition and couldn't be stopped going at the rim (either getting buckets or getting to the charity stripe).
ADDING INJURY TO INSULT
Pierce suffered a mild right ankle sprain and departed the game with 6:24 remaining (as all the starters did when Celtics coach Doc Rivers waived the white flag with his team down 20 and a back-to-back looming Saturday in Denver). Pierce removed his shoe on the bench and got some attention from team trainer Ed Lacerte before leaving for the locker room.
WHAT IT MEANS
Rivers implored his team not to relax now that the trade deadline has passed. And what did the Celtics do? They seemingly took their foot off the accelerator after a strong start to this road trip, not mustering any energy against a Sacramento team that going was coming off three straight losses (including a 26-point defeat to the Golden State team Boston had beaten two days earlier). The Celtics don't have much time to lick their wounds, traveling back one time zone in advance of a game with the Nuggets on Saturday night.
March, 16, 2012
3/16/12
9:40
PM ET
SACRAMENTO, Calif. -- With his son playing his first NCAA tournament game some 2,200 miles away, Celtics coach Doc Rivers was trying to balance pregame responsibilities (both those with the media and, you know, getting his team ready for a game against the Kings) while keeping an eye on the Duke-Lehigh game.
It would have been a whole lot easier to ignore the TV if second-seeded Duke (featuring his son, Austin) had been taking care of business, but 15th-seeded Lehigh hung around all night and pulled off the upset in Greensboro, N.C.
It's fair to say that Rivers' bracket is in disarray. On Thursday, he offered a big vote of confidence for Missouri (featuring Phil Pressey, son of Rivers' former Boston assistant Paul Pressey), only to watch 15th-seeded Norfolk State stun the second-seeded Tigers on Friday afternoon.
Reporters tried to help Rivers out by limiting questions to a mere 123 seconds before letting him sneak back to his office (Duke had a slim second-half lead at that point). Rivers probably wishes he stayed out in the hallway outside the locker room.
March, 16, 2012
3/16/12
3:51
PM ET
Jayne Kamin-Oncea/US PresswireDoc Rivers can laugh now after his prediction that the team would stay intact came true.
SACRAMENTO, Calif. -- A handful of nuggets after the Celtics engaged in a shootaround Friday morning at Power Balance Pavilion, where they visit the Sacrament Kings this evening:
* Doc Rivers preached throughout this West Coast trip that he believed the team would still be intact on Friday. That didn't stop him from joking about the situation when the team gathered for shootaround. " I told them I was surprised to see them all," quipped Rivers.
* Given Boston's penchant for making deadline moves, did Rivers expect a trade? "I thought we were going to get [Lakers stars Pau] Gasol and [Andrew] Bynum and Kobe [Bryant]. But they turned down the second-round draft pick that we offered," he deadpanned. "No, I didn't think so. I really didn't. I didn't think we were going to do much."
* Rivers had one other one-liner in him. While explaining how he communicated with Celtics president of basketball operations Danny Ainge during the deadline process, Rivers noted, "We didn't talk a lot this year. That was the point I was making to guys. In years previous, we've had a ton of conversations. I could just feel that it was pretty quiet and we didn't talk much. If we did, we talked about Marquette spanking BYU [in the NCAA tournament]."
*
Rajon Rondo
took a little jab at all the media coverage centered on him before the deadline, particularly those who opined on his demeanor while trying to explain why the Celtics might be interested in moving him. "I had fun with it," said Rondo. "Everybody was complaining about me, how my attitude is and stuff like that. I had fun listening to everybody's opinion that doesn't know me."
* While the future is a bit more clearer because the Celtics know their core will be intact,
Kevin Garnett
said the team wasn't looking too far ahead, especially knowing that an injury could be crippling to an already thin-on-depth squad. "You try to focus on what's in front of you, try to focus on the priority, and the task at hand," he said. "I think we do a good job of that. I don't really necessarily think about tomorrow. I hope that I wake up to see tomorrow, to be honest."
March, 16, 2012
3/16/12
12:15
PM ET
Rocky Widner/NBAE/Getty ImagesThe Celtics are hoping that DeMarcus Cousins and the Kings are not laughing after Friday night.
With the trade deadline in the rearview mirror, the still-intact Boston Celtics (23-19, 7-11 away) roll into Power Balance Pavilion on Friday night (10 p.m., CSN) reach the midway point of a season-long eight-game road trip in visiting the Sacramento Kings (14-29, 10-9 home). To preview the matchup, we go 2-on-2 with
CelticsHub
's Brian Robb.
---
1. What about the Sacramento Kings should worry the Celtics on Friday?


Robb
: DeMarcus Cousins. We all saw how tough of a time Kevin Garnett and company had dealing with Andrew Bynum on Sunday. With Cousins, you have another young skilled center, that may not be at Bynum's level, but has more range and is certainly capable of putting up plenty of points and dominating the glass. With still no added depth to the frontline (yet) the C's will have to stay disciplined and out of foul trouble to keep Cousins under control.
Forsberg
: Beyond Cousins, let's not sugarcoat it: Sacramento is not a very successful team. The Bulls, Heat, and Thunder have a combined 30 losses to this point; the Kings have 29 alone. Offensively, Sacramento ranks 26th in the league, averaging a mere 0.875 points per play, according to Synergy Sports data. The one area you gotta watch them is in transition, where the Kings rank seventh (1.16 ppp). Boston absolutely has to make Sacramento play a half-court game and that means limiting turnovers and getting back defensively. The Kings won't win a battle of jump shots. One other area to watch with Cousins in mind: The Kings generate a lot of second-chance opportunities with their activity on the offensive glass, meaning Boston absolutely must be diligent in limiting the hosts to one shot per trip (especially given their high pace of play).
March, 15, 2012
3/15/12
4:07
AM ET
AP Photo/Amy SancettaCeltics reserve swingman Mickael Pietrus connected on 5-of-6 triples vs. Golden State.
OAKLAND, Calif. -- Celtics coach Doc Rivers now knows the perfect remedy for Mickael Pietrus' shooting slumps: The Golden State Warriors.
Over the past month, Pietrus was a mere 8-for-44 from beyond the 3-point arc over a 14-game span. He busted out in a big way against the team he spent his first five NBA seasons with, connecting on 5-of-6 triples as part of a 15-point effort in Boston's 105-103 triumph over the Warriors Wednesday at Oracle Arena.
"Clearly we need to just tell him we're playing Golden State every night," quipped Rivers.
Pietrus downplayed the opponent, instead trying to shift the focus to identifying his evolving role with his new team.
"Sometimes we have too many offensive players and I just don't want to give [Rivers] another headache," said Pietrus. "I'm willing to sacrifice my offense for the benefit of the team because we have Ray Allen, Paul Pierce and [Kevin Garnett], who are all going to need the ball a lot. Those three guys are going to take us to the championship, so I'm willing to sacrifice myself to make the team better in other parts of the game, like defense and rebounding. I just tried to make some plays. Sometimes shots are going to come and sometimes they aren't going to come."
On Wednesday that came early and often. Pietrus tied a season high for trifectas, splashing the first four he took in the first half before adding a fifth in the third quarter. Winners of eight of 10 to start the second half of the season, Pietrus said the Celtics are simply trying to improve before the postseason arrives in little more than a month.
"I think everybody's trying to play together, everybody's trying to raise their level for the postseason," said Pietrus. "I know when you look at the schedule right now, we've got like 20 games left. So we're just trying to make a push. It's been an up-and-down season for us. But nobody wants to play the Celtics in the playoffs."
March, 15, 2012
3/15/12
12:59
AM ET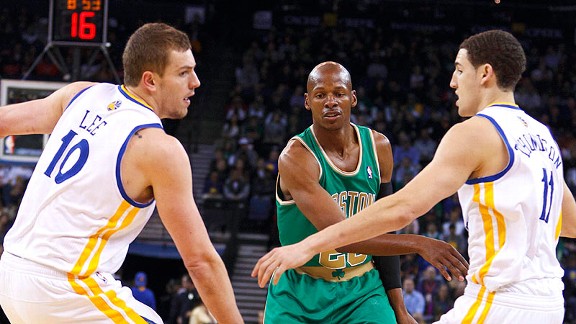 Jason O. Watson/US PresswireRay Allen zips a pass through a pair of Golden State defenders Thursday at Oracle Arena.
OAKLAND, Calif. -- Rapid reaction after the
Boston Celtics
defeated the
Golden State Warriors
105-103 Wednesday night at Oracle Arena:


HOW THE GAME WAS WON
Kevin Garnett
scored a team-high 24 points on 11-of-15 shooting, delivering the game-winning bucket in the closing seconds, while adding seven rebounds and five assists over 34 minutes.
Brandon Bass
added 22 points and nine rebounds, while swingmen
Mickael Pietrus
(5-of-6 beyond the arc) and
Paul Pierce
kicked in 15 points apiece for the Celtics.
Klay Thompson
had a game-high 26 points while
David Lee
added 22 points and eight boards for the Warriors.
TURNING POINT
The pesky Warriors -- fueled by old friend
Nate Robinson
no less -- hung around all night and tied the game on Robinson's driving finger roll with 30 seconds to go. The Celtics took the clock all the way down on the ensuing possession before a driving Pierce kicked it out to Garnett for his trademark 19-footer to produce the winner with 5.1 seconds to go. Robinson, who finished with 20 points, 11 assists and 5 rebounds over 36 minutes, missed the potential winning 3-pointer in the closing moments.
BOLD PLAY OF THE GAME
Greg Stiemsma
put together a rock-solid evening, chipping in eight points and eight rebounds over 16 quality minutes. He got some of each when he followed a Pierce miss with an emphatic two-handed putback jam to close out the third quarter, sending Boston into the final frame up four.
WHAT IT MEANS
Nothing comes easy in Oakland for the Celtics (who were a mere 4-12 here in their previous 16 visits). The short-handed Warriors showcased their offensive talents a day after shipping out
Monta Ellis
and playing without birthday boy Steph Curry. The Celtics didn't want a shootout, but they still managed to win one. Boston is now 8-2 since the All-Star break, playing some inspired ball that should keep things (potentially) quiet with Thursday's 3 p.m. trade deadline looming. The Celtics got contributions from a lot of players and continue to show they are making progress in the second half of the season.
March, 14, 2012
3/14/12
10:15
PM ET
OAKLAND, Calif. -- A handful of pregame soundbites and nuggets before the
Boston Celtics
visit the
Golden State Warriors
at Oracle Arena:
* Celtics coach Doc Rivers on the news that
Chris Wilcox
will miss the rest of the year: "It's obviously tough -- tough for Chris first, but in the grand scheme of things, Lawrence Frank sarcastically [texted], 'You guys are in the business of savings lives.' In retrospect, that's true. I'd rather have it that way. Basketball-wise, it puts us in a bit of a hole, so we have until [Thursday] to see if we can extract a big from somewhere. But we don't want to give up anything. It's going to be tough to do."
* Rivers on if there's an overwhelming urgency to obtain a big man: "Not really. The one thing I said in [his] last conversation [with Celtics president of basketball operations Danny Ainge] was that, at the end of the day, I like our team. Obviously we need a big, but let's not do anything that hurts this team this year or the future to try to get a big. I just don't think we should do that."
* Rivers on if he thinks his team will be intact in 24 hours: "I would be surprised if we're not. But you never know. Last year I may have made that statement and we traded nine guys. I mean this thing goes pretty quickly. I guess you're telling me that Dwight [Howard] is going to be back in play, so you never know."
* Celtics captain
Paul Pierce
, walking through the locker room and greeting reporters, playfully shouted, "I'm still here! I'm still here!" while glancing at the clock. You have to keep a sense of humor at the trade deadline.
*
Ray Allen
responded fine after rolling his ankle in Los Angeles on Monday; Rivers said the team is as healthy as it gets and everyone -- at the moment -- is available (beyond Wilcox and
Jermaine O'Neal
).
March, 14, 2012
3/14/12
1:11
PM ET
Brian Babineau/NBAE/Getty ImagesWill the already shorthanded Warriors have Stephen Curry when they host Rajon Rondo and the C's?
The Boston Celtics (22-19, 6-11 away) catch a bit of a break when they travel to meet the Golden State Warriors (18-21, 10-10 home) Wednesday night (10:30 p.m., CSN) at Oracle Arena in Oakland. A five-player swap with the Milwaukee Bucks (including sending out Ekpe Udoh and Kwame Brown) will leave the hosts shorthanded on the second night of a back-to-back (Boston meanwhile took Tuesday off, despite encountering some travel woes getting up to rainy San Francisco). To preview the matchup, we play a game of 2-on-2 with
CelticsHub
's Brian Robb.
---
1. What should scare the Celtics most about the Warriors that weren't traded to Milwaukee on Tuesday?


Forsberg
: Sure, the Warriors traded away Monta Ellis, but they are still one of the league's elite offensive teams. According to Synergy Sports data, they rank fifth in the league averaging .942 points per play. What's more, they thrive in a halfcourt set, ranking first in the league in spot-up shooting at 1.122 points per play (spot-up accounts for a team-high 19 percent of the Warriors' plays). David Lee, Dorrell Wright, and Steph Curry (if able to suit up) give Golden State more than enough firepower. Brandon Rush is the type of bench spark the Celtics don't have, while old pal Nate Robinson ought to be fired up (especially around the trade deadline given that the C's shipped him out as part of the Kendrick Perkins deal last year after acquiring him at the deadline the year before). The shorthanded Warriors still put up 115 points and throttled the Kings by 26 points Tuesday night.
Robb
: High-energy offense and youth. Despite missing former teammates Ellis and Ekpe Udoh, as well as Stephen Curry (ankle injury) last night, Golden State blew out the Kings on the road thanks to a standout effort from Klay Thompson among other young role players. Despite the roster changes, Mark Jackson has this team playing well lately, winning four of its last five contests. High-powered offensive teams have usually been the demise of the C's on these west coast trips and tonight should be no exception. Boston must be efficient on offense in order to keep up.
March, 13, 2012
3/13/12
9:25
PM ET


Somewhere in San Francisco, the Boston Celtics are giving a little fist pump as the first domino falls before the trade deadline:
Sources: Bucks deal Andrew Bogut
The Milwaukee Bucks have traded Andrew Bogut and forward Stephen Jackson to the Golden State Warriors for Monta Ellis, Ekpe Udoh and Kwame Brown, sources confirmed to ESPN.com.
The swap means the Warriors will be shorthanded when the Celtics visit on Wednesday night. Boston had lost six in a row in Golden State before emerging with a 115-93 triumph last season. Even still, Boston is a mere 4-12 there since 1994. At this time of year, you take any advantage you can get on the road. Not having to deal with Ellis and Udoh should only aid Boston's cause.
[
Update:
Thanks to those commenters that reminded us that Brown is essentially done for the season after pectoral surgery in January. Given the Celtics' rebounding woes, he probably still could have grabbed a few boards against undersized Boston].