Boston Celtics:

2012Game46
March, 22, 2012
3/22/12
11:31
PM ET
By
Greg Payne
| ESPNBoston.com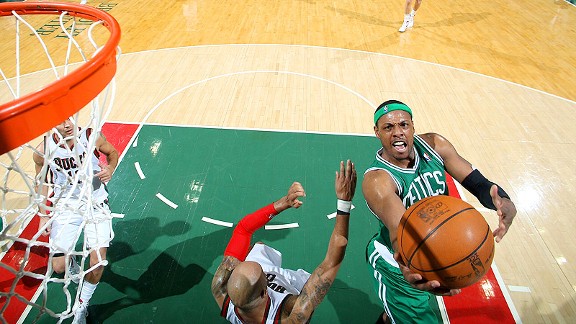 Gary Dineen/Getty ImagesPaul Pierce brought his A-game to Milwaukee and had his way with the Bucks.
Observations following the
Boston Celtics
' 100-91 victory over the
Milwaukee Bucks
at the Bradley Center on Thursday night.
C's Start Strong, Finish Stronger:
After managing just 12 points in the first quarter in their victory over the
Atlanta Hawks
on Monday, the Celtics exploded out of the gate against the Bucks, posting 35 first frame points on 15-of-26 shooting (57.7 percent). The Celtics converted their first five field goal attempts, limited their turnovers (just one in the entire quarter), and were happy to keep pace with the up-tempo Bucks, as they scored on a number of transition opportunities. The Bucks managed 29 points of their own in the opening quarter, as defense wasn't at a premium for either club in the first half. The game stayed tight through the end of the third quarter, until the Celtics stormed ahead early in the final period, courtesy of a 16-6 run over the first six minutes of the fourth frame, which propelled Boston to a 90-77 advantage.
More importantly, the defensive intensity picked up in the second half, particularly in the final quarter. The Celtics held the Bucks to just 6-of-20 shooting in the fourth (30 percent), and forced five turnovers, which they converted into 10 points of their own. It was encouraging to see the Celtics not fall off the rails in the second half following what was a very frantic and fast-paced opening 24 minutes. Rather than allowing the Bucks to run past them in the second half -- as they allowed the
Sacramento Kings
to do in an unsightly loss last week -- the C's hunkered down defensively, slowed the pace, and ground out a quality win.
Pierce Paces C's:
Paul Pierce
guided Boston's explosive offensive effort, as he accounted for a quarter of the Celtics' total points. Pierce finished with 25 points on 10-of-15 shooting, including 3-of-3 from 3, to go along with nine rebounds, two assists, a steal and two blocks. The captain displayed the full brunt of his offensive game in the opening period, as his first bucket came on a cut to the basket off of a feed from
Kevin Garnett
on the right side, and he followed that up with a 3-pointer from the left wing, and then another jump shot off of a screen on the right side. Pierce tallied 11 points in the first quarter (helping to jump-start Boston's offense), 10 in the third, and four in the final frame, with all of them coming during Boston's 16-6 game-changing run. Pierce vaulted past
Clyde Drexler
on the NBA's all-time scoring list, moving into 26th place.
March, 22, 2012
3/22/12
11:30
PM ET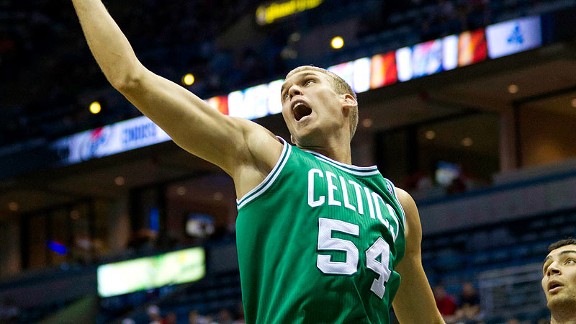 Jeff Hanisch/US PresswireGreg Stiemsma made the most of his homecoming Thursday in Milwaukee.
His pro basketball excursions have taken him to such outposts as South Korea, South Dakota, and Turkey. Along the way, he had NBA flirtations with Minnesota and Cleveland, but his first real opportunity didn't arrive until this past December in Boston. Finally, after nearly four years on the move, Greg Stiemsma's basketball journey took him home on Thursday night.
Playing at Milwaukee's Bradley Center, 80 miles southeast of his hometown of Randolph, Wis., a tiny village of less than 2,000 people (most of whom seemed to be in attendance), Stiemsma helped the Celtics to a 100-91 triumph over the Bucks.
Stiemsma made the most of the night, chipping in 6 points, 5 blocks, 4 steals, 4 rebounds and 3 assists over a bench-high 24 minutes. Despite playing much of the night in foul trouble, he remained aggressive on defense, swatting three shots in the second half, all in an eight-minute span early in the fourth quarter during which Boston essentially put the game away while riding its second unit.
Celtics coach Doc Rivers gushed that Stiemsma has been "fantastic" and noted how a right foot ailment has prevented the 26-year-old from doing much of anything during offday workouts (he's often been spotted wearing a walking boot to prevent the injury from flaring up). But with the Celtics facing a shortage of bodies up front, especially on this road trip, Stiemsma has gutted through and his production has increased.
March, 22, 2012
3/22/12
10:32
PM ET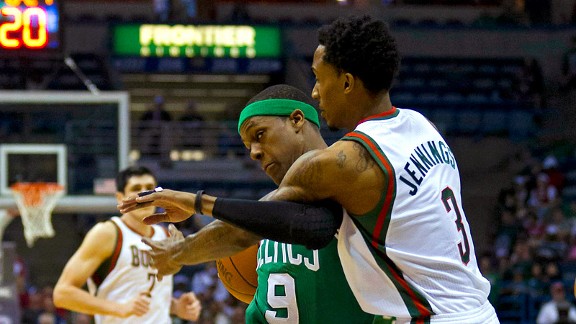 Jeff Hanisch/US PresswireBrandon Jennings did all he could to keep Rajon Rondo tied up.
Rapid reaction after the Boston Celtics defeated the Milwaukee Bucks 100-91 Thursday night at the Bradley Center:


HOW THE GAME WAS WON
Paul Pierce scored a team-high 25 points on 10-of-15 shooting -- passing Clyde Drexler for 26th place on the NBA's all-time scoring list -- and pacing Boston's offensive outburst, which included a 35-point first quarter (matching a season high). Brandon Bass (12 points, 10 rebounds), Kevin Garnett (16 points, 10 rebounds), and Rajon Rondo (10 points, 14 assists) added double-doubles, while the team got a spark from the second unit, including a pair of players with Milwaukee ties in Greg Stiemsma (6 points, 5 blocks, 4 steals, 4 rebounds, 3 assists) and Keyon Dooling (8 points on 4-of-4 shooting). Brandon Jennings scored a team-high 19 points for the Bucks.
TURNING POINT
Starting the fourth quarter with a reserve-heavy lineup and clinging to a one-point lead, the Celtics embarked on a little 8-0 run that featured four straight layups (including an up-and-under by Stiemsma, a pair from Mickael Pietrus, and another from Dooling) and helped Boston open a 82-73 cushion with 8:42 to play.
BOLD PLAY OF THE GAME
We've been spoiled by some of Rajon Rondo's ridiculous behind-the-back feeds lately and
he produced another gem
midway through the second quarter in Milwaukee. Coming off a pick on the right wing, Rondo charged hard at the basket, splitting two defenders and drawing a third in the paint, before delivering a behind-the-back bounce pass to Bass for a two-handed slam.
BOLD PLAY OF THE GAME (THAT DIDN'T COUNT)
The Celtics had already poured in 35 points in the first quarter, so it was hard to complain, but Rondo splashed a midcourt heave just after the buzzer. For a Boston team that shot 57.7 percent (15 of 26) in the first frame, it was a symbol of how easily shots were falling.
STIEMSMA'S HOMECOMING
Stiemsma absolutely filled up his stat line over 24 minutes. Despite playing through foul trouble, he was super aggressive defensively as his five blocks reflect. With a crowd dotted with "Stiemsma Crew" and replica No. 54 jersey T-shirts, it was about as good of a homecoming as Stiemsma could have envisioned. And the President of the Village of Randolph -- his nearby hometown -- proclaimed it Greg Stiemsma Day (more on that later) after the game.
WHAT IT MEANS
The Celtics snapped the surging Bucks' six-game winning streak and pushed them four games back in trying to catch the Celtics for a final playoff spot (what's more, Boston now owns the tie-breaker over Milwaukee). Now, Boston heads to Philadelphia for the second night of a back-to-back -- the final stop on this marathon eight-game road trip -- but energized by a chance to leap into first place in the Atlantic Division (a spot that guarantees the division champ at least a top 4 seed in the Eastern Conference). Boston came out inspired like a team that had two days of rest, but now it's gotta find that same energy to go up against a rested 76ers team -- and one that throttled it earlier this month in Philadelphia.