Boston Celtics:

2012Game51
March, 31, 2012
3/31/12
12:24
AM ET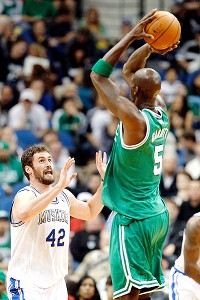 AP Photo/Genevieve RossKevin Garnett continues to thrive.
Good luck trying to find something to gripe about after the
Boston Celtics
defeated the
Minnesota Timberwolves
100-79 Friday night at the Target Center. It's all sunshine and puppy dogs as Boston won its fourth straight and vaulted into first place in the Atlantic Division. A few thoughts after maybe the team's most complete win in a while:
*
KG turning back the clock
: Sure,
Kevin Garnett
had extra motivation in heading back to Minnesota on Friday night and responded with a brilliant 24-point, 10-rebound effort (all while keeping
Kevin Love
in check). But over his last five games, Garnett is averaging 20.2 points per game and shooting 54.2 percent from the floor. Those numbers are well above his season averages (15.6 ppg, 51.5 percent) and even better than his career marks (19.4 ppg, 49.9 percent). Garnett's play while shifting to the center position in the second half of the year may have revitalized (and maybe even saved) the 2011-12 season for the Celtics. The only question is, can he sustain this level of play in the playoffs? The Celtics need this offensively aggressive Garnett when the games matter most.
*
Bradley's emergence easing Allen's ankle woes
:
Ray Allen
missed his fifth straight game due to lingering soreness in his right ankle, yet it's been virtually a non-story because of the way second-year guard
Avery Bradley
has played during his absence. Bradley's offensive eruption continued Friday night as he connected on 6-of-9 shots (most at the rim) for 17 points over 37:47. Bradley has thrived in starting roles this season, first filling in for
Rajon Rondo
, now holding the fort for Allen. Heck, there are some whispering about whether the Celtics should keep Bradley in the starting lineup even when Allen comes back (unless his ankle woes are going to linger and limit him, it's probably premature to even consider that), but it speaks to Bradley's emergence and what his energetic play at both ends of the court has brought to the team this season.
March, 30, 2012
3/30/12
10:31
PM ET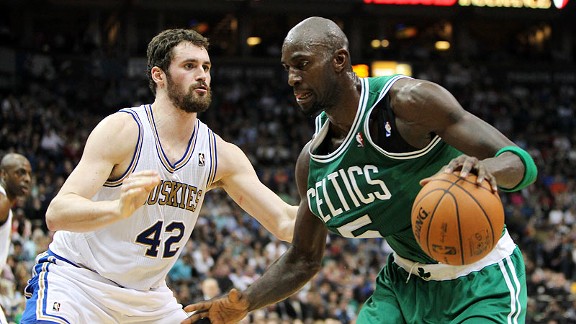 Brace Hemmelgarn/US PresswireKevin Garnett at work against his former team on Friday night in Minnesota.
Rapid reaction after the Boston Celtics defeated the Minnesota Timberwolves 100-79 Friday night at the Target Center:


HOW THE GAME WAS WON
Kevin Garnett made the most of a return to his old stomping grounds, scoring a game-high 24 points on 12-of-18 shooting with 10 rebounds, 4 assists, and a block over 34:10 (all while limiting Kevin Love to a modest 22-point, 11-rebound effort). Paul Pierce added 21 points and 9 rebounds, while Avery Bradley produced another stellar spot start in place of Ray Allen, kicking in 17 points on 6-of-9 shooting. Luke Ridnour chipped in 15 points and 8 assists to help Love pace the Timberwolves.
TURNING POINT
Maintaining a recent pattern, the Celtics came flying out of the gates and established a comfortable early cushion (going against the grain, Boston never gave it up). Rajon Rondo had five assists on the team's first seven buckets and Boston's lead was at double digits in just 6½ minutes. Boston didn't let up, shooting 56.5 percent in the first quarter (13 of 23 overall) and building as much as a 14-point cushion. The Wolves never got closer than six the rest of the night.
BOLD PLAY OF THE GAME
With five minutes to go in the third quarter, Rondo flipped the ball to Brandon Bass near the top of the arc. Putting the ball on the court can lead to mixed results with Bass, but he stormed the lane against two Minnesota defenders, then dunked viciously over rookie Derrick Williams. The bucket put Boston on top 71-55. Bass finished with 12 points and 6 rebounds (still finding a way to generate buckets when his jumper wouldn't fall).
PUT A BLUE RIBBON ON THE CELTICS
The Celtics weren't the only team winning by 21 on Friday night. The 76ers got throttled by the Wizards by the same spread (97-76) and, as a result, the Celtics shuffled into sole possession of first place in the Atlantic Division. For the moment, Boston also leaps to the No. 4 seed in the Eastern Conference (the real prize for the division champ), something that would ensure it home-court advantage in the opening round of the postseason. April's schedule is daunting, however, and Boston has its work cut out to stay atop the division.
RONDO'S STREAK CONTINUES
Another night, another double-digit assist effort for Rondo. This time out he piled up 17 assists and has now reached double digits in assists for the 12th straight game. Those 17 dimes match Rondo's high during the stretch (he also had 17 vs. Philly last Friday) and he's averaging 13.4 assists per game. Rondo had 12 assists and 0 turnovers at halftime, finishing with just two turnovers overall.
TO THE EXTREME I ROCK THE MIC LIKE A VANDAL
This happened at halftime
. Watch your backs,
QuickChange
. Word to your mother.
WHAT IT MEANS
This is about as breezy as it gets for Boston. Typically the Celtics let the opposing team make a run despite an early lead, but it never happened. Garnett seemed particularly inspired playing in Minnesota, while Rondo quarterbacked a brilliant game. The Celtics continue to thrive with Bradley in the lineup, improving to 9-1 this season when Ray Allen doesn't play (including 4-1 since Allen has been sidelined by this sore right ankle). Now the schedule gets difficult, with games next week against Miami, San Antonio, Chicago, and Indiana. It starts Sunday with a national TV battle against the Heat at TD Garden. Buckle up, it's going to be a wild final month of the regular season.
March, 30, 2012
3/30/12
11:00
AM ET
David Sherman/NBAE/Getty ImagesKevin Garnett shoots over Ryan Hollins -- back when Hollins was with Minnesota.
It's a glance at the basketball past and present for the Minnesota Timberwolves (25-27, 13-12 home) when the Kevin Garnett-Kevin Love matchup highlights Friday's battle with the Boston Celtics (28-22, 10-14 away) at the Target Center (8 p.m., CSN). It's all about the Kevins as we play a game of 2-on-2 to preview the matchup with colleague Greg Payne.
---
1. Two-parter: (1) How many rebounds for Love and (2) What else will you be focused on in this matchup between the Celtics and Wolves?


Payne
: I'll go with 17 rebounds for Kevin Love, and I'm actually interested to watch his matchup with Garnett in this one. It'll be a classic battle of past versus present, and, contrary to what each player will probably say, you have to figure Love will want to upstage the greatest player in the history of the Wolves' franchise, while Garnett will want to squash the player now running his old club. Garnett still boasts some pretty steady defensive chops, so it'll be fun to watch him go up against Love, who's become an offensive juggernaut of late, averaging 37.3 points over his last four games.
Forsberg
: When all signs point to Love outrebounding the Celtics on his own, go the other way, right? Let's say a modest 14 rebounds (it'll either be that or 41; let's assume Boston will put a hefty focus on Love). It's going to be hard to take our eyes away from the KG-Love battles (particularly without Ricky Rubio on the floor), but here's a few more things I'll be interested in: (1) How does Ray Allen and his sore right ankle look if he's back on the floor after missing the last four games, including how different the Boston starters operate while moving the more defensive-minded Avery Bradley back to a reserve role; (2) The Wolves are the best team in the league in late-clock offense, according to Synergy Sports data, so let's see if the Celtics can prevent those back-breaking jumpers when the shot clock is under four seconds; (3) Minnesota, while above average defensively (13th in points allowed per play, according to Synergy), really struggles to defend the pick-and-roll (28th). It's up to Rajon Rondo to exploit that tonight; (4) And, of course, as a Northeastern guy, I'll have an eye on Jose Juan Barea.
March, 29, 2012
3/29/12
5:56
PM ET
Celtics guard Ray Allen traveled with his teammates to Minnesota Thursday, according to the team, an encouraging sign that he could return to action for Friday's game against the Timberwolves.
Allen has missed the last four games due to right ankle soreness that flared last Wednesday in Milwaukee. Celtics coach Doc Rivers said he underwent an MRI on Saturday and that was negative, but Allen simply hasn't been able to get back on the floor. He participated in shootaround before Wednesday's game against the Utah Jazz, but Rivers noted he simply didn't feel right and was held out again.
Given that the Celtics are traveling for just one game, it's unlikely Allen would fly out unless the team believed he had a strong chance to play in Friday's game. A visit from Eastern Conference rival Miami looms Sunday at TD Garden.