Boston Celtics:

2012Game58
April, 12, 2012
4/12/12
9:55
AM ET
AP Photo/Elise AmendolaCeltics point guard Rajon Rondo didn't want to leave the court Wednesday vs. Atlanta.
A handful of leftover notes and observations after the Boston Celtics defeated the Atlanta Hawks in overtime Wednesday night at TD Garden:
*
A non-national TV triple-double?
: We all know that Rajon Rondo
breaks out some of his biggest games
on the national spotlight. In fact, his 10-point, 20-assist, 10-rebound effort Wednesday night was one of only five non-national TV triple-doubles of the 19 he now owns for his career. But you could put an asterisk on this one. The Celtics-Hawks game was originally pegged as an ESPN matchup before being flexed out for the Knicks-Bucks last month.
*
Ain't no rest for the wicked
: Maybe the most impressive number in Rondo's box score Wednesday was the minutes: 47. Celtics coach Doc Rivers didn't want to run his point guard into the ground, particularly with the team playing five games in six nights, but Thursday's offday afforded them a little bit of protection. "Rondo was sensational; he didn't want to come out," explained Rivers. "He said, 'Because we've got tomorrow off, let me just go.' Atlanta, they're one of the few teams that pressure our guards when Rondo's off the floor and that clearly affected us." Said Rondo of his marathon night: "I don't want to be selfish, because if I'm out there tired, I'm not doing what's best for the team. But at the same time, I want to win." Rondo finished 3 of 16 shooting from the floor and struggled with his shot, but his all-around effort was the primary reason Boston won the game.
*
That was the worst...
: When you win a game in which you think the whistles are biased against you, it allows you to laugh off those calls afterwards. Which is exactly what Rivers did. Arriving at his postgame press conference, Rivers opened with, "I gotta tell you guys, that was the worst game [slight dramatic pause] we've ever won." Rivers then laughed, knowing reporters expected him to vent about the late-game officiating. "And you thought I'd say something else," he chuckled. The Celtics watched both Kevin Garnett and Greg Stiemsma foul out in overtime and were in a bit of a lather over all the amount of offensive foul calls that went against them in the extra session.
April, 11, 2012
4/11/12
10:52
PM ET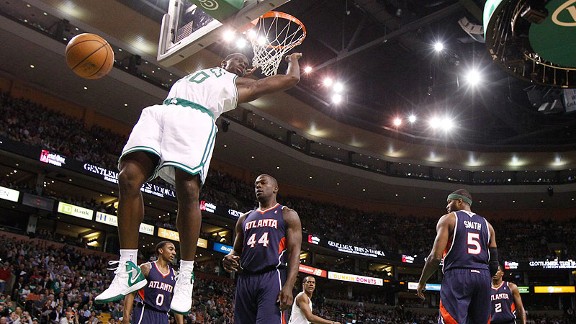 David Butler II/US PresswireWednesday's game was no slam dunk for Brandon Bass and the Celtics.
BOSTON -- Rapid reaction after the
Boston Celtics
defeated the
Atlanta Hawks
88-86 in overtime Wednesday evening at TD Garden:


HOW THE GAME WAS WON
Rajon Rondo
messed around and produced the 19th triple-double of his career by posting 10 points, 20 assists and 10 rebounds over 47 minutes. In the interest of symmetry, it was also Rondo's 19th consecutive game with double-digit assists as well as Boston's 19th win in the second half of the season (the most in the league).
Brandon Bass
had an overtime injury scare, but emerged no worse for the wear while chipping in 21 points and 10 rebounds over 42:26.
Kevin Garnett
joined that double-double party with 22 points and 12 rebounds.
Jeff Teague
paced the Hawks with 21 points, while
Josh Smith
kicked in 20.
AIR FRANCE LANDS BACK ON THE COURT
Back in action for the first time after
sitting out for 17 days with a grade III concussion
suffered last month in Philadelphia,
Mickael Pietrus
didn't take long to shake his rust. He buried the first shot he took (a 19-foot jumper from the left baseline early in the second quarter) and finished with 3-of-5 shooting, 8 points, 6 rebounds and a block over 28:49. Celtics coach Doc Rivers said he wanted to ease Pietrus back in with 5 or 10 minutes of total playing time, but that went out the window with his inspired play.
TURNING POINT
A fast start is always key in overtime and, after winning the tap, Bass hit a jumper. The Celtics got back-to-back stops and Pierce, ice cold for much of the night, hit a curling elbow jumper for an 88-84 cushion with 3:25 to go. The Celtics wouldn't score again and didn't need to in order to escape with the win.
FREE BASKETBALL
Despite trailing for much of the middle frames, Boston surged ahead when Pietrus hit both a step-back jumper and a 3-pointer to start the fourth quarter. Garnett added a free throw after a Smith technical and Boston led 73-68 with 8:31 to go. But the Hawks wouldn't go quietly, and the lead seesawed in the final minutes of regulation. Each team had a chance to win it before the extra frame, but Garnett airballed a turnaround fadeaway with 5.9 seconds to go and
Avery Bradley
got a hand in the face of
Jannero Pargo
on his off-target jumper from the right wing at the buzzer.
BOLD PLAY OF THE GAME
Give it to the defense. Pierce might not have had his shot falling Wednesday night, but he came up with a key pickpocket of Smith in the final minute of overtime (even if it was negated by a questionable offensive foul call at the other end, giving the Hawks one last gasp). Smith again misfired, this time on a potential go-ahead 3-pointer, and
Joe Johnson
stepped out of bounds while hauling in the offensive rebound, allowing Boston to escape.
LOOSE BALLS
Garnett fouled out with 2:43 remaining in overtime (he logged 33:03 on the second night of a back-to-back, fouls the only thing driving that number down). ... After earning a DNP in each of the previous three games,
Keyon Dooling
logged some early action against the Hawks, grabbing a rebound in 3:48 to help fill the void left by
Ray Allen
's absence. ... Another quality night from
Greg Stiemsma
off the bench as he chipped in 6 points, 8 rebounds, a block and a steal over 22:02. He, too, fouled out with 40.4 seconds to go in overtime. ... The Celtics absolutely dominated on the glass, owning a 56-39 advantage overall.
WHAT IT MEANS
In a potential playoff battle -- the Celtics and Hawks are currently projected as the 4-5 matchup in the Eastern Conference) -- Wednesday's game sure had a playoff feel. Even still, the Celtics looked an awful lot like a team that engaged in a war with rival Miami 24 hours ago in South Beach, while Atlanta benefited from having had three straight off days. Boston did itself no favors by turning the ball over 23 times for 23 points. The Celtics lived to talk about it and have now won two straight. Boston gets a day off before diving into a back-to-back-to-back to start a four-game road trip. More importantly, the Celtics and Hawks have identical 34-24 records but the Celtics own the head-to-head tiebreaker, meaning they'd host a potential first-round matchup with Atlanta.
April, 11, 2012
4/11/12
7:46
PM ET


BOSTON -- Celtics swingman Mickael Pietrus, sidelined for 17 days after suffering a grade III concussion last month in Philadelphia, will return to action Wednesday night against the Atlanta Hawks. His return comes at an ideal time as guard Ray Allen will sit out after swelling returned in his ailing right ankle.

Celtics coach Doc Rivers said Pietrus will play a manageable stint (5 to 10 minutes) as the team eases him back in after he was cleared to play since passing the league's mandated concussion tests this week.

"He's been cleared, he worked out [Tuesday], and this is good for him," said Rivers. "We'll ease him in, instead of just throwing him in. That's how we're going to do it. It's not like he's going to have any practices. The sooner we can get him on the floor, the better. And all the doctors cleared him, so once I hear that, then he's ready to play."

Asked if he's surprised how quickly his return came together considering the team had wondered recently if he'd even be back on the floor in time for the playoffs, Rivers added, "I didn't expect to see him, maybe this year. Anything is good. I'm very surprised."

Pietrus' return is only tempered by the fact that Allen is out again. Sidelined for six games due to soreness in his right ankle, Allen returned for five games, but so did the swelling and the team is forced to wait for it to subside again.

"It just swells, I guess," said Rivers. "I don't know. I got a call a little while ago [informing him that Allen would be out]. It is what it is."

Rivers had previously expressed concern about the potential for the injury to return, throwing Boston's rotations into flux and that's exactly what has happened. Rivers said he expects Allen on the upcoming four-game road trip that starts with a visit to Toronto on Friday night, but admitted he couldn't be certain.

"I'm just more concerned that this is the second or third time this has happened," said Rivers. "So that's concerning."

Pietrus spoke to reporters before the game for the first time since being injured and, while purposely cryptic about his return date, he expressed great satisfaction in simply being healthy enough to play basketball again after two harrowing weeks while recovering from the severe head injury.

"I was laid up for two weeks, I couldn't do much," said Pietrus. "I was trying to rest my brain. I could not watch TV, I could not do anything. It's not like an injury that you hurt your knee or your ankle -- it's your brain, so you have to get your brain right. That's basically your life...

"My next step is to enjoy life. Life is too short. You saw me on the floor [in Philadelphia], like one minute I was healthy, the next minute I was laid down. To me, right now, it's just enjoy life. I don't think about anything else. Just enjoy my time with my teammates. Just enjoy my time."

April, 11, 2012
4/11/12
11:35
AM ET
Elsa/Getty ImagesRay Allen and the Celtics can pull even with the Hawks with a win on Wednesday night.
It could be a first-round playoff preview when the Boston Celtics (33-24, 20-9 home) host the Atlanta Hawks (34-23, 15-15 away) on Wednesday evening at TD Garden (8 p.m., CSN). The two teams are currently pegged for the 4-5 matchup in the Eastern Conference quarterfinals, but Wednesday's game will go a long way towards deciding whether that will materialize (and who will have home-court advantage if it does). To preview the matchup, we play a game of 2-on-2 with colleague Greg Payne:
---
1. What will you be focused on when the Celtics host the Hawks?


Payne
: I'll be looking to see how the Celtics, as a team, respond to their impressive win over Miami last night. Similar to what I said yesterday about the C's entering Miami on the heels of a convincing win over the 76ers, will the C's rest on their success from the previous night or continue pressing the gas pedal and knock off another of the Eastern Conference's upper-echelon teams? I'm becoming more and more convinced that Boston has crossed the "We're not taking nights off" hurdle, but tonight could be one of the final tests in my eyes. The Hawks always present some difficult matchups for Boston, so I'll be really interested to see what kind of performance we see tonight. If it turns into one of those grind-it-out games, so be it.
Forsberg
: Kinda like Sunday against Philadelphia, I'm just not sure the matchups or stats really matter here. This is a "Who wants it more?" type of game given the potential playoff implications. Sure, the Celtics are coming off a back-to-back, but they didn't let that detour them against the 76ers (having played the night before in Indiana). Boston certainly expended a lot of energy in fending off Miami, but the chance to aid their playoff cause should be enough motivation tonight to muster up the proper intensity to play a well-rested Atlanta squad. It will be interesting to see if the offensive explosion carries over for Boston, or if it aims to reestablish the defensive intensity that was missing outside of key moments when Miami threatened to rally ahead in the fourth quarter. One thing here: This might be exactly the sort of night when either the young legs (Rajon Rondo, Avery Bradley, Brandon Bass) or the bench (Big game for Ray Allen?) have to carry the Celtics as Kevin Garnett and Paul Pierce left a lot on the court in South Beach.
April, 11, 2012
4/11/12
8:00
AM ET
Greg M. Cooper/US PresswireIt's Celtics-Hawks Wednesday night at TD Garden.
MIAMI -- The Boston Celtics didn't give themselves very long to savor Tuesday's win over the Miami Heat.
With the tail end of a back-to-back looming Wednesday night against the Atlanta Hawks back in Boston, the Celtics scrambled out of AmericanAirlines Arena, the last bus departing less than 45 minutes after the conclusion of Tuesday's game, in order to catch the 3-hour flight home. There will be little rest before a key Eastern Conference battle against an Atlanta team that the Celtics are currently pegged to meet in the opening round of the postseason.
"Atlanta's been off for, what, three days?" asked Celtics coach Doc Rivers. The Hawks, winners of three straight, have been idle since a 116-96 thrashing of the Charlotte Bobcats on Saturday. While Boston is currently projected as the No. 4 seed (a division champ can seed no lower), the No. 5 Hawks would have home-court advantage with a better overall record (34-23) at the moment. A win Wednesday night, however, would even the teams' records and Boston would own the head-to-head tie-breaker by winning the season series.
"We have a 3-[hour] flight. It is what it is. We just have to be ready and hopefully we get energy from the crowd, because we used a lot on the floor tonight."
At the start of a stretch that features five games in six days, the Celtics admit they don't have much time to think about opponents -- past, present, or future -- and are simply focused on how they are improving as a team.
"Regardless of who it is, this is a good road win for us," point guard Rajon Rondo said of the Miami triumph. "We have another tough game tomorrow, a back-to-back facing Atlanta. This game is old, we want to focus, and move on."