Boston Celtics:

2012Game6
January, 3, 2012
1/03/12
1:04
AM ET
By
Greg Payne
| ESPNBoston.com
BOSTON -- Call it what you want: Breaking the mold, refusing to back down, defying the odds -- maybe even physics, or some unofficial law of nature. Whatever it is,
Ray Allen
seems to have mastered it.
As NBA players age into their 30s, they are expected to break down physically and produce less than what they put forth during the prime of their careers. They're not expected to do what Allen did to the
Washington Wizards
on Monday night, which was produce a monster 27-point effort on 9-of-16 shooting -- including 6-of-7 from 3-point nation -- that propelled the Celtics to a hard-fought 100-92 victory, their third straight and first on the second night of a back-to-back this season.
"Classic Ray Allen, man," was all that
Kevin Garnett
needed to say afterward. "Classic Ray Allen."
Classic Ray Allen, on all fronts. He was lights-out from deep, outpaced his defender around numerous screens that led to open jump shots, pulled up for open 3-pointers in transition, and, most importantly, hit crucial shots when the Celtics needed them.
The C's trailed 70-69 heading into the final quarter, but Allen buried four pivotal baskets in the fourth -- three of which were 3-pointers -- tallying 11 points. His first, a 3-pointer on the right wing off of a feed from Garnett, gave the Celtics a 75-74 advantage they would not relinquish.
His final three baskets cushioned that lead, snuffing out any hopes of a late Wizards rally. Allen curled off a screen set by Garnett and buried a jumper on the left wing, and followed it up with another 3-pointer less than a minute later, which pushed Boston's lead to nine with 4:30 to play.
Three minutes later, Allen sealed it as he streaked toward the left wing on a fast break initiated by a
Paul Pierce
steal. Pierce tore down the middle, drawing in Washington's retreating defenders, and kicked it out to a wide-open Allen, who obliged by sinking another 3-pointer, putting Boston ahead by eight and the game out of reach.
"Ray's doing what he does for us, making big clutch shots at opportune times, and he's been doing that ever since he's been here, and we try to get the ball to him as much as possible in those situations," Pierce said. "More times than not, he comes through."
January, 2, 2012
1/02/12
10:02
PM ET
AP Photo/Winslow TownsonCeltics guard Ray Allen put up big numbers against the Wizards.
BOSTON -- Rapid reaction after the
Boston Celtics
defeated the
Washington Wizards
100-92 Monday night at TD Garden:


HOW THE GAME WAS WON
Ray Allen
scored 11 of his team-high 27 points in the fourth quarter, hitting three of his six 3-pointers in the frame, helping the Celtics pull away in what had been a seesaw affair.
Paul Pierce
chipped in 21 points on 8-of-18 shooting, overcoming some early misfires to give the team a lift in the second half.
Rajon Rondo
didn't exactly have a triple-double, but quarterbacked the offense well again (6 points, 13 assists, 7 rebounds over 39 minutes).
Brandon Bass
kicked in 14 points to spark the bench.
Andray Blatche
scored a game-high 28 points, while
JaVale McGee
added 17 points and 14 rebounds for the Wizards.
TURNING POINT
Allen made his first bucket of the second half -- a 3-pointer with 8:56 remaining in the fourth quarter -- to put the Celtics out front 75-74. A Boston team that sputtered on offense for much of the night finally found some rhythm after that. Bass sandwiched a pair of 19-footers around a Marquis Daniel old-fashioned 3-point play off an overload cut (featuring a pretty bounce pass from Rondo) putting Boston on top 82-76 with 6:32 to play. Allen made a couple of more big shots down the stretch, including another 3-pointer for a nine-point cushion with 4:29 to go. That was enough to lift Boston even when the Wizards made another late charge.
STAT OF THE GAME
The Celtics continued to move the ball well, finishing with 28 assists on 38 buckets.
UNSUNG HERO
Greg Stiemsma
snagged this honor for both ends of the back-to-back, but he was even more instrumental in Monday's win. With
Jermaine O'Neal
out due to a sore left hamstring, Stiemsma earned his first NBA start and chipped in 13 points, 7 rebounds, 2 blocks and 2 assists over 21 minutes. Sure, he had his defensive lapses, but he showed a burst of offense (5-of-7 shooting) that we hadn't seen before and more than held his own in an elevated role.
WHAT IT MEANS
A win on the second night of a back-to-back? The Celtics simply can't complain about that. There's no such thing as style points when this team is playing consecutive games (and its third in four nights). After starting the season with three straight losses, Boston has won three in a row, bringing its record to .500 as it launches into a home-heavy January (10 more games at the Garden). Oh sure, the Celtics again failed to make things easy on themselves, including letting the Wizards rally within four with less than a minute to go, but every game is apparently going to be a grind. But all that matters is the end result and Boston emerged with both ends of this home-and-home against a Wizards team desperate for its first win (and playing inspired ball after their coach got tossed a mere 104 seconds into the game).
January, 2, 2012
1/02/12
12:26
PM ET
AP Photo/Stephan SavoiaPaul Pierce and the Celtics return home for another matchup vs. the Wizards.
The
Boston Celtics
return to the TD Garden Monday night to wrap up a holiday home-and-home against the
Washington Wizards
(7:30 p.m., CSN). Let's roll out the latest edition of 3-on-3, previewing Monday's tilt with the help of ESPN Boston's Greg Payne and CelticsHub's Brian Robb:
---
1. What's your biggest takeaway from Boston's win on Sunday?

Payne
: The Rondo-KG dynamic. It might seem like an obvious observation, but there's no denying that
Rajon Rondo
made
Kevin Garnett
's job a heck of a lot easier through his penetration and slick passes around the rim. Granted, the Wizards aren't exactly an elite NBA defensive team, but with KG not being the same athlete he was in years past, Rondo making things easier for him offensively will go a long way towards him having a productive season on that end of the court.
Robb
: Rondo's effort. His performance was vintage last night and makes you wonder how Danny Ainge even considered trading the guy. The Celtics need more of this while
Paul Pierce
works himself into game shape, but the C's All-Star point guard asserted his will in all facets of the game against Washington. If he can continue to bring some semblance of consistency, at least against inferior defenses like the Wizards, the entire roster will reap the benefits.
Forsberg
: You boys covered Rondo and KG, so I'll be Debbie Downer: Why can't this team just stomp on an opponent's throat? After starting the season with three consecutive losses, it's hard to gripe when they don't blow out their foes in victory, but let's face it, the Pistons and Wizards are pretty terrible teams at the moment and there's no reason Boston shouldn't have won by 20 points both nights. The inability to put an opponent away will have two long-term affects: More minutes and expended energy by veterans (even though the starters didn't exactly play a ton last night) and less minutes and opportunities for younger players. The Celtics are not doing themselves any favors by making each game a grind (not when rivals like Chicago and Miami are both wining games by 40 points on the same night).
January, 1, 2012
1/01/12
8:32
PM ET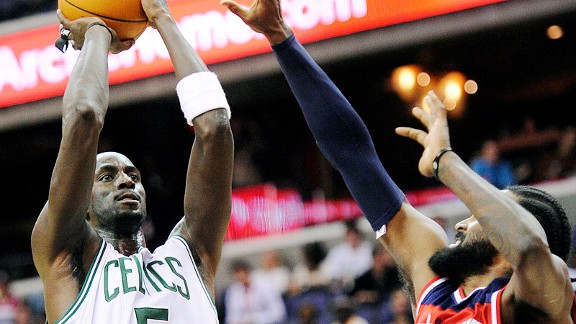 AP Photo/Nick WassKevin Garnett and the Celtics cranked up their defense in D.C.
Rapid reaction after the
Boston Celtics
defeated the
Washington Wizards
94-86 Sunday night at the Verizon Center in Washington, D.C.


HOW THE GAME WAS WON
Rajon Rondo
and
Kevin Garnett
turned Sunday's game into a two-man show. Rondo produced his first triple-double of the season with 18 points, 14 assists and 11 rebounds over 33 minutes. Garnett, slow out of the gates this season, put together his finest effort of the year by scoring a game-high 24 points (on 9-of-17 shooting) to go along with 9 rebounds and 3 assists. The Celtics let the Wizards back into the game in the third quarter, thanks in part to the efforts of
John Wall
(19 points, 8 assists, 7 rebounds) and
JaVale McGee
(16 points, 14 rebounds), but Rondo and Garnett were enough to fend off Washington's charge.
TURNING POINT
The Celtics built an early double-digit cushion, but the Wizards had that down to seven midway through the second quarter. That's when Boston went on a 17-5 run that helped push the lead to 17 at intermission. Most impressive during that stretch was that the Wizards went nearly seven minutes without a field goal (settling for a quintet of free throws). That's the trademark defense that Boston has showcased in seasons past (and lacked this season).
STAT OF THE GAME
The Wizards shots a mere 28.2 percent (11-for-39) in the first half, aiding Boston in establishing a comfortable enough cushion to hold on. The Wizards made 21 of 39 shots after intermission.
UNSUNG HERO
On a night the bench spread out its contributions (
Brandon Bass
chipped in a reserve-high 8 points),
Greg Stiemsma
put together some solid minutes (especially with
Chris Wilcox
not making the trip because of a left shoulder bruise). Stiemsma kicked in 4 points, 3 rebounds and 3 blocks over 12 minutes. It's not an eye-popping stat line, especially when you consider he was a team-worst minus-11, but the young center continues to show he can handle what's being thrown at him in his first real season in the NBA.
WHAT IT MEANS
Look out, the Celtics are streaking! Despite allowing the Wizards back in the game in the third quarter, Boston leaned on Garnett and Rondo in the final quarter to ensure the victory. Garnett's performance alone is encouraging. The Celtics get another crack at the Wizards on Monday night at TD Garden on the back end of a home-and-home. After the Celtics looked completely gassed against New Orleans, it will be interesting to see how they respond playing their second back-to-back of the season (and their third game in four nights).