Boston Celtics:

2012Round1Game1
April, 30, 2012
4/30/12
7:05
AM ET
Grant Halverson/Getty ImagesCeltics center Kevin Garnett.
A handful of postgame notes after the Atlanta Hawks defeated the Boston Celtics 83-74 Sunday evening in Game 1 of an Eastern Conference quarterfinal series at Philips Arena:
Rondo is the head of Voltron
Leave it to Kevin Garnett to sum up what the loss of Rajon Rondo would mean if the point guard is suspended for Game 2 against the Hawks.
"Doc's system, man, Doc's system is predicated towards hard work and playing hard," said Garnett. "You want certain personnel in certain positions, but this team is built to where you move pieces and you put pieces into the structure to where it runs continually like a wheel. Rondo, obviously, he's the head that forms Voltron; He's the black lion. Obviously, you have other pieces you can put in there, manipulate and keep things going, so we're going to continue to be who we are and right now that's just being better for Game 2."
Rondo single-handedly kept Boston in Game 1 with his offensive exploits, both handing out 11 assists, but attacking the basket while matching Garnett with a team-high 20 points (on 10 of 18 shooting).
"I just tried to read the pick-and-roll," said Rondo. "I still tried to distribute the ball. Guys made shots, guys missed shots, but at the same time, I wanted to try to attack. The lane was opening up and I tried to take advantage of it."
April, 30, 2012
4/30/12
6:25
AM ET
ATLANTA -- A look at ESPN Boston headlines after the Atlanta Hawks defeated the Boston Celtics in Game 1 of an Eastern Conference quarterfinal series at Philips Arena, including a look at how
things couldn't have possibly gone much worse
for the visitors:
April, 30, 2012
4/30/12
6:15
AM ET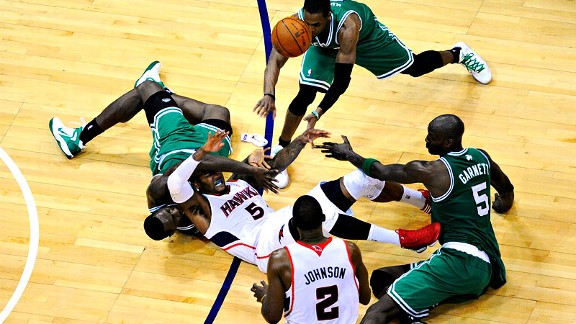 Dale Zanine/US PresswireAtlanta's Josh Smith was in the middle of everything in Game 1, including this fateful play.
ESPN.com's John Hollinger
examines a monster night
for Josh Smith:
Yes, the big story is that the Boston Celtics may have handed the Atlanta Hawks Game 2 by losing their minds at the end of Game 1. But before any of that happened, the Hawks had to take the opener. And take it they did, in a way that was best exemplified on the play that everyone will be replaying all week. Before Rajon Rondo lost his mind and bumped referee Marc Davis, possibly earning a suspension, the Hawks had to win a scrum for a loose ball on the floor that resulted in Brandon Bass fouling Josh Smith. Atlanta won Game 1, 83-74, by doing exactly that for 47 minutes even as their offense was stuck in a deep funk. "We wanted to win the hustle game," said Hawks coach Larry Drew, and man did they ever. The Hawks couldn't make a shot after the first quarter, but repeatedly outhustled Boston to 50-50 balls and came out with dramatically more energy. Smith was the catalyst -- "an animal," said Drew -- and his line was the end product of a classic Josh Smith night.
Hop
HERE
to read the full story.
April, 29, 2012
4/29/12
11:45
PM ET
ATLANTA -- There have been three instances where a player has been suspended by the league this season for making physical contact with a game official, according to ESPN Stats and Info. A look at the infractions:

March 8, 2012: The NBA suspended Orlando's Hedo Turkoglu for one game for making contact with a ref during a game against the Chicago Bulls. (Video HERE)

Feb. 4, 2012: The NBA fined Lakers coach Mike Brown $25,000 and suspended him for one game for making contact with a referee (and failing to leave the court in a timely manner) following an ejection in a game against the Utah Jazz. (Video HERE)

Jan. 24, 2012: The NBA suspended Phoenix's Robin Lopez for one game after making contact with a referee during a game against the Toronto Raptors. (Video HERE)
(h/t: NBA Fines and Suspensions)
April, 29, 2012
4/29/12
11:22
PM ET
Grant Halverson/Getty ImagesReferee Marc Davis ejects Rajon Rondo from Sunday's Game 1 in Atlanta.
ATLANTA -- Boston Celtics point guard Rajon Rondo said he did not intentionally bump a game official, which led to his ejection during the closing moments of Sunday's 83-74 loss to the Atlanta Hawks in an Eastern Conference quarterfinal matchup at Philips Arena.
Intentional or not, Rondo bumped referee Marc Davis while protesting a foul call against Brandon Bass. Rondo's initial outburst earned him a technical foul -- one he says he deserved -- but he defended himself after the game saying he knows better than to initiate contact with a referee, particularly at this time of the season.
"Well, obviously I was upset about the call and I said some words to Marc," said Rondo. "I deserved the first tech and, as I was walking, I thought [Davis] stopped, my momentum carried me into him -- I even think I tripped on his foot. I didn't intentionally chest bump him. But that's what it appears to be."
The Celtics, who trailed by double digits for much of the night, had whittled Atlanta's lead to 78-74 with 41 seconds to play. Joe Johnson had lost control of the ball and both Josh Smith and Kevin Garnett dove to the floor in a scramble for the loose ball. Smith came up with it and Bass was whistled for his sixth foul when he tried to reach around Smith's flailing body to force a jump ball.
Rondo, who was still fuming from a call that went against Boston shortly before, erupted when Davis whistled the play dead and called the infraction against Bass. As Davis turned to signal the initial technical foul to the scorer's table, Rondo pursued and bumped into Davis' back. Davis immediately signaled for another technical and the automatic ejection.
"It doesn't matter what I thought," Rondo said when asked what made him so upset. "I thought Josh had traveled. I thought it was a jump ball. But that's not my job. They made the call and it's what it is."
April, 29, 2012
4/29/12
9:38
PM ET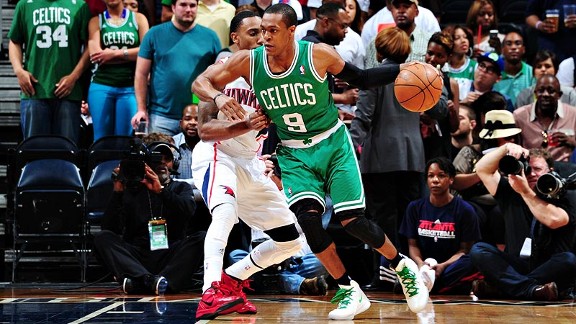 Scott Cunningham/Getty ImagesCeltics guard Rajon Rondo kept his team in the game during the early going.
ATLANTA -- Rapid reaction after the
Atlanta Hawks
defeated the
Boston Celtics
83-74 in Game 1 of an Eastern Conference quarterfinal series Sunday night at Philips Arena:


HOW THE GAME WAS WON
Josh Smith
posted a game-high 22 points and 18 rebounds, but it might have been the big-time shots of
Kirk Hinrich
(four 3-pointers, 12 points) and
Jeff Teague
(15 points, including some clutch late-game buckets) that propelled the Hawks.
Kevin Garnett
overcame early shooting woes to score 20 points (to go along with 12 rebounds), while
Rajon Rondo
chipped in 20 of his own (to go along with 11 assists) before he was ejected in the fourth quarter.
TURNING POINT
When
Jason Collins
is scoring buckets ... well, it's not a good sign if you're the opposition. Collins, who went scoreless in 19 of the 30 regular-season games he appeared in for the Hawks, got a layup with less than six minutes to go in the second quarter, putting Atlanta on top 42-25. The Celtics had previously trimmed a 17-point deficit to nine in the frame, only to see Collins and the Hawks push it to 19 with an 11-1 burst in which Boston didn't generate a field goal over a five-minute span. Collins finished with 6 points, 5 rebounds and a plus-15 in plus/minus.
BOLD PLAY OF THE GAME
The Celtics started their rally from that 19-point deficit with a late first-half burst that featured Rondo delivering a sick no-look feed to a cutting
Avery Bradley
for a reverse layup that made it 46-35 with 1:33 to go. Unfortunately for Boston, Bradley followed with two "cold" plays of the game, missing both a reverse layup and an open corner 3-pointer with a chance to trim the lead to single digits. Playing his first career postseason game, Bradley was 3-of-10 in the first half for eight points (he finished with 10 points).
A FORGETTABLE FIRST HALF
The Celtics shot a mere 36.6 percent (15-of-41) and missed all seven 3-pointers they hoisted before the intermission. The Hawks shot 48.8 percent and made a quartet of triples. What's more, Kevin Garnett missed six of the seven shots he took (finally rattling home a midrange jumper late in the half), while
Brandon Bass
didn't attempt a shot in 14:20 of floor time (settling for two free throws for his only points).
C'S MAKE A LATE CHARGE
Unable to get their deficit to single digits at any point during the middle frames, Boston (finally) got over the hump in the final quarter, charging within five on two occasions. First, the previously ice-cold Smith buried a jumper when Garnett blanketed him at the elbow, then Teague drilled a 3-pointer making it 76-68 with 3:05 to play. Unfazed, Boston got its deficit to four (78-74 with a minute to play) when Rondo lost his temper at the wrong moment.
RONDO TOSSED, BUMPS OFFICIAL
With 41 seconds to play, Rondo took umbrage with a loose-ball foul on Bass, who was trying to force a jump ball with Smith on the floor in a scramble. When referee Marc Davis whistled the call, Rondo immediately disputed the infraction, getting tagged with a technical, then appeared to bump Davis, earning a second technical and an automatic ejection. Now the league will have to determine if Rondo deserves a suspension for his actions (he was
suspended two games earlier this season
for throwing a ball at a game official).
ALLEN SUITS UP (NO, A REAL SUIT)
Celtics shooting guard
Ray Allen
sat out Sunday's Game 1
due to right ankle soreness. Doc Rivers said he remains day-to-day moving forward. Allen, who was joined by rookie forward
JaJuan Johnson
on the inactive list, sat on the bench in a suit alongside his teammates.
WHAT IT MEANS
The Celtics put themselves in a tough spot. Not only did they dig themselves a big hole in Game 1 (and were unable to climb out), they might have done the same with the series. Game 2 is a must-win situation -- winning four of the next five would be incredibly daunting for the often inconsistent C's -- and they might not have the services of Rondo to aid them in Game 2 after his late-game outburst. Boston certainly played better over the final three quarters, but was simply unable to overcome the damage inflicted by a hot start by the Hawks. The two sides will take a day to work out the kinks before Game 2 on Tuesday night back at Philips Arena.
April, 29, 2012
4/29/12
6:31
PM ET
ATLANTA -- Celtics guard Ray Allen is out for Game 1 of an Eastern Conference quarterfinal series against the Hawks.
Allen went through a pregame warm-up on the court at Philips Arena, but simply is not ready to dive back into action due to a balky right ankle. Earlier in the day at the team's shootaround, he expressed hesitation in getting back on the court if his lingering ankle soreness made him a liability, particularly given the increased intensity of playoff basketball. Despite his absence, Rivers remains confident he will play moving forward.
"It's going to be day-to-day, game-to-game," said Rivers. "That's just what it is."
The Celtics will lean heavy on Mickael Pietrus in the shooting guard role off the bench, but Rivers noted the team could also call on lesser-utilized players like Sasha Pavlovic, E'Twaun Moore, or Keyon Dooling. With Pietrus able to shuffle to the small forward position, it could be on one of those players to step up in Allen's absence.
In other pregame news:
*
Playing without Zaza Pachulia
(foot injury), the Hawks will go with a small lineup of Jeff Teague, Kirk Hinrich, Joe Johnson, Josh Smith, and Jason Collins. Said Rivers: "That was expected; they are going to go small as well. That's what makes them so good, really, is that they have their ability to be versatile. We just have to be on top of them when they do [go small] -- we need to match up, or try to take advantage of them when they go smaller." Rivers said one of the keys to the entire series could be how Brandon Bass fares against bigs with ability to both stretch the floor and work off the dribble.
* After reporters went quiet after only a few questions, Rivers elicited laughter when he noted: "You guys are ready for Game 2, I can tell. Talked out, tired, tired of hearing me. You know what you've become? My players."
April, 29, 2012
4/29/12
3:00
PM ET
Brian Babineau/NBAE/GettyCeltics rookie center Greg Stiemsma is still battling injuries.
ATLANTA -- During Sunday's morning shootaround, Celtics coach Doc Rivers said he fully expects everyone not named Ray Allen to be available for Game 1 of an Eastern Conference quarterfinal series against the Atlanta Hawks (and Allen might be available, too, but that's still to be decided).
Though when asked if anyone else was a question mark, he did hesitate a tiny bit with rookie center Greg Stiemsma, answering, "Greg, but he'll be alright; Everybody else is good. The way we look at it, it doesn't matter. If you're on the floor, then you're healthy. That's how our guys look at it."
Rajon Rondo, who sat out three of the final four games of the regular season, didn't seem concerned about his sore back.
"It's fine," he said. "It shouldn't be a problem at all. I haven't hit the deck yet, but I'm sure I'll get back up."
Rivers said the team would flirt with extending Kevin Garnett's minutes, but don't expect a big leap.
"We may extend him a little bit, but at the end of the day, we have to have him playing at peak speed the whole game and if we take him over a number, and then he can't recover back... then we haven't done him a good service. We may extend his minutes, but it's not going to be much."
Given all the rest some of his players have enjoyed over the final two weeks of the regular season, Rivers admits his guys are just ready to play.
"I think our guys are ready. Antsy? Yeah, you could tell that in practice [on Saturday]," he said. "I've always thought the worst practice is the day before the playoffs, because no one wants to get hurt, so they stay out of each other's way. That's just the way it is. I'm sure both teams are ready to play. [Celtics players] are sick of me. And I am, too."
April, 29, 2012
4/29/12
11:01
AM ET
Chris Forsberg/ESPN BostonRay Allen, right, gets up shots before the team's shootaround.
ATLANTA -- Celtics coach Doc Rivers gave shooting guard Ray Allen a "50/50" chance of playing in Sunday's Game 1 of an Eastern Conference quarterfinals series against the Atlanta Hawks, but admitted to having multiple game plans based on his availability.
"[Allen is] probably [a] game-time [decision]," said Rivers. "The way I think it'll probably end up, he'll go over and do his routine early, and honestly, if you want to gauge it, if he gets through his routine, which he hasn't been able to do the last two times he's tried to play, then he'll probably play. That's how I'm going to judge it. My coaches will call me and let me know, but we've got two plans, one with him and one without. And one with him and maybe not in the second half, we just don't know. That's just the way we'll play it."
Allen got up some shots while reporters were present before the start of the team's walkthrough on the campus of Georgia Tech. He was cryptic on his status, stressing his desire to play, but suggesting he needed to be fully confident in the balky right ankle given the increased intensity of playoff basketball.
"I'm trying not to [think about the ankle], I'm just taking a day to go through it and understand how my body feels," said Allen. "It's kinda hard, it's the playoffs. I gotta be totally ready and, as much as I know I can help the team, I don't want to detract away from the team."
Allen said he'd make the decision about his status "soon." He was unable to go through practice on Saturday, noting the ankle simply wouldn't allow him to do as much as he would have liked.
If Allen does play, Rivers expects him to be typical Allen.
"If I play him, I expect him to make shots," said Rivers. "We're not going to put him on the floor unless we think he can play well. Obviously, he hasn't played, so his conditioning can't be very good. I don't know. [If he's able to play,] we're just going to put him out there and see."
Allen admitted Saturday that he will require surgery at some point, but also said it is not an option now because of the playoffs. He said if this were the beginning of the season, he would opt to have surgery.
Rivers reaffirmed Sunday that everyone else on the team is healthy and ready to play in Game 1.
April, 29, 2012
4/29/12
10:00
AM ET
Paul Abell/US PresswireThe Celtics and Hawks kick off their Eastern Conference quarterfinals series Sunday in Atlanta.
The grind of the condensed regular season in the rearview mirror, now the fun begins when the fourth-seeded Boston Celtics (39-27, 15-18 away) visit the fifth-seeded Atlanta Hawks (40-26, 23-10 home) in
Game 1 of an Eastern Conference quarterfinal series
Sunday evening at Philips Arena (7 p.m., TNT). To preview the opener in this best-of-seven series, we play a game of 2-on-2 with colleague Greg Payne.
---
1. What will you be focused on in Game 1 of Celtics vs. Hawks?


Payne
: Kevin Garnett's offensive production. He'll be as reliable as ever on the defensive end, but given the loss of Al Horford and Zaza Pachulia not being 100 percent, he can be a real difference-maker on the offensive side of the ball. I'll be looking to see if KG posts up routinely, and then works to stretch his game out and incorporate his customary jump shots. Garnett should average right around 20 shots per game in this series.
Forsberg
: Early on, I'll be looking to see how the newer faces on the Celtics roster respond in the postseason. Can second-year guard Avery Bradley continue to thrive when the intensity jumps up a notch (he didn't get any postseason experience last year)? Will Brandon Bass be able to maintain his regular-season production (his last two playoffs series with Orlando saw his numbers dive hard in the postseason)? Can Mickael Pietrus play like he did during Orlando's run to the NBA Finals during the 2009 season? What do the Celtics get from rookie center Greg Stiemsma in his first taste of postseason basketball? Yes, Boston has its veteran core -- though Ray Allen is the biggest question mark of the series -- but the Celtics need contributions from their role players in order to have a legitimate chance to succeed in the second season.
PODCASTS
Peter King, NFL
Play Podcast Sports Illustrated's Peter King weighs in on the Patriots' offensive line, the outlook for New England, Jim Harbaugh's relationship with his team and the Cowboys' success.
Opening Rant, 9/30
Play Podcast Colin Cowherd shares his thoughts on the state of the Patriots, New England's offense and Brady Hoke's future at Michigan.
First Take
Play Podcast Skip Bayless & Stephen A. Smith debate if the Patriots dynasty is over, if the 49ers have stopped listen to Jim Harbaugh and more. Plus, they make their World Series predictions.