Boston Celtics:

2012Round1Game6
May, 12, 2012
5/12/12
7:45
PM ET
BOSTON -- The NBA fined Hawks owner Michael Gearon $35,000 for publicly criticizing NBA officiating and making negative comments about an opposing player, executive vice president of basketball operations Stu Jackson announced Saturday evening.
During Wednesday's offday before Game 6, Gearon at an event in Atlanta said: "We don't get any calls, which I know everybody always hears. But I'll give you a stat. Last night, we are playing this old physical team. They are old. I know what happens when you play basketball, old guys foul. (Kevin) Garnett is the dirtiest guy in the league. We are playing Boston last night and they had two fouls the whole first half. We had five times that and we're athletic."
Garnett responded by both carrying the Celtics to an 83-80 triumph in Game 6 in which he posted 28 points, 14 rebounds, and 5 blocks, and
sounded off after the game
on the owner's comments.
"First off, I want to say thank you to the (Hawks) owner (Gearon) for giving me some extra gas (Thursday)," said Garnett. "My only advice to him is next time he opens his mouth, actually know what he's talking about -- Xs and Os versus checkbooks and bottom lines."
If watching Garnett end his team's season wasn't bad enough, the fine was insult to injury.
Gearon wasn't the only member of the Hawks organization that got a fine from the league Saturday. Ivan Johnson will pay $25,000 for directing an obscene gesture toward Boston fans while walking off the court following Game 6.
With Indiana coach Frank Vogel getting tagged with a $15,000 fine on Saturday night as well (for comments about how the referees should officiate the Pacers' upcoming series with the Heat), the NBA collected a cool $75,000 in a short span.
May, 11, 2012
5/11/12
6:54
PM ET


NEW YORK -- The NBA says a foul against Boston with 3.1 seconds left in Atlanta's season-ending loss on Thursday should have been called sooner, which would have given the Hawks a free throw instead of just the ball out of bounds.
The Celtics' Marquis Daniels held the Hawks' Al Horford as Atlanta was inbounding the ball trailing 81-79. Referee Eric Lewis called a foul, but ruled it came after Marvin Williams had released the ball, meaning it was just a common foul that resulted in another throw-in.
However, replays showed the foul occurred before the ball was passed and should have been treated as an away-from-the-play foul, in which case Atlanta would have been awarded one free throw and retained possession of the ball.
Boston won 83-80 to take the series 4-2.
May, 11, 2012
5/11/12
8:00
AM ET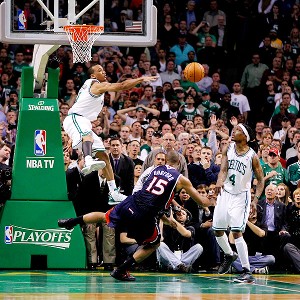 Greg M. Cooper/US PresswireMarquis Daniels (4) got caught in a mismatch with Al Horford (15) late in Game 6.
BOSTON -- Celtics swingman Marquis Daniels played a mere 7 seconds in Thursday's 83-80 triumph over the Hawks in Game 6 of an Eastern Conference quarterfinal series at TD Garden. Fair or not, it was nearly a goat-worthy performance as Daniels was forced to foul Al Horford to prevent an easy basket in the final seconds. Horford missed one of the two free throws with a chance to tie the game and Boston escaped with the narrow win.
As Celtics coach Doc Rivers explained, Daniels should never had been in that position.
"We wanted to go small with one big," Rivers said of the personnel swap that saw Daniels replace Brandon Bass in the final moments. "The mistake we made -- and we were trying to scream (to alert the players) -– Marquis should've been guarding the ball out of bounds, and Kevin (Garnett) should've been on (Al) Horford. They got mixed up, and we got lucky."
The Celtics actually got lucky twice. After Daniels initially subbed in, he matched up with Horford with the ball being inbounded below the baseline. With a foul to give, Daniels got whistled for playing the role of offensive lineman as Horford tried to muscle his way toward the hoop.
If Daniels was out of position, the Celtics didn't correct it after the whistle. Again Daniels defended Horford coming out of the stoppage in play and Josh Smith alertly noticed the mismatch. Smith lobbed a perfect feed to Horford in the circle with the Hawks down 2 with 2.3 seconds to go, but Daniels this time gave a hard (and clean) foul while making sure Horford didn't get up a shot.
Horford missed the first of two freebies, essentially preventing a chance at overtime.
"We were going to try to just get the ball to Joe (Johnson) in the middle and just let him operate," Hawks coach Larry Drew said of the original play-call in the late-game situation. "Josh had the awareness of the matchup and got it over the top. Then Al got fouled, and he just did not put them down. I thought that was a heads-up play for Josh, in terms of who they had on Al that he would pass over the top. He just didn't make the free throws at the end."
While the Celtics put Daniels in a tough spot, teammate Keyon Dooling said it spoke volumes the way Daniels mad smart decisions despite limited floor time this season.
"For a guy that's 210 pounds to be able to stop a guy who's 270 pounds from going up, not letting him get the shot up -- and you know he sat the whole game -- it's just a testament to (Daniels) being a true professional, always being ready to go, every time his name is called," said Dooling. "No matter if it's at the peak of the game, the climax of the game, he's just ready to step up and he made a great play in fouling Al Horford there."
May, 11, 2012
5/11/12
3:35
AM ET
BOSTON -- A look at ESPN Boston headlines after the Boston Celtics defeated the Atlanta Hawks in Game 6 of an Eastern Conference first-round series at TD Garden, including Jackie MacMullan on
Kevin Garnett's big night as a 'reluctant scorer'
and Chris Forsberg on
Paul Pierce coming up big despite a reluctant knee
:
May, 11, 2012
5/11/12
1:42
AM ET
Babineau/NBAE/Getty ImagesRay Allen is still dealing with lingering pain in his sore right ankle.
BOSTON -- Celtics reserve shooting guard
Ray Allen
said his ailing right ankle hindered him more than usual during Boston's Game 6 triumph over the
Atlanta Hawks
and admitted his availability is day-to-day moving forward into the next round.
Allen missed six of the seven shots he took in Thursday's game, chipping in 7 points and 5 rebounds over 26:29 in Boston's 83-80 triumph that ended the Hawks' season. Boston opens a conference semifinal series with the
Philadelphia 76ers
on Saturday night with Game 1 at TD Garden.
"(The ankle) bothered more tonight than it had the previous couple games," said Allen. "I didn't have the confidence on it. Right now, it bothers me, but I have a day (Friday) to deal with it."
Might Allen miss a game if the pain lingers?
"I never rule myself out," he said. "I think it's a day-to-day situation for me."
Allen previously noted, "Today wasn't a great day. I struggled with (the ankle). (Wednesday) was a transition day, but coming in (Thursday), it was a little tougher. I just worked through it."
Maybe the most surefire sign that Allen simply isn't feeling right: He missed a pair of free throws during Thursday's game.
"I won't say (the injury) affects my free throw shooting," said Allen. "I think it just affects your whole confidence on the floor -- running around, moving around, not having your leg underneath you."
Allen said his rhythm "felt a little suspect. I'm still working on it. Every day is a new day. I always love the challenge."
May, 10, 2012
5/10/12
11:59
PM ET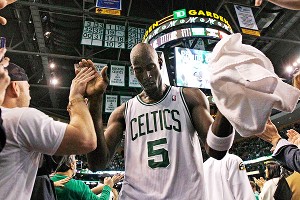 AP Photo/Charles KrupaKevin Garnett is greeted by fans as he comes off the court.
BOSTON -- Fresh off a turn-back-the-clock performance in which he posted game-highs with 28 points and 14 rebounds, Celtics center Kevin Garnett opened his postgame press conference by firing a shot across the bow of Hawks co-owner Michael Gearon Jr. for derogatory comments he made about Garnett on Wednesday.
Garnett's effort helped Boston top Atlanta 83-80 in Game 6 of an Eastern Conference first-round series Thursday night at TD Garden and ended the Hawks' season.
"First off, I want to say thank you to the (Hawks) owner for giving me some extra gas tonight," said Garnett. "My only advice to him is next time he opens his mouth, actually know what he's talking about -- Xs and Os versus checkbooks and bottom lines."
Speaking at an event in Atlanta on Wednesday, Gearon Jr. lamented the lack of foul calls in favor of Atlanta, even on the heels of the team's Game 5 triumph that forced the series back to Boston.
"We don't get any calls, which I know everybody always hears," said Gearon Jr. "But I'll give you a stat. Last night, we are playing this old physical team. They are old. I know what happens when you play basketball, old guys foul. [Kevin] Garnett is the dirtiest guy in the league. We are playing Boston last night and they had two fouls the whole first half. We had five times that and we're athletic."
Garnett took umbrage with both the "old" and "dirty" parts of Gearon Jr.s' comments. On the latter, he noted, "We're not dirty. You have to understand the word 'dirty' in this game is very defined. Going under guys, trying to hurt guys, ill intent -- that's not how we play basketball. We play very, very respectable to the opponent, to the city we're in. We play with a lot of passion and with force. It's the playoffs. I haven't been here trying to hurt anybody and neither have my teammates. I found that comment to be a little rude and out of hand, and I wanted to address it.
"Just because you got a bunch of money doesn't mean you can open your mouth."
May, 10, 2012
5/10/12
10:50
PM ET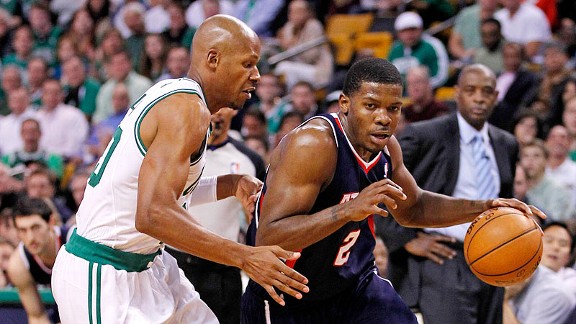 Greg M. Cooper/US PresswireRay Allen and the Celtics were looking to end Atlanta's playoff run in Game 6.
BOSTON -- Rapid reaction after the
Boston Celtics
defeated the
Atlanta Hawks
83-80 in Game 6 of an Eastern Conference first-round series Thursday evening at TD Garden (Boston wins the series, 4 games to 2):


HOW THE GAME WAS WON
Kevin Garnett
. It's as simple as that. Garnett put the Celtics on his back the entire night, finishing with a game-high 28 points and 14 rebounds over a whopping 38:32.
Paul Pierce
battled through an MCL sprain in his left knee to chip in 18 points, 7 rebounds, 5 assists, 2 steals and 1 very important late-game block over 40 minutes.
Josh Smith
paced four Hawks starters in double figures with 18 points and 9 rebounds, while
Joe Johnson
added 17 points for Atlanta.
TURNING POINT I
The Celtics let the Hawks hang around much of the night, and it was a two-point game (67-65) early in the fourth quarter. Garnett scored six of Boston's next eight points, including a turnaround fadeaway for a 74-65 cushion with 8:42 to play. Playing as if they were blissfully unaware their season hung in the balance, the Hawks generated one field goal over the first six minutes of the final frame while Boston took control. It probably should have been enough, but Garnett had to come off the floor ...
TURNING POINT II
With Garnett out, the Hawks rallied right back into the game. After an
Al Horford
alley-oop from Smith, Atlanta was within a point (76-75) with under four minutes to go and Garnett was back at the scorer's table. That didn't stop the Hawks, who got a driving dunk from Smith and a Horford layup to go up 79-76 with 2:23 to play. Unfazed, Pierce muscled in a bucket with 2:05 to go, Boston's defense hung tough, and KG made a turnaround with 30.4 ticks left to put Boston back out front again, 80-79. Pierce came up with a big-time block, dragging his ailing knee to stick with Johnson on a drive to the rim in the final seconds. Atlanta got one final gasp with 3.1 seconds to play, but Horford, fouled by
Marquis Daniels
to prevent a layup, made just 1 of 2 freebies. Pierce essentially sealed it with two free throws of his own at the other end, as Atlanta, out of timeouts, couldn't get off a potential tying shot.
BOLD PLAY OF THE GAME
The Celtics capped a 16-0 second-quarter run in style.
Jeff Teague
had an open run at the basket down the left side of the lane, but Garnett hustled over from the other side of the floor for an emphatic block. Pierce corralled the rebound and pushed it to
Rajon Rondo
, who streaked in with Smith on his side before stopping in his tracks and delivering his famous one-arm fake that got Smith off the ground. Rondo then leaned in for an easy layup and a 41-31 lead with 3:51 to play.
SPEAKING OF KG BLOCKS
An incredibly active Garnett finished with 5 swats (nearly half of Boston's 11 on the night). It was
only the third time in the Big Three era
that Garnett has recorded five blocks or more and only second time since December 2007.
RONDO DOESN'T REACH DOUBLE-DIGIT ASSISTS
For the first time since March 9, Rondo failed to register double-digit assists, settling for 8 helpers over 38:46. Rondo did up his own scoring output, making 7 of 14 shots for 14 points.
C'S LOAD UP ON PADDING
Pierce wore wraps on both knees with protective rubber sleeves on top of that to combat a sprained MCL. For the first time since dislocating his shoulder in Game 3, shooting guard
Avery Bradley
(6 points over 21:31) sported a wrap over his left shoulder (aiming to aid a strained left rotator cuff).
DOC STICKS WITH STIEMSMA EARLY, HOLLINS LATE
Even after
Ryan Hollins
provided 19 quality (and energetic) minutes in Game 5, Celtics coach Doc Rivers stuck with his typical substitution pattern and made rookie center
Greg Stiemsma
the first big man off the bench. After getting beat on a bucket early on, Stiemsma atoned with a highlight swat of a Teague layup attempt. Hollins took the center baton by the second quarter and played 18:15, including some crunch-time burn to solidify the Boston defense.
WHAT IT MEANS
Bring on the 76ers. The Bulls fumbled away Game 6 in Philadelphia on Thursday as
Omer Asik
missed a pair of late free throws and
Andre Iguodala
made it hurt with two pressure-packed freebies of his own to win it at the other end with 2.2 seconds to play for an 79-78 triumph. That means the eighth-seeded 76ers will visit TD Garden on Saturday night for Game 1 of an Eastern Conference semifinal series (Game 2 is Monday). Boston spared itself the grind of having to travel to Atlanta for a decisive Game 7 by coming up big late. It will be interesting to see how these veteran legs, worked hard in the first round, respond as an athletic 76ers bunch invades the Garden this weekend.
May, 10, 2012
5/10/12
7:37
PM ET
BOSTON -- Celtics coach Doc Rivers said that
Paul Pierce
will attempt to play through the pain of a sprained MCL in his left knee, but is uncertain how the team will compensate if it continues to be a hindrance to the team captain.
"Honestly, it's not the best situation, but he's going to play," said Rivers. "We just gotta figure out what he can do on the floor. It's tough. He's a scorer, and I think Paul can score in any situation, but for us, we just have to figure out what the most effective way for him to be effective. And the only way we're going to know that is with the game being played. So we'll see."
Pierce suffered the injury on Sunday after tripping over a teammate's foot in a shootaround before Game 4, then aggravated the ailment while banging knees with
Josh Smith
that same night. Pierce played through pain to score 24 points over 16½ minutes in Game 4, but really labored after the first quarter in Game 5. Rivers admitted the knee hasn't shown much improvement since then.
"He said he had a little more life, just energy wise, but the knee feels the same way," said Rivers.
And Rivers admitted it could get worse.
"There's always that possibility -- when you sprain anything, especially a knee, the possibility that it could get worse is absolutely there," said Rivers.
Pierce wasn't able to get to the basket in Tuesday's Game 5 loss and that prevented him, too, from getting to the free throw line. Rivers said the team has to find other ways to generate scoring if Pierce is limited again.
"Well, he's not going to get to the line as much, we know that, that's just what it is," said Rivers. "So we have to create other ways -- get Kevin (Garnett) in the post more, (but) they are trapping him more, so it's tough for him to get to the line as well. But (Pierce's injury) clearly takes something away from us, and we just have to find other ways to score."
A few more notes from pregame:
* Hawks coach Larry Drew said injured center
Zaza Pachulia
(sprained left foot) went through shootaround Thursday, but will not play in Game 6.
* When the Hawks shifted their lineup before Game 5 to move
Joe Johnson
to shooting guard, Rivers considered countering to negate the height advantage Johnson owns over
Avery Bradley
, but elected not to, in part to maintain Bradley's confidence as a starter. "We thought about it, but Avery's a young kid, even if we have to make a move early, we'd rather do that than take him out of the lineup," said Rivers.
* Rivers said he wasn't certain what was causing
Mickael Pietrus
' shooting woes in this opening-round series. "I really don't know. We need him, we need him to play well tonight," said Rivers. "I don't know if (injuries are) the reason. Shots are just not going in right now. I think when your shot doesn't go in and you're not (an elite) player, your confidence obviously struggles a little bit. I think he's going through that some as well."
* Rivers on using more
Ryan Hollins
than rookie
Greg Stiemsma
at center in recent games: "(Hollins) is playing better; It's a competition. Always. And Ryan is playing terrific for us. Ryan's minutes, on the floor with Kevin, are unbelievable. When you put him and Kevin on the floor at the same time, that's our best defensive team. That's good for us."
May, 10, 2012
5/10/12
10:45
AM ET

The referee assignment for Game 6 of an Eastern Conference quarterfinal series between the Boston Celtics and Atlanta Hawks: Derrick Stafford, Bill Kennedy, and Eric Lewis.
Rivers and Kennedy
landed in the headlines
during the 2009 season after Kennedy gave Rivers the gate in a game against the Chicago Bulls. Rivers was fined $25,000 and Kennedy was also fined for the incident.
Said Rivers of Kennedy in a postgame rant: "The technical on which I got thrown out was the most unprofessional technical by a ref I've ever had. He stood there and goaded me and goaded me and stared at me. Look at the film. I actually walked away. He asked me, 'Where do you want the ball?' And I said, 'Ask them,' talking about my players. That's my right to say that, and he walked away... He stood there and stared me down and stared me down and goaded me until I turned around and said, 'What?' That's when I got thrown out of the game. In a [5-point] game? Think about that."
May, 10, 2012
5/10/12
10:28
AM ET
David Butler II/US PresswireBrandon Bass delivers a two-handed jam against the Atlanta Hawks in Boston.
The Boston Celtics get another chance to close out the Atlanta Hawks when the series returns to TD Garden for Game 6 of an Eastern Conference quarterfinal series on Thursday evening (8 p.m., TNT). To preview the matchup, we play a game of 2-on-2 with colleague Greg Payne:
---
1. With Game 6 in Boston, is it a must-win for the Celtics?


Payne
: It's not a must-win, only because Game 7s and other elimination games can only garner that title. But it's certainly a very important game, because, again, if the Hawks win tonight, not only will they have home-court advantage for Game 7, but they'll clearly have all the momentum in this series. Because it's not technically a must-win for Boston, it can't be labeled as such, but it's pretty much as close as you can get to one. The Celtics will be doing themselves a massive favor by ending the series tonight and not putting themselves through another unnecessary Game 7.
Forsberg
: Both the Celtics and Hawks are too wildly inconsistent for this game to be a must-win. The Celtics have had a way of making things as difficult as possible on themselves, so losing Games 5 and 6, then prevailing in Game 7 on the road would just follow the script of this raise-your-blood-pressure season (and, conversely, a couple Hawks observers have joked that Atlanta prolonging the series only to lose a decisive game on home turf would be very Hawk-like). That being said, no team wants to play a do-or-die game on the road, especially in a situation in which its dinged up and the opposing team would have momentum from two consecutive wins. So Boston can certainly make things far easier on itself if it takes advantage of having the home crowd behind it on Thursday night.
May, 10, 2012
5/10/12
7:46
AM ET
BOSTON -- Getting you ready for Thursday's Game 6 of an Eastern Conference quarterfinal series between the Celtics and Hawks while
wondering how important it is for the hosts
:
May, 9, 2012
5/09/12
8:30
AM ET


ATLANTA -- With help from our friends at ESPN Stats and Info, checking out what past series tell us about how the Eastern Conference quarterfinal series between the Boston Celtics and Atlanta Hawks will shake out:
* Earlier this week, we detailed how only eight teams in NBA history have
rallied from a 3-1 series deficit
. Even in losing Tuesday's Game 5 and watching the Hawks trim their series deficit to 3-2, Boston can take solace in the fact that 85.7 percent (209-35) of teams with that advantage went on to advance.
* What should scare Boston is how harshly the odds will swing if they fumble away Game 6 on Thursday night at TD Garden. Atlanta would host Game 7 and teams with home-court advantage in a deciding game have won 80.4 percent (86-21) of those series.