Boston Celtics:

2012Round2Game1
May, 13, 2012
5/13/12
3:33
AM ET
BOSTON -- A look at ESPN Boston headlines after the Boston Celtics defeated the Philadelphia 76ers 92-91 Saturday evening in Game 1 of an Eastern Conference semifinal series at TD Garden, including
Jackie MacMullan's take on a wild night
and
Chris Forsberg on Rajon Rondo's performance
that was as gaudy as his red suede shoes.
May, 13, 2012
5/13/12
12:51
AM ET
Brian Babineau/NBAE/Getty ImagesCeltics center Kevin Garnett has cranked up his offense the past couple of games.
BOSTON -- If this keeps up, the rest of the NBA is going to sign
Kevin Garnett
up for a book club. Or maybe send him to a cooking class (he does love those baking analogies, you know). Either way, Garnett is dominating the playoffs thus far and he credits his lack of anything else to do.
"I have no life at this point," said Garnett. "I go home, get treatment, come back in here, study tape, film -- no life at all. This is what it is."
Fresh off a 28-point, 14-rebound, 5-block effort in dispatching the
Atlanta Hawks
in Game 6 of a first-round series Thursday night in Boston, Garnett bounced back to put up 29 points, 11 rebounds and 3 blocks in a 92-91 triumph over the
Philadelphia 76ers
in Game 1 of an Eastern Conference semifinal series Saturday at TD Garden.
Poor 76ers, their owners didn't even do anything to get soon-to-be 36-year-old Garnett riled up (his birthday is the day after Game 4 in Philadelphia, and clearly he could use some new music or maybe a puppy to distract him from this hoops grind).
Don't feel bad for Garnett. As he noted Saturday, "When we win, I'm having a lot of fun." Yep, he might have no life, but these games have been a (don't tell him we said this, turn-back-the-clock) party for him.
May, 12, 2012
5/12/12
10:32
PM ET
Mark L. Baer/US PresswireKevin Garnett and the Celtics tried to slow down the 76ers in Game 1 at TD Garden.
BOSTON -- Rapid reaction after the
Boston Celtics
defeated the
Philadelphia 76ers
92-91 in Game 1 of an Eastern Conference semifinal series Saturday evening at TD Garden:


HOW THE GAME WAS WON
Rajon Rondo
produced another postseason triple-double, putting up 13 points, 17 assists and 12 rebounds, but it might have been his game management at the end of the game that allowed Boston to prevail: He committed a smart foul to prevent Philly from getting off a potential tying shot; then ran out the final seconds.
Kevin Garnett
added 29 points, 11 rebounds and 3 blocks over 38 minutes -- picking up right where he left off in ousting the Hawks in Thursday's Game 6.
Avery Bradley
deserves a slice of the credit pie, too, for his defensive efforts down the stretch.
Andre Iguodala
scored 19 points to pace four 76ers in double figures, while
Evan Turner
added a double-double (16 points, 10 rebounds).
TURNING POINT I
The Celtics were lifeless for much of the first half and were lucky that Garnett showed up. Not only did he have the only field goal by a Boston starter in the first quarter, but the other four were a combined 1-for-17 midway through the second quarter. The Celtics finally got things going -- leaning on their defense -- late in the first half, trimming a 13-point deficit to 5 at the intermission. The 76ers actually went a 6-minute, 44-second trek without a field goal, spanning into the third quarter, and Bradley's back-to-back reverse layups (the final of which was in some serious traffic) put Boston out front 48-47 with 9:18 to play in the third. Alas, the Celtics couldn't sustain it ...
TURNING POINT II
The 76ers countered Boston's run with a little 12-3 burst that featured two unsightly turnovers and allowed Philadelphia to pull back out front. By the end of the quarter, the Celtics were down 4, trimming just a point off their halftime deficit for all their early second-half work. What's more, the Sixers pushed their lead back to 10 with a 6-0 run to start the fourth quarter, forcing Boston into catch-up mode yet again. Unfazed, the Celtics kept coming. A Garnett dunk, two free throws from Pierce and a beautiful Bradley transition layup off a long feed from Rondo had the deficit at 3 (80-77) with 7:15 to play. Maybe it was appropriate that it was Rondo who got the Celtics over the hump, burying a jumper with 3:47 to go that not only capped his triple-double, but put Boston out front 83-82. But the real turning point might have happened a moment later ...
[+] Enlarge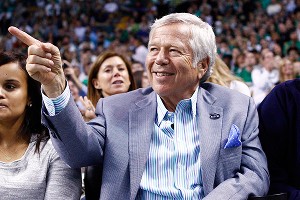 Mark L. Baer/US PresswirePatriots owner Robert Kraft likes what he's seeing at the Garden in Game 1.
TURNING POINT III
A
Spencer Hawes
jumper had the Sixers out front 84-83 when Rondo committed his seventh turnover of the game.
Lou Williams
went the other way with what would have been a big layup, but Bradley blocked the attempt. Garnett, who had fallen out of bounds at the other end of the floor, played fullback in paving the way for Rondo, who provided a dish in the circle that KG finished with an and-1 for an 86-84 lead. Bradley stole the ball from Williams on the next possession and Garnett made another jumper at the other end. A Bradley rebound led to a Pierce step-back and a 90-84 lead with 1:18 to go that nearly took the roof off the Garden. The Celtics hung on from there thanks to Rondo's smarts.
BOLD PLAY OF THE GAME
Nothing Garnett does lately should surprise us, particularly on the heels of that monster 28-point, 14-rebound, 5-block effort in Game 6 to finish off the Hawks. But Garnett pretty much carried the Celtics throughout Game 1 and kept coming up with big plays. His finest might have come with Boston down 77-69 early in the fourth quarter. Iguodala stormed the lane and looked poised to toss down an emphatic jam, but Garnett shuffled over and blocked it, sending
Keyon Dooling
the other way for a layup.
76ERS SUPERFAN TOSSED AFTER FIRST QUARTER
A courtside staple near the 76ers bench at the Wells Fargo Center, a fist-pumping Philadelphia superfan with a jersey that reads "Sixth Man" (and famous for kneeling along the sideline during game action) got led away from his seat near the Boston bench after the first quarter. From a distance, it appeared he had got a little too close to Boston players for comfort and did not return to the area the remainder of the evening.
LOOSE BALLS
When
Greg Stiemsma
entered the game, a steamboat whistle sounded (KG lovingly calls the rookie center "Steamboat"). Stiemsma had a bunch of supporters opposite the Celtics bench clad in "Stiemsma Crew" T-shirts. ... Patriots owner Robert Kraft got a standing ovation when he was shown sitting near Celtics owner Wyc Grousbeck's seats on the baseline near the visitors' bench. On the eve of Mother's Day, Kraft wore the MHK pin in honor of his late wife, Myra.
WHAT IT MEANS
Typical Celtics. Nothing comes easy for these guys, but the end result -- more often than not -- is a victory. The Celtics did themselves no favors for the first 37 minutes and were staring at a double-digit deficit with 11 minutes to go. Most teams would have folded, but Boston just kept coming. Garnett didn't leave the floor in the fourth quarter; Rondo capped off his triple-double; Pierce hit Pierce-like shots; Bradley made some monster defensive plays. Just a brilliant fourth-quarter effort that withstood everything Philadelphia threw at them. Game 2 is back here Monday when Boston can really put itself in control of this series.
May, 12, 2012
5/12/12
7:25
PM ET


BOSTON -- Celtics coach Doc Rivers said Ray Allen (right ankle bone spurs) did not participate in the heavy portions of the team's offday practice and this morning's shootaround, but he felt good enough after going through his pregame routine that he'll be available off the bench in Game 1 of an Eastern Conference semifinal series against the Philadelphia 76ers.

The Celtics will also have Avery Bradley (sore left rotator cuff) and Paul Pierce (left MCL sprain) in the starting lineup.

"Everybody's good," said Rivers. "Ray's doing alright. He didn't practice yesterday or go through shootaround today; Felt better this afternoon."

Said Allen: "I got my normal shots off (hours before tip-off at the Garden), I worked through everything, and I didn't have the same, jabbing sensation that I had (Friday) and the day before... It can be frustrating at times. You just have to give your body the time it needs to heal. It's really like any other preparation that you go through."

As for Pierce, Rivers said the captain offered an encouraging progress report, but knows it's going to take a lot to keep these guys off the floor at this point.

"(Pierce) told me he felt a little better, so that's good," said Rivers. "Listen, they know what the situations is, and they just want to play. We need them, obviously, so that's good.

May, 12, 2012
5/12/12
1:00
PM ET
Brian Babineau/NBAE/Getty ImagesThe Celtics will look to put pressure on Andre Iguodala and the 76ers.
Fresh off dispatching the
Atlanta Hawks
in six games, the
Boston Celtics
turn their attention to the
Philadelphia 76ers
, who upset the top-seeded
Chicago Bulls
in the opening round of the Eastern Conference playoffs. To preview the first game of this conference semifinal series, we play a game of 2-on-2 with colleague Greg Payne.
---
1. What's one thing Boston has to do to win this series?


Payne
: Limit turnovers. The 76ers are a very good defensive team, and, perhaps even worse for the Celtics, they're a very athletic team, capable of breaking out in transition and scoring easy baskets. The Celtics won't be able to completely limit Philadelphia's fast-break opportunities, but they can do themselves an enormous favor by not routinely spoon-feeding Philly extra chances at wreaking havoc in the open court. Because Philly is so good defensively, Boston can't afford to waste any possessions, so valuing the ball should be one of Boston's primary objectives in this series.
Forsberg
: This is one of those series where Doc Rivers likes to joke (or half-joke) that if you're going to turn the ball over, make sure you throw the ball 15 rows deep in the crowd so that Boston can at least reset its defense instead of allowing easy points. That's priority Nos. 1, 2 and 3 this series. Beyond not giving the ball away, the Celtics have to generate good looks each time down the floor. With
Paul Pierce
and
Ray Allen
ailing, the offense is without maybe its two top options, which means Boston has to find other ways to generate points (and you can't expect 28 points from
Kevin Garnett
each night). Guys like
Brandon Bass
and
Mickael Pietrus
need to give more this series because points are going to be tough to come by in this defensive-minded battle.
May, 12, 2012
5/12/12
11:59
AM ET
By
Greg Payne
| ESPNBoston.com
WALTHAM, Mass. -- All 15 players participated during the Celtics' shootaround Saturday morning at HealthPoint, including
Paul Pierce
(sprained left knee),
Avery Bradley
(sore left shoulder), and
Ray Allen
(sore right ankle), according to team officials.
There have been no changes in the status of any players, meaning Pierce and Bradley are expected to play tonight, while Allen will be a game-time decision for Game 1 of an Eastern Conference semifinal series against the
Philadelphia 76ers
at TD Garden.
The hourlong set consisted of a brief film session followed by a walk-through of offensive and defensive sets.