Boston Celtics:

2012Round2Game2
May, 15, 2012
5/15/12
3:33
AM ET
BOSTON -- A look at ESPN Boston headlines after the Philadelphia 76ers defeated the Boston Celtics 82-81 in Game 2 of an Eastern Conference semifinal series Monday evening at TD Garden, including Chris Forsberg on
Boston's lack of late-game execution
and Peter May on
how the Celtics' shaky play has given the 76ers confidence
:
May, 15, 2012
5/15/12
1:01
AM ET
ESPN Stats and Info
puts Boston's offensive woes into perspective
:
The Celtics were held to 11 points in the third quarter, tied for their lowest output in a quarter since the Indiana Pacers held them to 10 points in the fourth quarter in Game 2 of their 2005 Eastern Conference first-round matchup.

In fact, they were held to one point per minute over the second and third quarters while making just 9 of 37 shots from the field. They made 24 of 42 shots -- 57 percent -- over the other two quarters to stay in the game.

If the Celtics had gotten to the free-throw line, they might have been able to win the game despite their poor shooting stretch. Boston attempted only nine free throws in the game. In 1,879 playoff games over the last 25 years, the Celtics are one of only eight home teams to attempt fewer than 10 free throws.
May, 14, 2012
5/14/12
11:59
PM ET
Philadelphia 76ers
, but returned to play all but 12 seconds in the fourth quarter.
Bradley endured his second dislocation of the postseason when
Elton Brand
blocked his layup attempt on a drive to the basket with 5:22 to play in the first half. Bradley stumbled to the bench clutching his shoulder and soon departed for the locker room. He sat out the entire third quarter before returning to aid Boston's late-game charge.
"I thought he played fine," said Rivers. "He turned the ball over once and I thought that was a shoulder issue. If you see him trying to (pass) -- he just had nothing on the ball. But, listen, I didn't think we'd have him. At halftime they said we wouldn't, and then when I walked out (team trainer) Eddie (Lacerte) right before said, 'Hey, I think he's going to try to give it a go.' I mean, this is the third time now in two weeks his shoulder's come out. So, it can't be a good feeling. No. 1, it has to hurt like heck. The good news is, though, it did what it did in the past where it went right back in and he got his feeling. That's what happens when your shoulder goes out: You lose the feeling in your hand. You can't go back in until it comes back. Tonight it did."
Bradley dislocated the shoulder in Game 3 of an Eastern Conference quarterfinal series against the
Atlanta Hawks
and it did not immediately pop back into place. He's worn a protective sleeve over the shoulder in recent games.
Bradley finished with 8 points on 3-of-6 shooting with a rebound, assist and steal over 20:14 on Monday. The shoulder didn't appear to detour him in the fourth quarter as he scored 5 points in the final frame and nearly helped Boston overcome a 10-point deficit.
May, 14, 2012
5/14/12
9:37
PM ET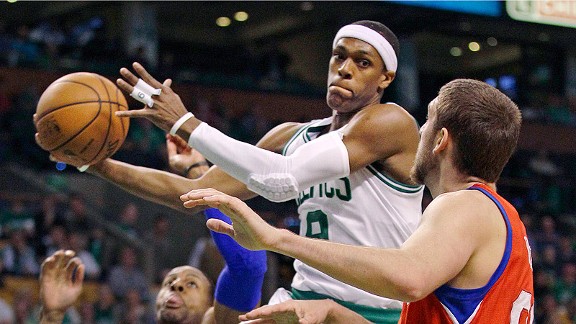 AP Photo/Charles KrupaRajon Rondo looks to dish in traffic in Game 2 against the Philadelphia 76ers.
BOSTON -- Rapid reaction after the Philadelphia 76ers defeated the Boston Celtics 82-81 in Game 2 of their Eastern Conference semifinal series at TD Garden, tying the series 1-1:


HOW THE GAME WAS WON
Jrue Holiday scored a team-high 18 points, making a quartet of 3-pointers, as the 76ers hung on down the stretch despite fumbling away a double-digit fourth-quarter lead for the second time in as many games. Andre Iguodala added 13 points, 7 rebounds and 6 assists for the Sixers. Ray Allen paced Boston with 17 points off the bench, while Kevin Garnett chipped in 15 points and 12 rebounds. The Celtics struggled offensively, connecting on just 41.8 percent of their shots (33 of 79), and Paul Pierce mustered a mere seven points over 36:36.
TURNING POINT I
After a forgettable third quarter (the Celtics were 4-of-17 shooting and scored only 11 points), Boston finally found an offensive pulse in the fourth frame. A Garnett step-back jumper and an Allen layup lit the fuse, but it was two 3-pointers from previously ice cold Mickael Pietrus that pulled Boston within a possession (erasing what had been a 10-point deficit). The Celtics didn't tie the game until Garnett muscled in a turnaround with 4:33 to play. The game would seesaw over the next three minutes before ...
TURNING POINT II
After Avery Bradley and Holiday alternated 3-point shots that had Philly out front by two, Allen took a Rondo feed and buried a triple from the right wing for a 75-74 lead with 1:40 to go. Evan Turner's driving layup put the Sixers back on top with 40.4 to play and Allen missed a fadeaway baseline jumper. The Celtics put themselves in position to have to foul with a questionable decision, but still had a chance to tie after Turner made a pair of free throws for a 78-75 lead with 12 seconds to go. The Celtics never got a chance, however, as Garnett was whistled for an offensive foul. Boston never had a chance to force overtime after that, despite late 3-pointers from Allen and Garnett.
BOLD PLAY OF THE GAME
Call it Lob(ster) City. Rondo delivered three alley-oop lobs to three players during Monday's game, none more noteworthy than one that Garnett put down with 3:17 to go that tied the game at 69-69. Garnett got fouled, but missed the free throw that would have put Boston out front. In the first half, Ryan Hollins (with Spencer Hawes all over him) and Greg Stiemsma each threw down Rondo feeds.
C'S TRY TO GET BASS GOING EARLY
The Celtics seemed to be making a concerted effort to get forward Brandon Bass going out of the gates. It has been a quiet postseason for Bass, who scored eight first-quarter points while hoisting eight shots, but he went cold after an initial outburst. Bass finished 5-of-15 shooting with 15 points and 5 rebounds in just 23:38 of playing time (this including nearly all of the first quarter).
BRADLEY RETURNS AFTER INJURY SCARE
Despite dislocating his banged-up left shoulder after being blocked by Elton Brand late in the first half, Avery Bradley returned for the fourth quarter and provided a spark. He finished with 8 points on 3-of-6 shooting over 20:14, but Boston thrived with him on the court.
WHAT IT MEANS
If we're being honest, the Celtics had no business winning this game. Through three quarters, Boston shot a mere 33.9 percent (20-of-59 overall, 2-of-11 beyond the 3-point arc) and turned the ball over 15 times. But Philadelphia seemed in no mood to capitalize. The 76ers shot 39.7 percent over that span and turned those 15 giveaways into just six points. Give credit to the Sixers down the stretch, though, as they didn't wilt the way they did in Saturday's Game 1. Now the series is tied as it shifts to Philadelphia, which puts the pressure on Boston to steal a game away from the Garden.
May, 14, 2012
5/14/12
6:41
PM ET
Elsa/Getty ImagesMickael Pietrus tries to get off a shot against the 76ers.
BOSTON -- Celtics reserve swingman
Mickael Pietrus
said he will require arthroscopic surgery on his ailing right knee this summer, but said the pain is not enough to keep him from participating in the playoffs.
"(The knee) is bothering me a little bit, but I told you guys, I'm going to keep going," Pietrus said. "It's something I'll worry about getting done in the summertime. (Team doctor Brian McKeon) told me he'd take a look at it in the summer. It's not a big problem -- it's something that can be resolved in 15 minutes. I look forward to the summer -- after the parade."
Asked later if he would require arthroscopic surgery, the same sort of procedure he underwent last offseason on the knee and needed extended time to recover, Pietrus confirmed that's what he intends to undergo.
"They need to clean out some of the tissue in there," he said. "It is hurting a little bit, not as much as it used to. It can wait."
Pietrus also hinted that he wants to come back to Boston next season.
"These guys in here want me back, so when July 1 comes, I want to be as healthy as I can be," he said.
Pietrus suffered a Grade 3 concussion while playing against the Sixers in March, and he admitted to still being a bit skittish in attacking the basket.
"I'm glad God protected me," he said. "I'm still afraid of falling again."
Pietrus said he talked to Sixers guard
Lou Williams
about the play. "He's a good guy," Pietrus said. "He's not a dirty player. He's still my friend."
As for the rest of the Celtics, coach Doc Rivers said before Monday's Game 2, "Everybody's ready to go, which is good."
Asked about the importance of Game 2, Rivers said, "I just think each game is a beast of its own and you just focus on that game. Game 1 was
the
most important game, now Game 2 is. You look at the other side of it, they're looking at they'd like to get both -- they didn't -- so they want to get one. Then the whole cycle turns our way (when Boston travels to Philadelphia). We just have to keep playing."
May, 14, 2012
5/14/12
11:56
AM ET
WALTHAM, Mass. -- All 15 players participated in the Boston Celtics' morning shootaround before Game 2 of an Eastern Conference semifinal series against the Philadelphia 76ers, according to a team official.
That would suggest that, like Game 1, the Celtics should have everyone available. Paul Pierce (left MCL sprain), Ray Allen (bone spurs in right ankle), Avery Bradley (sore left rotator cuff), and Mickael Pietrus (swelling in right knee) are among the ailing on the Boston roster at the moment.
May, 14, 2012
5/14/12
11:55
AM ET


Iggy shuts down Pierce: Andre Iguodala held Paul Pierce to 1-for-6 shooting and forced four turnovers when he guarded the Celtics all-star forward in Game 2. For the series, Pierce is shooting 26.7 percent when guarded by Iguodala and has more turnovers (6) than field goals (4).

Asked if anything about Philadelphia had surprised him this series, Pierce said: "No, they are who we thought they are. They are a tough defensive team, they grind it out defensively; they try the fast break and they're not gonna give in. They have a good coach over there who instills his mentality into his players. So nothing surprising, they are what we expected them to be."

Allen, Iguodala make impact: The 76ers outscored the Celtics by 20 during the 24 minutes that Lavoy Allen and Andre Iguodala played together in Game 2. Allen and Iguodala made an impact on both ends of the court. They shot a combined 50 percent and held opponents to 30.4 percent shooting as on-ball defenders.

Asked about Allen as an X-factor in this series, Rivers noted, "Well, he played great. They made two shots that were unbelievable. Allen makes the bank shot, with .9 -- that was a long .9, I must say. And then Evan Turner made a miraculous shot. But, again, when you put guys in position to make plays like that, you can lose games. And we lost games; we lost the game. I think they had a three with 1 second left, Williams, I think, made it. Evan Turner makes that (circus) shot. Allen makes that shot. But the way I always look at it, we put ourselves in that position. And when you do that, if you win the game, great, you won the game. If you lose the game, you deserve to lose the game, too, because you put yourself in that position."
Some "Next Level" numbers from the Celtics' 82-81 loss to the Sixers in Game 2, courtesy of ESPN's Stats and Information team:
May, 14, 2012
5/14/12
11:27
AM ET
AP Photo/Elise AmendolaCan Rajon Rondo and the Celtics get past the 76ers again in Game 2?
The Boston Celtics will carry a 1-0 series lead over the Philadelphia 76ers into Monday night's Game 2 of an Eastern Conference semifinal matchup at TD Garden (7 p.m., TNT). To preview the battle, we play a game of 2-on-2 with colleague Greg Payne:
---
1. The Celtics won Game 1, but what do they need to tighten up?


Payne
: The Celtics can still be far more effective from 3-point nation. Only twice during this postseason has Boston shot over 40 percent from distance, and they didn't exactly get off to a hot start from beyond the arc in Game 1 against the 76ers, connecting on a mere 2 of 18 (11.1 percent). The Celtics were fortunate that some very impressive defensive plays helped them escape with a win on Saturday, but if Monday's game is just as close, a timely triple could go a long way towards tilting the game, and control of the series, in Boston's favor.
Forsberg
: How about some early intensity? The way Boston sleepwalked through the first 37 minutes of Game 1, they didn't exactly deserve to escape with a win. Oh sure, this team loves making things as difficult as possible on itself, but at some point in this postseason journey -- if Boston expects to make it a long trek -- the Celtics need to find a way to make it less of a grind. And there's an opportunity for that tonight with Game 2 in Boston. If the Celtics can come out and play the way they did the final 11 minutes on Saturday over the first 11 minutes tonight, they can put themselves in position to secure a 2-0 lead and put all the pressure on the 76ers as the series shifts to Philadelphia.
May, 14, 2012
5/14/12
3:33
AM ET
ESPN Boston's Peter May takes a look at the
contributions of Celtics reserve swingman Mickael Pietrus
, even as he struggles to find his shot this postseason:
May, 13, 2012
5/13/12
4:00
PM ET
Brian Babineau/NBAE/Getty ImagesThis about sums up Doc Rivers' reaction to the Celtics-76ers series spacing.
On the heels of Saturday's Game 1 triumph over the Philaldelphia 76ers, the Boston Celtics did not practice Sunday, electing instead to stick with their postseason plan of maximizing rest in quick turnaround situations.
Celtics coach Doc Rivers expressed mild frustration before Saturday's Game 1 with how the Round 2 schedule was constructed. Rivers offered dissatisfaction in the fact that Miami (defeated Knicks in five games; the final of which was Wednesday) and Indiana (defeated the Magic in five games; the final of which was Tuesday) were slated to open their Eastern Conference semifinal series Sunday, a day after Boston and Philadelphia, both of whom wrapped their series on Thursday night, allowing a mere one-day break before launching into the Eastern Conference semifinals.
What's more, there is only a one-game break between each of the first four games, this despite the fact that, from the end of Game 4 to a potential Game 7, there's a total of eight days of spacing.
"I was surprised honestly, and I'm sure (Sixers coach) Doug (Collins) was surprised as well," Rivers said. "Hell, Miami and Indiana have been off, and they are playing on Sunday. But what surprised me more was that the first four games are every other day. I couldn't have prescribed a worse solution for us, at least. I don't know about Philly, but for us, I was very surprised by that."
The veteran-led Celtics entered the series nursing injuries to key players, including Paul Pierce (left MCL sprain) and Ray Allen (bone spurs in right ankle), and the schedule will offer them minimal rest and recovery over the first four games.
The schedule is determined in large part by television and, with C's-76ers being a less-than-glamorous series, the games landed on many of the not-so-marquee nights.
"Like I told our guys, nobody cares," Rivers said. "You've got to go play. That's just the way it is."
The Celtics host the 76ers in Game 2 on Monday night at TD Garden.