Boston Celtics:

2012Round2Game5
May, 22, 2012
5/22/12
9:00
AM ET
AP Photo/Charles KrupaRajon Rondo drives to the basket against the 76ers.
BOSTON -- Celtics point guard Rajon Rondo might not have produced one of his glitzier stat lines of the postseason, but his contributions to Monday's Game 5 triumph over the Philadelphia 76ers drew extraordinarily high praise from coach Doc Rivers.
"I thought the second half was one of the best games he's had in my opinion this year for us," said Rivers. "Because I thought it was more than just the basketball part of it. I thought his will, his leadership -- we needed it. And he gave it to us. So, in my opinion, I thought it was one of the best halves he's had.
"Whether he scored, I didn't care what he did -- he played with a force. And he got us in our stuff. I can hear him barking at guys, demanding guys get into spots. And that's not something he loves doing. So I told him that after the game, 'I thought that was as good of a leadership role that you've had with us in the playoffs.' He's had better games, statistically, but I thought what he did was huge for us. Because, like I said, we needed somebody to lead us. I thought he did a great job with it."
Rondo finished 13 points on 6-of-10 shootings with 14 assists over 38:48. In the second half, he produced seven points, nine assists, and two steals. But maybe the most noteworthy aspect of his second-half box score: Zero turnovers, which means Rondo played with force and took care of the ball.
In fact, much of the big nights from Brandon Bass and Kevin Garnett can be traced to Rondo's aggressiveness, which wasn't lost on Sixers big man Elton Brand.
"It starts with Rondo," said Brand. "You have to stop Rondo. He's being aggressive, scoring layups, getting into the paint. It leaves Kevin Garnett open for a jumper, it leaves Brandon Bass open for a jumper or a drive."
May, 22, 2012
5/22/12
12:28
AM ET
By
Greg Payne
| ESPNBoston.com
Jesse D. Garrabrant/NBAE/Getty ImagesCeltics center Kevin Garnett helped ignite a third-quarter outburst with his play at both ends.
BOSTON -- For a play that changed the entire complexion of the Boston Celtics' 101-85 victory over the Philadelphia 76ers in Game 5 of an Eastern Conference semifinal series on Monday, no one claimed to actually remember it.
Paul Pierce shrugged his shoulders, and Rajon Rondo pleaded ignorance shortly after. And even Kevin Garnett -- the one player directly involved -- played aloof to the scenario in question as well.
The play itself occurred with 7:41 remaining in the third frame, as Garnett drove at Philadelphia center Spencer Hawes on the left blocks and skied up, hoping to put in a layup, dunk the ball, draw a foul -- or some combination of the three -- only he was instead whistled for an offensive foul by referee Rodney Mott and went sprawling to the floor.
It was certainly a questionable call, and, as expected, the TD Garden crowd erupted in protest (chanting an unprintable phrase). Garnett sat with his back to the floor for a moment, before being helped to his feet by his teammates The 76ers were out front at the time, 57-53. Just under three minutes later, the Celtics had completed a 10-0 run and assumed a 63-57 advantage -- a lead they would not rescind for the remainder of the game.
"I have no idea what you're talking about, to be honest," said Garnett, who finished with 20 points and six rebounds.
Celtics coach Doc Rivers, however, remembered the play quite vividly and even pointed to it as a potential turning point for his club.
"You could say the foul called on Kevin -- I thought from that point on we exploded," Rivers said. "It was one of those games, we needed something to ignite us, together... I don't know what did it, but something did it, and once we started playing right, then we played very well."
May, 21, 2012
5/21/12
11:13
PM ET
Brian Babineau/NBAE/Getty ImagesCeltics center Kevin Garnett likes the home-court edge that TD Garden provides.
BOSTON -- It started as a simple question about an offensive foul call that seemed to stir the TD Garden faithful during the third quarter of the Celtics' 101-85 triumph over the Philadelphia 76ers in Game 5 of an Eastern Conference semifinal series Monday night.
Kevin Garnett used it as an opportunity to shower Boston fans with appreciation -- and maybe take a shot at Philadelphia fans in the process. A look at the postgame exchange:
Reporter: Kevin, did that offensive foul [Garnett committed] against Spencer Hawes spark the team as much as the crowd?

KG: "I don't even remember. I don't even remember what you're talking about. It was on me?"

Reporter: You were going up against Hawes and they called you for an offensive foul, and the crowd really got back into the game at that point, and you guys seemed to be sparked after that play.

KG: "Man, we're sparked. This god damn crowd here sparks you. It doesn't take much here, man. I have no idea what you're talking about, to be honest. But when speaking about this crowd, it's like plugging in, man. You're enthused for 48 minutes on, from tip on. So I can't see the difference between minute from minute. I feel like every minute I look up I see my family, I see people yelling, I see the drunk fat guy. I can't decipher. I'm telling you, I can't decipher one from the other. This crowd is ridiculous. I love it."

Reporter: What's that feeling like? The crowd getting into it?

KG: "It's like taking a cold shower, stepping into a freezer that's 60 below. I wouldn't recommend it, but if you want the feeling, try it out, come back, let me know."
Later, Garnett was asked about comparing the crowds in Boston and Philadelphia. His response might have put him in the crosshairs of the boo birds in Philadelphia during Wednesday's Game 6.
"Not even close. Not even close," said Garnett. "You've got fans and then you've got fairweather fans. Take it how you want it."
May, 21, 2012
5/21/12
9:28
PM ET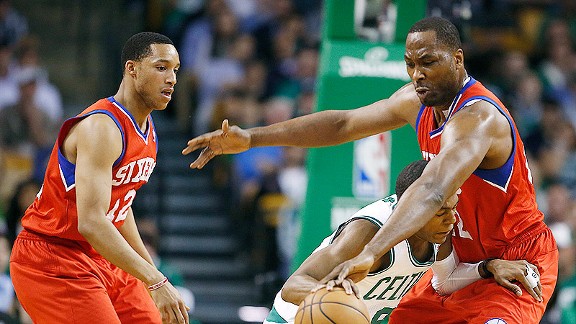 David Butler II/US PresswireThe 76ers made it tough for Rajon Rondo and the Celtics to find room to operate in Game 5.
BOSTON -- Rapid reaction after the
Boston Celtics
defeated the
Philadelphia 76ers
101-85 in Game 5 of an Eastern Conference semifinal series Monday night at TD Garden. (Boston leads the series, 3-2):


HOW THE GAME WAS WON
Brandon Bass
exploded for 18 of his game-high 27 points in the third quarter as the Celtics motored away from the 76ers after intermission.
Kevin Garnett
finished with 20 points and 6 rebounds over a manageable 33:13, while
Rajon Rondo
registered 13 points and 14 assists. The Celtics shot 52.2 percent from the floor (36-of-69) and cranked up the defensive intensity after the break. That was enough to get Gino dancing on the JumboTron with the Celtics up 20 with 2:49 to play.
Elton Brand
turned back the clock to chip in a team-high 19 points on 8-of-13 shooting over 30 minutes and pace five 76ers in double figures.
TURNING POINT
The Celtics trailed by a couple of possessions for much of the first half but finally made their move with seven minutes to play in the third quarter. A Garnett jumper -- shortly after he got called for a questionable offensive foul for clearing out
Spencer Hawes
-- ignited a 10-0 burst that featured six points from Bass, including back-to-back dunks, and helped Boston surge ahead 63-57 with 4:56 to play in the quarter. The Sixers regrouped out of a timeout and clawed back within a point, but Bass could not be stopped and the Celtics led 75-66 heading to the fourth.

BOLD PLAY OF THE GAME
Oh, just give it to Bass. He made the third quarter his playground. Bass connected on 6 of 7 shots and got to the line for six free throws. When he wasn't throwing down spring-loaded two-handed jams, he was getting fouled trying to do just that. Bass changed the momentum of the game with his dunks, then kept making shots when the 76ers (head-shakingly) gave him space to fire away with confidence. Bass finished with 18 points in the third quarter, or two more than the whole Philadelphia team.
SIXERS' SHOOTING GIVES THEM EARLY LEAD
Paced by Brand (12 points on 6-of-8 shooting before intermission), the 76ers shot 54.8 percent in the first half (23 of 42) and led 50-47 at the break. After generating numerous second-chance efforts in the second half of Friday's come-from-behind win, Philadelphia hauled in eight of its 19 first-half misses for 10 second-chance points. That helped negate the fact that Boston shot 48.6 percent (18-of-37) before the break.
CELEBRITIES!
Big games bring out bigger celebrities. Will Smith and his wife, Jada Pinkett Smith, part owners of the 76ers, sat courtside opposite the Philadelphia bench (the cheers still outweighed the jeers when he got shown on the JumboTron in the second quarter). A few seats down, Patriots defensive tackle Vince Wilfork and his wife, Bianca, were clad in green. Celtics owner Steve Pagliuca had Chris Rock and David Spade alongside on the baseline near the Celtics' bench.
WHAT IT MEANS
If the Celtics hadn't faltered down the stretch of Games 2 and 4, this series might be over. Instead, there's still work to be done. The series shifts back to Philadelphia for Game 6 on Wednesday night and the Celtics still have to deliver the knockout punch (let's just say few will be surprised if these "let's make it hard!" Celtics are back here for Game 7 on Saturday). But there was a lot to like about this second half. Boston was able to keep Garnett on the sideline for the final 5:31 (and Pierce and Allen got out with about three minutes to go) -- all without Philly mounting a feverish comeback. Gino danced, the crowd chanted "Scal-a-brine" (and went berserk when
Brian Scalabrine
got put on the JumboTron from the media section) and Boston seized a 3-2 lead with two chances to punch its ticket to the conference finals.
May, 21, 2012
5/21/12
6:29
PM ET
BOSTON -- Celtics second-year shooting guard
Avery Bradley
will miss Monday's Game 5 due to shoulder issues, which will force
Ray Allen
back into the starting lineup for a pivotal battle with the
Philadelphia 76ers
in the teams' Eastern Conference semifinal series at TD Garden.
Bradley dislocated his left shoulder for the third time this postseason during Friday's Game 4 loss and despite the additional time off, he's not ready to get back on the floor. Compounding matters, he's now experiencing discomfort in his right shoulder, something Rivers believes could be from him compensating for the sore left rotator cuff.
"It's not just the one, it's actually both shoulders," Rivers said. "That's probably from trying to protect the other one. It's pretty bad. Now – we've got to keep winning, obviously -- he'll still play games, I think. I think this is probably how it's going to be from this point on. He'll play a game, miss a couple, play a game. That's the way it'll be."
Pressed on his availability moving forward, including Wednesday's Game 6, Rivers was noncommittal.
"I don't know," he said. "We're going to focus on tonight. Take care of that, then obviously tomorrow we'll worry about that. We just have to focus on tonight."
What do the Celtics lose without Bradley on the floor?
"Well, we lose our defensive captain, really -- him and Kevin (Garnett)," Rivers said. "They are both terrific. And without Avery at guard, it takes away the ability to put Rondo on different guys to give him a rest at times. I think ball pressure against Philly is really important and to ask Rondo to do that and run the team is very difficult. It clearly takes something out of our lineup."
May, 21, 2012
5/21/12
11:16
AM ET
Celtics shooting guard Avery Bradley (
sore left rotator cuff
) participated in some aspects of Boston's morning shootaround, but remains a game-time decision for Monday's Game 5 of an Eastern Conference semifinal series, according to the team.
Bradley, who
the team originally Tweeted
was the only player not on the floor for the Celtics during their walkthrough at HealthPoint, was later clarified to have been on the floor during the session. Bradley dislocated his shoulder for the third time this postseason during Friday's Game 4 loss in Philadelphia and despite staying in the game that night, he also sat out Boston's practice session on Sunday.
Last week, Ray Allen missed a shootaround, but still played that night. If Bradley is unable to go Monday, it would likely thrust Allen back into a starting role.
For more on Bradley's shoulder woes and the team's concern, hop
HERE
.
May, 21, 2012
5/21/12
10:30
AM ET
Elsa/Getty ImagesKevin Garnett and Elton Brand renew acquaintances in Game 4 on Monday night at TD Garden.
Fresh off an entire weekend to ponder kicking away an 18-point second-half lead, the Boston Celtics return to the court Monday night for Game 5 of an Eastern Conference semifinal series against the Philadelphia 76ers at TD Garden (7 p.m., TNT). To preview the matchup, we play a game of 2-on-2 with
CelticsHub
's Brian Robb:
---
1. What's the biggest thing Boston has to clean up from Game 4?


Robb
: There is a laundry list of things to choose from for Boston, but I'll say the biggest thing to clean up has to be the turnovers. Coughing up possessions have been a source of frustration for this squad for nearly the past five years now, but it's an area Boston had largely improved on during this postseason run. That is until they turned the ball over 17 times in a Game 4 loss. The C's roster struggles enough as it is on the offensive end without the added miscues, given their lack of second-chance opportunities, so the last thing the Celtics need is to make their margin of error even thinner on that end of the floor. They need to value the ball more and avoid the home run passes.
Forsberg
: There truly is no shortage of areas to pick from after a dismal second half in which coach Doc Rivers suggested his team "completely lost our discipline." I keep going back to the defense. Boston's calling card has been the ability to tighten up late in the game and get key stops. In the Celtics' two losses this series, the 76ers have made big shots with blatant disregard for Boston's halfcourt defense. Sure, the Celtics haven't aided their own cause by allowing second-chance opportunities, and give the 76ers credit for making those crunch-time buckets. But Boston needs to get back to what the foundation of this team is built around: defense, particularly in clutch situations. As Rivers pointed out, the team's offense -- particularly its ability to run -- is predicated on getting stops. It's not happenstance that while Philadelphia struggled to hit much of anything over the first three quarters, the Celtics were able to run and build an 18-point lead.
May, 21, 2012
5/21/12
9:00
AM ET


A quick glimpse at what the results of past series tell us before the Boston Celtics and Philadelphia 76ers meet in Game 5 of an Eastern Conference semifinal series Monday night at TD Garden (all numbers from ESPN Stats and Info data):
* The home teams in Game 5 of a series tied at 2 emerged with the win in 76.5 percent (124-38) of all those series entering the 2012 playoffs.
* Since the NBA expanded to the 16-team postseason format, the Game 5 winner in a series previously tied at 2 went on to advance 83.3 percent of the time (135-27) in past seasons.
* The Celtics haven't lost consecutive home playoff games since the 2005 season (Indiana defeated host Boston in Games 2, 5, and 7 of that series).
May, 20, 2012
5/20/12
11:42
PM ET
WALTHAM, Mass. -- A look at ESPN Boston's offday headlines, including a look at Monday's pivotal Game 5 that
Kevin Garnett admits is a 'must win'
for the Celtics:
May, 20, 2012
5/20/12
1:51
PM ET
WALTHAM, Mass. -- Celtics center
Kevin Garnett
admitted he wasn't in a good rhythm in Friday's Game 4 loss to the
Philadelphia 76ers
, but coach Doc Rivers still wants him to be more aggressive with the ball in the teams' Eastern Conference semifinal series.
Garnett finished 3-of-12 shooting with 9 points and 11 rebounds in Friday's loss that evened the series at two games apiece, but that was a steep dropoff after starting the series by shooting 63.3 percent (31 of 49) and averaging 23.7 points over the first three games. In the two games that Boston has lost in the series, the 76ers have done a decent job bottling up Garnett.
Rivers pointed out that Garnett's touches didn't dip as much as his shots, but those touches need to translate to shots when the Celtics see Garnett as their biggest mismatch in this series.
"I think we counted nine times where he was trying to be a passer instead of a scorer. So we've got to get him back, mentally, to attacking," Rivers said. "They didn't trap as much as you thought. We've just got to continue to force feed him and keep him aggressive. But we also have to get into our stuff quicker, like we did in the first half. Kevin didn't touch the ball a lot, but we had an 18-point lead, so something was going well."
Garnett got tagged with a third-quarter technical foul, and he suggested Sunday that the game changed around that point.
"I wasn't really in a rhythm to be honest, but for the most part, I thought we were playing fine as a team," Garnett said. "I thought ball movement was fluid and then the momentum shifted after they gave techs and all that different stuff happened. I felt like the flow just changed from there on."
Garnett was a quiet 1-for-3 for 2 points at halftime, and had turned the ball over four times. Even still, the Celtics were up 17 when Garnett got tagged with a technical for barking at referee Bill Kennedy while jogging back up the court with 9:46 to play in the third quarter.
Neither Garnett nor his teammates could cool off the 76ers, who erased their double-digit deficit and made some big shots down the stretch to emerge with the Game 4 victory. Garnett admitted the loss sticks with him.
"It stays with you for a minute," he said. "Every guy is different, but it stays with me for a little bit. I like to watch the game, I like to assess myself."
May, 20, 2012
5/20/12
1:42
PM ET
Jesse D. Garrabrant/Getty ImagesCeltics guard Avery Bradley has been battling a left shoulder ailment this season.
WALTHAM, Mass. -- Celtics coach Doc Rivers said that
Avery Bradley
's shoulder dislocated again during Friday's Game 4 loss in Philadelphia, at least the third occurrence of the playoffs, and expressed concern about how long the second-year guard can continue to play through the pain.
Bradley did not participate in Sunday's afternoon workout and is officially a game-time decision for Monday's Game 5 of an Eastern Conference semifinal series (though the expectation is that he will likely play).
"It came out. It went right back in, which is crazy," Rivers said of the Game 4 dislocation. "It's a tough thing, what he's going through. A lot of players would not be playing."
Rivers said he dealt with painful shoulder dislocations, but nothing to the extent of what Bradley is battling. Bradley dealt with minor dislocations during the regular season and the shoulder would often pop back in whenever it slid out. During Game 3 against the Hawks, it didn't immediately go back in and he's worn a sleeve over his left shoulder to help alleviate discomfort. The team initially listed him with a sore left rotator cuff.
"It's his first playoffs and he's dealing with stuff. It's just tough. It really is," said Rivers. "I swear, a lot of people would not be playing and the only reason that he is is because he wants to. But I am concerned at some point that he may not be able to any more. We don't know what game that is, we don't know if he can finish it -- we could go all the way and he could play. Or tomorrow could be his last game. You really don't know."
Bradley underwent treatment before Sunday's practice, but was held off the floor as the team went through half-court sets in a light workout. As has been the case for much of the postseason, it's still likely that Bradley, who carried on at the end of Game 4, will be available for Monday's Game 5.
May, 19, 2012
5/19/12
10:32
PM ET
David Dow/NBAE/Getty ImagesThe Celtics continue to maximize rest on offdays after games in the postseason.
For only the second time this postseason, the
Boston Celtics
are enjoying a two-day break between games. The team took Saturday off for its typical rest and will reconvene on the practice court at HealthPoint on Sunday afternoon for a workout in advance of Monday's Game 5 of an Eastern Conference semifinal series against the
Philadelphia 76ers
.
Take away Game 1 of a first-round series against the
Atlanta Hawks
-- the Celtics had two days of rest before that, but were coming off the end of the regular season when they had rested players at various times nearing the finish line -- and eight of their nine other postseason games have been played with only one day's rest. The lone exception: The Celtics had two days off before an overtime victory over the Hawks in Game 3 on May 4.
Before Friday's Game 4 versus the 76ers, Celtics coach Doc Rivers spent time discussing the team's philosophy of staying off the court on the day after games this postseason.
"Well, we're just old," he quipped. "We've done that every day, for the most part. With the way the [Sixers] series is constructed so far, we've yet to go on the floor between games. It's just not enough time for recovery with our legs -- if we were younger, we'd be able to do that, but with this team, we've learned through the season, they need days off."
Asked later about the perception that his team is old and has no choice but to rest, Rivers expanded on how his team operates.
"We don't think old. We are what we are. We know that. The rest is important for us," he said. "But I think the rest is important for everybody; I don't think it matters what age you are. Athletes require recovery, and we understand that. We like to call it 'experience.'
"If we were younger, maybe we would do more [on off days]. I don't know if it helps you, but it forces you to do things at times that you wouldn't do. We definitely took more days off this year than we probably ever have. But I think the schedule, and who we are, has forced that action, and, fortunately, most of the time we have common sense to do it."
Rivers made sure to stress that Celtics players (and coaches) still put in plenty of work on their off days. The team often still meets to watch film, and players get in individual workouts.
"When we don't practice, guys still work on their games," he said. "We didn't do anything [the day before Game 4], but
Kevin [Garnett]
was over there shooting. Guys, especially veterans, more than young guys, understand what they need to do to keep them in rhythm. I think young guys, days off are bad, because I don't think they get that. They think a day off is a day off, they don't understand what gets you to the next day or the next game. And I think a lot of our veteran guys, if they need a day off, they take it off.
Ray [Allen]
rarely takes a day off, he's running somewhere -- down the street, riding a bike;
Paul [Pierce
was] on the treadmill [before Game 4] at the hotel. They just get their bodies. But they have the experience in that, so that's an advantage for them."