Boston Celtics:

2012Round3Game4
June, 4, 2012
6/04/12
5:58
PM ET
Jesse D. Garrabrant/NBAE/Getty ImagesCeltics point guard Rajon Rondo with the officials before Sunday's Game 4 in Boston.
After superstars
Paul Pierce
and
LeBron James
both fouled out during overtime of Sunday's Game 4 of the Eastern Conference finals, the officiating -- already in the spotlight at times this series -- got thrust to the forefront again.
But Celtics coach Doc Rivers, who has vented at times this series about technical fouls and calls against his team, did his best to be diplomatic when asked about the officiating during a conference call on Monday, stressing that officials have a very difficult job, particularly with the two teams on the floor at this stage of the postseason.
"I think it's a hard game," Rivers said. "I said that after Game 1 and Game 2, and Game 3 and Game 4. It's a physical series. We are physical; Miami is athletic and physical. Honestly, I thought the calls down the stretch of (Game 4), they could have gone either way -- there could have been no calls, could have went one way -- just watching it on tape, I just thought those are tough calls. The team that gets one, the other team doesn't like it. That's just the way it is. Listen, I complain as much as anybody, but, overall, I do understand it's a brutal job. It's a brutal job to referee this series."
Rajon Rondo
raised some eyebrows with some ref-related comments during a halftime interview on ESPN. When asked what holes he was exploiting in the Heat defense as part of Boston's offensive outburst, Rondo answered, "Them complaining and crying to the referees in transition."
After the game, Rondo didn't retreat, noting, "What I said was true. I don't take back what I said. That's what it is."
Asked about Rondo's comments and whether the Celtics see the Heat complaining to officials when they watch film, Rivers tiptoed around the subject on Monday.
"We watch a lot of film, I'll just stop there," he said. "Other than that, I don't make comments on that. I mean, Rondo is very emotional, we like him to be intense. Obviously, if that motivates anybody else, that motivates anybody else. But if you need motivation at this point, there's something wrong anyway. As far as what he said, I'll leave that alone. I'll just leave it there."
In Miami, Heat coach Erik Spoelstra downplayed Rondo's comments, calling it "normal playoff chatter."
Asked if there was any validity to what Rondo said, Spoelstra added, "I could really care less -- couldn't care less about what another player has to say about our team. The deeper you get into a competitive series, the more people (say), the more noise there tends to be."
Asked how his team had managed when they didn't get calls, Spoelstra tried to focus on the improvement from past seasons.
"I think we've managed that part of the game better than we have in the past," Spoelstra said. "I think, particularly in this playoff run, we've been able to focus on things that we can control. And that's not one of them. But if you have been around our team, I think you've seen a lot of progress, particularly from last year."
June, 4, 2012
6/04/12
3:00
PM ET
Chris Forsberg phones into
ESPN Boston Radio with Adam Jones
to recap Game 4 of the Eastern Conference finals, talk favorite candy while breaking down film (
JujyFruits
, of course), and what lies ahead in this series.
Hop
HERE
to listen to the podcast.
June, 4, 2012
6/04/12
1:46
PM ET
ESPN Boston's Chris Forsberg joins host Alex Loeb on
the NBA Today podcast
on Monday to break down Game 4 of the and Eastern Conference finals and examine what lies ahead in this series.
Hop
HERE
to listen to the podcast.
June, 4, 2012
6/04/12
8:00
AM ET
By
Greg Payne
| ESPNBoston.com
Greg M. Cooper/US PresswireForced to watch the final moments from the sideline, Paul Pierce celebrates a Game 3 triumph.
BOSTON -- For the third time in five games, Paul Pierce was forced into spectator mode, assigned to the pine after accruing his sixth personal foul in the waning moments of the Celtics' effort to stay alive in a series.
Boston managed to emerge with a heart-pounding 93-91 overtime victory in Game 4 of the Eastern Conference finals against the Miami Heat on Sunday night, but things looked rather dire when Pierce was called for an offensive foul less than 40 seconds into the extra period -- his sixth of the evening -- and was relegated to cheerleading mode.
The Celtics were still coming to terms with the fact that they squandered an 18-point halftime lead and only managed 28 total points over the course of the third and fourth quarters. They needed defense, of course, but putting the ball in the bucket was also a chief concern, given how poorly the previous 24 minutes had gone. And Pierce, who scored a team-high 23 points and put in 18 of those in the first half, was still looking like one of the team's best options. Until he wasn't allowed to be anymore.
"I felt bad for the team," Pierce said. "When you know you're so important to the team, you feel like you let them down. Sometimes it's out of your control and you've just got to keep pulling for them. That's the [third] time I've fouled out [in the playoffs]. The stakes are high right now, so I'm just trying to be as aggressive as I can, trying to stay away from the mistakes, but I've got to do a better job of staying in the game."
June, 4, 2012
6/04/12
3:33
AM ET
BOSTON -- A look at ESPN Boston's headlines after the Boston Celtics defeated the Miami Heat in Game 4 of the Eastern Conference finals, including Jackie MacMullan on how
this is anyone's series again
and Chris Forsberg on a
big bench effort
for Boston.
June, 4, 2012
6/04/12
2:13
AM ET
im Rogash/Getty ImagesMiami's LeBron James soars with rare space against the Boston Celtics.
BOSTON -- For only the fourth time in his NBA career and the first time since April of 2008, Miami's LeBron James fouled out of Sunday's Game 4 overtime loss to the Boston Celtics. And, understandably, he wasn't particularly thrilled about it.
James got whistled for an offensive foul with 1:51 remaining in the extra session as Mickael Pietrus stepped up and took a charge for a Boston team clinging to a one-point lead at that point.
"I don't think I fouled him," said James, carefully watching his words. "I don't think it was a foul."
Later, James elaborated a bit more on the whistles against him.
"It's very tough," he said. "I thought a few of my fouls were -- I don't know, I don't know. I got a foul coming off a pin-down where I got cut off. They called an offensive foul (with) Pietrus. I got a double foul in the paint and then I got another foul posting up in transition. Yes (it's tough to deal with that). It's very difficult because I know how to play the game of basketball and I don't need an advantage of holding somebody or pushing somebody down, but whatever, we lost."
What was going through James' mind when No. 6 picked up No. 6?
"I don't foul out," said James. "If I'm going to foul out, that sixth foul, I wish I would have earned it and it had actually been a foul on me. Whatever."
Unfortunately for James, misery loves company. Celtics captain Paul Pierce had fouled out just 38 seconds into overtime and was happy to see James join him on the sidelines soon after.
"It was very frustrating, but it's gratifying when you see the other star player foul out," admitted Pierce. "So it kind of evened up the playing field."
Informed it was the first time since 2008 that James had fouled out, Pierce seemed surprised (this after the captain has fouled out three times in recent postseason games for Boston).
"Oh, wow, interesting fact," said Pierce. "You look up, (James) never really has a lot of fouls. But we were aggressive against him tonight. We stepped up twice and took charges, we drove when he was guarding the ball, so that's what you have to do. A lot of players don't really try to attack him. It's not often that he plays against top small forwards in the league, also. There's only a few of us who give you that aggressive scoring, between me, Carmelo (Anthony), and (Kevin) Durant, so he gets a lot of nights off."
Heat coach Erik Spoelstra lamented the situation, but admitted there's no guidelines on how to navigate that process.
"Is there a textbook for that? I don't really know," he said of James' foul trouble. "I had to get him out for a couple of minutes. It was five and change in the game when he got his fifth. So at that point you just have to roll the dice and cross your fingers. But yeah, we had a couple of guys in foul trouble. That proved to be costly at the end. That's a shame. You hope that both teams you have their guys and may the best team win."
June, 4, 2012
6/04/12
1:45
AM ET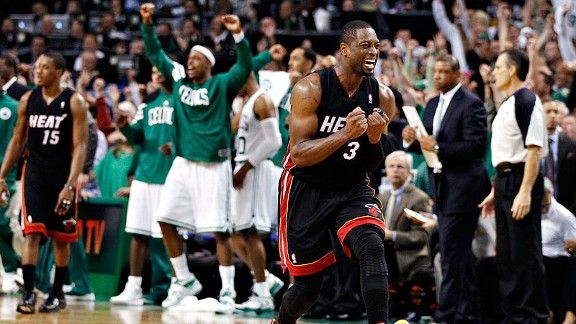 David Butler II/US PresswireDwyane Wade reacts after missing a potential winner in overtime in Game 4.
BOSTON -- Just about everybody inside TD Garden held their breath when Miami's Dwyane Wade released a potential winning 3-pointer in the final seconds of overtime on Sunday night. Celtics coach Doc Rivers was confident that -- even if it took a little divine intervention -- that ball wasn't going through the cylinder.
"Red (Auerbach) wasn't going to let that go in, you know that," joked Rivers. "Not in the Boston Garden."
Wade's 3-pointer indeed rattled off the rim and Boston escaped with a 93-91 overtime triumph in Game 4 of the Eastern Conference finals. The series is now tied at 2 headed back to Miami.
"I thought it looked good when it left (Wade's) hands," admitted Rivers. "We told (Marquis Daniels to) watch the pump fake. But I thought what Marquis did was, on the pump fake, he jumped out of the way, so he couldn't draw a foul. Wade is the best -- him and Paul (Pierce) -- at doing that. So he got the first part -- well, Wade did -- but I thought avoiding of the foul was as big as anything else."
For his part, Wade thought the shot was going in as well.
"It was on line," he said. "It was all you can ask for. I got my legs on the middle and shot it, and it was on line, it just decided it didn't want to go in."
Added Daniels: "He pump-faked... it's a tough shot, but he can score, so anytime he gets the ball like that, it's always dangerous, so you just gotta make it as tough as possible."
Heat coach Erik Spoelstra suggested there was multiple options on the play.
"There were a couple of different layers to that," said Spoelstra. "We were going to look and see if we could get a cheap one. If not, it was going to come back to Dwyane, to what you saw -- pickandroll with him and Shane (Battier). We got a clean look at it. That's pretty much all you can ask for at that point."
Rajon Rondo had started the possession on Wade, but the pick-and-roll forced Boston to switch Daniels on. Wade couldn't quite take advantage.
"I thought the defensive possession was really good," said Rivers. "We denied Wade for as long as we could, same thing right before overtime with LeBron (James' final shot). It was low clock; we were ready if he drove. Kevin was down low. We were going to anticipate the drive. We wanted him to take a contested jump shot, even though it ended up being the uncontested 3."
Said Mario Chalmers: "Usually that's a shot (Wade) makes. We can't ask for a better look."
June, 3, 2012
6/03/12
11:50
PM ET
BOSTON -- Rapid reaction after the
Boston Celtics
defeated the
Miami Heat
93-91 in overtime Sunday night in Game 4 of the Eastern Conference finals at TD Garden. (The series is tied at 2).


HOW THE GAME WAS WON
Rajon Rondo
fueled Boston with 15 points, 15 assists and 5 rebounds over 47 minutes, while
Kevin Garnett
chipped in 17 points and 14 rebounds. Despite fouling out early in overtime,
Paul Pierce
scored a team-high 23 points on 8-of-18 shooting.
LeBron James
scored a game-high 29 points for Miami, while
Dwyane Wade
kicked in 20 points (but misfired with a chance to win it in overtime).
TURNING POINT
Overtime didn't feature much in the way of offense, so any scoring proved pivotal. A
Udonis Haslem
dunk (off a Wade feed) gave Miami the early edge, but
Marquis Daniels
made a free throw and Rondo hit a little floater for a 92-91 edge. The Celtics had numerous opportunities to extend their lead, but the best they could do was Rondo hitting one of two free throws with 21.4 seconds to go to make it a two-point cushion. That was enough. Wade got a final chance to win it, but his 3-pointer from the top of the arc rattled out.
BOLD PLAY OF THE GAME
Mickael Pietrus
struggled from the floor (0-for-3, 0 points) and he had some head-slapping fouls at times, but he came up with some clutch plays in the extra session. Not only did he draw the offensive foul that ended James' night, but he hauled in two offensive rebounds with around a minute to play. Boston didn't score off of them, but did take time off the clock that prevented Miami from having a chance to rally ahead.
FIRST QUARTER: CELTICS COME FLYING OUT OF THE GATES
Rondo came out in attack mode, generating a pair of early buckets as the Celtics scored the game's first six points (and got the crowd into it). Pierce and Allen made back-to-back 3-pointers, forcing Miami to call timeout down 10 just five minutes in, but the barrage continued with a pair of Garnett buckets to put Boston out front 18-4 with 5:52 to play in the frame. The Celtics shot 59.1 percent overall (13 of 22) and owned a 34-23 advantage after one frame.
SECOND QUARTER: RONDO TECH AS C'S STALL LATE
Rondo put together a brilliant first half, chipping in 8 points, 10 assists and 4 rebounds (all while not turning the ball over). About his only misstep: A charge that negated a potential three-point play late in the half. Rondo then picked up a technical foul for kicking at
Shane Battier
after the play while the two were on the ground. Boston's lead had been as high as 18, but Boston went quiet late. Even still, Rondo got a
not-so-subtle jab in at the Heat at halftime
(you can get away with that when your team is up 61-47).
THIRD QUARTER: EYESORE FOR THE CELTICS
Everything good that the Celtics did in the first half completely disappeared in the third quarter. Boston mustered a mere 12 points on 5-of-16 shooting and watched its lead get trimmed to five (73-68). Along the way, Dwyane Wade got hot (4-of-6, 9 points in the frame) and you could tell things were about to get even closer in the fourth frame.
FOURTH QUARTER: JAMES 3-POINTER FORCES OT
Boston missed its first five shots and a James layup with 8:53 to play tied the game at 74 (
Norris Cole
gave the Heat its first lead soon after). A James 3-pointer tied the game at 89 with 37 seconds to play and both teams wasted their final possessions. Garnett got called for an offensive foul for hooking James as Rondo drove to the bucket. Then, with a chance to win it, the Celtics blew up an isolation look for James, forcing him to kick it to Udonis Haslem, who wasn't even close with a desperation jumper.
OVERTIME: PIERCE, JAMES FOUL OUT
Pierce picked up his sixth foul a mere 38 seconds into overtime, leaving Boston without its captain for the extra session. That put Marquis Daniels and Pietrus together on the floor in a crunch-time lineup. Things evened up a bit when Pietrus drew the offensive foul on James, who fouled out with 1:51 to play and the Celtics up 92-91. The Heat didn't score again.
CELEBRITIES! (OR JUST PATRIOTS, REALLY)
The Celtics put up a video montage during a second-quarter timeout showcasing a handful of New England Patriots in attendance, including coach Bill Belichick, (freshly head-shaven) Rob Gronkowski, Wes Welker, Jerod Mayo, Vince Wilfork and Kevin Faulk. Gronkowski must have filmed a crowd pump-up video at the game and it aired midway through the fourth quarter (and he got even more video board time in the extra session).
WHAT IT MEANS
If we're being honest, it should have been a whole lot easier for Boston. The Celtics' offense was nothing short of spectacular for much of the first half, then disappeared for about the final 32 minutes of play. Alas, a win is a win is a win and this series is tied at 2-2. It's now a best-of-three as the series shifts back to South Beach. Boston needs to play crisper ball if it wants to win on the road, where two of those three final games will take place if it goes the duration.
June, 3, 2012
6/03/12
8:04
PM ET
BOSTON -- Celtics coach Doc Rivers, noted golf junkie, didn't mind fielding a pregame query on
Tiger Woods and his improbable chip-in birdie on 16
that propelled him to victory Sunday at the Memorial.
"It was unbelievable," Rivers said during his pregame chat with reporters before Game 4 of the Eastern Conference finals at TD Garden. "I was watching. I was trying to leave my house to get here. It delayed me for a couple minutes. That's fun; that's really cool."
Buried in deep rough, Woods flopped in a birdie on 16 that pushed him to his 73rd career victory, which ties him with Jack Nicklaus for career PGA Tour wins.
The chatter quickly switched back to hoops, though there wasn't much of note from pregame access. Like with most games in this series, storylines seem exhausted during the off day and everyone seems ready for more basketball -- media, coaches, and players alike.
As for that actual basketball chatter:
* Heat coach Erik Spoelstra was at the podium just long enough to confirm that "everybody's ready to go." When reporters instinctively asked if that meant Chris Bosh was returning in Game 4 -- this after being ruled out at shootaround -- Spoelstra was forced to clarify. "Not Chris. Do I have to start off every presser with that? OK, nothing has changed from this morning."
* Miami made one small lineup tweak: Joel Anthony starts at center instead of Ronny Turiaf.
* Spoelstra did field one basketball question on Miami's ability to produce transition baskets off of Boston makes. The Celtics were able to prevent those in the second half of Friday's Game 3 victory. "We want to push," said Spoelstra. "Any time we have an opportunity, if we can get it to one of our attackers -- it's not a primary emphasis, but we've done that when we can during the season. If it happens where we can get out quick to one of them, we want to push. That's certainly the pace we want to get. We can't sustain that if we're playing off of makes the entire time. That was the tough part about the other night... We were playing out of the net the entire night. And that has never been a successful formula for us. Even when you try to push the tempo, it's not sustainable."
* Explaining his decision to go with Marquis Daniels in Game 3, Rivers admitted the team had been pondering the idea of adding a player to the rotation, but were simply slow to pull the trigger. Rivers said it was "more for rest than anything else," but Daniels provided a key bench spark that aided Boston's triumph.
June, 3, 2012
6/03/12
2:45
PM ET
David Butler II/US PresswireDwyane Wade looks for room to move against Rajon Rondo during Game 3.
The Boston Celtics will look to tie up the Eastern Conference finals when they host the Miami Heat in Game 4 on Sunday night at TD Garden (8:30 p.m., ESPN). To preview the matchup, we play a game of 3-on-3 with
ESPN Boston
's Greg Payne and
CelticsHub
's Brian Robb:
---
1. Beyond force-feeding KG in the post, what was most important aspect of Boston's Game 3 win?

Payne
: Reserve help. In Games 1 and 2, LeBron James and Dwyane Wade put up their usual numbers, but it was guys like Mike Miller, Shane Battier, and Udonis Haslem who really helped to sink Boston, while the C's didn't get that same production from the non-Big Four. But in Game 3, Marquis Daniels and Keyon Dooling stepped up in a big way and look at the impact it had on the game as a whole. They helped to swing the momentum on both sides of the ball in Boston's favor, and it took pressure off of guys like Paul Pierce and Ray Allen, who obviously have difficult matchups in this series.
Robb
: Boston winning the battle of the boards. After Miami burned the Celts with numerous second-chance opportunities that provided them with pivotal points in Games 1 and 2, Boston responded with more urgency on the glass in Game 3. Despite playing the majority of the game with a smaller lineup, the C's were able to dominate down low, outrebounding Miami 44-32 for the contest. Perhaps more importantly, Boston limited the Heat to just six offensive rebounds and seven second-chance points, while helping themselves to 12 second-chance points of their own.
Forsberg
: There's an awful lot to like, including Boston limiting its turnovers (12 for a mere nine points) and not allowing a lot of easy points at the rim. Oh sure, Miami scored 48 points in the paint, but Wade and James combined for a mere five free throws (all James, and he missed four of them), so the Celtics didn't 1) Allow the superstar duo to get near the rim and 2) Didn't just hack away at them when they did. You can't allow the supporting cast to go crazy (as Payne points out), but if others are getting a few hard-earned paint points at the expense of forcing Wade and James to shoot jumpers all game, the Celtics will take it.
June, 3, 2012
6/03/12
12:12
PM ET
By
Greg Payne
| ESPNBoston.com

WALTHAM-- Celtics guard Avery Bradley was the only player to not participate in Sunday morning's shootaround and team officials confirmed that everyone else will be available for Game 4 of the Eastern Conference finals Sunday night.
Sunday's shootaround consisted of a brief film session and halfcourt walkthroughs of offensive and defensive sets.
The Celtics will be looking to tie the series at two games apiece when they face the Miami Heat at TD Garden Sunday night (8:30 p.m., ESPN).
June, 3, 2012
6/03/12
8:00
AM ET
AP Photo/Charles KrupaPaul Pierce reacts to missing a potential winning shot at the end of last year's Game 4.
ESPN Boston's Peter May
writes today on the similarities
between this year's Eastern Conference finals between the Boston Celtics and Miami Heat, and when the two teams met last season in the conference semifinals. A year ago, Boston -- trailing 2-1 after dropping the first two games and winning the third -- missed some late-game opportunities to win Game 4 and ultimately fell in overtime. The series ended one game later.
When the similarities of the two series were brought up at Saturday's practice, Boston players acted as if they had amnesia.
"I don't even remember last year, I don't know," said Celtics captain Paul Pierce. "I know we didn't win the series."
The Celtics might not remember the specifics -- and you can't blame them for trying to forget -- but they remember the unceremonious end. Point guard Rajon Rondo had dislocated his elbow in a Game 3 win and was hindered the rest of the way. The team could never get center Shaquille O'Neal and his bum Achilles back on the floor. Pierce missed a key shot at the end of regulation in Game 4, then turned in a quiet Game 5 effort. Soon their season was over.
Does that drive the team this time around?
"I don't remember last year," barked Kevin Garnett.
OK, so what does Ray Allen remember about last year?
"Nothing," he said.
Nothing? What about being in a similar position this time around.
"I don't attribute anything to this year from last year," he said. "I just know that they beat us last year and sent us home. So right now we know what the game plan is for this team. That's where my focus is."
Celtics coach Doc Rivers was asked about the loss and said, "I know we lost. I think that's the game Rondo got injured."
Actually, that was Game 3, Coach.
"Yeah, it was Game 3," he said. "I don't even remember. That tells you what I remember. I know we had opportunities, clearly. We had a couple of great shots. I think we had a terrible possession, now that I think about it, before overtime, our last possession, if my memory serves me correct."
Was the amnesia wearing off? A reporter confirmed Rivers' memory, noting Boston spoiled a chance to win it before the extra session where Miami raced away.
"Thanks for bringing that up," Rivers cracked. "I thought you were better than that."
One thing is clear: After last year's Game 4, the Celtics hope
they
are better than that.
June, 2, 2012
6/02/12
2:35
AM ET
By
Greg Payne
| ESPNBoston.com
Brian Babineau/NBAE/Getty ImagesCeltics point guard
Rajon Rondo
puts up a shot against the Heat.
BOSTON -- Less than a minute into the Celtics' 101-91 Game 3 victory over the
Miami Heat
in the Eastern Conference finals, Rajon Rondo sprinted up the floor and collided with
LeBron James
at the free-throw line.
Whistle, foul on James.
Rondo, perhaps still somewhat bitter over what he deemed a lack of a foul call on an overtime drive during Boston's Game 2 loss in Miami, made a point with that opening play, establishing a tone and a pace for his teammates to follow. He did the same thing in Game 2, by way of his career-high 44 points, but Friday saw a different kind of leadership from Rondo -- one not predicated solely on putting the ball in the basket, but based on weaving a fine balance of personal production and teammate involvement, impacting the box score in whichever way his team needed it the most.
"[It's] like a pitcher throwing a no-hitter, you stay away from that joker," Celtics coach Doc Rivers said after Rondo finished Game 3 with 21 points (9-of-16 shooting), six rebounds, 10 assists, a steal and just two turnovers in 43 minutes. "The guy scored 44 points, what can I possibly tell him? I didn't tell him a word. I was asked a lot. I told him to keep running the team. Keep running the team. The only thing we told him offensively was he had to get Kevin involved. Other than that, just go play."