Boston Celtics:

2013CountdownCamp
September, 20, 2013
9/20/13
11:59
PM ET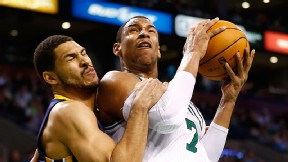 Jared Wickerham/Getty ImagesJared Sullinger muscles his way towards the basket during his rookie season.
Training camp begins at the end of the month for the Boston Celtics and each weekday leading up to the formal start of the 2013-14 campaign, we'll dive into our Celtics Mailbag and tackle a camp-related question:

Q: Who on this undersized roster is going to lead the Celtics in rebounding this season? -- Nate (Sioux Falls, S.D.)
A:
The Celtics don't have a legitimate 7-footer on their roster and the only player with pure center size is a Brazilian import with no NBA experience (6-foot-11 Vitor Faverani). It's fair to wonder where the rebounds will come from, even as lineups across the league seem to be getting smaller.
Boston's rebounding issues were a bit overblown in recent seasons given coach Doc Rivers' philosophy to essentially ignore the offensive glass. Boston's indifference on that end often dragged down its total rebound rates. We'll find out soon if coach Brad Stevens will put more of an emphasis on crashing the glass and creating second-chance opportunities, but the bigger question mark lies on the defensive end.
If you're handicapping the field for the team's rebound leader, it's likely a two-horse race between Kris Humphries and Jared Sullinger. Even in a down season with Brooklyn last year, Humphries' rebounding rates (18 percent overall; 23.5 percent defensive) would have been better than any returning Celtics player this season. Two seasons ago, those numbers were up at 32.2 percent defensive and 22.1 percent overall when Humphries was a double-double player. Even if the Celtics force him to play the center position and make him battle against more pure size at that spot, Humphries is easily the most proven rebounder on the squad.
The question with Sullinger is if he'll be hindered at all coming off surgery. If, as he stressed earlier this summer, he's completely healed, then his numbers have potential to trend up. During two seasons at Ohio State, Sullinger averaged rebound rates of 19.2 percent overall and 25 percent on the defensive glass. While Sullinger will be giving up size at times up front, he has a nose for the ball and can make up for that with natural instincts when chasing caroms.
After that it gets a bit dicey. Boston lost three of its top four rebounders from last season in Shavlik Randolph (led team in overall rebound percentage at 22.4), Kevin Garnett (15.7), and Chris Wilcox (12.5). Garnett seemingly snatched up every single available defensive rebound during Boston's playoff series against the Knicks. What's more, after losing Paul Pierce, one of the better rebounding swingmen in the league, the Celtics will also likely need an uptick from the likes of Gerald Wallace and Jeff Green.
A closer look at Boston's individual total rebound rates -- the percentage of available caroms each player hauled in -- from last season (with defensive rate in parentheses):
Kris Humphries - 18 percent (23.5)
Jared Sullinger - 17.6 (22.5)
Brandon Bass - 11.3 (15.5)
Gerald Wallace - 9 (13.9)
Rajon Rondo - 8.8 (13.9)
Jeff Green - 8.3 (13.2)
Jordan Crawford - 7.6 (12)
MarShon Brooks - 6.7 (9.5)
Courtney Lee - 5.9 (9.7)
Keith Bogans - 5 (8.6)
Avery Bradley - 4.5 (6.3)
The team has three other fresh faces, including two bigs that could help on the glass. According to Basketball Reference, Kelly Olynyk grabbed 16.5 percent of all available rebounds last season (20.5 percent on the defensive glass). At 5-foot-11, Phil Pressey's rebounding numbers were predictably minuscule (5.4 total; 7.8 defensive) at Missouri.
That leaves International Man of Mystery Faverani as the wild card. After honing his game in Spain, the 25-year-old Faverani will get a chance to earn minutes at the center position. One of the intrigues of the preseason is seeing how he's able to compete -- at both ends of the floor -- with NBA talent. As Boston's only pure center, he can carve out an immediate role if he can impact the glass.
September, 19, 2013
9/19/13
5:00
PM ET
Training camp begins at the end of the month for the Boston Celtics and each weekday leading up to the formal start of the 2013-14 campaign, we'll dive into our Celtics Mailbag and tackle a camp-related question:
Q: Why is everyone sleeping on Brandon Bass? All this talk about who is going to play power forward and no one ever seems to focus on the guy that's held down that position for the last two years. -- Leandro (Costa Mesa, Calif.)
A:
You mean the guy that's started at power forward in 108 of Boston's 147 (73.5 percent) regular-season games the past two seasons? The guy who Doc Rivers tasked with defending the opposing team's best player (LeBron James, Carmelo Anthony) in the Celtics' final playoff series the past two years? The lunchpail forward that quietly goes about his business -- the sort that typically endears himself to a Boston fan base that grows tired of the opposite (right, Glen Davis?) -- and with largely positive results?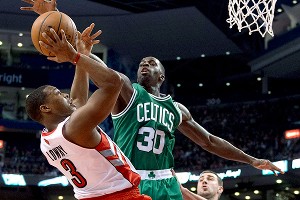 AP photo/Frank GunnCan Brandon Bass thrive defensively without Kevin Garnett?
Unfortunately for Bass, the traffic jam at his position has caused a lot of folks to overlook him. Given his production and remaining price tag (two years, $13.4 million) some have wondered if he might be a trade asset if Boston saw available power forward minutes going to younger players (Jared Sullinger, Kelly Olynyk). When pondering what's best for the team's future, some even prefer to distribute that frontcourt playing time early in the 2013-14 campaign to the likes of Kris Humphries and Gerald Wallace, who could increase their own trade value with bounce-back years.
And, in typical Bass fashion, he just sorta shrugs it all off. Down at summer league in Orlando, he was asked about how he envisioned his role with the team this season and offered, "I haven't really thought about my role. I just think that I'm going to come in being the best Brandon Bass I can be, and that's all I can take care of."
What's easy to forget is that the best Bass is a pretty good commodity. Certainly his stat lines were aided by being paired in a frontcourt with Kevin Garnett, masking some bad rotations or creating additional space to work in at the other end of the floor. But Bass really came on strong at the end of the 2013-14 season when Garnett was sidelined by injury. That carried over into the postseason where Rivers suggested that Bass played a "perfect" game early in the series against the Knicks.
Fair or not, things are a bit muddy at the moment for Bass. In a way, he sort of has to remind everyone what he brings. He has to prove again that he can be a capable defender (especially without the Garnett safety net). Last season, Bass allowed a mere 0.756 points per play, ranking in the 91st percentile among all NBA players, according to Synergy Sports data. Of those with at least 500 plays defended, Bass ranked fifth in the NBA in points allowed per play (the six spots behind him: Marc Gasol, Larry Sanders, Dwight Howard, Jimmy Butler, Kevin Garnett, and Tony Allen -- that's some pretty good company).
September, 16, 2013
9/16/13
11:00
AM ET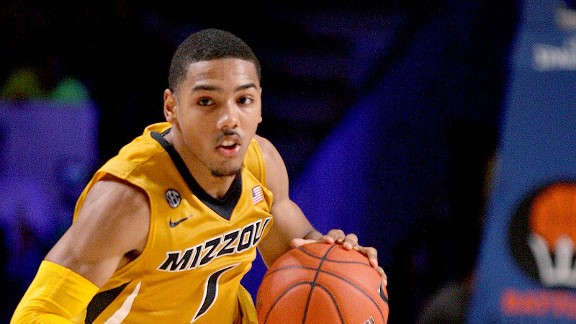 Issac Baldizon/Getty ImagesUndrafted Phil Pressey could be thrust into a large role in his rookie campaign with Boston.
Training camp begins at the end of the month for the Boston Celtics and each weekday leading up to the formal start of the 2013-14 campaign, we'll dive into our Celtics Mailbag and tackle a camp-related question:
Q: Phil Pressey is clearly the best backup point guard on the roster. Let him make his rookie mistakes. When has there been a better time to learn on the court? -- Duffy (Spring Valley, Calif.)
A:
Pressey's situation is fascinating to me. Here's a kid who was derided for electing to declare for the draft after his junior season (heck, even Missouri fans questioned his decision to leave early) and scouts said he was too inconsistent to accurately peg in the draft. Sure enough, despite interest from a good number of teams, Pressey went 60 picks without being taken, only to have old friend
Danny Ainge
(Pressey's dad, Paul, was part of the Celtics' staff from 2004-07) phone immediately after the draft and offer Pressey the chance to compete for a spot at summer league.
Pressey then calmly displayed his talents in Orlando (9.4 points, 6.6 assists per game), earned an honorable mention on the all-summer squad, and parlayed a steady five-game showcase into a three-year contract with Boston that includes a fully guaranteed first season.
With
Rajon Rondo
rehabbing from ACL surgery and the All-Star point guard's status uncertain for the start of the season, Pressey is the only pure ball-handler on the Boston roster and has the opportunity for a hefty role when the new campaign tips in Toronto on Oct. 30. The magnitude of what potentially lies ahead doesn't rattle Pressey.
"Every day I'm working to get better," he said Friday while joining some of his teammates for a youth basketball clinic in Dorchester. "One of the things I've been trying to work on is being consistent every single day. In college you can have some days off, and not play your best, but every day [in the NBA] you have to bring your A game. That's one of things I've been working on, and coach [Brad] Stevens has been on me nonstop -- that's helped me out, too."
Pressey noted how Stevens already has sat with him to break down tape, likely stressing the changes he'll see at the NBA level (both sides are learning that on the fly). But his lessons are not just from Professor Stevens. Last week, Rondo spent time rehabbing at Boston's training facility and offered to work with Pressey on the floor. Rondo, who has often taken time after practice in recent seasons to observe younger players and offer his advice, did the same with Pressey. As the rookie noted, "He was in my ear, telling me what I need to do. And every little thing I was doing wrong, he kind of corrected it."
Here's what the Celtics must decide over the next month: With no other pure ball-handler currently on the roster, should they trust an undrafted rookie to steer the car or force a veteran out of position yet again? Fourth-year guard
Avery Bradley
said this summer that he'd be willing to handle the ball if Rondo wasn't ready, but he struggled in that assignment at times last season and it might be better for Boston to lock Bradley at the 2-guard spot. The Celtics also could put the ball in the hands of
Jordan Crawford
(whose passing skills are underrated) or
Courtney Lee
(who pledged to work on his ball-handling after a spike in turnovers last season), but it again pulls those players from their more comfortable shooting guard spot.
In a season in which the Celtics are expected to endure their lumps and for a team that has been desperate to find a low-cost yet serviceable backup behind Rondo, would it not be beneficial to let Pressey learn on the fly?
September, 11, 2013
9/11/13
9:35
PM ET
Training camp begins at the end of the month for the Boston Celtics and each weekday leading up to the formal start of the 2013-14 campaign, we'll dive into our Celtics Mailbag and tackle a camp-related question: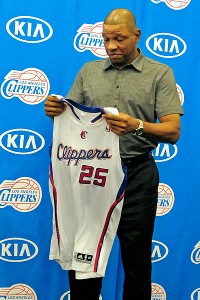 Jayne Kamin-Oncea/USA TODAYDoc Rivers is the new head coach of the Los Angeles Clippers.
Q: I'm still angry at Doc Rivers. Just so you know. Ruined my summer. -- Roland (Boston)
A:
Sometimes in order to move forward, you have to let go of the past. Maybe no sentiment was stressed more often by former Celtics coach Doc Rivers during his near-decade-long tenure than when -- borrowing from Detroit Pistons coach Chuck Daly -- he'd implore his players to, "Get past mad."
The idea is that no good can come from lamenting what's happened; that you can't change the past, only the future. It goes for fans as well. So much like we did when Celtics fans decried Ray Allen's defection to the rival Miami Heat last summer, we'll stress again: It's best if everyone just moves on ... and as quickly as possible.
Wait, you're wondering, why are we dredging this up now? Rivers returned to his old office building on Wednesday night as part of the third annual Hoops Dream fundraiser for Action for Boston Community Development at TD Garden. For Rivers, it had to be slightly jarring to be an outsider in an arena where he spent countless hours over the past nine years.
Appearing on Boston sports radio 98.5 the SportsHub earlier in the day to promote the event, Rivers did showcase his familiar humor by quipping, "It's fun being back here in Boston. I lost some money on the golf course, so things are back to normal."
Well, not exactly normal. Rivers was a beloved figure in this town, which left some blindsided by his departure. Some fans have seemingly struggled to rationalize his departure and are still hurt by the notion that he didn't follow through on a promise to aid Boston's rebuilding process.
On Wednesday night, the reception for the new Los Angeles Clippers coach was likely cordial. Corporate sponsors anted up $10,000 for their teams to play on the fabled parquet and rub elbows with Rivers, who was scheduled to hold a question-and-answer session with legendary sportswriter Bob Ryan as part of the event.
But there are Celtics fans who are still bitter at Rivers for electing to pursue the Clippers job out west and chase another title rather than see out the five-year, $35 million contract he signed two summers ago. Before the new season starts, it's best for those fans to get past mad.
September, 10, 2013
9/10/13
3:30
PM ET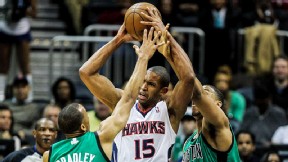 Daniel Shirey/USA TODAY SportsAvery Bradley and Jared Sullinger apply suffocating defense last season against the Hawks.
Training camp begins at the end of the month for the Boston Celtics and each weekday leading up to the formal start of the 2013-14 campaign, we'll dive into our Celtics Mailbag and tackle a camp-related question
:
Q: With Kevin Garnett and Paul Pierce off to Brooklyn, what can we expect from Boston's defense next season? -- Gabriel (Louisville, Ky.)
A:
In projecting the NBA's top potential risers and fallers for the upcoming 2013-14 season, ESPN Insider suggested that Boston is projected to have a league-worst defense. That was staggering to me. It's no secret how important Garnett was to Boston's defensive success over the past six seasons, but the idea that Boston would plummet straight to the bottom of the sea -- plunging straight past the Bobcats and Kings along the way -- seemed improbable.
Sure, the Celtics vaulted from No. 20 in points allowed per play to No. 1 during Garnett's first season in Boston, according to defensive data logged by Synergy Sports. But what does Garnett's departure do to a team? For that, we examined what happened in Minnesota. The Timberwolves ranked 18th in the points allowed per play (0.943) during the 2006-07 season despite the fact that Garnett allowed a mere 0.775 points per play individually (let's put it this way: the next best rotation player was Trenton Haskell at 0.893 ppp). After Garnett got traded to Boston, the Wolves slipped to No. 27 during the 2007-08 season at 0.971 points per play. That's bad -- especially when you consider that Antoine Walker was the team's best rotation-caliber defender at 0.877 ppp -- but proved that even a terrible defense wouldn't fall completely off the map without Garnett.
What seems prudent to remember for Boston is that the team returns some very capable defenders, including All-Defensive second-teamer Avery Bradley in the backcourt. Sparked in part by Bradley's return in January last season, Boston surged to fifth in the league in points allowed per play (0.897) for the 2012-13 season.
September, 10, 2013
9/10/13
12:01
AM ET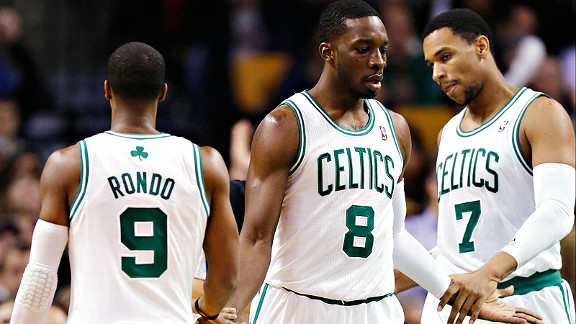 Greg M. Cooper/USA TODAY SportsThere are few certainties in Boston's starting 5 as the 2013-14 season nears.
Training camp begins at the end of the month for the Boston Celtics and each weekday leading up to the formal start of the 2013-14 campaign, we'll dive into our Celtics Mailbag and tackle a camp-related question:
Q: There's a month until Boston's first exhibition game of the new season. What's the starting lineup going to look like for this new-look team? -- Sherman (Las Vegas, Nev.)
A:
::
shrugs shoulders
:: If
Rajon Rondo
's health wasn't such a question mark, this one might not be so difficult. You can easily envision a starting lineup anchored by the Rondo-
Avery Bradley
backcourt (those two are the longest tenured players on the team now, after all). But recent chatter by Boston players (both current and past) has suggested that Rondo might not be ready for the start of the new season, and that throws everything off.
Without Rondo, Boston has to scramble yet again for someone to run the point. Bradley said recently that he'd be willing to help stomach those chores, but he's clearly uncomfortable when opponents crank up the pressure, which might have contributed to his all-around struggles in the playoffs last season (though two surgically repaired shoulders conspired against him as well). The Celtics are seemingly better served to keep Bradley at the shooting guard spot. Alas, the only other pure ball-handler on the roster at the moment is undrafted rookie
Phil Pressey
. Would the Celtics throw him right to the wolves? They might have to. What's the other option, an increased dose of
Jordan Crawford
? Boston can put a 2-guard (Courtney Lee? MarShon Brooks?) at the point, but it's far from ideal.
PODCASTS
Field Yates, NFL
Play Podcast ESPN NFL reporter Field Yates covers expectations for Rob Gronkowski, the Patriots' outlook, LeSean McCoy's injury and Alex Smith's contract negotiations with the Chiefs.
Baseball Tonight - Jed Hoyer
Play Podcast Buster Olney and Justin Havens discuss how teams that made major deals have fared since the deadline. Plus, Cubs GM Jed Hoyer on the strange circumstances caused by weather.