Boston Celtics:

2013Draft
June, 27, 2013
6/27/13
9:20
PM ET
BOSTON -- The
Boston Celtics
shuffled up to No. 13 to grab Gonzaga 7-footer
Kelly Olynyk
after a trade with the
Dallas Mavericks
. Boston sent its No. 16 pick and two future second-round draft picks to the Mavericks to move up.
Olynyk averaged 17.8 points, 7.3 rebounds and 1.1 blocks over 26.4 minutes per game during his junior season at Gonzaga. But it's his advanced metrics that really raised eyebrows. According to Synergy Sports data, Olynyk averaged 1.131 points per play, ranking in the 95th percentile among all Division 1 players. A whopping 21.6 percent of his plays came in the post and he averaged 1.067 points per play (93rd percentile). For a Boston team that craves size and scoring ability, Olynyk appears to fit a need (regardless of how the roster looks next season). His 36.57 Player Efficiency Rating (PER) led the nation this past season.
It's on the defensive end where he'll need a Celtics immersion. Olynyk allowed 0.818 points per play and ranked merely in the 54th percentile. Opponents took advantage of his lack of strength in the post, and he needs to be a better rebounder.
The Celtics selected Brazilian center
Lucas Nogueira
for the Mavericks, who were expected to send him on to Atlanta in a separate trade.
The ESPN Insider breakdown on Olynyk's strengths and weaknesses:
Positives
* Big man with versatile game
* Can score with his back to the basket
* Solid perimeter game with 3-point range
* Very efficient scorer
* Good motor, especially on the offensive end

Negatives
* Needs to add strength/toughness
* Mediocre rebounder/shot-blocker
* Can be turnover prone
For more on Olynyk, hop
HERE
to check out his full job interview/scouting report on Grantland.
June, 4, 2013
6/04/13
1:23
PM ET
Chad Ford's
Mock 4.0
was unveiled on Tuesday and his latest pick for the Boston Celtics at No. 16 is UCLA's Shabazz Muhammad:
Another guy with lottery-caliber talent that could slide in the draft? The Celtics wouldn't mind that again. You'll have to hop over to Insider for the full analysis. Here are Ford's previous picks for Boston:
Mock 3.0: Dennis Schroeder, Germany (latest mock, drafted No. 14)
Mock 2.0: Michael Carter-Williams, Syracuse (latest mock, drafted No. 8)
Mock 1.0: Kelly Olynyk, Gonzaga (latest mock, drafted No. 21)
May, 28, 2013
5/28/13
11:11
AM ET
WALTHAM, Mass. -- Some of the draft hopefuls that hit the floor at the Boston Celtics' training facility enter in awe of the banners and the history they represent. For Missouri guard Phil Pressey, it was old hat.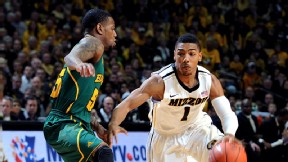 Dak Dillon/US PresswirePhil Pressey is one draft hopeful trying to make an impression on the Celtics.
Pressey's father, Paul, served as an assistant coach on Doc Rivers' staff in Boston from 2004-2006 (then spent a year as an advance scout for the team). A teenage Pressey was a familiar presence in the Waltham gym, whether it was shadowing his dad (and getting up shots with Rivers' kids) or practicing with former Celtics player personnel boss Leo Papile's BABC squad (one of the region's most decorated AAU squads).
"It's crazy, most of these coaches were here when my dad was here," Pressey said after a six-player workout on Saturday. "So it's like they saw me when I was in the 8th grade, 9th grade. It feels the exact same way when I got here. I don't feel like anything has changed much."
Well, one thing's changed: Pressey is about to embark on his pro career and is hoping to catch the eye of a team like the Celtics. Boston worked out 12 players -- heavy on ball-handlers and centers -- over two days last week, many of which -- like Pressey -- are pegged as second-round picks at best.
Boston previously owned two second-round selections (they turned out to be Nos. 39 and 45), but traded both to Portland last summer as part of a three-way sign-and-trade deal that delivered Courtney Lee. At the moment, the team only holds its first-round pick, No. 16 overall, in this year's draft.
So why bring in at least six guys that are pegged to potentially not even hear their named called on draft night? It might just be due diligence, but Boston could also manufacture a second-round pick by swooping up a player that slides through the cracks and giving that person a chance to earn a job at training camp.
The Celtics auditioned six players that were ranked 42nd or lower on ESPN.com's Top 100 board in Colorado State's Colton Iverson (42), Pressey (47), Texas' Myck Kabongo (49), Marquette's Vander Blue (68), Louisville's Peyton Siva (72), and Creighton's Gregory Echenique (not ranked).
May, 27, 2013
5/27/13
8:15
AM ET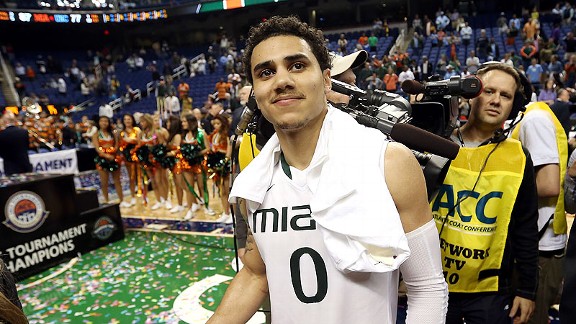 Streeter Lecka/Getty ImagesMiami's Shane Larkin goes way back with Celtics coach Doc Rivers.
WALTHAM, Mass. -- Boston Celtics coach Doc Rivers has always been brutally honest with his advice for Shane Larkin. Like the time after Rivers' son, Austin, defeated Larkin's high school squad in a Florida state championship hoops battle.
"Doc saw me after the game and said, 'Great game. Just keep doing what you're doing. I'm glad my son beat you, but at the same time, you're a great player, you're going to do great things,'" said Larkin, smiling as he recalled the slightly backhanded compliment in a losing effort. "I have a great relationship with [Doc]. If there's a chance of being able to play for him in the NBA, that's just like a dream."
As Orlando residents, Larkin has known Rivers for the better part of a decade, dating back to when he and Austin were teammates on a 9-year-old AAU All-Star team in the early 2000s. The pair soon became the
Larry and Magic of local high school hoops
, meeting in two state title clashes (Austin's Winter Park twice bested Larkin's Dr. Phillips). The two would even cross paths again in college -- both wearing No. 0 at that level -- in a Duke-Miami showdown two seasons ago. Could coach Rivers' familiarity with Larkin convince the Celtics to consider Larkin with the 16th overall pick in next month's draft?
Larkin was the top-ranked guard of the eight backcourt players the Celtics auditioned over two days of pre-draft workouts at their training facility last week. Larkin is currently ranked the 19th best player (and fourth best point guard) on ESPN.com's Top 100 draft board, and is pegged as a mid first-round pick.
The 5-foot-11 Larkin is undersized, but he has showcased speed (producing the fastest ¾ court sprint at this month's draft combine) and leaping ability (posting the second-highest max vertical ever at 44 inches; he thanks his dancing mother for his hops). But that's not his only athletic pedigree -- his father is 12-time MLB All-Star and Hall of Fame shortstop Barry Larkin, while his uncles were stars on both the hardwood and gridiron -- and there's obvious intrigue in his game giving just his bloodlines.
May, 26, 2013
5/26/13
12:00
PM ET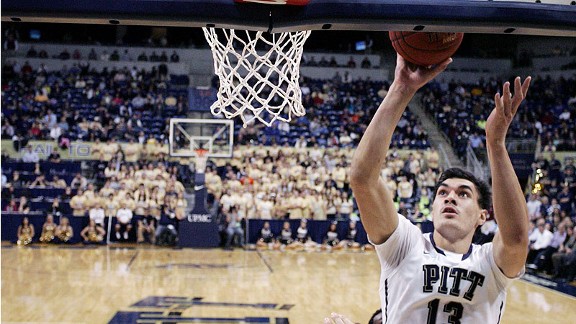 harles LeClaire/USA TODAY SportsThe Celtics brought in Pittsburgh's Steven Adams for a pre-draft workout.
WALTHAM, Mass. -- Here's pretty much all you need to know about Pittsburgh center
Steven Adams
: He comes with the
Brian Scalabrine
stamp of approval.
Scalabrine, the former Celtic and cult figure (turned television analyst), suggested earlier this month during a
local radio appearance
that Boston should consider Adams with its lone pick -- No. 16 overall -- in next month's NBA draft. Scalabrine raved about the long-term potential of the 19-year-old 7-footer out of New Zealand, calling him a "freak athlete" and comparing him favorably to former Chicago teammate
Omer Asik
.
Scalabrine is somewhat biased, having worked out with Adams in advance of the draft, but his glowing review is seemingly one being adopted by talent evaluators across the league. Adams is climbing draft boards this week and ESPN.com draft guru Chad Ford shuffled him up to a potential lottery pick (landing at 13th overall in Ford's top 100; third at his position).
Adams was the
top-ranked prospect among 12 players Boston auditioned
in pre-draft workouts at their training facility in recent days. After showcasing a better-than-expected offensive game at the draft combine in Chicago, Adams has caught the attention of teams across the league.
So what exactly has Scalabrine been teaching him?
"He's been up against NBA players, so he knows how they play," said Adams. "He's just been showing me, not tricks, but the basic fundamentals of NBA play. Like, you can get away with a lot more physicality and throwing a lot more [elbows] around. He's just showing me that side of things and separation on the court. How to use the 3-point line."
One season after Boston drafted a pair of bigs (
Jared Sullinger
,
Fab Melo
) in the first round, Adams comes with the Melo-like tag of being a potential long-term project. He averaged 7.2 points, 6.3 rebounds and 2 blocks over 23.4 minutes per game as a freshman at Pittsburgh this past season, but his pure size and athleticism -- along with a relentless motor -- make him an intriguing target.
May, 25, 2013
5/25/13
9:30
PM ET
The
Boston Celtics
worked out 12 players during pre-draft sessions over the past two days at their training facility in Waltham. A look at where those prospects currently sit on colleague Chad Ford's Top 100 rankings and his projections for each player:
The Celtics have only one pick in this year's draft, No. 16, and traded away a pair of second-round picks to Portland as part of the three-team sign-and-trade swap that delivered
Courtney Lee
last summer. So what can we infer from the team's first batch of workouts?
It's no secret that point guard and center were areas of need during the 2012-13 season. Assistant coach Jay Larranaga, who ran the pre-draft workouts, deferred to coach Doc Rivers and president of basketball operations
Danny Ainge
in regard to what positions the team might be targeting, but clearly the Celtics have their eyes on those spots during this batch of workouts.
Adams and Larkin have received a lot of pre-draft buzz, but could be potential targets if they are still on the board when the Celtics pick. Jackson, who shined during a pre-draft workout in New Jersey earlier this month, is the type of player that Boston could be gauging whether it's worth taking where they are slotted. Ainge has never been afraid to explore moving around, and Boston seems to be surveying the talent level of potential second-round picks (despite not currently owning a selection in that round). Remember, too, that those players that go undrafted could always latch on with the summer league team or earn a training camp invite with a chance to compete for a roster spot.
May, 25, 2013
5/25/13
3:15
PM ET
Chris Forsberg/ESPN BostonJared Sullinger got up shots on Saturday in Waltham.
WALTHAM, Mass. -- The Boston Celtics hosted six players -- four point guards and two centers -- as part of the second day of pre-draft workouts at their training facility on Saturday.
The point guards featured Baylor's
Pierre Jackson
, Texas'
Myck Kabongo
, Missouri's
Phil Pressey
, and Miami's
Shane Larkin
, while the big men were Pittsburgh's
Steven Adams
and Creighton's
Gregory Echenique
.
This came one day after a similar six-man workout that featured guards in Louisville's
Peyton Siva
, Providence's Ricky Ledo, Virginia Tech's
Erick Green
, and Marquette's
Vander Blue
, along with big men in Colorado State's
Colton Iverson
and Kansas'
Jeff Withey
.
Celtics assistant coach Jay Larranaga helmed the workouts, which featured a variety of drills before a grueling three-minute running exercise with strength and conditioning coach Bryan Doo to close out the session.
"I thought [the workout] went great," said Larranaga. "We always just want to see the guys give great effort, be competitive, and we always tell them to just show the best version of yourself, and I think everyone did that. They didn't try to do too much. They stayed within the team concept, and it was a lot of fun.
"We try to make everything as game-like as possible. And then find the intangibles that winning teams have [like] toughness, team spirit, and then obviously just evaluating their skills. What are they good at? Are they good shooters? Are they good defenders? Good passers? I think we had a little mixture of all that today."
And as for the late-session run that left most players huffing and puffing as media were let in after the workouts?
"That's B-Doo's job," said Larranaga with a smile. "That's a staple of the Celtics workout, that three-minute run, and I'm fortunate that I don't have to participate."
The Celtics own only one pick in this year's draft, No. 16, after trading away a pair of second-round picks to Portland as part of a three-team sign-and-trade swap to land Courtney Lee. Is the team tipping its hand a bit by almost exclusively bringing in point guards and centers?
"My job is to run the workout," said Larranaga. "Whoever they bring in, the four or five or six guys that come in, we try to put them through a tough workout where they can show all their different skills. I have no idea what [coach] Doc [Rivers] and [president of basketball operations] Danny [Ainge] are looking for. I think so far we've had 12 really good players, and all of them with NBA potential, so they're obviously doing a great job of getting guys in there."
Read on for a handful of quick hits from the session, including Pressey's dash to Bertucci's Italian Restaurant and the Scalabrine Stamp of Approval for Adams:
May, 21, 2013
5/21/13
10:05
PM ET
With the draft lottery completed, Chad Ford's
Mock 3.0
was unveiled on Tuesday evening. His latest pick for the
Boston Celtics
at No. 16 is Germany's
Dennis Schroeder
:
The Celtics missed
Rajon Rondo
so much during the 2012-13 season, why not get a clone? You'll have to
hop over to Insider
for the full analysis. Here are Ford's previous picks for Boston:
Mock 2.0
:
Michael Carter
-Williams, Syracuse (latest mock, jumps to No. 7)
Mock 1.0
:
Kelly Olynyk
, Gonzaga (latest mock, not selected in first round)
May, 8, 2013
5/08/13
1:15
PM ET
Chad Ford's
Mock 2.0
debuted Wednesday. His pick for the Boston Celtics at No. 16 ...
You'll have to
hop over to Insider
for the analysis. Needless to say after the 2012-13 campaign, additional point guard depth wouldn't be a bad thing for Boston, even if Rajon Rondo returns healthy next season.
April, 10, 2013
4/10/13
10:00
AM ET
ESPN.com's Chad Ford
debuted his Mock Draft, Version 1.0
on Tuesday with the Celtics taking 7-foot Gonzaga center Kelly Olynyk with the 16th pick:
Hop
HERE

to view Olynyk's Player Card.
PODCASTS
Field Yates, NFL
Play Podcast ESPN NFL reporter Field Yates covers expectations for Rob Gronkowski, the Patriots' outlook, LeSean McCoy's injury and Alex Smith's contract negotiations with the Chiefs.
Baseball Tonight - Jed Hoyer
Play Podcast Buster Olney and Justin Havens discuss how teams that made major deals have fared since the deadline. Plus, Cubs GM Jed Hoyer on the strange circumstances caused by weather.