Boston Celtics:

2013Game14
November, 25, 2012
11/25/12
11:55
PM ET
Fernando Medina/NBAE/Getty ImagesKevin Garnett plays tough coverage on Glen Davis during Sunday's game.
Boston Celtics
coach Doc Rivers called a timeout just 63 seconds into the second half of Sunday's overtime win over the
Orlando Magic
. Boston owned a 10-point lead coming out of intermission, but two turnovers and an Orlando 3-pointer left Rivers uneasy about where the game was headed.
"I could see it right away, but I couldn't turn it around," Rivers told reporters after the game. "I called timeout at [10:57 remaining]. I could see it, but just because I can see it doesn't mean it's relayed or it goes through. I don't think [Celtics players] believed it; I think they did by the fourth quarter."
Rivers said the Magic played hard throughout the night, while a comfortable lead at halftime left his squad taking its foot off the accelerator. The Magic went on to shoot 76.5 percent (13-of-17) in the third quarter and outscored Boston 34-22 while surging ahead.
"I thought, throughout the game, [the Magic] never changed the way they played. They just played hard," Rivers said. "And, in the first half, we competed; in the third quarter, we let our guard down. Then to me, once you activate a team, and they thought they had a chance to win, then it was anybody's game."
The Celtics found themselves down six with less than five minutes to go and needed a little rally of their own to force the extra session, where a couple of
Rajon Rondo
layups helped Boston pull away.
"Overall, I thought we didn't play very well," Rivers said. "I thought [the Magic] played great, they played hard. ... If you don't [play] hard basketball, you're not going to win [against Orlando], whether you have more talent or not. I thought that was a good lesson for our guys. We turned it around, I thought our execution won the game for us, and it should honestly."
A few more of Rivers' thoughts after Sunday's win, including his take on
Jeff Green
's poor shooting night, Rondo's assist streak and Boston's team defense:
November, 25, 2012
11/25/12
8:48
PM ET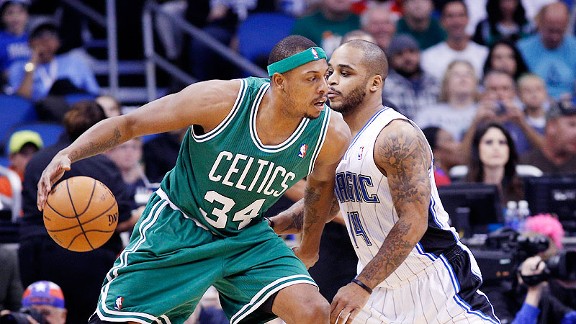 AP Photo/Scott IskowitzPaul Pierce works against Jameer Nelson during Sunday's clash in Orlando.
Rapid reaction after the Boston Celtics defeated the Orlando Magic 116-110 in overtime on Sunday night at the Amway Center:


THE NITTY GRITTY
Kevin Garnett scored a team-high 25 points to go along with 10 rebounds, while Rajon Rondo flirted with a triple-double (15 points, 16 assists, 9 rebounds) as the Celtics escaped with their second straight win. Paul Pierce added 23 points, while Brandon Bass kicked in a double-double (13 points, 12 rebounds) for Boston. Jameer Nelson scored 20 points for Orlando and fueled their second-half rally, while J.J. Redick added a team-high 21 points off the bench. Old friends Glen Davis (15 points, 7 rebounds) and E'Twaun Moore (8 points, 2 assists) helped the Magic hang around.
FREE BASKETBALL: RONDO BREAKS GAME OPEN
Rondo -- maybe surprisingly -- called his own number twice on odd-man breaks late in the overtime session, delivering a pair of layups (the second of which was completely uncontested) that -- combined with a big Pierce 3-pointer -- helped Boston pull away in the extra session. The Magic did have a chance to tie the game and Nelson got a quality look at a 3-pointer from the right wing, but it was off the mark and the Celtics sealed their triumph at the free throw line.
RONDO MATCHES STOCKTON
Rondo posted his 37th straight game with double-digit assists, matching the mark of Utah's John Stockton for the second longest run in NBA history. After handing out nine first-half helpers, Rondo got No. 10 just 2:11 into the third quarter when he fed Pierce for a 3-pointer that had Boston out front by 10. Rondo had four assists over the game's first four minutes to jump-start his quest. Rondo now sets his sights on Magic Johnson's NBA record of 46 consecutive games with double-digit assists.
TURNING POINT 1: MAGIC GET HOT
The Celtics were up 11 with eight minutes to play in the third quarter, but the Magic caught fire and quickly surged ahead. It was Nelson who did much of the damage and his 3-point shot with 40 seconds to play in the frame tied the game, then he added a 15-foot fadeaway before the buzzer to send the Magic into the fourth quarter up 82-80. Orlando was 13-of-17 shooting in the third while outscoring Boston 34-22. The Magic pushed their lead as high as seven in the fourth quarter, but ...
TURNING POINT 2: CELTICS RALLY BACK
The Celtics were down six with less than five minutes to go, but Garnett rallied them back and his 20-foot jumper 1:21 to go tied the game at 102. Both teams squandered opportunities and Boston got the final shot where old habits die hard as the Celtics went to Pierce at the elbow, but they didn't get the switch they were looking for and Pierce's 15-foot fadeaway over Arron Afflalo rimmed out to send the game to overtime.
WHAT IT MEANS
Nothing comes easy for the Green, but a win is a win. After making strides with Friday's statement win over the Oklahoma City Thunder, Boston couldn't let this game slip away. Garnett carried them down the stretch of regulation and Rondo's rare selfishness in overtime helped ensure the win. The Celtics (8-6) have a couple of days off before they host the Brooklyn Nets on Wednesday at TD Garden. A back-to-back looms later in the week when Boston hosts the Trail Blazers on Friday before traveling to Milwaukee on Saturday.
November, 25, 2012
11/25/12
12:00
PM ET
AP Photo/Winslow TownsonOrlando's Jameer Nelson slips past Boston's Rajon Rondo.
The Boston Celtics (7-6, 3-3 away) visit the Orlando Magic (5-7, 4-2 home) on Sunday night at the Amway Center (CSN, 6 p.m.) Here's what to watch for:


*
HEY BABY
: After a summer in which coach Stan Van Gundy and superstar Dwight Howard both departed Disney World, the rebuilding Magic feature old friend Glen Davis as a centerpiece. Davis, now in his second season with Orlando, is averaging 14.9 points and 8.9 rebounds over 31.5 minutes per game. Maybe more impressive is the way E'Twaun Moore has emerged for the Magic. The Celtics begrudgingly included the second-year guard in the offseason sign-and-trade deal that brought Courtney Lee to Boston, and Moore was quickly waived by the roster-crunched Houston Rockets. It took some time, but Moore landed in Orlando, where he's started six of 12 games and averaged 11.1 points and 3.8 assists over 29.6 minutes per outing. What's more, Moore is shooting 43.9 percent beyond the 3-point arc. While Lee struggles to find his offensive game in Boston, Moore is letting his natural talents take over in Orlando.
*
SYNERGY SNAPSHOT
: Struggling away from their home turf, the Magic have cringe-worthy stats on the offensive end, averaging a mere 0.863 points per play, ranking them 29th in the league, according to Synergy Sports data. The Magic sit 29th in transition offense and 26th in a half-court set and -- of their top 10 play types -- in only two do they rank in the top half of the league (ranking 13th in cuts and isolation). Defense is where they've quietly thrived, ranking fourth in the league while allowing a mere 0.881 points per play. Susceptible to ball handlers in the pick-and-roll, the Magic are otherwise stout (well, offensive rebounds have been a problem, but that shouldn't be much of an issue against Boston). The crazy part is that Orlando's individual numbers are nothing to rave about, especially when J.J. Redick is the team's top defender (he actually ranks in the 99th percentile, having allowed a mere 0.545 points per play this season).
*
CELTICS CAN'T LET UP
: Coming off their best victory of the season on Friday night against Oklahoma City, the Celtics absolutely cannot take their foot off the gas in Orlando. Boston's record showcases its inconsistency this season, but the Celtics need to build off Friday's effort, particularly on the defensive end, where they showed signs of their old self (even if they gave up triple digits again). As Rivers said after Friday's game, "That was the Celtics. That's the team that we've been looking for, but can we continue to do it? We've got to do it over and over again."
*
RONDO VS. STOCKTON
: Celtics point guard Rajon Rondo can match John Stockton's 37-game streak of double-digit assists on Sunday, the second-longest run in NBA history. The Magic rank in the top third of the league in limiting opponent assists, and Rondo has struggled at times on the road recently to get to 10, but will have plenty of motivation this evening with a chance to match Stockton. After that, Rondo will have Magic Johnson and his league-record 46-game streak directly in his view.