Boston Celtics:

2013Game23
December, 15, 2012
12/15/12
11:52
PM ET
D. Clarke Evans/NBAE/GettyRajon Rondo takes it strong to the basket against the Spurs.
Boston Celtics
coach Doc Rivers tip-toed the line of being critical of the officiating in Saturday's 103-88 loss to the
San Antonio Spurs
, but was clearly unhappy with the lack of whistles in his team's favor while tasting defeat for the second time in 24 hours.
The Spurs were whistled for a mere 12 personal fouls, half of which came over the final 13:16 of play. Boston entered the fourth quarter having shot just four free throws, and finished with eight attempts at the charity stripe overall (the Spurs were 15-of-20 at the line, while Boston was whistled for 20 personal fouls overall).
"Looking at [the box score], I thought it was a miracle going over the game tonight," Rivers told reporters in San Antonio. "Listen, they go into the fourth quarter with six fouls total? That means they are one heck of a defensive basketball team, they were terrific."
When a reporter quipped that Rivers appeared to be dripping with sarcasm, Rivers admitted his frustration.
"It was being sarcastic, but, listen, what can you do? It is what it is," said Rivers. "They shot more free throws. Two of our free throws were [the result of] technicals, so we really didn't even get that [many]. It's hard to win games on the road when teams go to the line like that and we don't go to the line."
Rivers was quick to point out that free throw disparity was far from Boston's lone transgression on this night.
"Our turnovers were a big factor in the game tonight, and then the 3-point line," said Rivers, whose team allowed San Antonio to shoot 12-of-25 (48 percent) beyond the arc. "To me those were the three areas that hurt us: They got a bunch of 3s down the stretch when the game was decided, but I thought the turnovers and the free throws, if you had to put your finger on two things. We were playing hard, too, but we just couldn't get it. Couldn't get to the line. The thing that free throws do is they allow you to set your defense. And it allowed them to do it a lot tonight."
December, 15, 2012
12/15/12
11:05
PM ET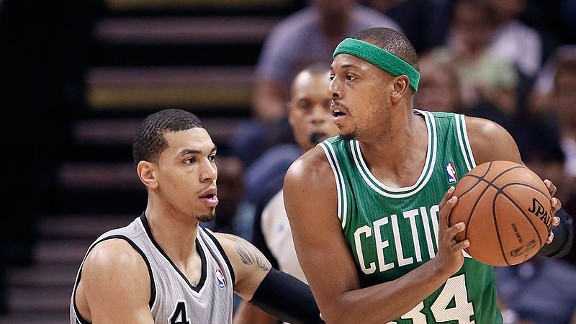 Soobum Im/USA TODAY SportPaul Pierce and the Celtics were left frustrated in San Antonio.
Rapid reaction after the
San Antonio Spurs
defeated the
Boston Celtics
103-88 on Saturday night at the AT&T Center:


THE NITTY-GRITTY
Tony Parker
scored a game-high 22 points on 8-of-14 shooting to go along with eight assists, while
Gary Neal
added 20 points on 7-of-13 shooting to pace the Spurs.
Paul Pierce
and
Jason Terry
had 18 points apiece to lead Boston, which put five players in double figures but let up for a brief instant in the third quarter and the Spurs raced away with the game.
TURNING POINT
Boston seemingly was stuck in catch-up mode the entire night. The Celtics finally pulled even three minutes into the third quarter, only to let off the gas for just long enough for the Spurs to open a double-digit lead. San Antonio embarked on an 11-0 run that started with 3-pointers from Neal and
Danny Green
. A second triple by Green had the Spurs on top 66-55 with 6:45 to play in the third quarter, and Boston was playing from behind yet again.
FREE THROW DISPARITY
The Celtics were enraged after shooting a mere eight free throws (making six of them). The Spurs were whistled for 12 fouls (half of which came over the final 13½ minutes). Boston endured 20 personal fouls, and San Antonio finished 15-of-20 at the charity stripe.
GINOBILI DEPARTS IN FIRST HALF
Spurs reserve guard
Manu Ginobili
departed in the second quarter with a left quad contusion and did not return. Ginobili crumpled to the ground after absorbing a hard (but illegal) screen from
Chris Wilcox
. Ginobili had three points in four minutes, but San Antonio's deep bench spread out its contribution in his absence.
WHAT IT MEANS
The Celtics drop to 12-11 after losing both ends of a Texas back-to-back. While they were far more competitive than during Friday's game in Houston, they simply took their eyes off the road for a bit and San Antonio left them in the dust. The Celtics must brush themselves off and will have consecutive off-days before visiting the Bulls on Tuesday night to close out this three-game road trip. All the optimism that surrounded Boston following back-to-back wins before this trek has given way to head-shaking gloom with the team in danger of falling to .500 if it can't close out the trip with a win against the Bulls.
December, 15, 2012
12/15/12
11:15
AM ET
D. Clarke Evans/NBAE/Getty ImagesCan Rajon Rondo and the Celtics atone for a loss to the Spurs in Boston last month?
The
Boston Celtics
(12-10, 4-6 away) visit the
San Antonio Spurs
(18-6, 7-2 home) on Saturday night at the AT&T Center. Here's what to watch for:


*
STOP SPLITTER TO SPLIT 'EM
: During the first meeting in Boston, the Celtics did a decent job on San Antonio's stars, but it was reserve big man
Tiago Splitter
's monster night (23 points on 9-of-11 shooting over 25:58) that made the difference in the Spurs' 112-100 triumph. The Celtics shouldn't need a reminder about Splitter, particularly coming off a loss in which they got torched by Houston backup big man
Greg Smith
(8-of-9 shooting for 20 points over 21:46).
*
SYNERGY SNAPSHOT
: The Spurs sit fourth in the NBA by averaging 0.977 points per play, according to Synergy Sports data. San Antonio won't try to run the Celtics out of the building like Houston did, but it will attempt to grind Boston down in the pick-and-roll (or open cracks with crisp ball movement). Defensively, the Spurs rank sixth overall at 0.887 points per play. Despite being susceptible to the pick-and-roll and spot-up shooters -- opponents' two most common play types -- the Spurs limit the damage in transition and rank among the league's best in defending post-up and isolation situations.
*
ENERGY CHECK
: The Celtics will be playing a back-to-back after coming off Friday's loss in Houston, while San Antonio is coming off a rest day. The Spurs haven't exactly been relaxing, as this will be their fourth game in six nights. After an inconsistent effort against the Rockets, the Celtics have to be focused on putting 48 minutes together -- as rare as that has been this season. Boston cannot afford to let up at any point Saturday, or San Antonio will pounce.
*
DRIBBLE PENETRATION
: Boston had improved its perimeter defense, cutting down on dribble penetration in recent games, but it regressed mightily over its last two outings. Said Rivers after Friday's loss: "We couldn't stay in front of the ball. It's a shame because someone's going to look at the stat sheet and they're going to say our bigs got beat up tonight. Our bigs got beat up because our guards and our small forwards and our power forwards couldn't keep the ball in front of them. At some point, it's a one-on-one defense, and that makes the team defense better, and we didn't do a very good job of that." Expect the team's defense to be the primary focus when Rivers meets with his team before Saturday's game.
PODCASTS
Field Yates, NFL
Play Podcast ESPN NFL reporter Field Yates covers expectations for Rob Gronkowski, the Patriots' outlook, LeSean McCoy's injury and Alex Smith's contract negotiations with the Chiefs.
Baseball Tonight - Jed Hoyer
Play Podcast Buster Olney and Justin Havens discuss how teams that made major deals have fared since the deadline. Plus, Cubs GM Jed Hoyer on the strange circumstances caused by weather.