Boston Celtics:

2013Game28
December, 28, 2012
12/28/12
3:00
AM ET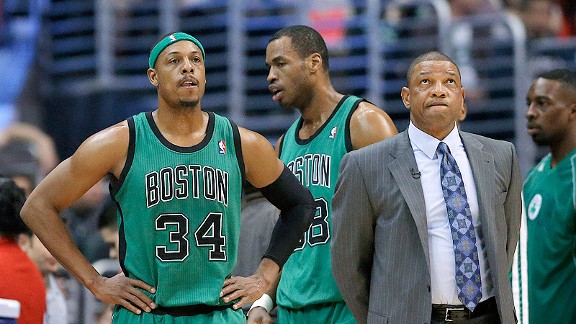 AP Photo/Jae C. HongThe Celtics are still desperately searching for consistency in the 2012-13 campaign.
After edging the then-juggernaut
Los Angeles Lakers
in a mid-February matchup back in 2010, Celtics coach Doc Rivers famously demanded $100 from each member of the team's traveling party (players, coaches, support staff) and stashed an envelope with $2,600 in the ceiling tiles in the visitor's locker room as motivation for his then-inconsistent squad to force a potential NBA Finals meeting with the Lakers.
After his team endured a 106-77 whooping at the hands of the
Los Angeles Clippers
on Thursday night, Rivers cracked that he was going to take up another collection to hide in the Staples Center walls -- the insinuation being that the Clippers, winners of 15 straight, are playing championship-caliber basketball. And the Celtics? Well, they clearly need some form of motivation to improve their current brand of woefully inconsistent play.
"I mean, geez, [the Clippers] were unbelievable," Rivers said.
He had every reason to be infuriated with his team's lackluster play, but instead of unloading on his players' effort, Rivers playfully opened with the hiding-the-money joke on Thursday night. Asked later if he was upset with his team, Rivers actually tried to take some of the sting out of a lopsided loss.
"No, no, no, no. [The Clippers are] playing well and we played horrible -- it's a perfect storm," Rivers told reporters in Los Angeles. "You hate those, you don't have a lot of those, but we had one of those tonight."
But the Celtics have had an awful lot of "those nights" lately. They might not all be 30-point drubbings, but Boston has rarely been able to string together consecutive solid efforts and their record reflects that.
Coming off one of their finest efforts of the season, you want to give the Celtics the benefit of the doubt. But the pattern so far this season suggests that this is the way it's going to be. They dipped back to .500 (14-14) with Thursday's loss and, as good as they looked on the Christmas Day stage in Brooklyn, the Celtics were completely disheveled in Hollywood's backyard.
December, 28, 2012
12/28/12
1:25
AM ET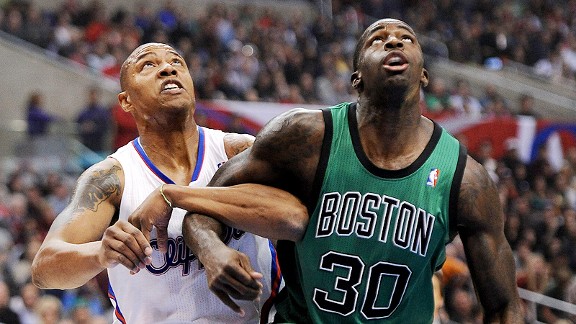 Jayne Kamin-Oncea-USA TODAY SportsBrandon Bass battles for position in the first half of Thursday's game in Los Angeles.
Rapid reaction after the
Los Angeles Clippers
throttled the
Boston Celtics
106-77 on Thursday night at Staples Center in Los Angeles:


THE NITTY GRITTY
If you elected for sleep on Thursday night, you made the right decision. Coming off one of their finest efforts of the season on Christmas Day in Brooklyn, the Celtics were absolutely dominated by the Clippers.
Matt Barnes
scored a game-high 21 points over 23 minutes and
Jamal Crawford
added 17 points, both coming off the bench for Los Angeles.
Blake Griffin
registered 15 points and eight rebounds, and
Caron Butler
chipped in 14 points for a Clippers team that shot 48.2 percent from the field.
Kevin Garnett
scored a team-high 16 points, but even he was a minus-13 in plus/minus on this night.
Paul Pierce
registered 12 points, but he was a team-worst minus-27 overall.
Rajon Rondo
blended into the scenery with 10 points, 6 assists, 5 rebounds and 4 turnovers. Boston shot a mere 40.3 percent and turned the ball over 18 times (leading to 26 points).
TURNING POINT
The Clippers embarked on a 16-2 run early in the first quarter, opening an 18-4 lead before the TNT broadcast had even switched over from the Oklahoma City Thunder's overtime win against the Dallas Mavericks.
Willie Green
and
DeAndre Jordan
paired up for 10 points during the burst as the Clippers were 7-of-9 shooting (77.8 percent), while Boston missed six of seven shots. The Celtics trimmed the deficit to four with a little burst early in the second quarter, but Los Angeles responded with a lightning-quick 8-0 run over a 68-second span that pushed the lead back to double digits. Boston never got closer than eight the rest of the way.
SULLY GETS A FLAGRANT
Celtics rookie
Jared Sullinger
was tagged with a flagrant-1 for essentially preventing himself from becoming part of a Griffin poster in the third quarter. Griffin attacked on the baseline with 4:49 remaining in the period when Sullinger, avoiding the wrong end of a "SportsCenter" highlight, lunged at Griffin and fouled him hard around the neck to prevent a dunk.
WHAT IT MEANS
Welp, the Celtics can take solace in the fact that about half the league's teams have tasted defeat at the hands of the Clippers over the past month (Los Angeles has won its past 15 games against 14 different teams since Nov. 28). On the other hand, Boston was coming off one of its finest efforts of the season and this was a chance to gauge itself against the best team in basketball. The Celtics failed that test, trailing by as many as 32 points. Boston must dust itself off before visiting Golden State on Saturday. The Celtics then close out this four-game road trip in Sacramento on Sunday.
December, 27, 2012
12/27/12
12:00
PM ET
Jayne Kamin-Oncea-US PRESSWIRERajon Rondo and Chris Paul meet again on Thursday in Los Angeles.
Coming off a solid win in Brooklyn on Christmas Day, the
Boston Celtics
(14-13, 5-8 away) make the second stop on a four-game road trip when they visit the
Los Angeles Clippers
(22-6, 13-3 home) on Thursday night at the Staples Center (10:30 p.m., TNT). Here's what to watch for:


*
RONDO VS. CP3
: The
Rajon Rondo
-
Chris Paul
rivalry has always had a little extra pizzazz to it. Then last November, rumors swirled that the Celtics were interested in swapping the guards. Paul ultimately landed with the Clippers, helping to facilitate their ascension to legitimate contender. The two players met only once last year in Los Angeles as Rondo's 12 points and 10 assists helped Boston emerge with a win in a chippy game. Thursday could feature more of the same as the Celtics will be looking to end the Clippers' 14-game winning streak in a national TV battle. Which is to say that Rondo shouldn't lack for motivation.
*
SYNERGY SNAPSHOT
: The from-afar perception of the Clippers is a high-octane, highlight-heavy offense spearheading their success. Yes, Los Angeles ranks fifth in the league averaging an efficient 0.969 points per play, but the team plays at a league-average pace and ranks ninth in points per game. The secret masked by all those
Blake Griffin
and
DeAndre Jordan
flashbulb finishes is that the Clippers rank third in the NBA by allowing a mere 0.87 points per play, according to Synergy data (and they hop to No. 2 in the league in the half-court set). Griffin's defensive numbers are off the charts (0.646 points per play, 97th percentile) and the Clippers as a team rank 12th or better against all six of their opponent's top play types. Opponents average a mere 91.9 points per game and
that
is actually the biggest reason for the team's current streak (only twice have opponents reached triple figures in that 14-game stretch).
*
MATCHING UP IN FRONTCOURT
: The Celtics have gone big lately with
Jason Collins
and
Kevin Garnett
comprising the starting frontcourt, but Los Angeles' athleticism will challenge Boston's bigs. The Celtics will need undersized forwards like
Brandon Bass
and
Jared Sullinger
to get by with their energy and grit while trying to match up against a frontcourt that isn't just big, but can jump out of the gym. The Celtics got physical the last time these two teams met and might need to play with a similar edge again on Thursday.
*
KEEP IT GOING
: The Celtics were brilliant on Christmas Day in Brooklyn, which means you should have no idea what team will emerge on Thursday night. A Boston team that speaks often about putting together a sustained winning streak hasn't put together a sustained winning streak this season. Each quality win is met with a fresh dose of optimism, only to be dashed soon after. The Celtics have a tough task given how well the Clippers are playing and, unfortunately for Boston, the bottom line is all that really matters, so there's added pressure to simply emerge with the victory.
PODCASTS
Peter King, NFL
Play Podcast Sports Illustrated's Peter King weighs in on the Patriots' offensive line, the outlook for New England, Jim Harbaugh's relationship with his team and the Cowboys' success.
Opening Rant, 9/30
Play Podcast Colin Cowherd shares his thoughts on the state of the Patriots, New England's offense and Brady Hoke's future at Michigan.
First Take
Play Podcast Skip Bayless & Stephen A. Smith debate if the Patriots dynasty is over, if the 49ers have stopped listen to Jim Harbaugh and more. Plus, they make their World Series predictions.