Boston Celtics:

2013Game3
November, 4, 2012
11/04/12
12:02
AM ET
WASHINGTON -- If Celtics coach Doc Rivers had trouble knowing exactly what he'd get from his team before Saturday's game, Boston's 89-86 win over the
Washington Wizards
didn't do much to establish expectations.
After tinkering with the lineup by inserting rookie
Jared Sullinger
as the starting power forward, the Celtics responded with an energized, defensively efficient 17-2 lead in the opening minutes.
[+] Enlarge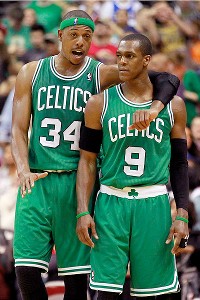 Geoff Burke/US PresswirePaul Pierce scored 27 points, Rajon Rondo added 12 plus 12 assists, and Boston got win No. 1.
Later came the offensive drought and poor rotations that allowed Boston to blow all of its lead and trail late in the fourth quarter.
But then the Celtics got back to what they know best. Actually, it was more about who they know best:
Paul Pierce
and
Kevin Garnett
.
"I made a point of it," Rivers said. "I reminded our guys that Paul was on our team and Kevin was on our team. I loved that at halftime, they had the most shots. That's how it's got to be every night."
Identity crisis solved.
At least for a night.
Pierce scored 15 of his game-high 27 points in the second half, including eight in the fourth quarter, to provide the clutch offense. Garnett forced a turnover on Washington's potential go-ahead possession with 28 seconds left and Boston avoided a second straight 0-3 start to the season.
Beating a Wizards team that was missing its two best players in
John Wall
and Nene wasn't exactly viewed as a breakthrough accomplishment for the Celtics.
But for a Boston team long on recently acquired veterans and short on chemistry, it was a modestly productive step forward for a team that remains a work in progress.
"I don't think we're close," said guard
Rajon Rondo
. "But our heads and our hearts are in the right direction. We've got to continue to buy into the system, what coach is telling us to do every night and we'll get there. We've got the right approach to the game each night, and it starts with defense."
Rivers saw some familiar signs.
November, 3, 2012
11/03/12
9:54
PM ET
By
Greg Payne
| ESPNBoston.com
Rapid reaction following the
Boston Celtics
' 89-86 victory over the
Washington Wizards
at the Verizon Center Saturday night.


HOW THE GAME WAS WON:
Paul Pierce
led the Celtics with 27 points on 10-of-22 shooting to go with seven rebounds, while
Kevin Garnett
chipped in 15 points and seven rebounds.
Rajon Rondo
added his usual double-double, scoring 12 points to go along with 12 assists and five rebounds. The Wizards were paced by two of their key reserves, with
Jordan Crawford
putting in 21 points and
Kevin Seraphin
scoring 19.
TURNING POINT:
The Celtics got the start they wanted, sprinting out to a 17-2 lead seven minutes into the game, finishing the opening quarter with a commanding 26-12 lead. But Washington, led by Crawford and Seraphin, mounted a slow, steady comeback, getting to within two (69-67) with less than a minute remaining in the third quarter. Back-to-back 3-pointers from
Jeff Green
and Pierce opened things back up for Boston, but Washington refused to fold, and a Seraphin jumper with 2:51 to play gave the Wizards their first lead. Pierce fired right back with a deep right-wing 3-pointer that ended up being the game's final bucket, as both teams squandered final-minute scoring opportunities before
Jason Terry
sealed things with two free throws with 1.2 seconds remaining.
BOLD PLAY OF THE GAME:
Five minutes into the third frame, Garnett secured a rebound and launched a three-quarters-court, two-handed pass to a sprinting
Brandon Bass
, who made an impressive catch on the run, missed his initial layup bid but corralled the offensive board and slammed home a putback while drawing a foul.
PIERCE LEADS THE WAY:
Paul Pierce went into Saturday's bout having averaged 17 points in his first two games to start the season and proceeded to unleash his strongest scoring effort yet. He scored in typical Pierce fashion, with a host of midrange jump shots and 3-pointers complementing steady drives to the rim. One attack of the basket included a nifty fake into the paint and an ensuing spin along the left baseline into the lane for a layup. Pierce knocked down four of his eight 3-point field goal attempts, with his final one serving as the go-ahead bucket for Boston after the Wizards had just secured their first lead of the ballgame.
RONDO MATCHES STOCKTON:
Rondo reached double figures in assists for the 27th consecutive regular-season game, tying
Utah Jazz
great
John Stockton
for the fourth-longest streak in NBA history, according to ESPN Stats & Info.
SULLINGER STARTS:
Jared Sullinger
recorded the first start of his NBA career, contributing four points and seven rebounds over 30 minutes. Bass had started the Celtics' first two games of the season, but coach Doc Rivers noted throughout training camp that he would experiment with multiple starting lineups during the regular season, and this was the first example of that.
UNSUNG HERO:
Jeff Green put in 11 points on 5-of-10 shooting in just 16 minutes of action. Green is clearly still carving out a niche with this Boston team but found himself open on a number of kickout opportunities and obliged by knocking down a handful of shots. He got a quick start with a strong right-baseline drive off an upfake late in the first quarter and added a slew of jump shots from there.
WHAT IT MEANS:
It wasn't pretty, but the Celtics won't complain about picking up their much-needed first win of the young season. Compared to their first two outings, there was a noticeable improvement in their offensive execution, with veterans such as Pierce and Garnett shouldering the scoring load, which was needed given the growing pains this team is still fighting through. It's clear Rivers is still figuring out which lineups he likes best, but he saw signs of the dominant defense this team is capable of, particularly during the first quarter, when the Celtics held the Wizards to just 4-of-19 shooting (21.2 percent). Boston still needs more consistent scoring from its bench, as Terry once again struggled through a difficult shooting night (2-for-8, 8 points). But as this team continues to jell, it will be able to find ways of getting the likes of Terry and Green easier scoring opportunities. Boston will enjoy a day off Sunday and will likely resume practice early next week before a rematch with this same Wizards club Wednesday night at TD Garden.
November, 3, 2012
11/03/12
12:00
PM ET
AP Photo/Michael DwyerPaul Pierce and the Celtics visit the Wizards on Saturday night.
Stumbling out of the starting gates, the
Boston Celtics
(0-2, 0-1 road) trek to the nation's capital on Saturday night for the tail end of a back-to-back and the start of a (stretched-out) home-and-home with the
Washington Wizards
(0-1, 0-0 home) at the Verizon Center (7 p.m., CSN). Here's what to watch for:


*
QUICK TURNAROUND GOOD FOR C'S
: The Celtics' struggles on the second night of back-to-back games in recent seasons has been well-documented, but throw all of that out the window tonight because (1) Boston is eager to play again after an embarrassing effort in their home-opener Friday against Milwaukee; (2) Beyond
Kevin Garnett
(36), Paul Piece (35), and
Jason Terry
(35), the Celtics have a new youth-filled core that should aid their struggles in back-to-back situations; and (3) Let's face it, the Wizards are not that daunting of an opponent. This is a quality chance for Boston to clean up its early-season woes, build back some eroded confidence, and -- maybe more than anything else -- get in the win column.
*
WIZARDS OPENING UP
: Now, no one is going to mistake the Verizon Center as a house of horrors for visiting teams, but the Celtics will have to deal yet again with a team that should have an extra spark. After playing season-openers against Miami (also the home-opener, which included a ring and banner ceremony for the defending champs) and Milwaukee, Boston stumbles into Washington's home-opener on Saturday. The Wizards might not have
John Wall
(knee) available, but much-hyped rookie shooting guard
Bradley Beal
will be in the spotlight. Said Beal on the opener: "I'm real excited. My family is going to be here on top of that and actually this is my town now, this is my city, so to speak, so now I'm going to be able to represent and show what I am capable of doing."