Boston Celtics:

2013Game33
January, 6, 2013
Jan 6
1:05
AM ET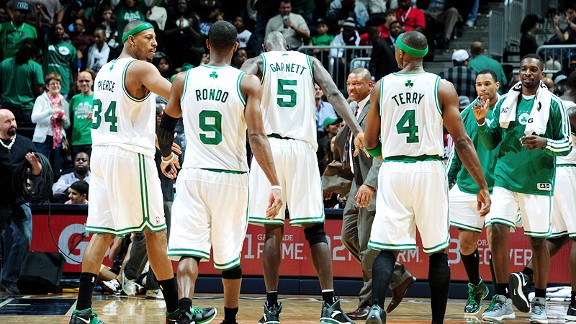 Scott Cunningham/Getty ImagesPaul Pierce, Rajon Rondo, Kevin Garnett and Jason Terry exit Atlanta on a high note.
Not all wins are created equal.
There's a chance we'll look back at season's end and the Celtics' come-from-behind triumph over the Hawks on Saturday night in Atlanta will be just another win. But, at least for the moment, you can't help but suspect this one will mean a little more.
The Celtics needed this one in a bad way (even if they didn't exactly show it with their effort level in the first half). Boston's entire season has been dogged by inconsistency, and the Celtics were in danger of, yet again, spoiling a solid effort by being unable to carry over the positives to the next game.
Boston put together its finest defensive effort of the season Friday night against the Pacers. Yes, Indiana aided that cause with its anemic offense, but the Celtics -- having just reassembled their preferred starting five with the recent return of
Avery Bradley
and re-elevation of
Brandon Bass
to the first unit -- showcased a familiar brand of lockdown defense and limited Indiana to a mere 31.8 percent shooting overall.
It wouldn't have mattered all that much if Boston had turned around and gotten run out of Philips Arena. Which nearly happened. The Celtics offered virtually no resistance as Lou Williams and
Jeff Teague
attacked the basket at will in the first half Saturday.
Then Doc Rivers went into his locker room at halftime, and calmly reminded Bradley and backcourt mate
Rajon Rondo
that they have the potential to be a dominant defensive duo when they are committed to being such, and the Celtics promptly dominated the second half. Rondo, who finished with his 25th career triple-double, seemingly took his effort at both ends of the court to another level, and that aided a 30-point swing (Boston turning a 19-point deficit into as much as an 11-point lead).
The Celtics now have won two in a row. That shouldn't be anything to celebrate for a team with championship desires, but you gotta start somewhere. Boston hadn't put together consecutive wins since Dec. 8-12, and now it has a chance to match a season-high three-game winning streak (Nov. 10-14) when it visits the Atlantic Division-leading
New York Knicks
on Monday at Madison Square Garden.
You can't help but wonder whether this is a stretch in which the Celtics finally put it together. A loss Saturday would have sent them back to square one again. Instead, Boston put its best all-around defensive effort and its best comeback effort together on back-to-back nights. There was an increased swagger in the Celtics' voices and body language after Friday's win, and Saturday had to put even more strut in their step.
January, 5, 2013
Jan 5
10:10
PM ET
Despite getting routinely torched by the likes of Lou Williams and
Jeff Teague
and staring at as much as a 19-point first-half deficit, the Celtics were informed by coach Doc Rivers that they wouldn't make a single strategic change at halftime of Saturday's game against the
Atlanta Hawks
.
Rivers simply wanted his team to play with the effort it lacked over the first 24 minutes.
Boston responded with maybe its finest quarter of basketball this season, outscoring the Hawks by 24 points in the third quarter of what would eventually be a 30-point swing, and the Celtics emerged with an 89-81 triumph at Philips Arena.
"We didn't do what we were supposed to do in the first half," said Rivers. "And I thought we made not one adjustment at halftime -- we just did it harder and better. I thought that was great for our team because, one of the reasons we haven't been a good defensive team this year is we that we overreact and we change. The only way you can be a good defensive team is you have to be solid and consistent. It was a great lesson for our guys."
NBA.com/StatsThe Hawks' second-half shooting chart.
Even with a 15-point halftime deficit, the Celtics came out patient on offense and when their defense took the game over, they quickly whittled away Atlanta's lead. The Hawks were a mere 2-of-14 shooting (14.3 percent) in the third quarter, while Boston forced seven turnovers (which led to 10 points). While
Paul Pierce
did most of the heavy lifting, it was a
Jared Sullinger
alley-oop layup off a feed from
Rajon Rondo
that put Boston out front 61-60 with 3:47 to play in the frame. The Celtics didn't relent, building a nine-point cushion while closing the third quarter on an 8-0 run.
"I just thought we wanted an easy night. And [the Hawks] were playing too hard to make it an easy night," Rivers said of Atlanta scoring 31 first-quarter points and building that 19-point lead. "Every shot in the first half, it was a first-option quick shot [and] contested. Everything on defense, we were going under screens, we were not body-to-body, no physicality. In the second half, both ends were completely different.
"We worked a set -- the first play [of the second half], we went from one side to the other on offense. On defense, they were late in shot clock because
Avery [Bradley]
and Rondo both were up with ball pressure. It changed the game for us. Our ability, we are not a big team, but we have two guards, Rondo and Avery, that can literally change the game with ball pressure, and I thought they did that."
Williams and Teague combined for 34 first-half points on 14-of-20 shooting with five 3-pointers. In the second half? The duo combined for 11 points on 2-of-6 shooting with one triple. The difference? The Celtics offered more resistance, showing what can happen when they simply play consistent, full-throttle basketball.
January, 5, 2013
Jan 5
9:29
PM ET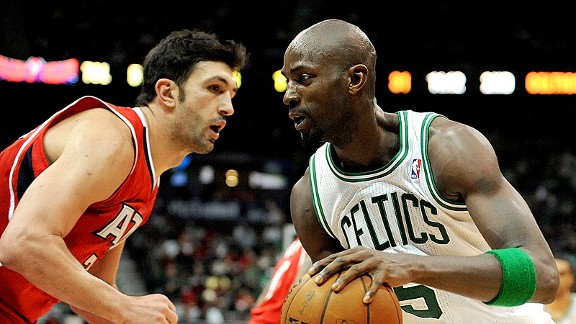 Kevin Liles/USA TODAY SportsKevin Garnett and the Celtics kicked it into high gear against Zaza Pachulia and the Hawks.
Rapid reaction after the
Boston Celtics
defeated the
Atlanta Hawks
89-81 on Saturday night at Philips Arena:


THE NITTY GRITTY
Rajon Rondo
produced the 25th triple-double of his career (14 points, 11 rebounds, 10 assists), while
Paul Pierce
scored a team-high 26 points and spearheaded a monster third-quarter turnaround as Boston rallied from a 19-point first-half deficit.
Jared Sullinger
added eight points and nine rebounds off the bench, and
Kevin Garnett
finished with 14 points and five rebounds. Lou Williams scored a game-high 28 points after a monster first half for the Hawks but, like his teammates, went quiet in the second half as Atlanta shot a mere 41.2 percent overall and mustered only 50 points over the final three quarters.
Josh Smith
added 12 points and 10 rebounds, and
Jeff Teague
chipped in 17 points for the Hawks.
TURNING POINT: C'S DOMINATE THE THIRD
Down 15 coming out of halftime and threatening to wipe away all the good that took place Friday night against the Pacers, the Celtics did what they haven't done all season: They mounted a furious, sustained comeback that swung the momentum of the game. The Celtics ratcheted up their defense, limiting the Hawks to 2-of-14 shooting (14.3 percent) in the third quarter while forcing seven turnovers (that led to 10 points). On the offensive side, it was all Pierce. The captain went into takeover mode, connecting on 6-of-9 shots with 17 points, three rebounds, two assists and a steal while playing the whole frame. Sullinger completed an alley-oop feed from Rondo to give Boston a 61-60 lead with 3:47 to go in the frame, and Boston kept its foot on the gas. An 8-0 burst to close the frame put the Celtics out front 71-62.
NICE NIGHT FOR BASS
Brandon Bass
was up and down in his return to the starting lineup Friday, committing some careless turnovers. He was far more good than bad Saturday, even if he still missed a couple of defensive rotations. Bass had maybe the defensive play of the night when he stepped up on a driving Smith and delivered an emphatic second-quarter swat. Bass scored 10 points on efficient 5-of-6 shooting with four rebounds, three steals and two assists over 35:41. Maybe the most noteworthy number on his stat line: Bass was a team-best plus-14 in plus/minus.
WHAT IT MEANS
Doc Rivers called Friday's victory a "substance win," and that description probably doesn't do Saturday's win justice. When faced with double-digit deficits this season, the Celtics have rarely been able to even make things competitive again, often getting stuck trying to get over the hump near the end of a comeback attempt. Despite a dreadful first half, Boston got back to basics and turned the game around behind its defense in the third frame. The Celtics have won back-to-back games for the first time since Dec. 8-12. They will get a day to rest before visiting the Big Apple on Monday with a chance to match their season-high of a three-game winning streak when they tangle with the Atlantic Division-leading
New York Knicks
.
January, 5, 2013
Jan 5
11:15
AM ET
David Butler II/US PresswireBrandon Bass delivers a dunk last season against the Hawks.
The
Boston Celtics
(15-17, 5-11 away) visit the
Atlanta Hawks
(20-11, 11-5 home) on Saturday evening at Philips Arena (7 p.m., CSN). Here's what to watch for:


*
KEEP IT GOING
: The Celtics are coming off their best defensive effort of the season and, having reassembled their preferred starting lineup from last season, you can see their confidence has already jumped up a notch. But until this team sustains a winning streak, there's little to celebrate. Boston was brilliant on Christmas Day, then went through a butt-whopping car wash out west. The Celtics absolutely have to maintain their defensive intensity on the second night of a back-to-back in Atlanta. A winning streak -- even of just two games -- would do wonders for this team, particularly with an Atlantic Division showdown looming on Monday in New York.
*
SYNERGY SNAPSHOT
: Offensively, the Hawks rank ninth in the league while averaging 0.934 points per play, according to Synergy Sports data. The Hawks are middle-of-the-pack in the half-court set, so Boston has to keep them out of transition (fourth best in NBA). Both
Josh Smith
and
Jeff Teague
have struggled with their efficiency on offense and the Hawks have leaned heavily on
Al Horford
(0.99 ppp, 83rd percentile) and Lou Williams (0.985 ppp, 82nd percentile). The Celtics also have to keep an eye on
Kyle Korver
and his 3-point shot (with help from the triple, he's actually in the 98th percentile among all players at 1.127 ppp). Defensively, the Hawks are also ninth overall. Teague is the weak link (0.975 ppp, 16th percentile) as Atlanta is getting solid individual numbers from the rest of its top rotation players.
*
CLOSER LOOK AT THE HAWKS
: Strength of schedule suggests the Hawks have feasted on some lesser competition to this point and Atlanta enters off a disappointing loss in Detroit on Friday night (so it won't have an edge as both teams had late-night travel in advance of Saturday's game). The Hawks do turn opponents over (a 14.9 percent turnover rate is fifth in the league) and Boston can't get careless with the ball. The Hawks also shoot the 3-ball well -- an area the Celtics have struggled to defend lately -- and Boston can't let Korver get going from behind the stripe.
*
A PLAYOFF FOE
: The Celtics are in the middle of a little three-game stretch against teams they could very well see in the Eastern Conference playoffs (Pacers, Hawks, Knicks). Boston hasn't given opponents much reason to fear it with inconsistent play to this point, but this is a chance to re-establish a little bit of that missing swagger.