Boston Celtics:

2013Game35
January, 10, 2013
1/10/13
1:45
AM ET
One year removed from major heart surgery, Boston Celtics forward Jeff Green
celebrated with a dunk-filled effort
against the Phoenix Suns:
January, 10, 2013
1/10/13
12:15
AM ET
BOSTON --
Jared Sullinger
registered his second double-double of the season by chipping in 12 points and a career-high 16 rebounds (a Celtics high this season) as Boston topped the
Phoenix Suns
87-79 on Wednesday night at TD Garden.
What's more, Sullinger was a team-best +24 in plus/minus, bringing his season total to a glossy +66. Sullinger is one of only four players in the positive this year for Boston and has opened a comfortable cushion over closest competitor
Kevin Garnett
(+44).
But after Wednesday's game, Sullinger wasn't in the mood to reflect on individual efforts nor did he want to trek down memory lane and revisit his draft-night slide to the Celtics at No. 21.
"I could care less," Sullinger said of his draft position. "We're winning; we've won four in a row. That's my main focus: Winning. Last June is behind me."
But what about those 16 rebounds? That's an eyebrow-raising total, particularly for a rookie.
"It's a blessing, a lot of hard work. But the train doesn't stop here," Sullinger said. "We've got to keep going, we've got to make it to the next stop. After that, it's the next stop, after that it's the next stop. We're the underground railroad."
What exactly is his next stop?
"Don't know yet," Sullinger said with a smile. No doubt it's a lofty perch. Kind of like the praise that Garnett bestowed upon him.
"I knew he had like 10 [rebounds] or something, but I didn't know he had 16. That's what's up," said Garnett, who then expanded on what makes Sullinger so good on the glass.
"First off is effort," Garnett said. "Any time you're playing defense, any time you are stealing the ball, rebounding -- all that's effort. Obviously, his timing, body positioning -- he has the perfect body for rebounding. He can take the pounding and bump a little bit, and he has great anticipation when it comes to the ball. And he has great hands. Put all that in the pot, you got Jared Sullinger, that's what makes him a great rebounder."
Celtics coach Doc Rivers humorously pointed out Sullinger's unique combination of instincts and technique.
"I've seen him play, like I've told you guys before, since he was a sophomore in high school and he played against [Rivers' son] Austin's team," Rivers said. "Ohio Red, I know the name of his AAU team that played [Austin's] Each 1 Teach 1 in at least six different national title games in AAU. And I was sitting there watching all of them; I think Jared even won all six, too.
"In one of those games he had like 27 rebounds and it was crazy watching him. I was upset at all my son's bigs because I actually said, 'How can that fat, slow guy get all those rebounds. There's no way!' And now I realize he's not slow and he's actually not fat. He's just round. But he has great feet, he really does. And you don't appreciate that for a while when you watch him. He's quick and he has great feet."
[Hop
HERE
to read our full story on Sullinger and the bench]
January, 9, 2013
1/09/13
11:55
PM ET
BOSTON -- After scoring a team-high 14 points as part of an 87-79 triumph over the Phoenix Suns on the one-year anniversary of heart surgery, Celtics forward Jeff Green reflected on an emotional day.
"I don't cry, but it was [emotional]," said Green, seemingly struggling to keep his composure. "A year ago I had heart surgery. I think about lying in bed, when I woke up from it to where I'm at now. It's a big deal to me. I'm just glad to be here, glad to be alive, glad to be playing basketball."
A couple other highlights from Green's postgame chat:
"I can't put it in words how I feel," he added. "It's a wonderful day. I had a good game. I'm just glad to be here, man. I reflected a lot about what I've been through, it's a blessing to be here. I'm just happy."
Green later reflected on the milestone moments during his journey to this point over the past 365 days.
"The first time I stood up from surgery, the first time I walked, it was painful, but it was me taking steps to getting better, the start of my progress to being back on the court. Those are memories that I'll never forget. That first step, it was a wonderful journey for myself and an unbelievable process that I went through."
[Hop
HERE
to read our full story on Green's night]
January, 9, 2013
1/09/13
9:52
PM ET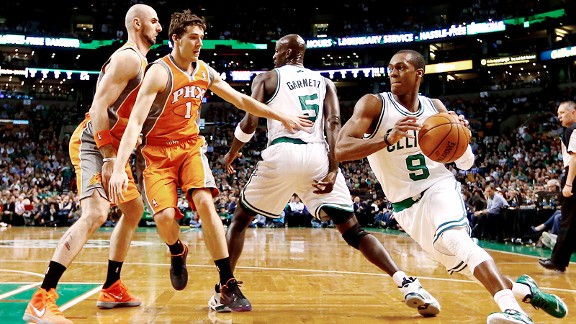 Jared Wickerham/Getty ImagesRajon Rondo and the Celtics beat Phoenix to up their win streak to four.
BOSTON -- Rapid reaction after the
Boston Celtics
defeated the
Phoenix Suns
87-79 on Wednesday night at TD Garden:


THE NITTY GRITTY
On the one-year anniversary of his heart surgery,
Jeff Green
scored a team-high 14 points on 5-of-9 shooting, sparking both a second-quarter outburst with a pair of loud dunks and a dazzling bench effort for Boston's reserves. Rookie
Jared Sullinger
registered his second career double-double with 12 points and a career-high 16 rebounds (also an individual season high for the Celtics). Sullinger was a game-best plus-24 in plus/minus and remains the team leader in that category for the season.
Kevin Garnett
(10 points) was the only starter in double figures as the second unit carried the Celtics. The Celtics limited the Suns to 39.3 percent shooting (33-of-84 overall), including a mere 16.7 percent (2-of-12) beyond the 3-point arc.
Luis Scola
(16 points, 8 rebounds),
Marcin Gortat
(12 points, 14 rebounds) and
Jared Dudley
(14 points, 10 rebounds, 5 assists) paced the Suns.
TURNING POINT
The Celtics should have had the game in hand after Green's second-quarter dunkfest triggered a 14-2 run. Up a point, Green blew past
Michael Beasley
before dunking hard over old friend
Jermaine O'Neal
. After a Garnett steal,
Avery Bradley
delivered an alley-oop lob that Green slammed down in transition. Green added an 18-foot jumper and a layup as Boston's lead ballooned to 47-35 with 4:25 to play in the first half. The Celtics' starters fumbled the lead away to start the second half, but the bench picked them up again.
TECHNICAL DIFFICULTIES
Doc Rivers and
Rajon Rondo
each picked up technical fouls. Rivers got his second of the year for barking at referee Josh Tiven about a non-call during Phoenix's third-quarter run. Rondo (from the bench) and
P.J. Tucker
(from the court) were assessed double technicals at the start of the fourth quarter. That's Rondo's fourth technical of the season.
WHAT IT MEANS
The Celtics now own a season-high four-game winning streak. Boston came out sluggish in both halves, but the bench picked them up.
Jason Terry
joined Sullinger and Green in double figures (13 points on 6-of-8 shooting), while
Courtney Lee
might have gotten Boston out of its third-quarter funk with a strong drive to the rim after the Suns actually rallied ahead in the frame. The Celtics host the
Houston Rockets
on Friday night (with three more home games looming next week against Charlotte, New Orleans and Chicago as part of this five-game homestand).
January, 9, 2013
1/09/13
7:39
PM ET
BOSTON -- Set to return to action on Wednesday night, Celtics point guard
Rajon Rondo
again downplayed the bump that led to his one-game suspension earlier this week and couldn't resist a little playful needling of the league when informed of a similar-length ban for
Carmelo Anthony
's postgame antics on Monday night.
"Oh man, I get suspended for a phone hang-up and people just get away with anything in this league," said Rondo, alluding to the league's noting his suspension was for bumping a game official and failure to cooperate with a league investigation.
A reporter then noted that Anthony earned a similar one-game ban for confronting
Kevin Garnett
outside the Celtics' bus in New York.
"Oh my goodness, so that's the same thing, huh?" quipped Rondo.
Rondo was suspended for Monday's game, but could be seen standing near Anthony in a video of the postgame incident around the Celtics' bus. A jovial Rondo again kept it light with reporters.
"I'm in the video. What do I have on?" asked Rondo. "You can tell it's me? Yeah, I had the hood on, didn't I?"
Rondo scoffed when asked if he felt the situation might have turned physical between Anthony and Garnett if others didn't intercede.
"Uncomfortable? I'm a nice guy. I was pretty comfortable. I didn't want anything to happen to the big fella. I had my teammate's back," said Rondo. "Nobody was looking for a fight or anything. We just tried to break it up and I wanted to be there for my teammate. Just because I got suspended doesn't mean I'm a bad person. Why can't I be a peacemaker?"
Right before Rondo addressed reporters, Celtics coach Doc Rivers said he's no fan of suspensions, but admitted the league had to do something with Anthony.
"I don't believe guys should ever be suspended," said Rivers. "[Teams] get in trouble for sitting players, then we suspend players -- it's the same thing. If you're a fan, you're not happy with that."
Asked about a different penalty, Rivers said: "That's called money. It's a tough one. Obviously, you gotta take action and you gotta do things. But this suspension stuff, I've never liked. It's just the way I think. I think: Let them play and take money away from them. But you have to do something [with Anthony]; obviously, you don't want that type of situation."
Rondo, who has endured four suspensions in the past 12 months, couldn't help but take his coach's side.
"I agree with Doc. Fans come to see the players, their favorite players," said Rondo. "I happen to be some fans' favorite players -- a couple. The fans still love me. They don't really judge me as much as the media does. It's part of the job. It's part of the role."
January, 9, 2013
1/09/13
10:55
AM ET
Brian Babineau/NBAE/Getty ImagesPaul Pierce and the Celtics host the Suns to start a five-game homestand.
The Boston Celtics (17-17, 10-6 home) host the Phoenix Suns (12-24, 2-15 away) on Wednesday night at TD Garden (7:30 p.m., CSN). Here's what to watch for:


*
HOME IS WHERE THE CHARGE IS
: Already riding a season-high three-game winning streak, the Celtics open a five-game homestand on Wednesday night against the Suns. What's more, five of Boston's next seven games overall are against non-playoff teams. There's a real chance here for the C's to make their first sustained charge of the season, maybe putting some more makeup on a record that's back at .500 given the recent surge. Boston does have to be careful: After defeating three Eastern Conference playoff foes in a row, the Celtics could easily take their foot off the gas against a struggling Suns team with only two road wins this season. Boston hasn't afforded itself the ability to enjoy an easy night after all the inconsistent play through the first third of the season.
*
SYNERGY SNAPSHOT
: It might not be surprising given their record, but the Suns are among the basement dwellers defensively. Phoenix ranks 26th overall, allowing 0.948 points per play, according to Synergy Sports data. The Suns actually limit transition damage, but struggle in halfcourt sets (27th overall, 0.924 ppp). The trouble? Only one of their top 10 rotation players ranks above the 51st percentile among league defenders (Shannon Brown, 61st percentile). Opponents are eating up everyone in orange, but especially Goran Dragic, Markieff Morris, and Michael Beasley. Offensively, Phoenix ranks 18th at 0.907 points per play. Gortat (0.984 ppp, 81st percentile) and Jared Dudley (1.068 ppp, 94th percentile) are among the most efficient scorers on the team, but 21.3 percent of the team's offense comes via spot-up shooting and the Suns have been merely average (ranking 19th in the league).
*
O'NEAL BACK IN BOSTON
: Fresh off two disastrous seasons in Boston, Jermaine O'Neal returns to the Garden on Wednesday night with the Suns. The 34-year-old center, now in his 17th season, is averaging 6.8 points, 4.3 rebounds, and 1.3 blocks over 16.2 minutes per game in 28 appearances. O'Neal has been surprisingly serviceable for a bad team and all at the veteran-minimum price tag. The Celtics probably wish they could have gotten similar contributions from a player that earned $12 million while appearing in a total of 58 games before being unceremoniously waived in April of another injury-detoured season.
*
RONDO'S BACK, TOO
: One reason the Celtics might avoid a letdown on Wednesday is that Rajon Rondo is back on the floor after serving a one-game suspension for bumping an official (his fourth suspension in 12 months). As Rondo noted on Tuesday: "The best thing is we got the win. They've played a lot of games without me, different situations. Some similar, some health, but they found a way to get the win... so we'll try to build on that."