Boston Celtics:

2013Game39
January, 19, 2013
1/19/13
2:11
AM ET
Critical
mistakes helped the Bulls beat the Celtics
in overtime on Friday:
January, 19, 2013
1/19/13
12:35
AM ET
Brian Babineau/NBAE/Getty ImagesJoakim Noah gets a shot up over Kevin Garnett.
BOSTON --
Chicago Bulls
big man
Joakim Noah
just couldn't resist sounding off on rival
Kevin Garnett
after Friday's 100-99 overtime triumph over the
Boston Celtics
.
After helping to limit Garnett to 16 points on 5-of-16 shooting and seven rebounds over 39 minutes, Noah sounded off while discussing how Chicago contained Boston's All-Star center.
"Just playing sound defense, just contesting his shots, he's a helluva competitor, he's always on some bulls---," Noah said.
Asked what he meant by that, Noah added, "Just trying to throw elbows, cheap shots, just trying to get you off your game. But he's a vet, he's been doing this a long time but it's all right."
Does Garnett cross the line with his antics?
"Nah, when we lose I feel like he crosses the line," Noah said. "But since we've been beating their [butts] I'm cool with it."
Given
their past history
-- with plenty of shoving on the court and barking off it -- Noah was asked if the two players would ever be cool with each other.
"He wants to win and I want to win," said Noah. "I don't think it will ever be cool."
Ironically, Garnett actually offered Noah a bit of praise before Friday's game, suggesting that both he and New York's
Tyson Chandler
likely deserved a starting All-Star spot more than Garnett, who was voted into his 15th appearance on Thursday.
While Noah admitted after Friday's game that he might have talked a bit too much while adding some fire to the rivalry a few years back, that didn't stop him from keeping the chatter going.
"I feel like I was young, maybe talking a little bit too much," Noah said. "What happens on the court should stay on the court. I was pretty vocal about it, but at the end of the day the only thing that matters is winning or losing basketball games. You don't have to like your opponents, it's all right. At the end of the day the only thing I'm worried about is this team and I think that he's the same way with Boston. [Garnett is] worried about his team and getting them going -- I'm just happy that we beat them twice, they beat us once. It was a great game tonight, we fought hard and the Bulls are on the way up. We're not even playing with our MVP, I know [
Derrick Rose
is] hungry to get back, it's all positive."
ESPN Chicago's Nick Friedell contributed to this report.
January, 18, 2013
1/18/13
11:54
PM ET
ESPN Broadcast ScreenshotPaul Pierce gets tied up for a critical late-game jump ball.
BOSTON -- The
Boston Celtics
were left kicking themselves after Friday's overtime loss to the
Chicago Bulls
. Yes, the visitors stepped up and made big shots at critical moments, but Boston gave them the opportunities by failing to slam the door.
No play will be scrutinized more than the jump ball the Bulls generated in the final seconds of regulation. Here's how it played out:
The Celtics were up 88-86 with 12.1 seconds to play in the fourth quarter and were inbounding near the Bulls' bench after a timeout.
Rajon Rondo
, one of the team's poorer free throw shooters, was the inbounder with Chicago's
Joakim Noah
defending (his length helped take away some potential passing lanes). The Bulls essentially doubled
Kevin Garnett
at the free throw line, forcing Rondo to pick between
Jason Terry
streaking into the backcourt or
Paul Pierce
coming over from the wing.
With
Marquis Teague
cheating a few steps toward halfcourt -- and Noah alertly shuffling to his left to force the action to the sideline -- Rondo made what seemed like a safer pass to Pierce. Instead, Pierce was immediately trapped by
Jimmy Butler
and Noah, who shuffled a couple of steps over from defending the inbounds to force a jump ball with 9.4 seconds to play.
You can make a case that Pierce was fouled, but the referees let them fight for the ball and Bulls coach Tom Thibodeau emphatically pumped his fist when the jump ball was signaled.
"I think it could have went either way," Pierce said. "I thought I was fouled on that. I came out with a busted lip, but the ref didn't see it that way. It was definitely a huge play of the game. We went out and we got the lead, all we had to do was just get the ball in, maybe get a better position where we could get fouled. Then we wouldn't be talking about the loss tonight."
January, 18, 2013
1/18/13
10:18
PM ET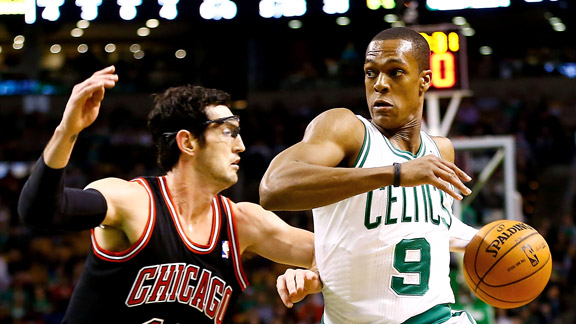 Jared Wickerham/Getty ImagesBoston's Rajon Rondo drives to the basket during Friday's visit from the Bulls.
BOSTON -- Rapid reaction after the
Chicago Bulls
defeated the
Boston Celtics
100-99 in overtime on Friday night at TD Garden:


THE NITTY GRITTY
Marco Belinelli
hit a desperation, 14-foot turnaround jumper with 3.1 seconds to play in overtime as the Celtics absorbed a stomach punch after fighting valiantly all night. In regulation,
Rajon Rondo
went into national-TV mode while scoring a season-high 30 points on 12-of-21 shooting with seven assists, two steals and two rebounds over 42 minutes before fouling out with 1:16 remaining in overtime.
Jason Terry
hit a couple of monster shots in overtime, including a go-ahead 16-footer with 12 seconds to play, but Belinelli spoiled it all.
Richard Hamilton
scored a team-high 20 points for the Bulls, who got monster double-doubles from
Carlos Boozer
(19 points, 20 rebounds) and
Joakim Noah
(14 points, 13 rebounds).
Kevin Garnett
registered 16 points and seven rebounds, while
Paul Pierce
added 13 points, six rebounds and three assists.
TURNING POINT I: BOSTON RALLIES AHEAD
Trailing the entire game -- and by as much as 10 -- the Celtics jumped on Rondo's back and forced a 74-74 tie after his finger roll with 7:03 to play. Boston finally surged ahead with a Rondo free throw with 4:37 to go, but it was a back-and-forth battle the rest of the way. Rondo worked a little elbow pick-and-roll with Garnett, and when
Kirk Hinrich
went under the screen, he splashed a 20-foot jumper for his 30th point and an 86-84 lead with 36.6 seconds to play. It should have been enough...
TURNING POINT II: C'S CAN'T LOCK IT UP
Boozer and Hinrich both missed the front end of two free throws, and the Celtics had a chance to salt the game away with a two-point lead and possession with 12 ticks to go. Instead, Rondo made a terrible decision to inbound the ball to Pierce on the sideline. He was immediately trapped, forcing a jump ball situation with Joakim Noah. The Bulls won the tip, hustled the other way and Hinrich hit a gutsy 15-foot jumper after scooping up a loose ball with two seconds to play. Boston couldn't generate a quality look and settled for an off-balance, off-target heave from Garnett at the end of regulation.
TURNING POINT III: BELINELLI LIFTS BULLS
The Bulls were down two with less than two minutes to go in the extra session, when
Jimmy Butler
converted an alley-oop feed from Noah, then added two freebies after drawing the loose-ball foul on Rondo that ended his night. The Celtics hung around and got possession with 20.6 seconds to go, down a point. Terry splashed his 16-footer, but it only set up Belinelli's heroics off a mad scramble to simply get up a shot as Boston's defense swarmed Chicago.
BULLPEN BARBOSA GETS A SPOT START
With
Avery Bradley
sidelined with a rib injury,
Leandro Barbosa
drew his second start of the season. He picked up two fouls in the first four minutes, limiting his floor time, but he finished with five points on 2-of-6 shooting with three rebounds and an assist over 14:44.
WHAT IT MEANS
It was one of the toughest losses the Celtics have absorbed this season. Boston fought throughout regulation and had the game pretty well in hand before Noah generated the late-game jump ball. The Celtics' defense had the Bulls bottled up on their final possession, but Belinelli willed in the tough jumper. The Celtics went 3-2 on a five-game homestand and now head out for a brief two-game trip with stops in Detroit (Sunday) and Cleveland (Tuesday) before another national TV battle with the visiting Knicks on Thursday.
January, 18, 2013
1/18/13
11:00
AM ET
Brian Babineau/NBAE/Getty ImagesCeltics point guard Rajon Rondo looks to dish against the Bulls.
The Boston Celtics (20-18, 13-7 home) close out a five-game homestand by hosting the Chicago Bulls (22-15, 11-5 away) on Friday night at TD Garden (ESPN, 7 p.m.) Here's what to watch for:


*
ON THE REBOUND
: Celtics coach Doc Rivers bottom-lined the key for his team: "Well, we better rebound, because they are a great rebounding team." The Bulls gush size, but what's amazing is that Boston actually owns a better defensive rebound rate -- barely (73.4 to 73.1 percent). The Bulls make up for it with their activity on the offensive glass and rank seventh in the league with an overall rebound rate at 51.8 percent. Rivers said his team won't overreact by throwing Jason Collins into the starting lineup for pure size, so it's on Boston's undersized bigs like Brandon Bass and Jared Sullinger to be active on the glass on Friday.
*
SYNERGY SNAPSHOT
: The Bulls' defense remains their calling card as Chicago ranks second in the league while allowing a mere 0.88 points per play, according to Synergy Sports data. The Bulls own the best halfcourt defense in the league (0.834 ppp) and are second against spot-up shooting (0.876 ppp). Joakim Noah keys the defense with a team-high 16.4 percent of plays finishing against him (and Noah ranks in the 91st percentile allowing a mere 0.73 points per play). Offensively, the Bulls rank 23rd while scoring 0.891 points per play. Chicago doesn't do anything exceptionally well and five of their top seven rotation players rank between the 51st and 67th percentile, with Chicago's aversion to 3-point shots helping drive down their points-per-play production on an already spotty offensive unit.
*
FREAKY FRIDAYS
: As our friends at ESPN Stats and Info point out, the Bulls are 5-0 on Fridays this season and are the only undefeated team in the league on that day (the busiest night of the week for NBA squads). The Bulls also had the best record during Friday games last season (8-1) and, dating back to April 2011, the Bulls have won their last 13 road games on Fridays (which Elias Sports Bureau adds is the first team in league history to win 13 consecutive Friday road games). For what it's worth, the Celtics are 4-5 on Friday this season.
*
BOOZER WATCH
: Carlos Boozer is playing some of his most inspired ball in a Chicago uniform with Stats and Info noting he's averaging 22.6 points and 11.2 rebounds over his last 10 games. That includes a monster 36-point effort against the Raptors on Wednesday. Asked what's changed about the Bulls since the teams met last month in Chicago, Rajon Rondo noted, "Boozer's starting to come around. He's playing really well as of late. That's about it." Read more on Boozer
HERE
.
January, 18, 2013
1/18/13
9:30
AM ET
The Celtics and Bulls have quietly blended into the Eastern Conference scenery this season.
Look past them at your own risk
: