Boston Celtics:

2013Game47
February, 4, 2013
2/04/13
8:00
AM ET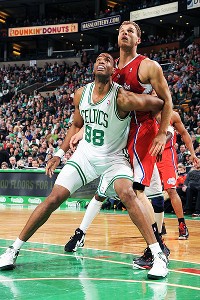 Andrew D. Bernstein/NBAE/GettyJason Collins at work versus the Clippers on Sunday.
It takes a coach's eye to truly appreciate what Jason Collins brings to the court. But, heck, even a coach's son can appreciate the little things Collins is doing to help the Boston Celtics right now.
"You know, I don't care about the statistical part of it, he's just been doing [good things] all year," said coach Doc Rivers. "It's funny, my oldest son was at [Friday's] game [versus Orlando] and he said, 'Golly, every time Jason Collins comes in something good happens.' And I said, 'Yeah, Jeremiah, it's really a wise statement.' He's right. [Collins] doesn't do bad things; he just does a lot of good things."
It's rarely pretty, but Collins has established himself as a serviceable 7-footer who sets hard screens, gives hard fouls, and plays hard defense. While the Celtics have waited patiently to add extra big-man help to a depleted front line, Collins has quietly provided quality minutes in small doses.
Over the last four games since Rajon Rondo was lost for the season, Collins has aided the uptick in production from Boston's bench. He's plus-26 overall in plus/minus during that four-game stretch and, even though he's only taken two shots, he's logged 45 solid minutes in which he's given 12 fouls (and drawn nine from opponents).
Collins' efforts were spotlighted briefly Sunday when he set a hard screen on Eric Bledsoe as Paul Pierce hit a 3-pointer from the right wing midway through the third quarter. Bledsoe got whistled for a foul trying to plow through the screen to contest Pierce's shot and Collins made the free throw to cap a rare four-point play.
"That's my role on the team: Just try to free up the shooters," explained Collins. "With the Clippers, it's a little bit easier to set flare screens, because they do a great job of packing in the paint, and loading to the ball. They really set themselves up to flare screens, and I was just trying to get my shooters open."
Collins is the first to admit he's offensively limited -- even after he tossed in a season-high seven points over 12 minutes against the Clippers -- but he frees up others with his screens and, on the defensive end, he's quietly been super effective.
According to individual defensive stats logged by Synergy Sports, Collins is allowing a mere 0.657 points per play, which ranks in the 97th percentile among all NBA players. Opponents are shooting just 32.9 percent (26 of 79 overall) in plays that finish against him.
Collins has played well enough to stay in front of Chris Wilcox in Boston's current big-man rotation. In fact, his play has allowed the Celtics to take their time adding depth up front, even after the loss of Jared Sullinger last week.
Yes, it's not the flashiest play, but the 34-year-old veteran's efforts are not going unnoticed. Particularly by his coach -- and even the coach's son.
February, 3, 2013
2/03/13
10:31
PM ET
A look at headlines following the Boston Celtics' 106-104 triumph over the Los Angeles Clippers, including how captain Paul Pierce has
kept his team together despite the team's injury woes
:
February, 3, 2013
2/03/13
5:40
PM ET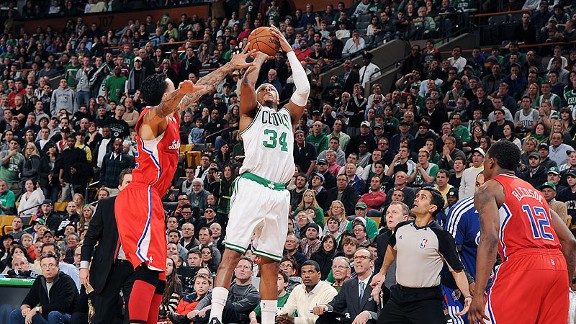 Andrew D. Bernstein/NBAE/Getty ImagesPaul Pierce puts up the game-clinching 3-pointer in the final seconds.
BOSTON --
Boston Celtics
coach Doc Rivers admitted he wasn't thrilled with how his team let up in the fourth quarter, allowing the visiting
Los Angeles Clippers
to pare a 19-point lead down to a single bucket late in the game. But Rivers certainly liked how his players stepped up in crunch-time situations, helping Boston escape with a gritty win -- its fourth straight -- against a top Western Conference opponent.
Clinging to a two-point cushion in the final minute,
Avery Bradley
found himself isolated on
Jamal Crawford
at the top of the 3-point arc. Crawford, who scored 12 of his team's 27 fourth-quarter points to spark the rally, tried to drive on Bradley, who stuck with him and forced Crawford to pick up his dribble. While looking to pass, Bradley ate an elbow and drew a pivotal offensive foul with 26.6 seconds to play. (It was even bigger considering Crawford made the little leaner he attempted at the whistle.)
The Clippers then made a curious decision to play for a stop -- this despite the fact that, by allowing Boston to take down the shot clock, Los Angeles would have been left with little more than 2 seconds for a final-shot opportunity (what's more, Boston had a foul to give).
Courtney Lee
took the inbounds in the backcourt and got the ball to
Paul Pierce
. Boston spread the floor, leaving Pierce alone on
Matt Barnes
. He took the shot clock all the way down before making a step-back 3-pointer from the left wing for a 106-101 lead with 2.5 seconds to go that essentially sealed the win.
"I just wanted to hold it until the last possible second," Pierce said. "It was only like a 2- or 3-second differential in the shot clock and the game clock. I figure let it wind all the way down, we get a shot off -- worst comes to worst, a long rebound. By the time they get the rebound, it'll probably be like 1 or 2 seconds left, and at that point, we felt like it would be difficult for them to get a shot off."
February, 3, 2013
2/03/13
3:44
PM ET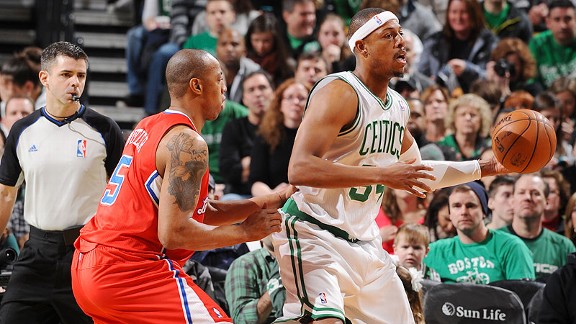 Andrew D. Bernstein/NBAE/Getty ImagesCeltics captain Paul Pierce works against the Clippers' Caron Butler.
BOSTON -- Rapid reaction after the
Boston Celtics
defeated the
Los Angeles Clippers
106-104 on Sunday afternoon at TD Garden:


THE NITTY GRITTY
Paul Pierce
scored a team-high 22 points to go along with five rebounds and four assists, but it was Boston's bench that came up big again as
Jeff Green
(14 points),
Leandro Barbosa
(14) and
Jason Terry
(13) were a combined 14-of-23 shooting (60.9 percent) to spark the Celtics.
Eric Bledsoe
, starting in place of the injured
Chris Paul
, scored a game-high 23 points on 9-of-15 shooting to pace the Clippers.
Blake Griffin
added a double-double (20 points, 11 rebounds), while
Jamal Crawford
scored 20 points off the bench (the majority of which fueled L.A.'s feverish fourth-quarter rally).
TURNING POINT
The teams combined for 25-of-42 shooting (59.5 percent) in a rare high-scoring first quarter, and Boston led 33-30. But over the final 13 minutes of the first half Boston took control. The Clippers were 4-of-19 shooting (21.2 percent) for a mere 10 points in that span, turning the ball over 10 times for 12 points. Boston cooled as well, but that sort of defense allowed the C's to stretch their lead to 59-40 at halftime. Ten Celtics players scored at least three points apiece in the first half with the reserves chipping in 32 points on 10-of-15 shooting (66.7 percent).
CLIPPERS MAKE A CHARGE
The Celtics were up 15 with 9:48 to go, but the Clippers scored the game's next seven points and utilized a 15-3 run to get their deficit as low as three with less than three minutes to play. The
Rajon Rondo
-less Celtics looked uneasy as things got tight and endured an ugly stretch in which they turned the ball over seven times and went 6½ minutes without a field goal before Terry's late-clock pull-up jumper put Boston on top 103-98 with 69 seconds to play. A Bledsoe 3-pointer made it a two-point game, but
Avery Bradley
absorbed a Crawford charge with 26.6 seconds to play for a huge defensive stop. The Clippers played for a stop and Pierce made a step-back 3-pointer with 2.5 seconds to go to seal the game.
NO-PASS BASS? HARDLY
Celtics forward
Brandon Bass
tied a career high with four assists. Bass previously had only two other career games with four assists (one of which came during last season's playoffs against Philadelphia). Heck, he had registered only three or more assists 19 times in an eight-year NBA career.
KG GETS A TECH
Kevin Garnett
picked up his team-leading sixth technical foul of the season for an elbow to the chest of Griffin as the two battled for position on the blocks early in the fourth quarter. The two had been jousting much of the game.
WHAT IT MEANS
The Celtics (24-23) swept all four games of this brief homestand, shuffling back above .500, and now get a couple of days off before a visit to Toronto on Wednesday night. Boston is right back at TD Garden to host Los Angeles' other hoops squad -- the rival Lakers -- on Thursday evening in a national TV battle, then welcome Denver on Sunday night.
February, 3, 2013
2/03/13
9:05
AM ET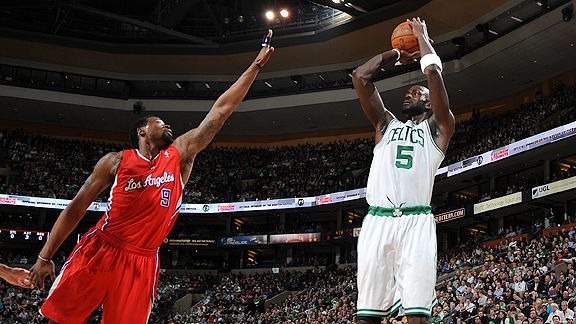 Brian Babineau/NBAE/Getty ImagesBoston's Kevin Garnett shoots over Los Angeles Clippers' DeAndre Jordan.
The Boston Celtics (23-23, 16-9 home) host the Los Angeles Clippers (34-14, 14-9 away) on Sunday afternoon at TD Garden (1 p.m., CSN). Here's what to watch for:


*
RATHER POINT-LESS
: The Rajon Rondo-Chris Paul showdowns rarely disappoint, but for the second straight year, we won't get to see it in Boston. Last year's lockout-condensed schedule robbed Boston of getting a look at the Clippers. This time around, both Rondo and Paul are out with knee injuries. Rondo was diagnosed with a torn ACL last Sunday, while Paul will miss his seventh straight game due to a bruised right kneecap. We'll have to settle for Avery Bradley vs. Eric Bledsoe.
*
SYNERGY SNAPSHOT
: The Clippers rank sixth in the NBA averaging 0.954 points per play, according to Synergy Sports data. That said, two of their top three most-utilized offensive players are dinged up in Paul and Jamal Crawford. That puts additional pressure on Blake Griffin, who has averaged 0.994 points per play (ranking in the 81st percentile among all players). Defensively, the Clippers quietly rank fifth overall allowing a mere 0.892 points per play. The Clippers are rather average (17th overall) against spot-up shooting, but are best at defending pick-and-roll ball-handlers and limit the damage in the post. Griffin and DeAndre Jordan do an excellent job protecting the basket.
*
A TRUE TEST FOR BOSTON
: While this little three-game, Rondo-less winning streak started with a gritty double-overtime win over the Miami Heat, Boston's last two wins have been against two of the worst defensive teams in the league (Orlando, Sacramento). Sunday's visit from the Clippers should offer a better gauge of where the Celtics are as a team without Rondo and Jared Sullinger. Can Boston's defense continue its lockdown play against a top-caliber opponent? Can Boston still put up points against a top-tier defense? We'll know more about these Celtics after Sunday's game, even with the Clippers dealing with their own injury woes.