Boston Celtics:

2013Game49
February, 8, 2013
2/08/13
1:15
PM ET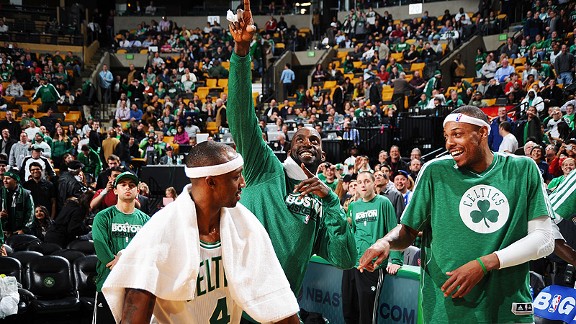 Brian Babineau/NBAE/Getty ImagesThe Celtics danced their way to their sixth straight victory Thursday against the Lakers.
From last night's
Daily Dime
:
Reloading, not rebuilding, was the plan this summer once Ainge coaxed Garnett into pushing off retirement. By surrounding Garnett, Pierce and Rajon Rondo with a talented supporting cast signed to long-term deals, the hope was Boston could compete once again with the top contenders in the Eastern Conference.

Despite universal acclaim for Ainge's moves, the new-look Celtics failed to click for a variety of reasons over the first half of the season, stumbling to a 20-23 record. A host of uninspiring efforts led to Doc Rivers' threatening the possibility of "getting guys out of here" after a game against Detroit on Jan. 18. Days later, Rondo tore his ACL, seemingly putting the death knell in the Celtics' season. Whether the Celtics could even make the postseason became the more pressing question, as any dreams of Boston remaining a threat in the Eastern Conference vanished to most fans.

After the injury to Rondo, common wisdom also said Ainge should look to deal the aging Pierce and Garnett (if he signed off on a deal to a contender) to maximize their value and improve Boston's future outlook. Yet as the rumors continue to float around Garnett and Pierce, the Celtics are quietly playing their best basketball of the season with their undermanned roster.
Hop
HERE
to read the full Dime.
February, 8, 2013
2/08/13
3:16
AM ET
Headlines after the Boston Celtics defeated the Los Angeles Lakers 116-95 on Thursday night at TD Garden, including
KG's banner night
, Avery Bradley
ruining Steve Nash's birthday
, and more:
February, 8, 2013
2/08/13
3:03
AM ET
BOSTON --
Paul Pierce
and
Jason Terry
were standing shoulder-to-shoulder, grinning from check to cheek as
Kevin Garnett
, fresh off his on-court induction into the NBA's elite 25,000-point club, grooved nearby to the "American Bandstand" clip that he loves so dearly and punctuates lopsided Boston victories.
At the other end of the court,
Kobe Bryant
stood a step outside the Lakers' huddle and just glared. Boston danced away with a 116-95 triumph over its rival in the first of two meetings this season and the Celtics were more than happy to add a little bit more drama to the Lakers' soap-opera season.
"Oh yeah, whenever you match up Celtics and Lakers, the rivalry, it always feels good when you can give them an old-fashioned beatdown in your house," admitted Pierce. "No matter what direction each team is going, it will always be a rivalry. Everybody is always going to watch and it feels good when you can do it like that."
Pierce scored a team-high 24 points on 10-of-17 shooting in less than 30 minutes of play. Boston saw its lead balloon as high as 32 in the second half and the veterans were afforded the rare opportunity to kick their feet up while the likes of rookie
Fab Melo
played the final five minutes of the game.
Pierce did hesitate when asked if he had any flashbacks to Game 6 of the 2008 NBA Finals.
"It's a new day. They've got a new team," said Pierce. "I didn't really think of it that way, but the stakes are always high when you've got the Lakers and the Celtics playing against each other, whether it's there or here. It's always going to have that playoff feel."
This was about as breezy a win as Boston has generated this season, keeping its foot on the gas in the middle frames before blowing the game open with a dizzying outburst late in the third quarter. The Celtics shot 52.9 percent from the floor, limited their turnovers, won the battle on the glass, and emerged with an ultra-satisfying triumph that pushed their winning streak to a season-best six games.
Even Bryant offered high praise.
"It's typical Celtics basketball. They all just put their hard hats on and they go out and go hard and figure things out," he said. "It always just seems like, whenever their backs are against the wall, you know that's when you really see the best from them. Then they perform and step up and play well, just like they did last year."
Added Bryant: "That's just what this team does. They kind of rope-a-dope you a little bit."
Read on for more postgame notes, including Boston working through whistles;
Courtney Lee
's underrated defense on Kobe Bryant; and
Avery Bradley
's defense on Doc Rivers in Toronto:
February, 8, 2013
2/08/13
1:15
AM ET
By
Greg Payne
| ESPNBoston.com
BOSTON -- The gestures might have been understated, but the career behind them certainly hasn't been.
During a timeout shortly after
Kevin Garnett
reached the 25,000-point mark in the Celtics' 116-95 blowout of the
Los Angeles Lakers
on Thursday, the TD Garden JumboTron displayed a graphic acknowledging the milestone. As the fans rose collectively to applaud Garnett's accomplishment, he at first kept his head down in the huddle, focusing on coach Doc Rivers' whiteboard and the play that was being diagrammed.
Typical Garnett.
[+] Enlarge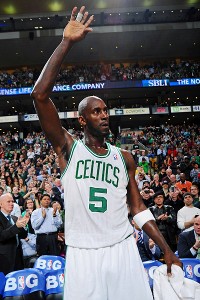 Brian Babineau/NBAE/Getty ImagesKevin Garnett waves to the Garden crowd in celebration of his 25,000th career point.
But not long after, as his teammates began applauding and patting him on the back, Garnett stood and gave the crowd an appreciative wave before saluting toward the far sideline, where his family sat, taking in the celebration. The gestures were brief but meaningful, coming from a player who has historically dismissed personal accomplishments in favor of greater team goals. But people wanted Garnett to break his mold, if only for a moment. One moment of individual recognition wouldn't take away from a team-first career. Afterward, Garnett struck a balance when discussing his team versus himself.
"First priority was the Lakers tonight. So I didn't even notice [the milestone's approach] until, I think, somebody said it to me in passing [Wednesday] night, and it kind of went in one ear and out the other," said Garnett, who finished with 15 points on 6-of-10 shooting. "You know, it means a lot, obviously, to be in a Celtic uniform. So that's first, coming from me. Priority being the Lakers tonight, us getting the win, and it being a monumental night second. And my family, my little baby, Capri, she got to be at the game and see it. Thank you for snow days. She got to come to the game tonight, which is something unusual, so it was good to have her there, family and everything, my sister and everything, so it was great."
As for the history part of it, Garnett became just the 16th NBA player to hit the 25,000-point plateau, joining a list that includes the likes of
Michael Jordan
,
Kareem Abdul-Jabbar
and
Wilt Chamberlain
.
Garnett entered Thursday's bout needing just six points for the scoring feat after he posted a season-high 27 in Wednesday's win over the Raptors. But those who figured six points would be a sure thing for Garnett on Thursday became a little uneasy when he picked up two personal fouls in just more than two minutes of play and spent the remainder of the first quarter on the bench, scoreless. He returned for the start of the second frame gunning, though, knocking down a jump shot to start the quarter and adding a shorter one in the lane less than a minute later.
And then came history.
With just more than eight minutes remaining in the second quarter, Garnett inbounded the ball in front of the Celtics' bench and gravitated toward the left side of the floor, just outside of the lane, where he posted up the Lakers'
Earl Clark
.
Leandro Barbosa
fed Garnett the ball, and he responded with a quick fake-spin to his right before turning back left and fading over Clark's outstretched arm. The ball sailed through the net, and Garnett cemented his spot in the 25,000-point club.
Per Garnett's standards, he couldn't acknowledge what he did without praising everyone else around him.
February, 8, 2013
2/08/13
12:54
AM ET
BOSTON --
Steve Nash
celebrated his 39th birthday on Thursday, but it was
Avery Bradley
who made him feel a little old.
Bradley spent time in the days leading up to Thursday's showdown with the
Los Angeles Lakers
watching game film of Nash. The 22-year-old guard was struck by how few opponents pressured the former two-time MVP, seemingly afraid to get shown up by his slick ballhandling.
With some encouragement from one of Nash's former teammates,
Leandro Barbosa
, Bradley made it his goal to make this a birthday to forget for Nash.
And he succeeded as part of Boston's 116-95 triumph over the Lakers at TD Garden.
[+] Enlarge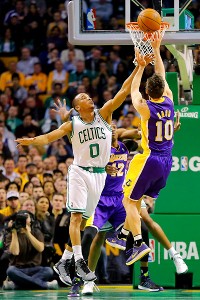 Jared Wickerham/Getty ImagesAvery Bradley was largely successful in "trying to make everything as hard as possible" on Steve Nash, who posted just nine points and five assists.
"Nash is obviously one of the best point guards to ever play," said Bradley. "I just tried to make everything hard on him. He's not used to pressure. I was watching film on him and nobody pressured him. That was my main focus, trying to make everything as hard as possible. He's a great ball-handler, but I don't care. I care about getting stops, so I just go out and play as hard as I can."
Nash finished with a modest nine points and five assists over 27:44 and was minus-7 in plus/minus. He didn't turn the ball over, but Bradley was a constant pest and it left Nash willing to give up the ball rather than deal with Bradley more.
According to individual defensive data logged by Synergy Sports, Nash was 2-of-6 shooting for four points in possessions that finished against Bradley. Doc Rivers made it a point to single out Bradley's impact on the game.
"He just wore Steve Nash down," said Rivers. "He was killing us, Nash was, at the beginning [of the game]. But that relentless ball pressure, eventually Nash became a passer. And anyone would. That's just heart, and that's what Avery does. He's got the ability to just stay in there and defend, and he wants to."
Barbosa, Nash's backup in Phoenix, admitted he's rarely seen anyone do what Bradley did by picking Nash up full court and making him work whenever possible.
February, 7, 2013
2/07/13
11:48
PM ET
BOSTON -- Celtics center
Kevin Garnett
, fresh off joining the league's elite 25,000-point club, made it a point to emphasize his desire to retire in Boston after Thursday's triumph over the
Los Angeles Lakers
at TD Garden.
Unprompted, Garnett sounded off on his name swirling in trade rumors recently while the Celtics try to overcome the loss of starters
Rajon Rondo
and
Jared Sullinger
.
"On a last note, I just want to say that I love my situation here," said Garnett. "I don't know what y'all sources or whoever's making up these bull---- --- articles about me getting traded to Denver and all these other places. But I bleed green and I continue to do that. And if it's up to me then I'm going to retire a Celtic. So I just want everybody to know that, all right?"
Garnett owns a no-trade clause as part of a three-year extension he inked with Boston last season. If he desires to retire a Celtic, he can ensure that. Garnett left the door cracked ever so slightly to allow for a change of scenery should Boston overhaul its roster and leave him no other option but to chase a title elsewhere.
Celtics president of basketball operations
Danny Ainge
said Thursday that he believes it's unlikely the team would trade either Garnett or captain
Paul Pierce
. And Garnett's end-of-interview rant only hammered home Boston's desire to continue chasing a title this season, even after all the injury woes and inconsistent play the team has previously endured.
Boston matched its season-high six-game winning streak with Thursday's victory. The Celtics have won 12 of their last 18 overall to move to 26-23 and are starting to climb up the Eastern Conference playoff ladder, shuffling past Milwaukee and taking sole possession of the seventh seed for the moment.
February, 7, 2013
2/07/13
10:31
PM ET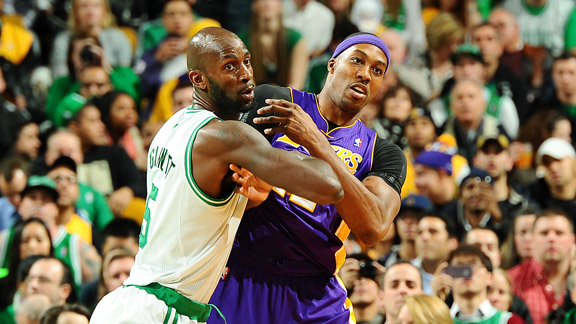 Brian Babineau/NBAE/Getty ImagesKevin Garnett and Dwight Howard renewed acquaintances during Celtics-Lakers on Thursday.
BOSTON -- Rapid reaction after the
Boston Celtics
defeated the
Los Angeles Lakers
116-95 on Thursday evening at TD Garden:


THE NITTY GRITTY
Paul Pierce
scored a team-high 25 points on 10-of-17 shooting to go along with seven rebounds, six assists and a block before resting for much of the final frame.
Jeff Green
matched his season high with 19 points off the bench, while
Jason Terry
kicked in 15 more.
Kevin Garnett
, the newest member of the league's elite 25,000-point club, overcame early foul trouble to score 15 points to go along with five rebounds and four assists over a mere 23 minutes.
Kobe Bryant
scored a game-high 27 points on 9-of-15 shooting (this despite solid defense by
Courtney Lee
), while
Dwight Howard
had nine points and nine rebounds for the Lakers.
MILESTONE MOMENT: KG'S 25,000TH POINT
Garnett became only the 16th player in NBA history to reach 25,000 points with a vintage turnaround fadeaway over
Earl Clark
early in the second quarter. When the moment was acknowledged during the next stoppage in play, Garnett received a standing ovation and waved to the crowd. For more on the milestone, hop
HERE
.
TURNING POINT
The Celtics were up 15 with three minutes to go in the third quarter, but just in case Los Angeles had any thoughts of a rally, Boston slammed the door -- and slammed it hard. Terry hit a 3-pointer before a dizzying sequence in which Green delivered a thunderous one-handed jam and hustled back for a chase-down swat on an
Antawn Jamison
layup before Pierce drilled a 3-pointer of his own to put Boston on top 95-69 and sent the Garden into an absolute frenzy.
WHISTLES WHILE YOU WORK
Two fouls over the first 2:08 forced Garnett to the bench, and it took
Jason Collins
a mere three seconds to get his first foul after subbing in for KG. The Lakers were in the bonus in 2½ minutes into the game as the Celtics were whistled early and often. Collins picked up three fouls over a 5½-minute stint and Boston was forced to lean heavily on
Chris Wilcox
(who rewarded the team with six points and a plus-9 in plus/minus in 10:47 of first-half action).
VALUE THE BALL
The Celtics built a 14-point halftime lead in large part by taking care of the basketball. The Celtics had only two first-half turnovers (and the Lakers didn't cash them in for points). Boston also played a solid second quarter, limiting the Lakers to 37.5 shooting (9-of-24), while the Celtics shot a blistering 58.8 percent (10-of-17) to outscore Los Angeles 31-21. For the game, Boston committed a mere nine turnovers (leading to just six points).
MELO'S FAB FIRST BUCKET
Celtics rookie center
Fab Melo
got five minutes of trash time and registered his first NBA bucket with a layup off a feed from
Avery Bradley
late in the game. Melo is incredibly raw, but the arena goes nuts when he hits the floor. He was also credited with a block, but finished minus-6 in plus/minus.
WHAT IT MEANS
The Celtics matched a season high by winning their sixth straight (and have now won 12 of their last 18 overall, sandwiching both of their six-game winning streaks around a six-game losing streak). Even after playing on Wednesday night in Toronto, Boston didn't lack for energy and absolutely dominated the middle quarters. The Celtics surely don't mind adding to the drama in La-La Land. Boston gets two days off before hosting the
Denver Nuggets
on Sunday night.
February, 7, 2013
2/07/13
5:05
PM ET
Some headlines leading up to Celtics vs. Lakers, including
a game of 5-on-5
with our TrueHoop experts and
some Boston/LA grades from Insider
:
February, 7, 2013
2/07/13
8:00
AM ET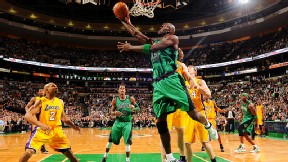 Brian Babineau/NBAE/Getty ImagesKevin Garnett should reach a prestigious milestone Thursday vs. the Lakers.
Boston Celtics
center
Kevin Garnett
is set to become the 16th member of the NBA's prestigious 25,000-point club. Sitting six points shy of the milestone, he is all but certain to reach it during Thursday's visit from the rival
Los Angeles Lakers
.
With help from our friends at ESPN Stats & Info, here are a couple interesting ways to examine Garnett's point output, including his top helpers and where his points came from on the floor. (Note: Does not include Garnett's 1995-96 rookie season because some data wasn't tracked.)
First, a look at the players who assisted Garnett's scoring with point totals:
And a look at Garnett's favorite shooting spots on the floor:
As Stats & Info points out, the 25,000-point club essentially ensures enshrinement in the Hall of Fame. All 15 players to have previously reached the milestone are in the Hall, or are slam dunks to be there down the road (
Kobe Bryant
and
Shaquille O'Neal
).