Boston Celtics:

2013Game50
February, 11, 2013
2/11/13
8:00
AM ET
Jason Terry, defensive stopper
? It's just the latest improbability for the Celtics, a team that a bunch of "50-year-olds" have made Boston the hottest team in basketball:
February, 11, 2013
2/11/13
2:03
AM ET
By
Greg Payne
| ESPNBoston.com
BOSTON -- With his team on the brink of extinction on Sunday against the
Denver Nuggets
,
Paul Pierce
had no choice but to keep the ball for himself.
[+] Enlarge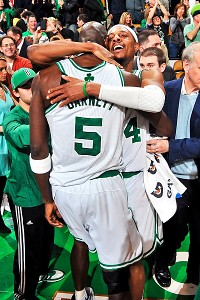 Steve Babineau/NBAE/Getty ImagesPaul Pierce seemed to take special satisfaction in Sunday's win.
With Boston down three with 18 seconds remaining in the second overtime, Pierce held the ball and watched the desired options on the play dry up before shuffling a quick pass over to
Jeff Green
, getting it right back and facing up on Denver's
Andre Miller
. Pierce's isolation plays have been criticized heavily this season, but with the smaller Miller on him, he didn't hesitate to start toward the left wing, rise up and bury the game-tying 3-pointer with five seconds remaining that propelled Boston into a third extra session and an eventual 118-114 victory.
"Doc (Rivers) wanted to go for a quick two," Pierce said. "They switched and so the quick two wasn't there and then the next look was Jason (Terry) coming off the pick. That wasn't there, and so at that point we had to get a 3-point shot up and I had a smaller guy on me, I knew I could get a good look. I thought he would probably foul me (with one to give), but he didn't, and I was able to drain it."
Kevin Garnett
was quick to add, "By the way, (Pierce's) shot on Andre Miller -- I've seen him hit some big shots -- that was unbelievable."
Pierce finished Sunday's win with a monstrous 27-point, 14-rebound, 14-assist triple-double --
Rajon Rondo
would be proud -- over a season-high 54:11 of floor time, further defying the age-old idea that his age should be preventing performances like these. But with Rondo not returning this season, Pierce has fully embraced the playmaker role for these Celtics, having routinely hauled in double-digit rebounds and points since Rondo's departure with a torn right ACL, while seeing a noticeable uptick in his assists as well.
February, 11, 2013
2/11/13
12:35
AM ET
BOSTON --
Boston Celtics
captain
Paul Pierce
played 54 minutes 11 seconds during Sunday's triple-overtime triumph over the
Denver Nuggets
. That's a mere three seconds short of his career high (set seven years ago during a double-overtime loss to Cleveland).
Kevin Garnett
logged 47:03, a number he's reached only 24 times in his entire career and not since playing 51 minutes for the Timberwolves in March 2007.
If Celtics coach Doc Rivers elected to give Pierce and Garnett a night off when the team travels to Charlotte for the tail end of a back-to-back on Monday, he could be forgiven (heck, with no national TV broadcast, the league might not even make the team pay for it). As Boston prepped to board its midnight flight, Rivers was noncommittal about how he'll proceed.
"I'll let you know after the game [Monday]," Rivers said. "I mean Paul played 54 minutes, and he's the guy that I'm most concerned with to be honest. And they just played so hard. ... If we have to rest guys, play them shorter minutes tomorrow -- the only way I can do it is by my eyes. You'll never know how guys feel until [Monday]."
Pierce smiled when asked after Sunday's game if he was tired.
"Yeah, I'm tired after every game," he said. Pressed on if he was more tired than usual, Pierce added, "Well, my adrenaline is still coming down. I'm sure I'll feel it later."
Garnett playfully joked about his whopping minute total, even after catching a brief breather at the start of the second overtime.
"I told Doc I wasn't build for this s--- and I don't know what the hell he thought," Garnett quipped. "But I probably won't even play [Monday] night. I'm lying. I'm out here grinding. It's what it is. Heart of a champion. What can I say?"
If nothing else, the Celtics almost certainly will lean heavier on their younger legs on Monday in Charlotte. The team has to hope the likes of
Avery Bradley
(45:44 vs. Denver) and
Jeff Green
(41:38) can bounce back to take some of the pressure off the 35+ club of Garnett, Pierce and
Jason Terry
(42:38).
Boston's depth (and youthfulness) has eroded with the loss of
Rajon Rondo
and rookie
Jared Sullinger
. But given the season struggles of the Bobcats, Boston figures to look to a bench that has risen to the challenge for much of this seven-game winning streak.
The Celtics are 6-6 on the second night of back-to-backs this season, but a mere 3-6 when that second game occurs on the road. Boston might be willing to sacrifice a loss -- even with a season-high seven-game winning streak in place -- after pulling out Sunday's win.
"Honestly, I'm thinking in the middle of [Sunday's] game or late in the game in the overtimes, 'Boy, [Monday is] going to be hard,'" Rivers said. "It's funny how a coach thinks. I'm thinking, 'We have to somehow win this game tonight.'"
Read on for a few more postgame notes:
February, 10, 2013
2/10/13
9:18
PM ET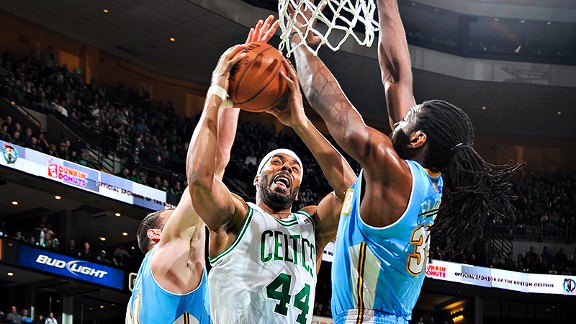 Steve Babineau/NBAE/Getty ImagesChris Wilcox tries to muscle up a shot in traffic against the Nuggets.
BOSTON -- Rapid reaction after the
Boston Celtics
defeated the
Denver Nuggets
118-114 in triple overtime on Sunday night at TD Garden:


THE NITTY GRITTY
Paul Pierce
utilized the extra sessions to register his second triple-double in the seven games since
Rajon Rondo
was lost for the season. Pierce finished with a team-high 27 points to go along with 14 rebounds and 14 assists over a career-high 54:11, while
Jason Terry
posted a season high with 26 points on 10-of-22 shooting.
Kevin Garnett
added a double-double with 20 points and 18 rebounds for Boston, while
Jeff Green
(17 points, 4 rebounds, 3 blocks) hit some huge shots in clutch situations to help Boston eventually emerge.
Ty Lawson
scorched the Celtics to the tune of 29 points, hitting big shots all night to keep the Nuggets alive.
Danilo Gallinari
overcame an ice-cold start to score 18 points to go along with 10 rebounds.
Kenneth Faried
added 14 points and 12 rebounds.
TURNING POINT I: NUGGETS TAKE LATE FIRST LEAD
Despite leading by as much as 12, the Celtics watched the Nuggets pull even two minutes into the fourth quarter after
Andre Miller
spun his way through the lane for a crafty turn-back-the-clock layup that tied the score at 78 with 9:54 to go. Terry responded with a 15-foot jumper to ignite a 7-0 burst that included a corner 3-pointer from
Avery Bradley
, but Denver rallied back to take its first lead on a 3-pointer from Lawson with 1:43 to play. (Faried, who kept the play alive, was whistled for a post-shot technical that allowed Boston to immediately tie the game at 90.)
TURNING POINT II: TIE LAWSON
Green got Faried in the air with a pump fake beyond the arc, then buried a 16-foot baseline jumper with 47.9 seconds remaining for a 92-90 lead. Faried nearly atoned, driving hard at the basket and drawing a blocking foul on Pierce with 5.4 ticks to go, but he missed the first of two freebies. Faried missed the second free throw on purpose and Miller sneaked in for a clean putback attempt that would have tied the game, but missed it. Denver got another chance when Boston knocked the ball out of bounds with 3.6 seconds to go (video replay overturning the initial call) and Lawson made it hurt by banking in a layup with 0.8 seconds to go to tie the game at 92, forcing the first overtime.
TURNING POINT III: DOUBLE OVERTIME
Green's clutch corner 3-pointer with 23.8 seconds to go tied the game at 99 in the first overtime and Lawson missed a triple at the buzzer to force a second extra session. Boston rested Garnett to start double overtime, but the team as a whole didn't have enough left in the tank. The Nuggets scored the first two hoops of the frame and Boston didn't get on the board until Green's driving layup with 88 seconds to play. Garnett tied the game at 103 with a jumper, but Gallinari, ice cold to that point, hit a 19-foot fadeaway with 37 seconds to go to put the Nuggets back out front. Pierce got to the line, but missed the second of two freebies, and Lawson responded with a 19-foot straightaway jumper for a 107-104 lead with 18.9 to go. Pierce went isolation and somehow willed in the tying 3-pointer with Miller draped on him with 5.2 seconds to go.
TURNING POINT IV: CELTICS EMERGE
Garnett, with a whopping 47 minutes for the game, hit some huge shots to start the third extra session, but it was Terry who hit a clutch 3-pointer with 1:33 to go in a tied game, produced a late-game steal, then capped the game with a layup in transition as an exhausted Boston squad celebrated a gritty win.
FAST START, QUICK RESPONSE
The Celtics opened the game on a 12-0 run, holding the Nuggets without a bucket for the first 4:18 (Denver turned the ball over five times during that span). Lawson finally broke up the shutout (after another near-turnover) with a pull-up jumper that ignited a little 9-0 run (highlighted by a monster alley-oop slam by Faried in transition off a Lawson feed) as the Nuggets got right back in the game. Denver turned the ball over seven times (for 14 points) in the frame allowing Boston to build a 10-point cushion (29-19) after 12 minutes -- but it chipped away all night.
WHAT IT MEANS
Wow, what a game. The Celtics simply refused to let this one get away. In doing so, they ended Denver's nine-game winning streak and pushed their own winning streak to a season-high seven games. The Celtics have now played a ridiculous 14 overtime sessions (5 single; 3 double; 1 triple). That's 70 extra minutes (1.5 games). And Boston has a back-to-back looming Monday in Charlotte. For now, the Celtics will savor this one and worry about that when they get to North Carolina.
February, 10, 2013
2/10/13
5:36
PM ET
BOSTON --
Boston Celtics
coach Doc Rivers desperately wanted to sneak in a practice session on Saturday, but ultimately erred on the side of caution as the region dug itself out from two feet of snow. Boston's players will have been inactive since Thursday's win over the rival Lakers. and Rivers is worried it could take some time to shake some rust, even amid a six-game winning streak.
"Trust me, we tried everything we could [Saturday], even into the evening. Our [director of] security, Mr. Phil Lynch, thought it would be very dangerous, and he was right, which I hate to say that," Rivers said. "So I'm very concerned. We even contemplated going this morning on a 6 o'clock game, it's just tough when you have two days off. What actually concerned me more is that Denver was playing last night, because you knew they would come in with rhythm. But there's nothing you can do. We came earlier than usual this evening [to TD Garden for a walkthrough], and actually went over stuff at a real pace. I don't know what that does, but it makes me feel better."
The Nuggets, winners of a league-best nine straight, were delayed getting in from Cleveland and didn't get to their hotel until around 3 a.m., so neither side is particularly thrilled with Mother Nature's winter inconveniences.
But Rivers tried to make the most of the inactivity, even venturing out in the storm on Friday night with Boston a car-less wonderland due to a travel ban.
"I went out on the blizzard night because my oldest [Jeremiah] was in," Rivers said. "He's from Florida and he's never been in one. So I thought he should experience it. We walked about a half block and he wanted to turn around -- that was disappointing. But it was cool. It was really neat seeing the city with no one in it, at least no cars. It was great."
Rivers said he spent Saturday watching basketball and cooking gumbo. With the extra time, he got an extended glimpse of these streaking Nuggets. So why are they so successful?
"Because they run, they play together," Rivers said. "I love watching them, I tell [Denver coach] George [Karl] that all the time. They are genderless when you watch them play -- nobody cares. They have six guys in double figures. [Kenneth] Faried yesterday led the team in attempts or second in attempts; today he could take two attempts and he doesn't care. They don't care and that's what you see when you watch them play. It's a very difficult team to load on. We load on a couple guys per game, [but] we're sitting trying to pick which guy do we do that to tonight. It's just hard."
Is that what Rivers wants to see from his
Rajon Rondo
-less Celtics?
"I don't know if we'll have that balance because we have a guy named
Paul Pierce
on our team that's pretty good, and
Kevin Garnett
," Rivers said. "After those two, the balance should look like [Denver does]."
One other pregame note: rookie center
Fab Melo
is back with the team after being recalled from Maine of the D-League to add depth to Boston's injury-thinned roster.
February, 10, 2013
2/10/13
10:00
AM ET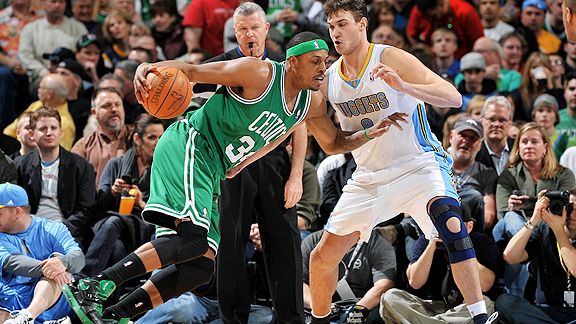 Garrett W. Ellwood/NBAE/Getty ImagesPaul Pierce and the Celtics look to keep their winning streak going against the Nuggets on Sunday.
The
Boston Celtics
(26-23, 18-9 home) host the
Denver Nuggets
(33-18, 11-15 road) on Sunday night at TD Garden (6 p.m., CSN). Here's what to watch for:


*
WE'RE GOING STREAKING!
: It's a battle of the league's two hottest teams as Boston enters with a season-best six-game winning streak, while Denver has won a league-best nine in a row. The Celtics will have a slight edge after taking the last two days off (snow forced the team to scrap Saturday's practice). The Nuggets played in Cleveland on Saturday night.
*
SYNERGY SNAPSHOT
: The Nuggets are ninth in the league offensively, averaging 0.93 points per play, according to Synergy Sports data. Transition accounts for a whopping 18 percent of possessions for pace-pushing Denver (tied for the top play-type along with spot-up shooting). The Nuggets rank ninth in transition, masking some of their woes in spot-up and pick-and-roll (though they are top 10 in isolation).
Danilo Gallinari
(1.031 points per play, 89th percentile) and
Kenneth Faried
(1.011, 85th) are among the team's most efficient offensive players. Defensively, the Nuggets are eighth overall while allowing 0.9 points per play. Denver is one of the worst teams in the league versus spot-up shooting, but limits the damage via other top play types.
Paul Pierce
is probably happy to have to deal with
Andre Iguodala
(0.749 points per play, 89th percentile) only twice per season now.
*
READY TO RUN
: The Nuggets own the second-highest pace in the league (97.69 possessions per 48 minutes) and should be looking to crank things up against a Boston team that's more middle-of the pack (18th, 93.62 possessions). The Celtics won't shy from an up-tempo game as coach Doc Rivers has implored his team to run, particularly looking to generate early offense since
Rajon Rondo
was lost for the season.
*
NO SECOND CHANCES
: Denver ranks second in the league in offensive rebound percentage (31.8 percent).
Timofey Mozgov
owns the team's best offensive rebounding percentage (14.1 percent) and everyone knows what Faried (13.8 percent) can do on the glass. But Denver is relentless and
JaVale McGee
and
Kosta Koufos
each have solid offensive rebound rates as well. The Celtics, particularly as they attempt to play more small ball, absolutely have to be sharp on the glass to prevent second-chance opportunities.