Boston Celtics:

2013Game57
February, 26, 2013
2/26/13
12:45
AM ET
By
Greg Payne
| ESPNBoston.com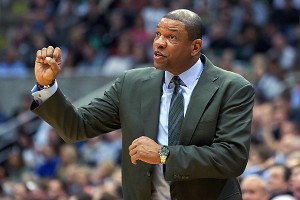 Russ Isabella/USA TODAY SportsDoc Rivers and the Celtics wrapped up their grueling five-game road trip on a high note in Utah.
Though a 2-3 mark isn't exactly what the Boston Celtics were hoping for out of a post-All-Star break five-game road trip, they ended things on a positive note with a 110-107 overtime victory over the Utah Jazz on Monday night that head coach Doc Rivers dubbed the "best win of the year."
In a seesaw game that featured 17 ties and 13 lead changes, the Celtics were able to grind through their 10th overtime affair of the season (6 wins, 4 losses) and 15th overtime session overall (including one triple-OT and three double-OT games), largely on the shoulders of Paul Pierce, who supplied seven of Boston's 13 points in the extra frame and 26 points, seven rebounds and eight assists overall. Kevin Garnett added 13 points and 10 rebounds for Boston.
"Whatever that is, it was the best win, for me, of the year," Rivers told reporters. "Five games, seven nights, five different cities, three time zones, just changing time zones. To gut it out, go into overtime and still have enough to win -- it's funny, at the start of the overtime I told Brandon [Bass], 'Go in for Kevin [Garnett].' Kevin wouldn't let me. He said, 'No, no, I'm good.' I didn't believe that, but I kept him in and he was terrific. Paul down the stretch just carried us. We found something we liked in the pick-and-roll with the spacing, and if they helped out, Kevin got the elbow shot. If they didn't help, Paul turned the corner."
February, 25, 2013
2/25/13
11:52
PM ET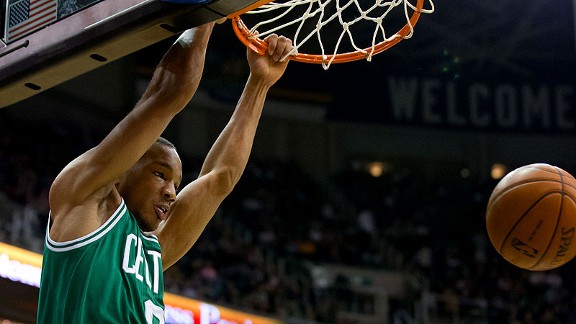 Russ Isabella/USA TODAY SportsAvery Bradley gave the Celtics an offensive spark in the early going.
Rapid reaction after the Boston Celtics defeated the Utah Jazz 110-107 in overtime on Monday night at EnergySolutions Arena:


THE NITTY GRITTY
Paul Pierce flirted with a triple-double, putting up 26 points on 10-of-20 shooting to go along with eight assists and seven rebounds and it was his offensive heroics in overtime that helped Boston escape with a gritty win to close out a grueling five-game road trip. Kevin Garnett added 13 points and 10 rebounds, while Avery Bradley carried the offense early, scoring a season-high 18 points on 8-of-12 shooting before deferring to the vets. Six of Boston's nine players finished in double-digits for scoring. Gordon Hayward scored a team-high 26 points on 7-of-16 shooting for Utah, while old friend Al Jefferson finished with 15 points and 11 rebounds.
TURNING POINT: PIERCE WORKS OVERTIME
The Celtics were playing their 10th overtime game of the season and 15th overtime session overall. After a rocky road trip, Pierce wouldn't let this one get away, scoring seven straight points -- starting with a go-ahead 3-pointer and following with two tough jumpers -- as Boston opened a 106-101 cushion and held on (only exhaling after Randy Foye's open look at a 3-pointer fell short at the buzzer).
A GAME OF RUNS
The Jazz put together a 17-2 burst in the second quarter while turning a seven-point deficit into an eight-point lead (Hawyard doing much of the damage while connecting on 4-of-6 shots -- including a trio of 3-pointers -- while scoring 12 points in the frame). Down eight early in the third frame, Boston embarked on a 20-4 run with Bradley and Pierce kicking in seven points apiece as the Celtics opened a 70-62 lead. Dizzy yet? Hang on. The Jazz were still down eight entering the fourth quarter, but went on a 13-2 burst and a Hayward dunk had Utah on top 85-82 with 8:41 to play. The teams hopped on the seesaw from there.
OVERTIME ... AGAIN
With the game tied at 95, Pierce came off a little pick-and-roll, got his defender in the air, and splashed an 18-foot jumper for a 97-95 lead with 36 seconds to go. The Jazz got caught scrambling at the other end, but Alec Burks put in a left-handed layup in traffic to force another tie with 19.9 seconds to go. Pierce missed a long turnaround jumper at the buzzer to force the extra session. This game featured 13 lead changes and 17 ties.
TIGHTENING UP THE ROTATION
Needing a win to close out this trip and with plenty of rest looming, the Celtics essentially ran with an eight-man rotation (Jordan Crawford played 4:41 in the first half, but both Terrence Williams and Fab Melo were DNP -- Coach's Decisions). That's a playoff-like shortening of the rotation for Boston, which essentially utilized just three bench players (Chris Wilcox, Jason Terry, and Jeff Green).
WHAT IT MEANS
The Celtics wrap up their five-game road trip at 2-3 overall, but they'll take it, particularly heading home for some extended rest. Boston plays only one game (a Friday visit from Golden State) over the next seven days, though four of its next five games after that are on the road again. With a couple new faces (Williams and Crawford) and another one waiting in the wings (DJ White), Boston will get some much-needed practice time to integrate those players with the final 25 games of the regular season looming. For now, they'll savor a scrappy win with a vintage Pierce effort in the extra session. That'll make the flight home from Utah a little easier to endure.
February, 25, 2013
2/25/13
2:05
PM ET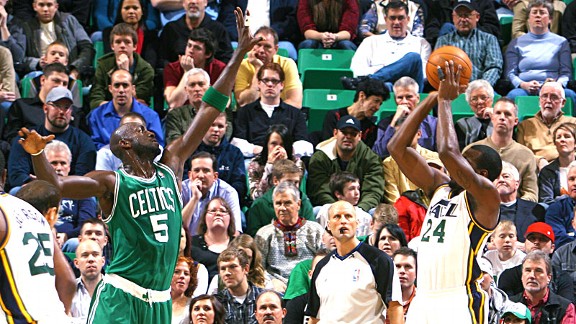 Melissa Majchrzak/NBAE/Getty ImagesKevin Garnett and the Celtics close up a five-game road trip in Utah on Monday night.
The Boston Celtics (29-27, 9-18 away) visit the Utah Jazz (31-25, 21-6 home) on Monday night at EnergySolutions Arena (9 p.m., CSN). Here's what to watch for:


*
BREAK AWAITS
: The road-weary Celtics play their fifth game in seven days to wrap up this grueling west-coast trip. Boston has already been swept in three other road back-to-backs this season, including the Nuggets-Lakers combo to start this trip. While this game screams danger for the Celtics, they can empty the tank knowing a much-needed break looms. After Monday's game, Boston plays just once (a visit from the Warriors on Friday) over a seven-day span. That said, four of Boston's next six games are on the road and the Celtics absolutely have to find a way to grind out some wins away from home if they want to make their playoff path as agreeable as possible.
*
SYNERGY SNAPSHOT
: The Jazz rank 13th overall offensively averaging 0.925 points per play, according to Synergy Sports data. Utah struggles with spot-up shooting (shooting a mere 36.9 percent in that play type), but the team's size helps mask some deficiencies away from the basket. Keep an eye on Randy Foye as he's coming off a scoreless effort against the Clippers, but has quietly been the team's most efficient scorer, averaging 1.006 points per play and posted double-digit output in 14 of his last 16 games overall. He's a nice outside complement (along with now-healthy Gordon Heyward) alongside Utah's big bodies. Defensively, the Jazz rank 22nd overall allowing 0.936 points per play. Utah is 29th in the league against spot-up shooting and 27th against pick-and-roll ball-handlers -- two play types that account for more than 30 percent of opponents' total plays.
*
SEVENTH HEAVEN
: It's a battle of current seventh seeds when the Celtics and Jazz meet. Boston has a comfortable two-game edge over the Milwaukee Bucks (and a six-game lead over both Toronto and Philadelphia) in the East. Utah is 1½ games up on Houston in the West, but has to keep an eye on the Lakers as they sit 2½ games back while trying to sneak their way into the postseason. Boston and Utah are pretty similar: Thriving at home and unable to do much on the road. The Jazz have won 12 of their last 14 at EnergySolutions Arena.
*
CAN C'S PLAY SMALL BALL?
: The Celtics have leaned heavy on small ball since the All-Star break -- almost out of necessity amidst minor roster tweaks at the deadline -- and was able to force Phoenix to match up in its lone win this trip. The question is whether they can hang with Utah when the Jazz are unlikely to ever go small. If Boston can't generate consistent stops and fuel itself in transition, then Utah will be content to stay big and dominate the glass. With the Celtics likely to lean even heavier on Jeff Green amidst its lack of big bodies, Boston has to find a way to be more competitive on the glass when players like Green and Chris Wilcox are inconsistent rebounders off the bench.
PODCASTS
Adam Schefter, NFL
Play Podcast ESPN NFL Insider Adam Schefter weighs in on the Panthers' WR situation, Julian Edelman's future with the Patriots, Vince Wilfork's decision to ask for his release and more.
Spanning the Globe: 3/13
Play Podcast "Spanning the Globe" features ESPN Boston's Mike Reiss, Yahoo! Sports' Eric Edholm and ESPN LA 710's Mark Willard.
John Farrell, Red Sox
Play Podcast Red Sox manager John Farrell talks about whether he expected his team to make such a turnaround in one season, his relationship with his players, fans' expectations for the squad and more.