Boston Celtics:

2013Game6
November, 11, 2012
11/11/12
12:45
AM ET
Gary Dineen/Getty ImagesJeff Green's fourth-quarter outburst helped the Celtics top the Bucks on Saturday.
The
Boston Celtics
are
not looking for style points
as they iron out the wrinkles here at the start of the 2012-13 season. Saturday's win over the Milwaukee Bucks -- a game Boston desperately needed even this early in the campaign -- won't be Boston's prettiest effort of the year, but a win is a win for a squad struggling out of the gates. Back at .500 with a 3-3 mark, the Celtics can pluck more positives than negatives from this one, not the least of which was simply going on the road against a team playing inspired ball and winning on the second night of a back-to-back.
"It was a good win because it was a hard win," Celtics coach Doc Rivers told reporters. "I mean, Milwaukee, they play hard and they're playing well. I thought we were searching in the first half for the right group. We went small, which I thought was huge for us. I thought we found an offensive set for the second unit, where they could be comfortable in. So, this season, it's a long season. We've just got to keep finding ourselves and finding what works for us."
A closer look at the good, bad and ugly from Boston's 96-92 triumph at the Bradley Center:
GREEN UNLOCKED
: Through three quarters, it looked like more of the same for
Jeff Green
and his frustration-filled start to the season. But Green put together a spectacular final frame with strong play at both ends of the court and it might be enough to unlock him moving forward.
Green had more turnovers (3) than rebounds (2) and had missed all four shots he had taken entering the fourth quarter. But he turned in an inspired nine minutes in the final frame, producing three aggressive drives to the basket for layups while scoring eight of his 12 points overall.
It was a hustle play on the defensive end that highlighted Green's night. Paul Piece misfired on a 3-pointer in a one-possession game with less than six minutes to go and the Bucks attacked in transition.
Mike Dunleavy
caught a long feed while streaking to the basket from the right side, but Green raced back and delivered a stellar left-handed, chase-down swat to prevent what should have been a game-tying layup.
Green later capped his night by forcing a key turnover by
Ersan Ilyasova
near the Milwaukee basket with eight seconds to play in a two-point game. Rivers liked what he saw on the floor.
"I think we forget that Jeff sat out a whole year last year, and just because he played well in preseason, I think people -- it's going to take him time," Rivers said. "It's going to take him time to get comfortable. … When he plays like that we're a better team."
Green's final stat line: 12 points on 3-of-8 shooting with three rebounds, two blocks and three turnovers. The only negative The Celtics were still minus-1 with him on the floor, but that was more indicative of the second unit's first-half struggles.
November, 10, 2012
11/10/12
11:12
PM ET
By
Greg Payne
| ESPNBoston.com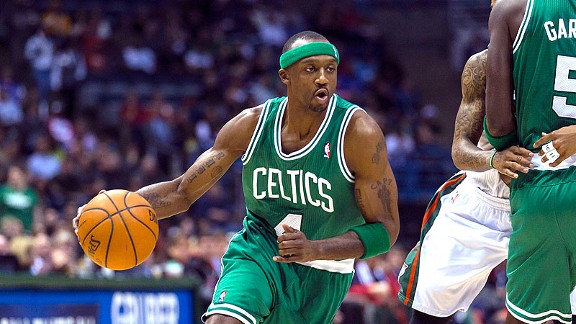 Jeff Hanisch/US PresswireJason Terry and the Celtics came out of the gates slow, but finished strong in Milwaukee.
Rapid reaction after the Boston Celtics defeated the Milwaukee Bucks 96-92 on Saturday night at the Bradley Center:


Rapid reaction following the
Boston Celtics
' 96-92 victory over the
Milwaukee Bucks
at the BMO Harris Bradley Center Saturday night.
THE NITTY GRITTY
Paul Pierce
was tops for the Celtics in both points (25) and rebounds (nine), emerging as the team's most consistent source of offense for much of the second half. Pierce scored 19 points over the final two quarters.
Kevin Garnett
added 18 points and six rebounds,
Jason Terry
chipped in 15 points, and
Jeff Green
came through late, finishing with 12 points and three rebounds.
Rajon Rondo
had another double-double, completing his night with 10 points and 10 assists.
Monta Ellis
poured in 32 points for the Bucks, who had five players reach double figures in scoring.
FRANTIC FINISH
The Bucks carried a 68-64 edge into the fourth quarter, and the score remained close into the waning minutes. Things really picked up with five minutes to go when Pierce and Ellis engaged in an old-school back-and-forth scoring duel. From the 5:18 mark to the 3:54 mark, the two practically went shot-for-shot, capped off by each knocking down a 3-pointer for their respective clubs, Ellis' triple giving the Bucks a one-point edge. But Garnett then got in on the act, knocking down consecutive jumpers, and
Brandon Bass
added a jump shot of his own from the left corner with just under two minutes left, giving Boston an 87-82 lead. A
Marquis Daniels
jumper with 25 seconds left brought the Bucks within one, 91-90, but after Terry hit one of two free throws, Green came up with a pivotal steal on
Ersan Ilyasova
, and the C's sealed things from the free throw line from there.
BOLD PLAY OF THE GAME
It appears we're in the midst of a rejuvenation of the Rajon Rondo-to-Kevin Garnett alley-oop. It's occurred a handful of times so far this season, and the pair managed to execute it twice more tonight. The second came with just over a minute left in the first half, as the pair lined up for a pick-and-roll on the left side before Garnett dove back to the hoop and displayed some youthful athleticism as he rose up to throw down Rondo's pinpoint pass.
DOC SWITCHES STARTERS
Admitting to reporters prior to the game that he was "searching," Celtics head coach Doc Rivers elected to shuffle his starting lineup, inserting Bass and Jason Terry in place of
Jared Sullinger
and
Courtney Lee
. Though the unit had marginal success in the opening frame (the Celtics didn't exactly explode out of the gate), it did show potential at the start of the second half. Trailing by three heading into intermission, the group, on the strength of two Terry 3-pointers helped claw Boston back and eventually take a seven-point edge. Though Milwaukee mounted a mini-rally of its own to take a lead going into the fourth, there were still positive signs from that particular group.
GREEN EMERGES LATE
Green has dealt with his fair share of inconsistent play this season, and public scrutiny as a result, but he persevered through a 3-of-8 shooting night to finish with 12 points and three rebounds. He scored eight of his 12 in the fourth quarter, kicking things off with two sweeping layups. He then came back on the other end, chasing down the Bucks in transition and eventually swatting away a
Mike Dunleavy
layup attempt that would have tied the game at 74. He then put in a crucial jump hook with a minute and a half remaining, putting Boston up five, and helped end Milwaukee's run with his late strip on Ilyasova.
RONDO'S STREAK REMAINS
It wasn't as easy as it's been in past outings, but Rondo registered double figures in assists once again. Saturday's game marked the 30th consecutive time Rondo has had at least 10 assists, good for the third-longest streak in NBA history. He now trails
John Stockton
(37) and Magic Johnson (46) for the all-time record.
WHAT IT MEANS
Rivers said he'd take ugly wins as his team works through its ongoing chemistry/cohesion issues, and Saturday's game certainly fit that bill. After slogging through a murky first half in which they shot just 35 percent and turned the ball over 10 times, the Celtics responded with a hard-fought effort in the fourth quarter, refusing to fold as Milwaukee's offensive weapons, particularly Ellis, caught fire. The C's received important contributions from a host of players, including Green, who had to get a bit of a confidence boost after his best outing of the season. Rivers went with some unorthodox and sparsely used lineups during the fourth quarter, but it's all a part of the ongoing effort to find units that are able to work together. Despite not playing their best ball still, the Celtics can hold their heads high, enjoy the win and a day off Sunday, and gear up for a showdown with a tough
Chicago Bulls
team on Monday.
November, 10, 2012
11/10/12
12:00
PM ET
Jeff Hanisch/US PresswireCan Brandon Jennings keep Rajon Rondo under wraps again this time out?
Boston must dust itself right off after Friday's loss to the
Philadelphia 76ers
as the Celtics (2-3, 1-1 away) visit the
Milwaukee Bucks
(3-1, 1-1 home) on Saturday night at the Bradley Center (8:30 p.m., CSN). Here's what to watch for:


*
C'S LEANING ON YOUNG LEGS
: We all know about Boston's struggles on the second night of back-to-backs in recent seasons, but the Celtics did go on the road last Saturday night coming off a loss to Milwaukee and beat the Wizards on the road. This is where Boston's youthful core absolutely has to step up and carry the load when veterans like
Paul Pierce
,
Kevin Garnett
, and
Jason Terry
have heavy legs. The Celtics could really benefit from someone like
Courtney Lee
or
Jeff Green
snapping out of an early funk and providing a spark in a tough back-to-back situation.
*
WANNA GET AWAY?
The Celtics are off on a quick two-game road trip, also playing on Monday night in Chicago. While that's two tough matchups, Pierce is embracing the chance to get away from the distractions of home amid a shaky start and make some progress. "I understand that it's a process. We're only five games in. We're still building," said Pierce. "Even though we lost [Friday] and we're down, there's still some positive things that can come from that. And so, it's still a long season. We've still got to get some things together. Maybe a road trip like this one against two pretty good teams can solve it. And so we'll see."
*
TRANSITION D IN FOCUS
: One of Boston's biggest woes this season has been its transition defense, which the previously anemic Philadelphia offense exploited Friday night to the tune of 106 points, getting the ball up the court quickly and generating easy looks or runs to the rim against a disheveled Celtics defense. Boston prefers to force opponents to play in a half-court set and that requires getting back and matching up. "If I had to point out one thing that's a major concern for us and has been for these last five games it's probably our transition defense," said Pierce. "That's the No. 1 thing right now. When you look up and we're playing well, I think, half-court-wise. But when you give teams that many layups in transition, it's really disturbing. So, that's one thing we've got to look at the film, address that. If we can do a better job of getting back on defense, limit those easy opportunities, then we give ourselves a better chance."
*
FAILURE TO COMMUNICATE
: Boston players suggested that defensive woes are a direct result of failure to communicate at that end of the floor (particularly when Garnett is out of the game). "We're a defensive team that usually can score the basketball," said Garnett. "Right now we have indecision. At points we have a lack of communication." Rondo downplayed the notion, suggesting Boston has trouble spots everywhere and needs to start playing up to its potential. "It's everything. But, you know, we've got the right guys, we've got the right mindset. It's just a matter of doing it," said Rondo.
*
RONDO VS. JENNINGS
: Rondo dominated Milwaukee's
Brandon Jennings
during last year's head-to-head meetings -- something Jennings admits -- but the Bucks' young point guard came back with a dominant 21-point, 13-assist effort to spoil Boston's home-opener last week. Expect Rondo to have a little extra motivation in this rematch.
PODCASTS
Baseball Tonight
Play Podcast Buster Olney and Tim Kurkjian discuss the rosters for the Home Run Derby, Jon Lester's future and more. Plus, Indians P Corey Kluber on his All-Star candidacy and Tigers P Joba Chamberlain.
Baseball Tonight
Play Podcast Buster Olney and Jerry Crasnick discuss All-Star selections and Jeff Samardzija's impact in Oakland. Plus, David Price talks about his season and the prospect of getting traded.
Mike Sando, NFL
Play Podcast ESPN.com's Mike Sando offers his insight on NFL insiders' quarterback rankings, impressions of Robert Griffin III and whether teams prefer Peyton Manning or Tom Brady.