Boston Celtics:

2013Game66
March, 19, 2013
3/19/13
11:01
AM ET
By
Greg Payne
| ESPNBoston.com
The Celtics knew going into Monday's showdown with the Miami Heat that they couldn't afford to turn the ball over, but that knowledge alone wasn't enough to prevent them from doing it.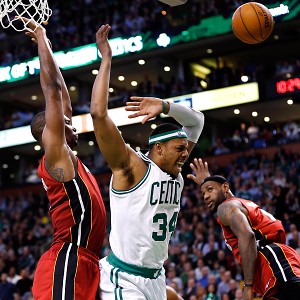 Greg M. Cooper/USA TODAY SportsPaul Pierce and the Celtics couldn't always keep their handle on the ball on Monday night.
Boston committed 21 turnovers in Monday's 105-103 loss -- one off their season-high -- and the Heat happily converted those into 24 points. In a game in which the Celtics led by as may as 17 at one point -- and by 13 in the fourth quarter -- the miscues that resulted in the ball switching sides stuck out most to the losing party.
"We've just got to take our time," said Paul Pierce, who registered a team-high seven turnovers. "I thought we tried to force things, got a little anxious at times, and that's their game. The Miami Heat, they force turnovers, they get easy buckets, and you can't really do that against them because they're so good in transition and finishing. We gave up (24) points off our turnovers, that's devastating, especially against the best team in the NBA."
Both halves saw Boston equally guilty of errors -- the C's committed 11 of their 21 miscues over the first 24 minutes (good for 14 Miami points) and the final 10 in the second half. Knowing they lent a helping hand to 24 of Miami's points didn't sit well with the veterans afterward.
"Well, we're disappointed, obviously," Jason Terry said. "You have a 10-point lead in the fourth quarter, you've got to get the job done. And so, we had a lot of mistakes that we made offensively and defensively that are correctable errors. So, we've just got to get back in here and grind."
March, 18, 2013
3/18/13
10:55
PM ET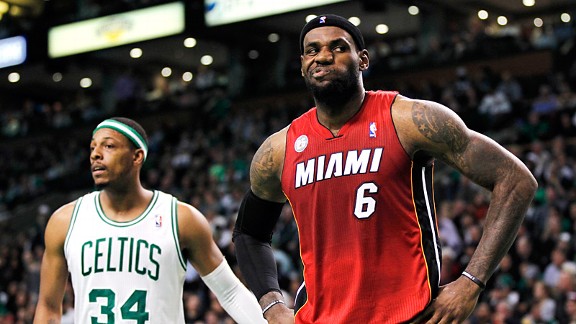 Greg M. Cooper/USA TODAY SportsLeBron James didn't like the way things started for the Heat in Boston.
BOSTON -- Rapid reaction after the
Miami Heat
defeated the
Boston Celtics
105-103 on Monday night at TD Garden:


THE NITTY GRITTY
LeBron James
scored a team-high 37 points on 16-of-29 shooting, producing a pair of clutch buckets over the final 81 seconds as Miami rallied from a 17-point deficit to push its winning streak to 23 games, which is the second-longest single-season streak in league history. James added 12 assists and seven rebounds while flirting with a triple-double and the Heat snapped both their 10-game losing streak in Boston and the Celtics' 11-game home winning streak. James' exploits spoiled a monster night for
Jeff Green
, who scored a career-high 43 points on 14-of-21 shooting (5-of-7 beyond the 3-point arc) and was relentless attacking the basket.
Paul Pierce
added 17 points, 8 rebounds and 8 assists for Boston.
CAN'T PUT MIAMI AWAY
Green turned the first half into his personal layup line, erupting for 26 points over the first two quarters while helping Boston open that 17-point cushion (fueled by a 17-0 run to close out the first quarter, the Celtics were up 12 after one frame). But Miami clawed back and an 8-0 run to start the second half pushed the Heat out front 61-59, setting up a game of chase. Boston kept trying to pull away, but the Heat rallied each time. Despite trailing by 13 with 8:27 to go, Miami stormed back again and a 3-pointer from
Mario Chalmers
with 2:40 to play put the Heat out front 101-100. But things were just getting interesting.
TURNING POINT
Avery Bradley
answered Chalmers' triple with one of his own from the left corner to put Boston up 103-101 with 1:49 to play. A James putback of his own miss tied the game at 103 with 1:21 to go and, after both teams failed to break the deadlock, James hit a low-shot clock jumper over Green with 10.5 ticks to play for a 105-103 lead. Green's drive got stripped out of bounds and Pierce missed a 23-foot fadeaway in the closing moments as Miami hung on.
TURNOVER POINT
The Celtics were their own worst enemy for much of the night, committing 21 turnovers that led to 24 Miami points. When playing the Heat, coaches always stress the need to limit live-ball turnovers and Boston got burnt with its carelessness.
SO MANY HIGHLIGHTS
Good luck to whoever is cutting up these highlights in Bristol, Conn., tonight. In the first two quarters alone:
Courtney Lee
broke Bosh's ankles
with a little crossover move that led to a jumper;
James "Brandon-Knighted"
Jason Terry
(only mildly tamer than
DeAndre Jordan
's alley-oop slam over
Brandon Knight
); Bradley produced a chase-down block on
Norris Cole
that led to a Pierce 3-pointer in transition and nearly blew the roof off the Garden.
WHAT IT MEANS
On the five-year anniversary of Boston snapping Houston's 22-game winning streak, the
Kevin Garnett
-less Celtics couldn't play streak busters again. What they did prove yet again is that they can hang with the defending champs, and Monday's entertaining battle will leave most clamoring for a playoff series between these teams. Boston drops to 36-30 and slides back a bit on the Eastern Conference playoff ladder. One more regular-season battle looms in Miami on April 12. The Celtics head out on a three-game road trip with stops in New Orleans, Dallas and Memphis.
March, 18, 2013
3/18/13
7:37
PM ET
BOSTON -- Boston Celtics center Kevin Garnett will sit out Monday's visit from the Miami Heat due to illness, according to coach Doc Rivers.

Garnett, who has been held out of basketball activities for the past two days due to a left adductor strain, is now also battling the flu and that, Rivers said, more than the injury is what will keep him off the court against the rival Heat.

Jeff Green starts in his place for the Celtics.

"[Garnett is] sick, really. It's not the injury," said Rivers. "He just has a terrible flu or whatever and, with the injury, we just felt the combination -- it was too much to play."

Garnett didn't go through the team's shootaround on Monday morning, but was still listed as a game-time decision. Rivers got a look at him when he arrived at the arena and determined he wasn't fit for action.

"He's in [the trainer's room] now. Right when I looked at him, I said, 'You're not playing,'" said Rivers. "He wanted to play, and even [team trainer] Eddie [Lacerte] came to get me, to tell him not to play."

Would Garnett have played if not for the illness?

"Yeah, he would have played," admitted Rivers.

Even though Rivers has preached a desire for health and rest over wins and playoff seeding, he said the team would have preferred to have Garnett on the floor for Monday's game.

"You want Kevin on the floor," said Rivers. "I guess it gives him more rest, and maybe that will help too."

Rivers said he expects Garnett to be on the team's flight Tuesday afternoon for the start of a three-game road trip in New Orleans on Wednesday.

March, 18, 2013
3/18/13
10:00
AM ET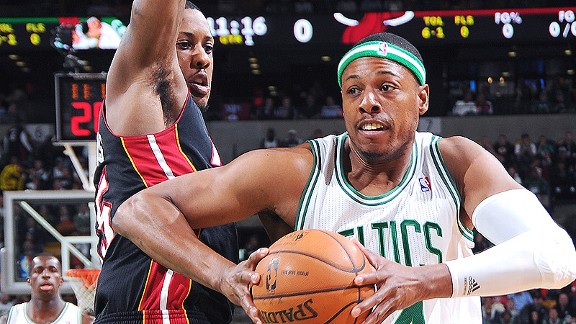 Brian Babineau/NBAE/Getty ImagesCan Paul Pierce and the Celtics get past the Miami Heat on Monday?
The Boston Celtics (36-29, 24-9 home) host the Miami Heat (51-14, 21-11 away) on Monday night at TD Garden (ESPN, 8 p.m.) Here's what to watch for:


*
STREAK vs. STREAK
: You might have heard about this 22-game winning streak the Miami Heat are on (
it's drawn a few headlines
). The Celtics counter with an 11-game home winning streak.
Something has to give
. The Heat can move into sole possession of the second-longest single-season winning streak in league history with a victory. The Celtics ended the Houston Rockets' 22-game winning streak during the 2007-08 season exactly five years ago today.
*
HOW HAVE HEAT CHANGED?
: Celtics coach Doc Rivers offered the scouting report on how the Heat have changed since Boston beat them in late January (one of Miami's last losses before this current streak). "They are just better at what they do," said Rivers. "I don't think they've changed much. They've played the same way all year. They spread the floor, they attack. I think, defensively, is where they've really gotten a lot better over this stretch. Everybody is doing everything great for them right now. LeBron [James] is playing on a different level and [Dwyane] Wade is healthy now. I think that's the biggest difference from when you saw them earlier in the year; Wade's a different player. LeBron's been the same, he's been dominant. But now Wade is being dominant as well and everybody else is just feeding off of that."
*
CHAMPIONSHIP SWAGGER
: Here's one big difference Rivers has noticed in the Heat this season: They are playing with a new level of confidence, especially James after getting that elusive ring last season. "He has a championship swagger now," said Rivers. "And he's always been the best player, now he's the best player with confidence -- if that makes any sense. It makes him great; I'm happy for him. I just want to beat them. But he's gone through a lot, he's paid his dues if you want to say, now he's a champion. Now it's our job to try to knock that off of him." Hop
HERE
to read how Jeff Green will approach the defensive assignment after helping to contain James last time out.
*
LIMIT THE CORNER 3
: Ray Allen's presence will be a friendly reminder for Boston to limit the corner 3-pointer. According to ESPN Stats and Info, the Heat entered Sunday's action with 234 corner triples this season -- second most in the league behind only Houston. The Celtics own the best 3-point defense in the league since Avery Bradley returned in early January as opponents have shot a mere 30.2 percent from beyond the arc over the past 35 games.
March, 17, 2013
3/17/13
10:10
PM ET
The Miami Heat won't be the
only team with an impressive winning streak
when they visit the Boston Celtics on Monday night:
March, 17, 2013
3/17/13
2:00
PM ET
By
Greg Payne
| ESPNBoston.com
But following the Celtics' 100-98 double overtime victory over LeBron James and the
Miami Heat
back in January, that indeed was the case. The Celtics knew James could have wreaked even more havoc on them, but they managed to prevent him from completely taking over the game.
The main face of Boston's defensive effort against James in that game was Jeff Green, who embraced the challenge of checking arguably the NBA's best player and did a commendable job of forcing James into jump shots and denying him clear paths to the basket. Of the 31 shots James took in that game, 19 came outside of the lane, and he took just five free throws.
With Miami storming into Boston on Monday, the Celtics will once again look to Green to help keep James in line.
"It's always a challenge," Green said at Sunday's practice. "He's one of the best players. It's always a challenge guarding him and I take on the challenge of guarding him. I enjoy it."
But Green knows he won't be able to stop James all by himself. He can be the first line of defense and work to cut off James' lanes to the basket, but he'll need his teammates working and communicating behind him to help bolster the attack. Communication on defense could be thrown into even greater focus on Monday if
Kevin Garnett
-- Boston's best talker on defense -- is still out with a strained left adductor. Doc Rivers said at Sunday's practice that KG is "50/50 at best" for Monday night's game.
"I can't do it alone," Green said. "He's going to get past me sometimes, but that's why you count on your teammates to be there."
March, 17, 2013
3/17/13
12:45
PM ET
WALTHAM, Mass. --
Boston Celtics
center
Kevin Garnett
will not practice Sunday and coach Doc Rivers deemed him "50/50 at best" to suit up for Monday's showdown with the
Miami Heat
.
Garnett is battling a left adductor strain that flared on Friday and kept him out of Saturday's win over the
Charlotte Bobcats
. Rivers said the team will reevaluate Garnett on Monday depending on what he's able to do leading up to the game.
"We don't know what he's going to do [Monday]," Rivers said. "My guess is he's 50/50 at best."
Asked if there was any long-term concern with Garnett, Rivers downplayed the injury.
"Probably a 1 on a scale to 10," Rivers said of his concern level. "Even if he misses a couple of games, it's not an injury that's a big deal. I'm not that concerned by it."
Rivers later said he didn't believe Garnett had undergone an MRI because the injury does not appear that severe.
"Again, I don't think it's that serious," Rivers said. "It's just at the point of the year where you're just not going to play him if he's not feeling great."
Celtics guard
Jason Terry
said the team has to be prepared if Garnett isn't on the floor, but is hopeful he'll be able to suit up.
"You can't think about it," Terry said of what the team's mindset would be if Garnett can't go. "He's not there, so it's not going to help you to think about him.
"But would we love to have him? Yes sir, no question. The best big man, to me, in league history. So when we're missing him we've just got to do it collectively, especially on the defensive end. When you're that small, you have to rebound as a group."
Rivers said the Celtics expect to use a lot of one-big lineups regardless of Garnett's availability, staying small to match up with the Heat.
"With or without Kevin, it'll be a lot of one big on the floor against them," Rivers said. "With Kevin that means Kevin is the one big, then you can bringing Brandon [Bass] in and out. Without him, that stretches it."
Read on for a few more notes from pre-practice access:
March, 15, 2013
3/15/13
2:22
PM ET
WALTHAM, Mass. -- Allow Jason Terry to tell you what he thinks of the Miami Heat's 20-game winning streak.
"Not really impressed with it or anything that they do," said Terry, who of course has a history with Miami from his Dallas days when the two teams met in the 2011 Finals. "So, for me, it's more about what our team is doing and how we're coming together as a unit."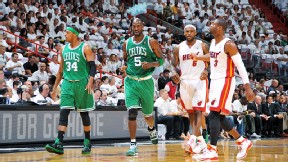 Jesse D. Garrabrant/Getty ImagesThe Celtics don't really care about Miami's 20-game winning streak.
Silly as it may sound, Terry suggested the Celtics are more concerned with earning some revenge from the bottom-dwelling Charlotte Bobcats on Saturday than the expansive winning streak the East-leading Heat might be carrying when the visit TD Garden on Monday.
With two more wins before Monday's game, the Heat will be tied for the second longest win streak in NBA history (22 games by the 2007-08 Houston Rockets) when they visit Boston. Ironically, it was this Kevin Garnett and Paul Pierce core on the floor when the Celtics snapped the Rockets' streak on March 18, 2008 -- five years to the day of the Miami-Boston matchup.
Asked if he wants the Heat to still be carrying that streak on Monday, Pierce offered, "I really don't even care. I hope they lose every game the rest of the season. I just worry about what this team does."
That said, Pierce admits you can't avoid the hype around Miami's streak.
"It's rare when you've got a team that plays so well to be able to do that," said Pierce. "It's hard not to keep track of it. Anytime you go to NBA.com or ESPN.com, it's going to be right there. It's very impressive what they're doing. It is what it is. But I think they don't care about the winning streak."
The Celtics put together a 19-game winning streak early in the 2008-09 campaign coming off their title season. The Heat are in a similar position, which isn't lost on Boston coach Doc Rivers.
"It's impressive, it's really impressive," said Rivers. "The year after we won it, I think we won [19] in a row, right before Kevin went down [with a season-ending knee injury], and it's hard to do -- for a lot of reasons. But it's harder to do for a defending champ, because every night is the other team's biggest game. And the fact that they are doing it under those circumstances, is pretty impressive."
But Rivers maintained the company line about the streak.
"I don't really care," he said. "We're going to play them one way or another, whether they have a streak, or coming off a loss. We'll be ready, I'm sure they will be."