Boston Celtics:

2013Game67
March, 21, 2013
3/21/13
12:12
AM ET
The Celtics absorbed another brutal road loss to a bad team on Wednesday night, fumbling away a double-digit lead (yet again) and watching rookie
Anthony Davis
tip in the winner with 0.3 seconds to play during an 87-86 defeat in New Orleans.
These sorts of losses are inexcusable, and a Boston team that has been downright atrocious away from home this season might eventually look back on this type of defeat and lament not aiding its playoff positioning.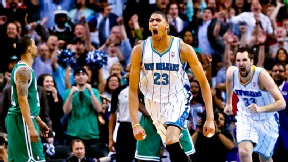 Derick E. Hingle/USA TODAY SportsThe Celtics lost focus late and Anthony Davis swooped in to lift New Orleans to victory.
Boston is now 12-21 on the road this season and those losses include 1) two defeats to the league-worst Bobcats; 2) Wednesday's stumble to the Western Conference-worst Hornets and 3) five other defeats at the hands of sub-.500 non-playoff opponents (Detroit, Philadelphia, Sacramento, Cleveland, Portland).
Winning on the road is absolutely imperative in the postseason, particularly if you're a low seed, which the Celtics are slowly becoming resigned to being (at least that's what efforts like this suggest). And while this team deserves no silver lining after a pathetic second-half effort on Wednesday, let's keep in mind the list of teams that Boston
has
beaten on the road this season.
Indiana, New York, Brooklyn, Atlanta, Chicago, Milwaukee.
Yes, with a win in Miami on April 12, the Celtics will own at least one road victory against every other playoff team in the East. With 15 games to play in the regular season, Boston is 6-5 on the road against East playoff foes.
Hey, at least these guys don't have to worry about seeing the likes of the Bobcats and Hornets in the postseason.
That's not to absolve Boston from Wednesday's effort. Clearly there's a motivation and a focus issue at play with these Celtics, and they somehow do not recognize yet that they are not good enough to simply turn it on and off. Boston came out looking extremely crisp against New Orleans, shooting 60 percent from the field in the first half and leading by as much as 13 in the opening minutes of the third quarter. Then the Celtics checked out.
Boston fans know all too well what happens next. You mock the basketball gods and they smite you. And they smite you hard.
March, 20, 2013
3/20/13
10:37
PM ET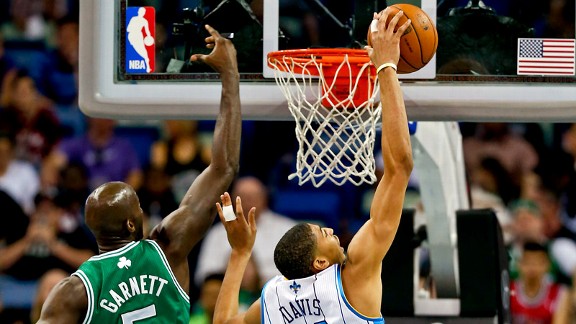 Derick E. Hingle/USA TODAY SportsKevin Garnett was back on the court Wednesday night in New Orleans.
Rapid reaction after the
New Orleans Hornets
defeated the
Boston Celtics
, 87-86, on Wednesday night at New Orleans Arena:


THE NITTY GRITTY
Hornets rookie
Anthony Davis
tipped home an
Eric Gordon
miss with a fraction of a second remaining as New Orleans stunned a Boston team that had rallied back late in the fourth quarter.
Ryan Anderson
scored a team-high 21 points off the bench for the Hornets, while Gordon added 18 more.
Paul Pierce
scored a game-high 28 points -- fueling Boston's rally from a nine-point deficit with under six minutes to go -- but it wasn't enough for a Celtics team that didn't score over the final 1:54.
Kevin Garnett
, back on the court after missing the past two games, registered 20 points and six rebounds in 29 minutes, while
Jeff Green
scored 11 of his 13 points in the first quarter and promptly disappeared (he did not score in the second half).
TURNING POINT
The Celtics were down nine and their offense was ice-cold with under six minutes to play. That's when Pierce took over, spearheading a 10-0 run over a two-minute span as Boston surged ahead. Pierce scored 11 points over a 3½-minute span and a 3-pointer from the captain had the Celtics out front, 84-81, with 2:34 remaining. The Hornets wouldn't go quietly, and, with a chance to win it on a late possession, Davis crashed for a tip over Garnett (and Green nearby) with 0.3 seconds remaining. Boston never got a final shot off.
C'S TAKE EXTENDED INTERMISSION
After shooting 60 percent (21-of-35 overall) in the first half, the Celtics' offense forgot to come back out for the third quarter, as Boston scored only 12 points on 5-of-18 shooting (27.8 percent). The only player with multiple field goals was Pierce, while the rest of the team was 3-of-15 shooting for just seven points. The Celtics also turned the ball over five times (leading to six points), and the Hornets rallied from as much as 13 down to tie the game at 67 heading into the final frame.
WHAT IT MEANS
Many wondered if the Celtics would have a bit of a letdown after an emotional Miami game. Boston started strong and had multiple double-digit leads in this game. Alas, a dismal second half spelled the Celtics' demise. Even with a tightened rotation, Boston simply sputtered on the offensive end in the second half, shooting 32.4 percent overall (12-of-37 shooting). The Celtics get a day off Thursday before embarking on a back-to-back in Dallas on Friday and Memphis on Saturday. Road woes continue to plague this team and its quest to shuffle up the Eastern Conference playoff ladder.
March, 20, 2013
3/20/13
11:15
AM ET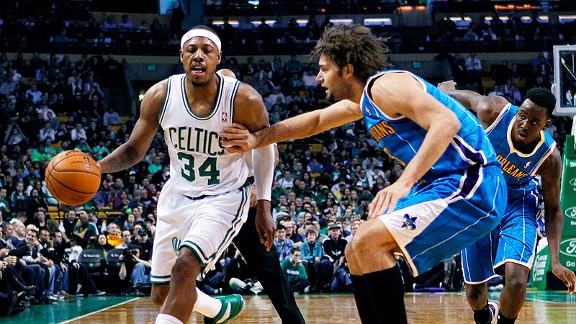 Greg M. Cooper/USA TODAY SportsPaul Pierce and the Celtics will be looking to get past the Hornets.
The Boston Celtics (36-30, 12-20 away) visit the New Orleans Hornets (22-46, 12-21 home) on Wednesday night at New Orleans Arena (8 p.m., CSN). Here's what to watch for:


*
NO FAMILY, ALL BUSINESS
: The Celtics-Hornets matchups grew in interest before the season because of the father-vs.-son storyline between coach Doc Rivers and his son, Austin. Alas, Austin broke his hand earlier this month against the Lakers and is likely done for the season. Now Boston's only focus on Wednesday is on extracting revenge for a head-shaking 90-78 loss at TD Garden on Jan. 16. Rivers, who admitted it was a bit unnerving coaching against his son, probably isn't too upset to miss the hype this time around.
*
ON THE ROAD AGAIN
: Boston's second-half surge has featured strong play at home -- winning 11 straight before falling to Miami on Monday -- but the Celtics still have to prove they can consistently win on the road. This isn't an overly daunting three-game trip, but Boston would be well served to start on the right foot, particularly with the final stop being a visit to Memphis on the second night of a back-to-back. The Celtics were 0-2 on their last brief road excursion (Oklahoma City, Charlotte).
*
SYNERGY SNAPSHOT
: Offensively, the Hornets rank 17th in the NBA, averaging 0.918 points per play, according to Synergy Sports data. More noticeable is that they are the second best team in the league in transition, posting 1.215 ponts per play -- making it imperative that Boston get back and get set. Defensively, New Orleans ranks 28th overall while allowing 0.969 points per play. As efficient as they are at putting up points in transition, they are equally as bad defensively, ranking 29th overall. What's more, the Hornets struggle with individual defense, ranking last in isolation and 24th against spot-up shooting.
*
HORNETS STING?
: Where can the Hornets hurt opponents? Aided by rookie top pick Anthony Davis, New Orleans is solid on the glass, including 10th in offensive rebound percentage and eighth in second-chance points. Boston has to defend well around the basket (and rebound consistently) as the Hornets are seventh in the league in percent of points generated in the paint.