Boston Celtics:

2013Game70
March, 27, 2013
3/27/13
7:30
AM ET
A look at headlines after the New York Knicks throttled the Boston Celtics on Tuesday night:
A sampling of the featured stories:
*
MACMULLAN: NO KG, NO FUN
: Maybe [Kevin] Garnett will spring back onto the parquet in 14 days ready to single-handedly take on the Eastern Conference. The Celtics better hope so. Boston admirably has stayed the course through a season-ending knee injury to Rajon Rondo and season-ending back surgery for rookie Jared Sullinger, who was the team's most productive frontcourt player aside from KG. But this latest blow is simply too much. KG's absence, coupled with the defensive grit that [Courtney] Lee provides, has tipped the scales. The losing streak is at five games and could well reach six in Cleveland on Wednesday night.
*
FORSBERG: CELTICS JUST NOT THEMSELVES
: A common refrain in the Boston locker room after Tuesday's loss was that the Celtics just weren't themselves. The roster changes prove that. But the Celtics are adamant that a veteran core with [Paul] Pierce and a healthy Garnett can lead them to familiar postseason success. As [Doc] Rivers reflected on the impending departure of the division title, he noted, "Whether you win it or not, your season will be defined by what you do in the playoffs. For us and them." There's a strong possibility the Celtics and Knicks will cross paths again in the postseason. Boston hopes it will look like a different team then.
Finally, a look at how things are playing at ESPN New York:
March, 26, 2013
3/26/13
11:58
PM ET
By
Greg Payne
| ESPNBoston.com
BOSTON -- Celtics coach Doc Rivers playfully suggested that
Jordan Crawford
could be a charter member of the NBA's "All-Scare Team," with his shot-making ability enough to frighten opposing coaches and his bouts of erratic play enough to make Rivers cringe at times.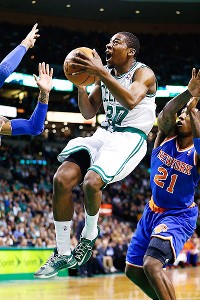 Jared Wickerham/Getty ImagesCeltics guard Jordan Crawford played a team-high 41 minutes vs. the Knicks.
Crawford fit that bill during Tuesday's 100-85 loss to the
New York Knicks
, playing a team-high 41 minutes and finishing with 14 points on 5-of-11 shooting to go with four rebounds and six assists, though he tied
Paul Pierce
for a team-worst six turnovers. This is essentially who Crawford is, and Rivers maintained his stance that he won't do much to try to mold him in any specific way so late in the season.
"I don't want to get in his way," Rivers said before Tuesday's game. "We don't have time to change him or coach him to a point where he fits the exact role or way you want him to play. When you get a player this late in the year, you just tell them, 'Just go play. I won't get in your way. If you're doing something too much, I'll let you know.' But I don't want to get in his way at all. I want him to go out and just play, be him, and if there's something we don't like, we'll take him out. But I just want him to play free."
Starting in place of the injured
Courtney Lee
, Crawford took advantage of that freedom early, scoring nine of his 14 points in the first frame, emerging as Boston's primary source of offense over the opening 12 minutes.
While not looking to hamper Crawford's offensive freedom, Rivers did weigh in with some matchup advice when he saw
Jason Kidd
pick up Crawford late in the first quarter. Crawford responded by attacking Kidd in the post and in the lane, converting difficult back-to-back fadeaway jumpers in the closing minutes of the frame that gave Boston a short-lived lead.
"Doc definitely wants us to find matchups on the court, no matter who's checking who," Crawford said. "He told me to go at (Kidd) a couple times, so it's kind of Doc telling you whoever is on who, attack them and play off of that."
While Crawford couldn't maintain his fierce scoring clip for the remainder of the game, he did showcase a play-making ability that sometimes gets swept under the rug amid his scoring outbursts.
March, 26, 2013
3/26/13
9:47
PM ET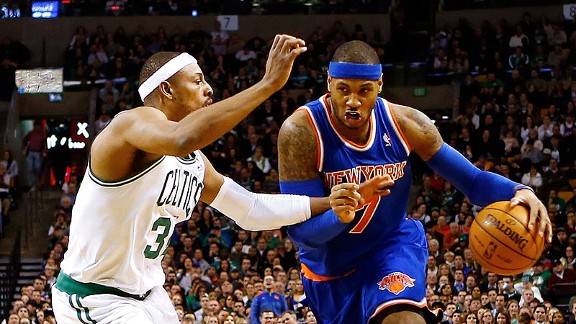 Jared Wickerham/Getty ImagesPaul Pierce applies defense to Carmelo Anthony on Tuesday night at TD Garden.
BOSTON -- Rapid reaction after the New York Knicks defeated the Boston Celtics 100-85 on Tuesday night at TD Garden:


THE NITTY GRITTY
J.R. Smith
poured in a game-high 32 points on 13-of-24 shooting (hitting just one 3-pointer as part of his outburst), while
Carmelo Anthony
overcame 10-of-30 shooting to add 29 points to pace a Knicks offense that became the third straight team to put up triple figures against Boston.
Jeff Green
scored a team-high 19 points to go along with 10 rebounds and 6 assists in 39 minutes while starting for
Kevin Garnett
(ankle inflammation).
Paul Pierce
added 16 points, 6 rebounds and 6 assists, while
Jordan Crawford
added 14 points while starting in place of
Courtney Lee
(ankle sprain).
TURNING POINT
The game was tied little more than four minutes into the second quarter, but the Knicks embarked on a 14-0 run that featured a pair of 3-pointers from
Steve Novak
, the second of which had the visitors out front 49-35. Boston went nearly four full minutes without points, but only missed three shots in the stretch (turning the ball over three times, leading to seven points for the Knicks). The lead never dipped to single digits in the first half and was still at 14 at the intermission (58-44). The Celtics trimmed the lead as low as seven with a little charge early in the third quarter, but Smith's triple to end the frame had New York out front 84-69.
SMALL LINEUP, BIG PROBLEMS FOR C'S
The Celtics went small trying to keep their most talented players on the floor, but it bit them on the glass. The Knicks piled up 27 second-chance points behind 15 offensive rebounds. Surprisingly, Doc Rivers didn't give either
Shavlik Randolph
or DJ White a look up front for much of the game. During pregame, Rivers had noted, "Shav and DJ, one or both will play. And maybe we'll find something out with one of those two guys going into the playoffs that we didn't know. So you always have to try to find a silver lining and maybe that would be it." Randolph played the final five minutes, grabbing three boards.
TURNOVERS PLAGUE BOSTON AGAIN
A Celtics team that has been plagued by sloppy ball-handling the last few games gave the ball away 20 times on Tuesday night. The Knicks parlayed that into a mere 15 points, but those lost opportunities -- combined with all the offensive rebounds -- led to the Knicks shooting 21 more shots than Boston on this night.
WHAT IT MEANS
If these last two games are any indication of what it's going to be like without Garnett for the next two weeks, buckle up, it's going to get bumpy. The Celtics visit Cleveland on Wednesday night before returning home to host the Hawks on Friday. An Easter rematch with the Knicks looms on Sunday in New York.
March, 26, 2013
3/26/13
6:29
PM ET
BOSTON --
Boston Celtics
guard
Courtney Lee
(sprained left ankle) will sit out his second consecutive game and miss Tuesday's visit from the
New York Knicks
.
Jordan Crawford
draws the spot start for Boston, allowing the Celtics to keep
Jason Terry
in his preferred bench role.
Celtics coach Doc Rivers said he wasn't sure if Lee, who injured the ankle on Friday in Dallas, would be healthy enough to get back on the floor by Wednesday's game in Cleveland. The Celtics are also without
Kevin Garnett
, who is expected to miss two weeks while battling inflammation in his left ankle. Boston has already lost
Rajon Rondo
,
Jared Sullinger
and
Leandro Barbosa
to season-ending ailments.
Tyson Chandler
is
out for the Knicks
because of a bulging disk in his neck.
"[Lee] just didn't improve much," Rivers said. "You pretty much prepare for everything, just like [Knicks coach Mike Woodson does] over there. They've had the same stuff, so just a lot of injuries right now for us and for them."
As for the decision to start Crawford, Rivers said that Terry lobbied to stay in his bench role.
"No, it was more JET; he really does not like to start," Rivers said. "He likes coming off the bench.
"I talked to JET about it. We started him [in Memphis on Saturday] and you just could see it. He likes being in this role, especially when he knows Courtney will be back and other guys will be back, and he'd rather just stay in his own role."
Is it rare to find a guy who doesn't like the frills of starting?
"It's rare," Rivers said. "Most guys love hearing their name called with the flames and all that stuff going up. But I think he's pretty much over all of that stuff at this point in his career. And he really believes he's better for the team coming off the bench, so it's refreshing. It's really nice."
Rivers is hoping Crawford can provide a spark in a spot start.
"That's why we traded for him," Rivers said of his outburst potential. "When you lose Barbosa, who was pretty much good on nights and on some nights bad, we looked at who can do the same things. I mean, Jordan is the perfect character for that role when you think about him. We laugh, but he is on the All-Scare Team. He scares me and [Woodson]. Every night he scares both coaches."
Speaking of injuries,
Rasheed Wallace
popped into the Celtics' trainer's room to visit with old friends before Tuesday's game. Wallace is sidelined after undergoing surgery to repair a fractured bone in his left foot.
March, 26, 2013
3/26/13
12:00
PM ET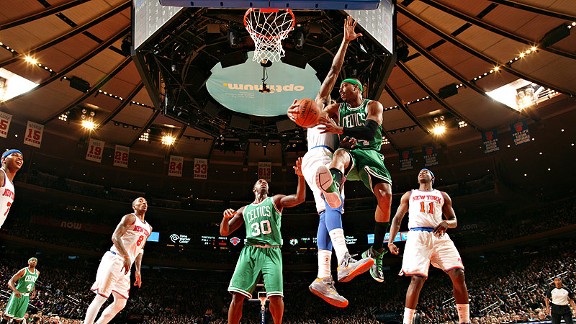 Nathaniel S. Butler/Getty ImagesPaul Pierce encounters traffic around the basket against the Knicks.
The Boston Celtics (36-33, 24-10 home) host the New York Knicks (42-26, 18-16 road) on Tuesday night at TD Garden (7 p.m., TNT). Here's what to watch for:


*
PASSING THE TORCH?
: While the Atlantic Division title is far from a priority for the Celtics, the five-time defending champs won't be thrilled to hand over their crown. Even with two head-to-head matchups remaining this week to close out the regular-season series, New York owns a rather insurmountable 6½-game lead over Boston (and the bigger question is whether the Knicks can fend off the Nets, who are 2 games back). Even still, there's plenty of pride on the line Tuesday night, especially for two teams that might cross paths in the postseason. "Being that this is a team you may face in the playoffs, you get a chance to beat them a couple more times, it really takes away a team's confidence going into the playoffs. So that's got to be a little extra motivation," said captain Paul Pierce.
*
SYNERGY SNAPSHOT
: The Knicks rank sixth in the league, offensively, averaging 0.963 points per play, according to Synergy Sports data. Of all players with at least 350 offensive plays this year, New York has two of the top three spots with Steve Novak (1.184 points per play) and Tyson Chandler (1.155 ppp). Carmelo Anthony doesn't show up until 57th on that list (1.002 ppp) but it's no secret what he can do on the offensive end. Defensively, the Knicks rank 19th allowing 0.938 points per play. Not surprisingly with Chandler in the middle, the Knicks rank first in post defense (0.748 ppp), but teams have feasted on shoddy perimeter defense from the likes of JR Smith (0.926 ppp, 22nd percentile), Raymond Felton (0.965, 12th percentile), and Jason Kidd (0.94 ppp, 18th percentile).
*
POINT GUARDS VS. NO POINT GUARDS
: The Knicks are overflowing with ball-handlers, leaning on a Felton-Pablo Prigioni starting backcourt (with Jason Kidd in reserve). Multiple ball-handlers will serve New York well against Boston, potentially negating the defensive pressure of Avery Bradley. Quipped Celtics coach Doc Rivers: "The one thing I can guarantee is that we're going to use no point guards. Because we don't have one. It's going to be our guards versus their point guards. But it's been a good mix for them when they've done it." Courtney Lee's ankle injury (he sat out Saturday's game in Memphis) could leave Boston thin.
*
PLAYING WITH CONFIDENCE
: The Celtics are mired in a four-game losing streak and their confidence might be shaken a bit. Said Pierce: "I think [the team confidence has] kind of [been] up and down. I think really discouraged, you see the look on guys' faces, and I think that has something to do with the injuries. When Kevin went down and Courtney Lee going down, sometimes it just wears on you, mentally, because that's pretty much how the season's been going for us. It seems like we can't catch a break with the injury bug. But sometimes, some way, somehow, we've got to pick ourselves back up. It's been kind of devastating with the injuries so far, but we've got to find a way to persevere and fight through it."