Boston Celtics:

2013Game71
March, 27, 2013
Mar 27
10:57
PM ET
So amped from hitting the game-winning shot that capped the
Boston Celtics
' double-digit rally,
Jeff Green
walked right past the man who potentially saved his life while leaving the court following Boston's heart-stopping 93-92 triumph over the
Cleveland Cavaliers
on Wednesday night at Quicken Loans Arena.
Comcast SportsNetJeff Green shares a moment with heart surgeon Dr. Lars Svensson in Cleveland.
Green quickly backtracked to share a moment with Dr. Lars Svensson of the Cleveland Clinic, who just 14 months ago repaired an aortic aneurysm that sacked Green's entire 2011-12 season and left his NBA future uncertain.
How appropriate, then, that as the 26-year-old Green starts to show signs of blossoming to his full potential, he delivered a buzzer-beating layup that helped Boston overcome as much as a 14-point deficit and snap a five-game losing streak, all in front of the man who gave him the chance to resume his basketball career.
"I'm just blessed and thankful, man, to have [Dr. Svensson]," Green told reporters in Cleveland. "Just thankful that he was here to see it."
Later, Green added, "That was for him, that was for Dr. Svensson."
Green said he knew Dr. Svensson was in attendance, just as he had been for Boston's first visit to Cleveland in January. But even Green seemed touched by the moment, producing the winner just four miles from where he underwent a life-altering procedure.
Green scored 21 points on 7-of-18 shooting to go along with 7 rebounds and 5 assists over 41:26. Playing some of his most inspired ball this season in spot starts for
Kevin Garnett
, Green again came up big with a chance to shine in Cleveland.
March, 27, 2013
Mar 27
9:38
PM ET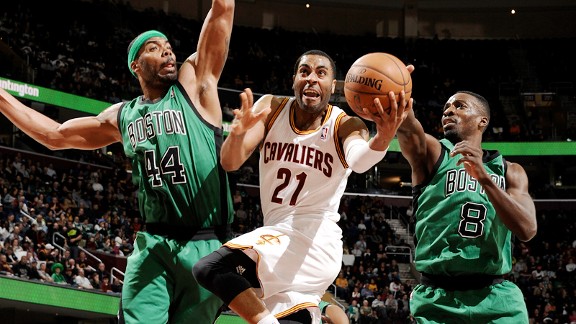 David Liam Kyle/Getty ImagesThe Celtics needed a big rally to prevail in Cleveland on Wednesday night.
Rapid reaction after the
Boston Celtics
defeated the
Cleveland Cavaliers
93-92 on Wednesday night at Quicken Loans Arena:


THE NITTY GRITTY
Jeff Green
scored 21 points and converted a layup at the buzzer as the Celtics rallied from 14 down in the second half to steal a win in Cleveland and snap their five-game losing streak.
Brandon Bass
scored a season-high 22 points on 8-of-14 shooting, while
Paul Pierce
finished with 19 points, 10 rebounds and 8 assists (helping to negate seven careless turnovers).
Jordan Crawford
added 12 points off the bench, providing a second-half spark to aid the comeback effort.
Wayne Ellington
scored a team-high 16 points on 7-of-16 shooting for the Cavaliers, who put six players in double figures, including CJ Miles and
Marreese Speights
with 13 points apiece off the bench.
TURNING POINT
The Celtics were down 10 with less than six minutes to go, but an 11-2 run that culminated with an old-fashioned three-point play by Green had the Celtics within a point at 90-89. Boston missed two chances to pull ahead -- Green getting mugged near the basket with 55 ticks to go, which infuriated the Celtics' sideline -- and Miles made a pair of free throws at the other end to push the lead to three. Unfazed, Pierce hit a jumper in the lane and Boston got a defensive stop giving them a chance to pull ahead with 9.2 seconds to play. The first opportunity got knocked out of bounds, but a review of the clock gave timeout-less Boston a chance to draw up another play with 2.1 seconds to go and Green attacked through traffic for the win.
12 UP, 12 DOWN
Despite leading by as much as 12 in the first half, Boston soon found itself down 12 shortly after the intermission. Jordan Crawford provided a late third-quarter spark as Boston made it a one-possession game, but Cleveland's first three makes of the fourth quarter were all from beyond the 3-point stripe and back-to-back buckets by Speights had the Cavaliers up 86-72 with 8:08 to play. The Celtics wouldn't roll over, however.
WHAT IT MEANS
While a team with championship aspirations shouldn't get too hyped about winning against a Cleveland team playing without its three best players, this was a much-needed victory for Boston -- and the way it played out should do wonders for a Celtics team in need of a confidence jolt. How appropriate that the winner was delivered by Green, who had heart surgery in Cleveland 14 months ago and had his surgeon sitting courtside (stopping on his way back to the locker room to chat him up). The Celtics get a bonus as the
Milwaukee Bucks
, losers of four straight after falling in Philadelphia on Wednesday, are now 2½ games back in the race to avoid the eighth seed in the Eastern Conference. Boston is off Thursday before hosting the Hawks on Friday, then it's a visit to the Knicks on Easter Sunday.
March, 27, 2013
Mar 27
7:09
PM ET
The Celtics will trot out another new starting 5 on Wednesday night as Chris Wilcox joins the first unit alongside Avery Bradley, Paul Pierce, Jeff Green, and Brandon Bass.

Boston is playing without both guard Courtney Lee (sprained ankle) and Kevin Garnett (ankle inflammation). On Tuesday against the Knicks, Boston went with Jordan Crawford in Lee's starting role, but now in Cleveland the Celtics will go big with Wilcox at center and Green shuffling to a swingman role.

The Celtics have lost five straight and owns a 1½-game lead over Milwaukee at the bottom of the Eastern Conference playoff ladder.

March, 27, 2013
Mar 27
12:00
PM ET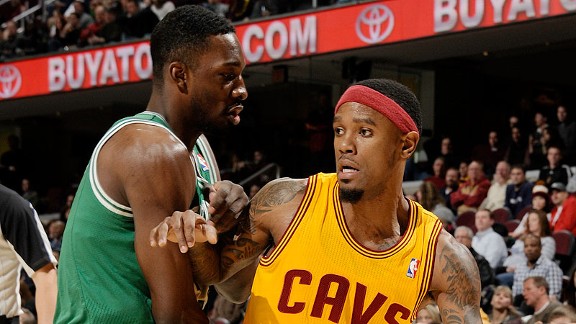 David Liam Kyle/NBAE/Getty ImagesJeff Green and the Celtics will look to stop a five-game skid in Cleveland on Wednesday.
The
Boston Celtics
(36-34, 12-23 away) visit the
Cleveland Cavaliers
(22-47, 13-21 home) on Wednesday night at Quicken Loans Arena. Here's what to watch for:


*
BATTLE OF ATTRITION
: You could cobble together a pretty solid team comprised of players that
won't
be on the floor Wednesday night. Celtics coach Doc Rivers sounded pessimistic when asked if
Courtney Lee
(ankle) would be available, while
Kevin Garnett
(ankle) is on the shelf for two weeks (this on top of previous season-ending injuries to
Rajon Rondo
,
Jared Sullinger
, and
Leandro Barbosa
). For Cleveland, neither
Kyrie Irving
(shoulder) nor
Dion Waiters
(knee) will be in uniform (this after losing
Anderson Varejao
earlier in the year). The Cavaliers watched the Heat rally from 27 down to prolong their winning streak last week, then Cleveland got its doors blown off in Houston while losing by 38 to the Rockets.
*
SYNERGY SNAPSHOT
: The Cavaliers rank 19th in the league, offensively, averaging 0.904 points per play, according to Synergy Sports data. Irving and Waiters have combined for nearly 30 percent of the team's total offensive plays this season, which leaves
Tristan Thompson
(0.921 ppp, 59th percentile) and
Alonzo Gee
(0.866 ppp, 40th percentile) as the focal points of the offense without them. A backcourt of
Shaun Livingston
and
Wayne Ellington
(combined 27 points on 11-of-23 shooting) shouldered the offensive load last time out in Houston. Defensively, the Cavaliers rank 27th while allowing 0.965 points per play. Thompson has held his own (0.842 ppp, 61st percentile), but teams have feasted on Gee (0.968 ppp, 10th percentile) and
Tyler Zeller
(0.975 ppp, 9th percentile).
*
BACK-TO-BACKS IN FOCUS
: The Celtics are 9-9 on the second night of back-to-backs this season, including a 5-9 mark on the road. They did upend the Cavaliers on the tail end of a back-to-back on Dec. 19, but that was in Boston. This is the 19th back-to-back of the season and the Celtics have three more of these remaining on the schedule over the final 12 games.
*
THE ROAD TO RECOVERY
: The Celtics haven't just dropped five in a row overall, they've lost their last five on the road as well. Boston desperately needs to get on track, but doing so away from TD Garden would be a bit of a bonus. Even with all their injuries, the Celtics need to be ramping up over the final three weeks of the regular season, instead they are regressing at an alarming rate. This is a winnable game, particularly with Irving nowhere in sight, and Boston simply needs to get back to the basics: Playing consistent defense and valuing the ball. Everything else should fall into place from there.