Boston Celtics:

2013Game72
March, 30, 2013
Mar 30
12:01
AM ET
BOSTON -- Few would have blamed
Shavlik Randolph
if he was the last one out of the Celtics' locker room on Friday night. After flirting with his first career double-double -- posting nine points and a career-high 13 rebounds over 22 minutes during a 118-107 triumph over the
Atlanta Hawks
-- Randolph could have basked in the glow of maybe his finest NBA performance with breathless reporters ready to document his high-energy outing.
Instead he was the first one gone.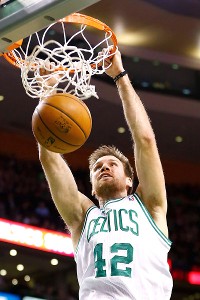 Jared Wickerham/Getty ImagesShavlik Randolph goes up for a dunk Friday night against the Hawks.
You see, the Duke game was on. And Celtics coach Doc Rivers and captain
Paul Pierce
had the media's attention, so the 29-year-old Randolph slipped out of the locker room practically unfettered, even if he didn't quite make it out of the arena without a couple questions from reporters left a slightly different sort of breathless after chasing him to the elevators.
So what did Friday's performance mean to a player who had been out of NBA employment for three seasons before the Celtics swooped him up from the Chinese Basketball Association?
"It meant one more win for us," said a selfless Randolph. "It wouldn't have meant anything if we had lost. The most important stat for me is not rebounding -- it is, what is my plus-minus? When I go in the game, is our team plus or minus, as far as overall points, and I can care less if I have a rebound, a point. Obviously, those are things I'm going to need to do to add value to the team and help the team do that, but the Celtics brought me here to come in and give their rotation guys some rest and be able to come in and buy minutes. When I'm out there, hopefully the team can still play well and have a big man out there."
For the record, Randolph was plus-12 for the night, second only to Pierce's plus-28. Over the last four games that
Kevin Garnett
has been sidelined with ankle inflammation, Randolph is plus-19 when he's on the floor (and Boston is minus-26 when he's not). It's safe to say he's accomplishing his primary goal.
March, 29, 2013
Mar 29
11:35
PM ET
By
Greg Payne
| ESPNBoston.com
BOSTON --
Boston Celtics
point guard
Rajon Rondo
-- lost for the season after undergoing surgery to repair an ACL tear in his right knee -- was back in Boston on Friday and got as close to the action as he possibly could, sitting on the Celtics' bench between the coaching staff and his teammates for the entirety of Boston's 118-107 victory over the
Atlanta Hawks
.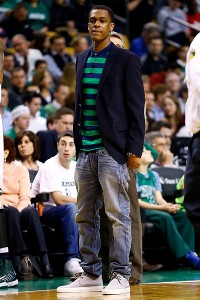 Jared Wickerham/Getty ImagesRajon Rondo on the sideline for the Celtics on Friday night.
Rondo suffered the injury in a Jan. 25 overtime loss to the same Hawks team and underwent surgery midway through February. Rondo sought to evade reporters as he exited the team's locker room after the game and, when asked by ESPN Boston for a status update, he offered a brief: "I'm good."
Pressed on whether he'd be available for the start of training camp for the 2013-2014 season, Rondo said: "I don't have any set date [for a return]. I'm taking it one day at a time."
He might not be able to make an impact on the court at this juncture, but Rondo's presence alone was enough to make something of a difference on Boston's sideline on Friday night.
"It was nice [having Rondo on the bench]," coach Doc Rivers said. "He told us today he was coming in, and it was good to have him back around. He's moving OK. You know, it's funny, I'm looking at it knowing he's nowhere near [playing again], but that's the first thing you look at. Having gone through that experience, we sat and talked about a lot of the stuff you have to go through. So it brought back these horrendous memories, actually. But he's -- from his doctors -- they say he's doing tremendous."
Added
Paul Pierce
: "It's good to get [Rondo] around the guys, to see some of his new teammates. Who knows, a lot of these guys might be here for him next year. It's good for him to get acquainted with them. He's done his surgery, he seems to be in good spirits, so it's good to see him."
March, 29, 2013
Mar 29
9:53
PM ET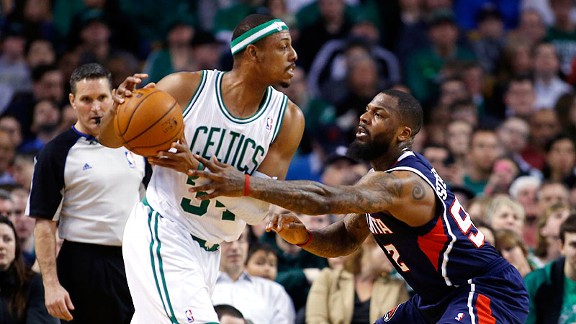 Greg M. Cooper/USA TODAY SportsCeltics captain Paul Pierce handles the ball against the Hawks on Friday night.
BOSTON -- Rapid reaction after the
Boston Celtics
defeated the
Atlanta Hawks
, 118-107, on Friday night at TD Garden:


THE NITTY GRITTY
Jeff Green
followed up his buzzer-beater heroics in Cleveland by scoring a team-high 27 points,
Jason Terry
erupted for 24 points while connecting on five 3-pointers, and
Paul Pierce
posted his third triple-double of the season (and 10th of his career) with 20 points, 10 rebounds and 10 assists to lead one of Boston's best offensive outings of the season. Oh, and
Shavlik Randolph
came off the bench to post nine points and a career-high 13 rebounds over 22 minutes. The
Al Horford
-less Hawks got a team-high 19 points from reserve
Mike Scott
, while
Josh Smith
added 18 points but labored through 7-of-23 shooting.
TURNING POINT
Despite the sustained offensive attack, the Celtics were only up six after a
Kyle Korver
layup with 7:33 to play. A little 7-0 run gave Boston, which had led by as much as 15, some much-needed breathing room.
Brandon Bass
hit a jumper,
Avery Bradley
's steal led to a Terry triple, and a Green jumper had the Celtics out front, 107-94, with 5:08 to play.
SHAV FREED
Randolph's recent play
screamed for more floor time
and, rewarded with extended action, he shined around the basket. Seven of Randolph's game-high 13 boards were on the offensive end, and he was plus-12 on the night. He finished with 4-of-6 shooting, but a missed freebie cost him his first career double-double.
FIRST-HALF OUTBURST
The Celtics erupted for 66 points in the first half, shooting 56.8 percent from the floor and knocking down eight triples (half of those coming from Terry, who had a team-high 16 points before the intermission). It was the Celtics' biggest first-half output of the season (they had scored 59 points in the first half twice this season) and the largest output of any half (topping the 63 points posted in the second half against Toronto on March 13).
LEE RETURNS TO ACTION
After missing three games due to a sprained left ankle,
Courtney Lee
returned in a reserve role against the Hawks. He subbed in for Pierce with 2:46 to play in the first quarter and quickly registered a block. Lee played just six minutes, chipping in two points, a rebound and a block.
WHAT IT MEANS
The Celtics have won two in a row to pull within a game-and-a-half of the Hawks in the race for the sixth seed in the Eastern Conference. A ton of positives to pluck from this game for Boston, though second-chance opportunities allowed the Hawks to hang around. The Celtics now head out on a brief two-game road trip, a back-to-back with visits to the Knicks (Sunday) and Timberwolves (Monday).
March, 29, 2013
Mar 29
9:29
PM ET
Celtics point guard
Rajon Rondo
, who recently returned to the area after spending the first few weeks of his rehab from ACL surgery in Florida, visited the Garden on Friday night and sat on the bench with his teammates for the first time since the injury: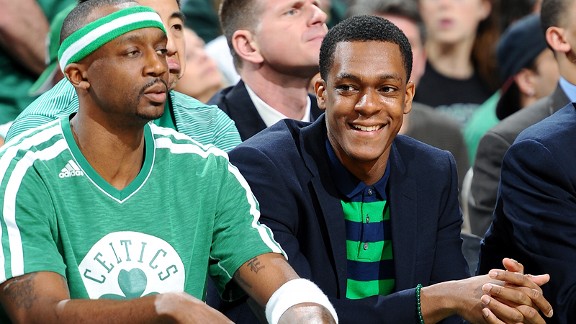 Brian Babineau/NBAE/Getty ImagesRajon Rondo sits on the bench alongside Jason Terry during Friday's game.
March, 29, 2013
Mar 29
7:35
PM ET
BOSTON --
Boston Celtics
guard
Courtney Lee
will return to action Friday night against the
Atlanta Hawks
after missing three games due to a sprained left ankle, but he'll do so in a reserve role.
"I'm not going to start him, but I'm going to play him," Rivers said. "I'm just going to see the minutes and see how he feels."
Added Rivers: "He looked OK today in shootaround, but he didn't have a practice to fall back on, so who knows and we'll just see."
The Celtics will go with the same starting lineup from Wednesday's win in Cleveland with
Chris Wilcox
alongside
Avery Bradley
,
Paul Pierce
,
Jeff Green
and
Brandon Bass
.
March, 29, 2013
Mar 29
11:36
AM ET
Celtics guard Courtney Lee participated in Boston's morning shootaround on Friday and is a game-time decision to play this evening against the Hawks, according to the team.

Lee sprained his left ankle last Friday night in Dallas and has been sidelined since, missing the team's last three games. If healthy enough to return, he could add some stability to a starting lineup that's been in flux with both Lee and Kevin Garnett sidelined by ankle injuries.

March, 29, 2013
Mar 29
11:00
AM ET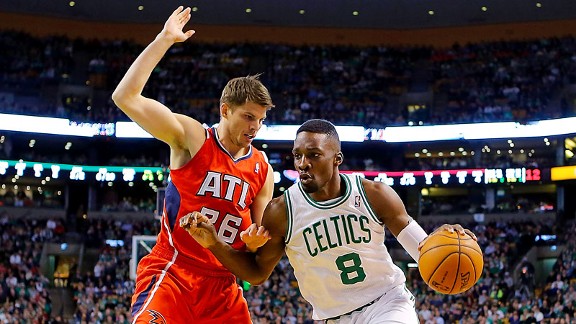 Jared Wickerham/Getty ImagesJeff Green and the Celtics will look to get past the Hawks on Friday.
The
Boston Celtics
(37-34, 24-11 home) host the
Atlanta Hawks
(40-32, 18-19 away) on Friday night at TD Garden (7:30 p.m., CSN). Here's what to watch for:


*
JOCKEYING FOR POSITION
: The Hawks own a 2½-game lead over Boston entering Friday's game and their remaining schedule will make it tough for the injury-riddled Celtics to make a push for the No. 6 seed. Of Atlanta's final nine games, six are against teams under .500 and five of those are at home. A Celtics win Friday wouldn't just pull them a game closer, it would give them the head-to-head tiebreaker as the Celtics enter with a 2-1 mark against the Hawks (the only loss being the double overtime debacle in Atlanta where
Rajon Rondo
tore his ACL in late January).
*
SYNERGY SNAPSHOT
: The Hawks rank ninth in the league, offensively, averaging 0.944 points per play, according to Synergy Sports data. The Hawks are an excellent team on the run, ranking third in the league in fastbreak points (17.6 per game) and fifth in transition offense (1.181 points per play). As usual, the Celtics will have to put a heavy focus on
Kyle Korver
, who averages 1.151 points per play, ranking third among all players with at least 350 offensive possessions this season (only
Steve Novak
and
Tyson Chandler
of the
New York Knicks
have been more efficient). Defensively, the Hawks rank 12th at 0.915 points per play. The frontcourt tandem of
Al Horford
and
Josh Smith
has posted solid individual defensive numbers, but opponents attack guard
Jeff Teague
(0.929 ppp, 21st percentile).
*
BACK TO SMALL BALL?
The Celtics went big in Cleveland, moving
Chris Wilcox
into the starting lineup in a frontcourt that included
Jeff Green
and
Brandon Bass
. Boston might be inclined to go small again -- particularly if
Courtney Lee
's ankle is healthy enough to get him back on the floor. The Hawks rank 26th in total rebound percentage and don't attack the offensive glass very hard (27th in offensive rebound rate). Then again, Boston went small against the Knicks, who were 20th in the league in offensive rebound rate, and paid the price on Tuesday at TD Garden.
Shavlik Randolph
deserves a longer look
, even if it's just in one-big-man lineups, given his activity recently on the glass.
*
GET A LEAD, KEEP A LEAD
: The Hawks have made a habit of rallying against Boston this season. Atlanta was down 27 to the visiting Celtics before coming back to win in double overtime back on Jan. 25. Earlier this month in Boston, the Hawks overcame a 12-point, fourth-quarter deficit to force an extra session before the Celtics emerged. Boston has been playing from behind a lot lately and, battling injuries, would benefit from not having to make a charge from yet another double-digit deficit (as the Celtics did in rallying from 14 down in Cleveland on Wednesday).