Boston Celtics:

2013Game75
April, 4, 2013
4/04/13
2:22
AM ET
With Kevin Garnett out, there's no security blanket for Brandon Bass and
that's brought the best out of him
over the last two weeks:
A sample of the featured story:
*
BASS GROWS INTO ROLE
: Over the past nine games, Bass is allowing a mere 0.684 points per play, according to Synergy data. To put that in perspective, that's an Avery Bradley-caliber number (for the season, Bradley has allowed 0.695 points per play, best in the NBA among those with at least 400 plays defended). Bass already was eighth on that list at 0.761 points per play, but the fact that he's elevated his defensive game without Garnett is unexpected. "Maybe the blessing is, without Kevin, we've removed the security blanket," Rivers said. "And Brandon, he has to be the talker now on defense.
April, 4, 2013
4/04/13
12:40
AM ET
BOSTON -- With a combination of their win Wednesday night over visiting Detroit and the
Philadelphia 76ers
' loss in Charlotte, the
Boston Celtics
punched their postseason ticket. Go ahead and keep that champagne on ice, however, as even coach Doc Rivers was unaware his team ticked that check box on its season to-do list.
"It's funny, I didn't know it," Rivers said. "But my coaches did. When I was walking [into the locker room], I think [two assistant coaches] both grabbed me and said, 'Hey, we made the playoffs!'"
Not that the accomplishment was ever really in jeopardy. Clinching seemed inevitable despite Boston's up-and-down play this season.
"There was never any doubt in my mind, or anybody in the locker room, or in the coaching staff, that we wouldn't be in the playoffs,"
Jason Terry
said. "It's good to be solidified, but we've still got some work to do. Good practice time coming up here for the next week and a half, and then it's on. The show begins."
The Celtics still are jockeying for position on the Eastern Conference playoff ladder. With Milwaukee falling to visiting Minnesota on Wednesday, Boston is 2½ games up on the eighth-seeded Bucks. Both Chicago (2-game lead on Boston) and Atlanta (2½-game lead) potentially are catchable, but those teams have favorable end-of-the-season schedules that should help them fend off the Celtics.
Even Terry admitted it's looking like a first-round matchup with the Knicks or Pacers, whoever emerges in the No. 2 spot (those teams are currently separated by a half game).
"Where do you want to look at: New York or Indiana? There's only two. That's where it's at," Terry said. Asked if that meant he was confident the Celtics wouldn't slide to the eighth spot (and a first-round matchup with the top-seeded Heat), Terry added, "I don't see it. If somebody else does, that's on them."
April, 4, 2013
4/04/13
12:15
AM ET
BOSTON --
Celtics
captain
Paul Pierce
returned to Boston's starting lineup Wednesday night after missing one game for the birth of his third child, Prince Paul Pierce.
Pierce had been excused from the team for personal reasons and did not play in Monday's game in Minnesota. Instead he returned to Boston after Sunday's loss in New York and, on Tuesday at 8:21 p.m., wife Julie, and the couple's two daughters, welcomed the baby boy.
Pierce revealed the new addition as part of a postgame interview with Boston sports radio WEEI.
Back on the court on Wednesday night, Pierce finished with 17 points, five assists and three rebounds. He struggled with his shot -- 5-of-14 overall, while missing five of the six 3-pointers he attempted -- but was a team-best plus-8 in plus/minus as the Celtics topped the Pistons 98-93 at TD Garden.
Pierce has been nursing a sore right ankle that likely would have kept him out of Monday's game in Minnesota anyways (Celtics coach Doc Rivers had said Sunday he planned to rest Pierce that day). Pierce suggested he might sit out practice on Thursday in order to get some additional rest.
And, as every new dad knows, you take your rest where you can get it with a newborn.
April, 4, 2013
4/04/13
12:05
AM ET
By
Greg Payne
| ESPNBoston.com
BOSTON -- Even if it may look like it at times,
Jeff Green
swears he isn't trying to take over games on the offensive end.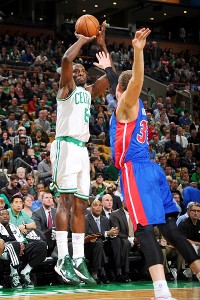 Brian Babineau/NBAE/GettyJeff Green puts up a shot on Wednesday night against the Pistons.
Green maintained that stance following the Celtics' 98-93 victory over the
Detroit Pistons
on Wednesday, a tilt in which he scored a game-high 34 points on 13-of-19 shooting from the field, 3-of-4 from 3-point nation, and 5-of-7 from the free throw line. He stuck to that story even after he scored 13 fourth-quarter points, including 11 straight with under six minutes to play and the Pistons rallying from an 18-point deficit.
And, well, there might be some truth to Green's belief. His scoring bursts appear different than those of, say,
Paul Pierce
. Whereas Pierce might still be more likely to demand the ball and welcome an isolation situation, Green appears more opportunistic in his offensive dominance. His final seven points on Wednesday consisted of a putback dunk, a jumper off an assist from
Jason Terry
, and a left corner 3-point dagger, courtesy of a driving Pierce.
Rather than demand the ball and allow the shot clock to wind down, or clear out the side for an offensive move of his choice, Green seems more content to let the action develop around him and supply the offense when he finds himself with an opening.
"I don't try to take over games," said Green, who added six rebounds, an assist and four blocks. "That's why we've got [Pierce]. I'm playing off of him. We're looking for each other, we're being aggressive, and if it's in my hands, I'm going to try to make a play. If it's in his hands, he's going to make a play. So, we've just got to play off each other."
April, 3, 2013
4/03/13
10:11
PM ET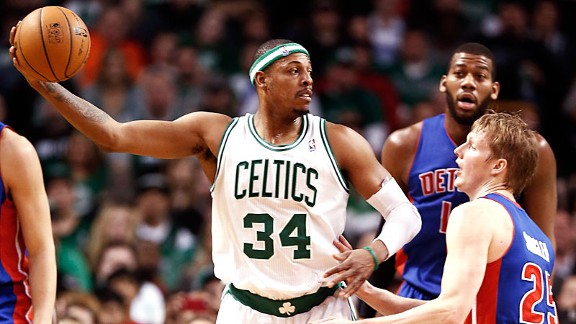 Winslow Townson/USA TODAY SportsPaul Pierce returned to action on Wednesday night against the Pistons.
BOSTON -- Rapid reaction after the
Boston Celtics
defeated the
Detroit Pistons
98-93 on Wednesday night at TD Garden:


THE NITTY GRITTY
Celtics forward
Jeff Green
scored a game-high 34 points on 13-of-19 shooting to go along with 6 rebounds, 4 blocks, an assist and a steal, while
Brandon Bass
added 17 points on 6-of-8 shooting with a team-high seven rebounds and three blocks.
Paul Pierce
, back after a one-game absence due to personal reasons, chipped in 17 points despite 5-of-14 shooting (missing five of six attempts beyond the 3-point arc). For Detroit,
Greg Monroe
hauled in 17 rebounds and utilized an endless stream of second-chance opportunities to post a team-high 24 points, while
Rodney Stuckey
lived at the free throw line (11-of-15 at the stripe) and added 22 points after
Jose Calderon
was a late scratch.
Charlie Villanueva
might have been Boston's best weapon: He missed 15 of the 17 shots he put up, including some key late-game 3-pointers to help the Celtics escape.
TURNING POINT
The Celtics led by as many as 18 with 5:37 to play in the third quarter, but the Pistons embarked on an 18-4 run to knock Boston's lead to 74-70 with 11:16 to play in the fourth frame. Boston simply couldn't put Detroit away and the Pistons surged within two with 1:43 to play. Villanueva missed a triple that would have put Detroit out front with 64 seconds to go and Green answered with a 3-pointer of his own for a 96-91 lead with 45 seconds to play, helping Boston escape with the victory.
DOWNRIGHT OFFENSIVE
The Pistons hauled in a staggering 25 offensive rebounds -- nearly matching their total of defensive rebounds (27) -- and turned them into 26 second-chance points. Monroe had nine offensive rebounds himself, while
Andre Drummond
grabbed seven more. The Celtics had four offensive rebounds as a team (for seven second-chance points).
WHAT IT MEANS
The Celtics (39-36) snapped a two-game losing streak and, coupled with Philadelphia's loss to Charlotte, clinched a postseason berth. Their next goal should be locking up the seventh seed and Boston has three more games on this homestand, including a pair of sub-.500 opponents on deck in Cleveland (Friday) and Washington (Sunday). This extended homestand also affords Boston the opportunity to get back on the practice court, which it is expected to do on Thursday.
April, 3, 2013
4/03/13
7:19
PM ET
BOSTON --
Boston Celtics
captain
Paul Pierce
, who missed Monday's game in Minnesota due to personal reasons, is back in the starting lineup for Wednesday's visit from the
Detroit Pistons
.
Celtics coach Doc Rivers wouldn't elaborate on Pierce's absence other than to reiterate that it was for a personal matter. He had said previously it wasn't for any negative issue, including a sore right ankle that he iced in the fourth quarter of Sunday's loss to the
New York Knicks
.
Boston will stay big with its starting lineup, running Pierce alongside
Avery Bradley
,
Jeff Green
,
Brandon Bass
, and
Chris Wilcox
.
Rivers didn't have much of an update on
Kevin Garnett
, who is in the midst of a two-week break to allow left ankle inflammation to subside.
"Honestly, I haven't asked one question about [Garnett's return]," said Rivers. "I don't even know when two weeks is. Whenever it is, it's probably coming up, and he'll play."
Rivers said he wasn't overly worried about Garnett shaking the rust from his absence.
"We have a lot of practice days coming up and Kevin's been working out," said Rivers. "He hasn't lost all his conditioning, but you do lose some when you don't play."
April, 3, 2013
4/03/13
7:00
PM ET
BOSTON --
Boston Celtics
guard
Rajon Rondo
, out for the season with a torn right ACL, took the court for some light shooting before his teammates hosted the
Detroit Pistons
on Wednesday night at TD Garden.
Rondo took some free throws and performed light shooting while wearing a bulky brace. After surprising the team by dropping in for the first time during Friday's win over the Hawks, Rondo appeared at both shootaround and Wednesday's game.
"It was great just having him around [at Wednesday's shootaround]," said Celtics coach Doc Rivers. "He put his brace on and he just watched shootaround, but then he walked out -- or limped out -- on the floor and did whatever he did. But it's just good just having him around. It's good for him, too, probably."
Playfully asked if Rondo can dunk yet, Rivers quipped, "Not yet. It's coming. That's next."
Rondo tore his ACL on Jan. 25 in Atlanta. He had surgery in February and spent the initial phase of his rehab at the Florida facility of Dr. James Andrews. Rondo returned to the area last week and has quickly immersed himself in team activities. Celtics president of basketball operations
Danny Ainge
has stressed optimism that Rondo will be ready for the start of training camp later this year.
Hop
HERE
for more on Rondo rejoining the team last week.
April, 3, 2013
4/03/13
1:25
PM ET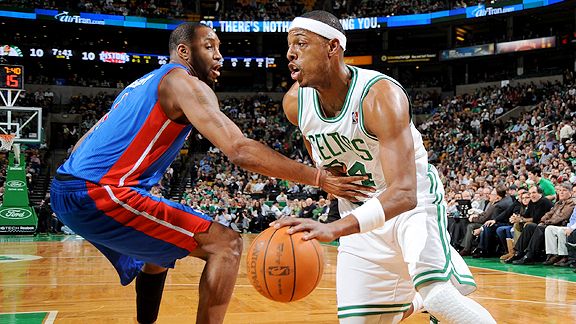 Brian Babineau/NBAE/Getty ImagesPaul Pierce and the Celtics open a four-game homestand against the Pistons on Wednesday.
The Boston Celtics (38-36, 25-11 home) host the Detroit Pistons (25-50, 10-27 away) on Wednesday night at TD Garden (7:30 p.m., CSN). Here's what to watch for:


*
A CHANCE FOR MOMENTUM
: The Celtics have lost seven of their last nine and still haven't clinched a playoff berth with eight games to go in the regular season. That could change in a hurry as Boston opens a four-game homestand that starts with three lottery-bound teams in Detroit, Cleveland (Friday), and Washington (Sunday). Boston's magic number is two and it can clinch a playoff spot with a win Wednesday coupled with a Philadelphia loss. The more pressing issue would seem to be fending off Milwaukee, which is just 1½ games back. The Celtics need to take advantage of their schedule and cement their playoff position, even while waiting for Kevin Garnett to return to the lineup.
*
SYNERGY SNAPSHOT
: Offensively, the Pistons rank 24th in the league averaging 0.894 points per play, according to Synergy Sports data. One thing Detroit does well is utilize the roll man in pick-and-rolls (10th in the league at 1.026 points per play). Boston has struggled with pick-and-roll at times throughout this season and it will be interesting to see how they fare with Jose Calderon dishing to bigs like Greg Monroe and Andre Drummond (both of whom torched Boston the last meeting in Detroit). Defensively, the Pistons also rank 24th allowing 0.952 points per play. They actually defend both isolation (9th in the league) and spot-up shooting well (11th), but their individual numbers are not particularly glossy (Jason Maxiell is the only player that ranks above the 69th percentile among all league players, allowing a team-best 0.802 points per play, which stands in the 78th percentile).
*
EYES ON THE GLASS
: With athletic bigs like Monroe and Drummond, it's no surprise that rebounding will be a key for Boston. The Pistons rank 10th in the NBA in offensive rebound percentage and Boston has really struggled to deny second-chance opportunities without Garnett. The Pistons also rank 14th overall in total rebound rate.
*
WIN THE TURNOVER BATTLE
: The Pistons rank 26th in the league in turnover percentage and have a propensity to give the ball away. What's more, they don't force many giveaways, ranking 25th in opponent turnover percentage. Ball security has to be a focus moving forward and into the postseason.
April, 3, 2013
4/03/13
12:06
PM ET
Celtics captain Paul Pierce did not participate in the team's morning shootaround and is a game-time decision for Wednesday's tilt with the Detroit Pistons.

Pierce tweaked his right ankle in Sunday's loss in New York, but did not accompany the team to Minnesota due to personal reasons. Rivers said that night that he expected Pierce to play against the Pistons.

Kevin Garnett also did not participate in Boston's shootaround and remains on a two-week recovery plan as he recovers from left ankle inflammation.

PODCASTS
Bill Simmons, NBA
Play Podcast Grantland's Bill Simmons discusses the state of the Lakers, Phil Jackson's future, the perception of Rajon Rondo, Doc Rivers' impact on the Clippers and more.
John Farrell, Red Sox
Play Podcast Red Sox manager John Farrell talks about whether he expected his team to make such a turnaround in one season, his relationship with his players, fans' expectations for the squad and more.