Boston Celtics:

2013Game76
April, 6, 2013
4/06/13
10:00
AM ET
BOSTON -- Informed that he had been nominated for the Eastern Conference Player of the Month award for his March exploits,
Jeff Green
pondered the accolade and offered, "I didn't get it, so it doesn't matter."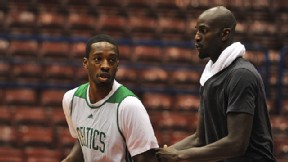 Brian Babineau/NBAE/Getty ImagesJeff Green and Kevin Garnett together for the Celtics.
Informed that teammate
Kevin Garnett
had declared Green had the potential to be one of the best players in the game, that resonated far more with Green.
"He said that? Wow," said Green. "
Michael Jordan
who? I can be up there with him? Wow. I mean, coming from KG, a lot of respect, somebody who I look up to, somebody who I try to follow his footsteps. I've watched him since day one, since I've been here -- his mentality in practice, coming into games, during games, and I'm trying to take that on and put that in my game. If he said something like that, wow. I didn't know he said that. That's pretty big.
"I've got to continue to work. I learn from him. I learn everything from him, I ask him questions, I pick his brain. He's been in the league for a while, so he's been through it all. He's one of my role models, someone I look up to. And, if he said something like that, and I continue to work, it could come true."
April, 6, 2013
4/06/13
1:55
AM ET
Doc Rivers
confirmed the obvious after Friday's loss
to the Cavaliers, but Boston's playoff hopes hinge more on health than seedings:
A preview of the featured story:
*
C'S EYE SEVENTH SEED, AVOIDING HEAT
: Boston Celtics coach Doc Rivers seemed surprised that there would even be any debate about where his team might want to land in the Eastern Conference playoffs seedings. Seventh or eighth? Duh, that's an easy answer. "I know we are in the seventh spot and I know we want to stay out of the eighth spot," said Rivers, confirming for the first time what many have long suspected: The Celtics would prefer to avoid the top-seeded Miami Heat for as long as possible in hopes of using early rounds to rebuild some injury-depleted continuity and restore the team's confidence amid late-season stumbles. "Listen, I'm not that dumb. I'm not the brightest guy, but, come on," said Rivers.
April, 6, 2013
4/06/13
12:30
AM ET
BOSTON -- Asked if this was his finest NBA performance, Celtics big man
Shavlik Randolph
pondered the question for a fleeting moment, then shook his head.
"No, because we lost," he said before departing the Celtics' locker room after Friday's 97-91 loss to the
Cleveland Cavaliers
.
Despite playing only 13 foul-limited minutes, Randolph scored a career-high 16 points on 6-of-9 shooting and added seven rebounds. He was a team-best plus-10 in plus/minus -- his preferred barometer for in-game success -- and clearly impacted the contest despite the whistles that left him disqualified with seven minutes to play in the fourth quarter.
A week after his breakout performance here against the Hawks, Randolph lamented how the final result diminished his individual success. And even all the good he chalked up to his teammates' efforts.
"I was just rolling hard to the basket and guys were finding me, simple as that," said Randolph. "I was getting good passes, putting me in positions where I can finish around the rim. I wasn't really making any tough shots, just my teammates were finding me."
Celtics coach Doc Rivers chuckled while relaying how Randolph's slight hesitation around the basket actually probably helped him draw a couple whistles against over-eager defenders. But he really likes what he's seen from the 29-year-old big man, who is making a strong case to be a rotation-caliber big even when reinforcements arrive.
"He's playing great. Just leave it at that; he's just playing great basketball and we're going to keep playing him," said Rivers.
Even if that means playing through the whistles.
"Just try to keep my composure," Randolph said of getting past foul trouble. "In a game, you're not always going to agree with the calls, that's just the nature of the game. You just try to keep playing. If you foul out, then you try to cheer your teammates on. That's what I tried to do tonight."
The Celtics sorely missed Randolph's size and rebounding abilities when he was off the floor. And he knows that it's his defense and rebounding that will keep him on the court if he can carve out a playoff role with this team.
"Like I said, my job is not to score," said Randolph. "If I'm able to play off [teammates], give some opportunistic baskets, that's a bonus. But my job is to rebound and play defense. ... All I know is I'll be ready, regardless [of any playoff role]."
Read on for more postgame notes:
April, 6, 2013
4/06/13
12:00
AM ET
By
Greg Payne
| ESPNBoston.com
BOSTON -- Celtics guard
Avery Bradley
said the bruised left collarbone he suffered during the fourth quarter of Boston's 97-91 loss to the
Cleveland Cavaliers
on Friday is not related to the shoulder injuries that forced him out of the Celtics' playoff run last season and that he isn't expecting to miss any significant time moving forward.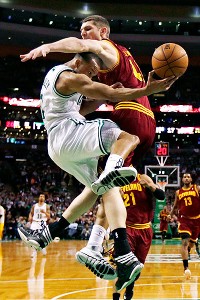 AP Photo/Charles KrupaAvery Bradley encountered traffic on this drive to the hoop.
Bradley absorbed a sharp elbow while trying to defend Cavaliers guard
Kyrie Irving
on a drive to the basket with just over 3½ minutes to play in the fourth quarter. Bradley reached for the sore spot when the play was over and retreated to the locker room with trainer Ed Lacerte not long after.
Bradley returned to the bench before the game was over, but did not return to action.
"[Irving] went to the basket, came down, and elbowed me right on my collarbone. It's just a little swollen," Bradley said, later adding, "It hurts, but I'll be fine. I get injured all the time. I'll be all right."
Upon seeing Bradley reach for his shoulder area, many wondered if he had aggravated one of the shoulder injuries he suffered last season that required surgery and kept him out until January of this year. But Bradley quickly denied any connection to his past shoulder problems.
"No, not at all. Not at all. Just my collarbone," said Bradley, who had ice wrapped on the sore area after the game.
April, 5, 2013
4/05/13
10:00
PM ET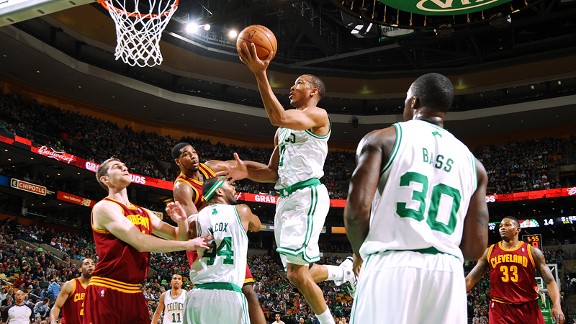 Brian Babineau/NBAE/Getty ImagesCeltics guard Avery Bradley hangs in the air against the Cavaliers.
BOSTON -- Rapid reaction after the
Cleveland Cavaliers
defeated the
Boston Celtics
97-91 on Friday night at TD Garden:


THE NITTY GRITTY
Tristan Thompson
posted a game-high 29 points and 17 rebounds, while
Alonzo Gee
added 16 points and 10 rebounds as the Cavaliers feasted on Boston's injury-depleted frontcourt while grabbing 58 rebounds overall (15 on the offensive glass for 19 second-chance points).
Jeff Green
scored a team-high 23 points on 8-of-13 shooting with nine rebounds and four assists, while
Shavlik Randolph
scored a career-high 16 points in a mere 13 minutes for Boston, which played without both
Paul Pierce
(sore right ankle) and
Kevin Garnett
(left ankle inflammation).
TURNING POINT
Nine days after the Celtics rallied from a 14-point deficit in the fourth quarter to stun the Cavaliers in Cleveland, it looked like we might see a repeat in Boston. The Celtics were down 14 with 9:19 to play when the hosts embarked on a 15-5 burst that trimmed their deficit to 4 after a
Jason Terry
3-pointer with 5:46 to go. Thompson stopped the bleeding, however, with a third-chance dunk and
Wayne Ellington
added a jumper after a Boston turnover to push the lead back to 8. The Celtics never got closer than 4 the rest of the way.
FRIDAY NIGHT SHAV
A week removed from his breakthrough effort against the Hawks, Randolph made the most of foul-limited minutes. Randolph scored a career-high 16 points on 6-of-9 shooting to go along with seven rebounds, but fouled out after only 13 minutes of floor time (it was the first time he picked up six fouls in his career). The Celtics really missed his size.
TERRY TAGGED WITH FLAGRANT
Terry earned a flagrant-1 foul for ramming into
C.J. Miles
in the backcourt during the fourth quarter. Terry didn't appear to make a play for the ball and collided hard with Miles, sending both players sprawling. The timing wasn't ideal, as it aided the Cavs on a 14-3 run that stretched their lead to 82-68 early in the final frame.
BRADLEY INJURY SCARE
Celtics guard
Avery Bradley
retreated to the locker room, escorted by trainer Ed Lacerte, with 3:18 remaining in the game. The obvious worry was his surgically repaired shoulders, but the team announced he simply had a bruised left collarbone. He returned to the bench before the end of the game.
WHAT IT MEANS
The Celtics were unable to build some momentum after Wednesday's win over the Pistons, while the Cavs snapped a 10-game losing streak. The good news for Boston: The Knicks beat Milwaukee, keeping the Celtics 2½ games ahead of the Bucks. Boston has two more games on this four-game homestand with visits from Washington (Sunday) and Brooklyn (Wednesday).
April, 5, 2013
4/05/13
7:20
PM ET
BOSTON -- The
Boston Celtics
will be without both
Paul Pierce
(sore right ankle) and
Kevin Garnett
(left ankle inflammation) when they host the
Cleveland Cavaliers
on Friday night at TD Garden.
Celtics coach Doc Rivers said Pierce should be back by Sunday, while Garnett, who will sit out his eighth consecutive game, could do the same.
"I think [Pierce will] be fine by Sunday; it's just sore, so we're just not playing him," said Rivers. Asked about Garnett's potential to return that same day, he added, "I think most likely, but I don't know that."
Garnett went through skeleton drills with the Celtics during an afternoon walk-through at the Garden. The team shut him down for two weeks in order to allow the inflammation to subside.
"He hasn't done anything on the floor with us. He's done some shooting, and today he ran through the skeleton, and he looked fine," said Rivers. "Again, that's skeleton. No contact or anything like that. He looked good. He looked exactly like Kevin, so I'm thinking he's fine."
The Celtics will start a lineup that features
Avery Bradley
,
Courtney Lee
,
Jeff Green
,
Brandon Bass
, and
Chris Wilcox
.
Backup guard
Terrence Williams
dislocated his right pinky finger in Wednesday's win over the
Detroit Pistons
, but will be available.
"Play? Of course I'm playing," he said. "I don't need my right finger. It hurts. It hurts when I dribble, it hurts when I pass or catch the ball a certain way."
Later he joked: "I'm going to try to play with (my right hand) behind my back. Try to play like
Bob Cousy
."
April, 5, 2013
4/05/13
12:00
PM ET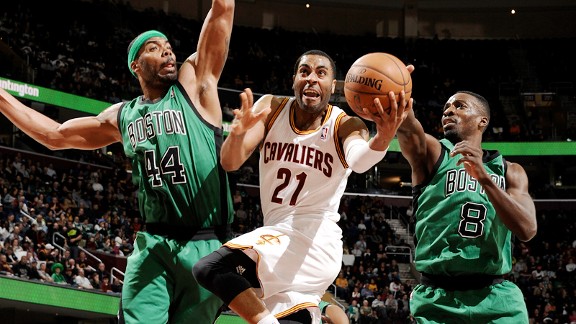 David Liam Kyle/Getty ImagesThe Celtics host the Cavaliers in Game 2 of a four-game homestand on Friday night.
The Boston Celtics (39-36, 26-11 home) host the Cleveland Cavaliers (22-52, 9-28 away) on Friday night at TD Garden (7:30 p.m., CSN). Here's what to watch for:


*
KYRIE ELEISON
: When these two teams met late last month in Cleveland, the Celtics didn't have to deal with Kyrie Irving (and still needed a Jeff Green buzzer-beater to escape). Irving, back after missing eight games due to a shoulder injury, will be a primary focus for Boston's guards. Think Avery Bradley will need any motivation? Irving attacked Rajon Rondo (and Bradley, too, to a lesser degree) while putting up 40 points in a January win in Cleveland and, in the aftermath, Bradley promised no opponent would do that against him without a particularly high shot volume.
*
MOMENTUM AWAITS
: Even with Irving's recent return, the Cavaliers have lost 10 straight and, as with most lottery-bound teams, they can only aid their chances at a top pick by losing. That's not to say they will roll over, but Boston ought to be far more inspired to build some late-season moment than the visitors. The Celtics will potentially be without both Kevin Garnett (left ankle inflammation) and Paul Pierce (sore right ankle), and that means role players will need to elevate their play. Boston didn't fare particularly well in Minnesota on Monday when both Garnett and Pierce were out.
*
SPOTLIGHT ON GLASS
: The Cavaliers are not a particularly efficient rebounding team, especially since Anderson Varejao was lost for the season. Even still, the battle of the boards will be in the spotlight on Friday because Boston gave up 25 offensive rebounds (and somehow lived to talk about it) in a win over the Pistons on Wednesday. The Cavaliers rank 12th in the league in offensive rebound percentage and have the sort of athletic bigs that could give Boston headaches if they don't stick to the fundamentals.
*
TIGHTEN UP THE DEFENSE
: Sure, Garnett's absence is causing a natural downturn in Boston's defensive play, but the Celtics can't use that as the only excuse for their slippage at that end of the court. Coach Doc Rivers had said the team would focus heavily on defense this week, especially in getting the team's newer faces up to speed, with additional practice time. After getting an initial session on Thursday, it will be interesting to see if Boston can tighten things up a bit against a team that ranks 21st in the league in offensive rating.