Boston Celtics:

2013Game77
April, 8, 2013
4/08/13
12:35
AM ET
With Kevin Garnett in the lineup,
the Celtics are a different team
:
An excerpt from today's featured story:
*
KG MAKES ALL THE DIFFERENCE
: In the eight games Garnett sat out, Boston posted a defensive rating (points per 100 possessions) of 103.4 -- about 3½ points above their season average. On Sunday night, in the 24 minutes Garnett was on the floor, Boston's defensive rating plummeted to 84.7. Eighty-four point seven! Sure, the Wizards' offense has a way of making opposing defenses look good, but Washington shot 39 percent when Garnett was on the floor and rarely wandered near the hoop with him patrolling. Allow Avery Bradley to gush about what Garnett's presence means to the Celtics. "Kevin's presence on the floor -- I love playing with Kevin, man," Bradley said. "He just, his intensity, he makes everything easier on everybody. He talks the whole game. I love playing with him."
April, 7, 2013
4/07/13
11:05
PM ET
BOSTON -- If Boston Celtics guard Jordan Crawford had any extra emotions playing against his former team for the first time -- you know, the one he said Saturday that
he doesn't remember playing for
-- he didn't show it on the court Sunday against the Washington Wizards.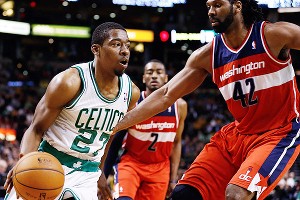 David Butler II/USA TODAY SportsJordan Crawford at work against his former team.
Crawford quietly chipped in six points on 2-of-3 shooting over 16 minutes, 19 seconds of floor time during Boston's 107-96 triumph at TD Garden. As reporters swarmed his teammates in the locker room, Crawford flipped up the hood on his oversized coat and sneaked out unfettered.
"Honestly, until you just brought it up, I didn't think about it much," Celtics coach Doc Rivers said of Crawford's under-the-radar composure. Later he added, "I thought for a kid who clearly wanted to beat this team -- like any other kid does when you play [your former team] -- I thought his composure was terrific."
Early in the second quarter, Crawford spun into the lane and hit a difficult fadeaway jumper for his first points of the game. He hit a pull-up jumper in transition soon after. And that was evidently enough for him. Crawford passed up a heat-check 3-pointer -- likely to the surprise of his former teammates -- and didn't shoot again until missing a triple in the fourth frame. He added two assists, two steals, and three turnovers to his stat line.
Before the game, Wizards coach Randy Wittman tried to explain why it didn't work out in Washington with Crawford.
"It isn't so much that it didn't work out -- as the team developed and we started getting pieces back, obviously we were really banged up earlier in the year, and Bradley Beal's development, we thought that was the direction we were going to go through and give Bradley an opportunity to continue to grow, and it was nothing more than that," Wittman said of a swap that brought injured Leandro Barbosa and veteran big man Jason Collins to Washington. "Those things happen every year in the development of your team and you see different people develop and now it changes your focus on how you want to build your team and the people around it, and that's really how all that came about."
Informed of Crawford's suggestion that he doesn't remember playing for Washington, Wittman simply smiled and said, "I'm not going to get into a war of words here."
Inside the Wizards' locker room, former teammate John Wall was happy for Crawford's situation in Boston.
"It's totally different. His role is totally different on this side," said Wall. "I know he's probably enjoying it because they're going to the playoffs. That's one thing we never experienced in our career so far and he has a chance to do that this year, so that's a big congrats to him and good luck to the Celtics."
Read on for a few more notes, including Shavlik Randolph's non-stop bloody nose; Collins' return to Boston; and Pierce's award-winning night:
April, 7, 2013
4/07/13
10:40
PM ET
By
Greg Payne
| ESPNBoston.com
BOSTON -- Had the Celtics gotten their way, Sunday night could have marked a return to Boston for Chris Wilcox.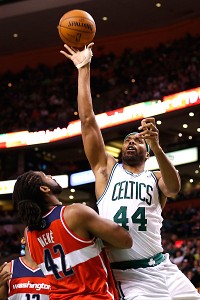 David Butler II/USA TODAY SportsChris Wilcox puts up a shot against the Wizards on Sunday night in Boston.
The Celtics were prepared to ship Wilcox to Washington as part of the Jordan Crawford trade in February, but a stipulation in the big man's contract prevented Boston from pulling the trigger and Jason Collins was instead included in the deal.
Part of the reason why the Celtics were willing to send Wilcox away was because they weren't seeing the kinds of performances that he delivered in Sunday's 107-96 win over the Wizards, in which he contributed 13 points on 6-of-7 shooting to go along with five rebounds in 20 minutes off the bench.
Instead, Boston had been getting a steady wave of inconsistency from Wilcox that not even increased opportunities with Kevin Garnett out for eight games could help.
Garnett returned on Sunday, but in the eight games he missed, Wilcox averaged just 3.5 points and 3.6 rebounds, playing more than 20 minutes just twice over the stretch. But Wilcox was able to channel on Sunday what has garnered him success in the past: an ability to make a difference through sheer activity and hustle around the basket.
"I just wanted to go out there and be aggressive," Wilcox said. "It was Kev's first game back and I just wanted to go out there and run the floor and just try to get involved a little bit more. In the past I kind of went away from getting in there, banging and stuff, so I think tonight I went in there and just tried to get a couple easy baskets and it worked tonight."
April, 7, 2013
4/07/13
8:27
PM ET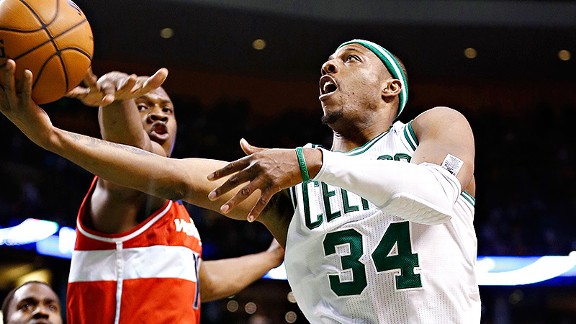 AP Photo/Winslow TownsonPaul Pierce drives to the hoop Sunday against Washington.
BOSTON -- Rapid reaction after the
Boston Celtics
defeated the
Washington Wizards
107-96 on Sunday night at TD Garden:


THE NITTY GRITTY
Brandon Bass
scored a team-high 20 points on 9-of-12 shooting to go along with six rebounds to pace a balanced Boston output that put five players in double figures for scoring.
Kevin Garnett
, back on the floor after missing eight games due to left ankle inflammation, finished with 12 points on 6-of-9 shooting with 6 rebounds, 3 assists, 2 steals and a block over a manageable 24 minutes of floor time (his night would have been 3½ minutes shorter, but Washington rallied a bit late).
Paul Pierce
, back after a one-game absence due to a sore right ankle, added 15 points and five assists over 30 minutes and was a team-best plus-15 overall.
John Wall
scored a team-high 16 points on 8-of-20 shooting to pace the Wizards.
TURNING POINT
The Celtics were clinging to a one-point lead after a
Garrett Temple
3-pointer on the first possession of the second half. Soon after, however, Boston embarked on a 19-3 run to blow open the doors a bit and build a 17-point cushion. The Celtics made all seven shots they took over a six-minute span and got six points from Bass. A Pierce 3-pointer put Boston out front 77-60 with 3:51 to play in the third quarter. The Wizards were 1-of-10 shooting and turned the ball over twice during the Celtics' run.
HELP FROM THE BACKUP BIGS
The Celtics got a nice little boost from their backup big men as
Chris Wilcox
connected on 6-of-7 shots for 13 points (with five rebounds) and
Shavlik Randolph
made both shots he put up for eight points (with a team-high seven rebounds). Having Garnett to anchor the front line kept their playing time in manageable bursts and got the most out of their 35 minutes of combined floor time.
TECHNICAL DIFFICULTIES
Garnett picked up his team-leading eighth technical foul of the season for arguing about a foul called against Pierce early in the third quarter. Pierce looked to get all ball trying to prevent Okafor from going up with a second-chance shot, but was whistled for the foul and Garnett, miffed from what he thought was a missed call earlier, voiced his displeasure.
WHAT IT MEANS
Nothing like KG to cure what ails you. The Celtics led by as much as 18 in the second half before the Wizards rallied a bit (forcing Rivers to sub in both Garnett and Pierce with four minutes to play). The Celtics shot 55.8 percent (43-of-77) and generated 50 points in the paint. Boston gets two days off before closing out a four-game homestand on Wednesday with a visit from the
Brooklyn Nets
.
April, 7, 2013
4/07/13
5:42
PM ET
BOSTON -- The
Boston Celtics
welcome back both
Kevin Garnett
and
Paul Pierce
on Sunday night against the
Washington Wizards
.
Garnett missed the last eight games due to left ankle inflammation, while Pierce sat out Friday's loss to the
Cleveland Cavaliers
due to a sore right ankle. The duo will join a new-look starting lineup alongside
Avery Bradley
,
Jeff Green
, and
Brandon Bass
(that
combo has spent a mere 13 minutes together
this season).
Bradley suffered a bruised collarbone in Friday's loss and sat out practice on Saturday, but is in the starting lineup despite lingering soreness. He'll be needed to contain Wizards point guard
John Wall
(more on him below).
Celtics coach Doc Rivers said both Garnett and Pierce felt good after going through Saturday's practice session and he doesn't expect any limitations for his players.
"I'll watch Kevin, I doubt if he plays his normal 30 minutes, so I'll watch him, but there's no limitations by any of the doctors or anything," Rivers said.
Asked about having nearly a full lineup available, Rivers said, "It'll be nice to look down the bench and see more guys down there. That'll be nice. I wouldn't be surprised to be a little rusty because of [the time missed]... [but] it's nice because you have time to to try to get some kind of rhythm back."
A couple more pregame nuggets:
*
HITTING THE WALL
: Rivers gushed about the recent play of Wall, but said his eye-popping stat lines might have more to do with health than development. "I think his development came over the last couple years and now he's putting it into play," Rivers said. "He's playing terrific. He's getting to the foul line at a record pace. He's [averaging] 14, or 13½ [free throws] over the last seven or eight games, that's crazy. I think what people miss with Washington though is the job that [coach Randy Wittman has] done with the defense. They are fifth in the league defensively. So I think everyone's talking about Wall, while they are building the wall defensively. You guys like that play on words? I worked on that all day."
*
DOC'S GOT MORE JOKES
: That wasn't Rivers' only playful moment of the pregame session. Asked about Wittman, his former teammate, and whether he knew the two would be coaches some day, Rivers noted, "I knew Randy would be a coach, for sure. He talked about it all the time. And he coached a ton when we played. He used to say 'help' a lot defensively because he was always getting beat off the dribble. We just assumed he'd be coaching, you really did."
April, 7, 2013
4/07/13
11:00
AM ET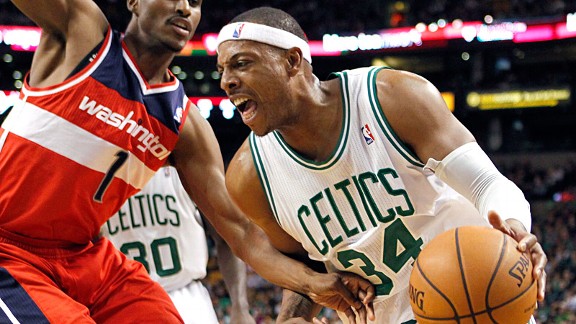 AP Photo/Michael DwyerPaul Pierce and the Celtics will look to get past the Wizards on Sunday night.
The Boston Celtics (39-37, 26-12 home) host the Washington Wizards (29-47, 7-30 away) on Sunday night at TD Garden (6 p.m., CSN). Here's what to watch for:


*
A DANGEROUS OPPONENT
: Despite their overall record, the Wizards have played solid basketball since the start of February. Washington is 18-12 over its last 30 games (by comparison, playoff-bound Boston is 16-14 in that same span). The Wizards have won three of their last four with triumphs over both playoff-bound Chicago and Indiana in that span. Washington does struggle on the road (losing its last four there, and has dropped five straight in Boston).
*
WALL OF FAME
: Since returning in mid-January, John Wall has averaged 18 points, 7.6 assists, 4 rebounds, and 1.3 steals over 32.2 minutes per game (and the Wizards are 24-19 in that 43-game span). Over his last 20 games since the start of March, Wall's numbers hop up to 23 points, 7.8 assists, 5 rebounds and 1.6 steals over 35.9 minutes per game. Wall is coming off a 37-point outburst against defensive-minded Indiana. Remember, too, his little rivalry with Avery Bradley (Bradley was a higher-ranked prospect in high school). If Bradley can play through his collarbone bruise, this will be a highly entertaining matchup.
*
NO PLAYOFFS, NO PROBLEM
: Allow Celtics coach Doc Rivers to explain why teams not headed to the postseason may be the most dangerous at this time of year. "They are free. They are not playing for anything except for themselves," he said. "It's serious for everyone. The guys on Washington, the guys on Cleveland, they are playing for their careers. I've always laughed when people think the non-playoff teams don't play hard, these guys, most of them are free agents, and every night is an audition. They are auditioning for [the Celtics] when they are on the other team. So it's hard."
*
WIZ KIDS PLAY D
: Don't sleep on Washington's defense. The Wizards own the fifth best defensive rating (99.9 points allowed per 100 possessions), better even than Boston (7th, 100.0). Washington is also fifth in defensive rebound percentage (74.8), limiting second-chance opportunities for opponents. Synergy Sports data ranks Washington at seventh in the league allowing 0.904 points per play and the Wizards grade out well against most top play types, but are most susceptible to pick-and-roll ball-handlers (18th overall, 0.802 points per play).
April, 6, 2013
4/06/13
8:45
PM ET
Jordan Crawford said
it's just another game
. Sunday's visit from the Wizards is far from it:
An excerpt from the featured story:
*
CRAWFORD FORGETS WIZ; EMBRACES C'S
: Each time the topic of the Washington Wizards was even broached, Crawford acted as if the two-year period from Feb. 23, 2011 (when he was traded from Atlanta) to Feb. 21, 2013 (when he was acquired by Boston) had been swiped from his memory. "Who?" asked Crawford. "I don't recall playing for Washington." Laughter ensued, but it quickly gave way to more awkward questioning as it became clear Crawford had no desire to actually address the topic.