Boston Celtics:

2013Game79
April, 13, 2013
4/13/13
3:45
AM ET
Jason Terry and the Celtics couldn't keep up with LeBron James and the Heat in Miami.
Is there any postseason hope for JET to soar
?
April, 12, 2013
4/12/13
11:05
PM ET
MIAMI --
Boston Celtics
forward
Jeff Green
joked that his left elbow is "still attached" after an awkward landing forced him from Friday's game against the
Miami Heat
early in the fourth quarter and downplayed the severity of the injury while noting he should be able to play Saturday night in Orlando.
"Any time you hit a nerve, it feels numb down the whole arm," said Green. "And it wouldn't come back as fast I wanted to, because we were still playing. But I'm fine."
Green spilled hard to the floor after a powerful driving dunk -- one of three on the night -- with 10:03 to play in the fourth quarter and, falling backward on the baseline, his elbow took the brunt of the tumble. He was wincing in pain on the bench as trainer Ed Lacerte put a shooting sleeve over the injury, but Green soon retreated to the locker room and did not return.
Green finished with a team-high 25 points on 10-of-17 shooting with eight rebounds and two assists over 36:25.
"Birdman [
Chris Andersen
], he tried to run off [and] I felt his feet undercut mine," explained Green. "I know it wasn't on purpose. It was just something, it was the first thing that hit. I'm cool, man."
Green, who was coming off consecutive tough shooting nights, was aggressive going at the hoop for much of the night (five of his seven misses came beyond the 3-point arc). On a night where the Celtics gave
Kevin Garnett
and
Paul Pierce
rest for their sore ankles, getting Green back on track -- despite the injury scare -- was one of the biggest positives of the night.
"I thought Jeff was great. I really did," said Celtics coach Doc Rivers. "I thought he attacked early on. I thought they did a good job, after that, of clogging it up. I thought Jeff made plays and we missed shots and the more we missed, the more they could clog it up to take away his drives. I couldn't have been happier with the first half of Jeff. That was terrific. And their adjustment was pack it in and make guys make shots, and we couldn't make them for a while."
Read on for more notes, including
Jason Terry
's explanation of his technical foul; Doc's take on Rondo traveling in the postseason; and praise for old friend
Ray Allen
.
April, 12, 2013
4/12/13
9:55
PM ET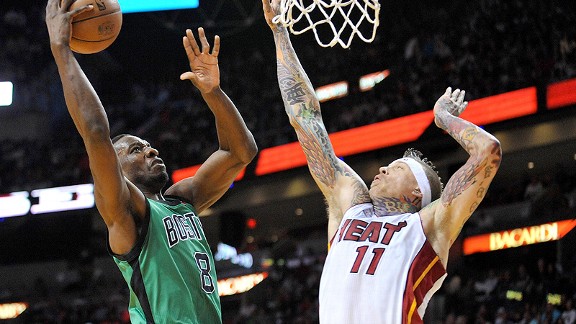 Steve Mitchell/USA TODAY SportsBoston's Jeff Green soars at Miami's Chris Andersen.
MIAMI -- Rapid reaction after the
Miami Heat
defeated the
Boston Celtics
109-101 on Friday night at AmericanAirlines Arena:


THE NITTY GRITTY
LeBron James
scored 20 points on 8-of-10 shooting (mostly of the emphatic dunk variety) with 9 assists and 6 rebounds over 29 minutes, while
Rashard Lewis
scored 19 points on 7-of-11 shooting to spark Miami's bench effort (which also saw old friend
Ray Allen
score 17 points on 5-of-6 shooting). The Heat scorched Boston by connecting on 12-of-23 shooting beyond the 3-point arc.
Jeff Green
scored a team-high 25 points on 10-of-17 shooting with eight rebounds before departing the game with a bruised elbow.
Courtney Lee
got hot late to finish with 18 points on 8-of-16 shooting, while
Jordan Crawford
got off to a fast start, but went cold late while scoring 20 points on 7-of-15 shooting.
TURNING POINT
Despite allowing the Heat to shoot a ridiculous 84.2 percent in the second quarter (Miami made 16 of 19 shots), the Celtics were still hanging around in the third frame. Eight consecutive points by Crawford, including back-to-back 3-pointers, whittled Miami's lead to five, but the Heat responded with a 7-0 run, including a layup from Chris Bosh for a 72-60 lead with seven minutes to play in the frame. Boston never got closer than seven the rest of the way, with Lewis unleashing a 3-point barrage spanning the fourth quarter as the lead ballooned as high as 16 early in the final quarter.
SCOREBOARD WATCHING
The Hawks rallied to top the visiting Bucks on Friday night, which means Milwaukee will remain three games back of Boston with three games to go. The Celtics' magic number to secure the seventh seed dips to one; any win (or Milwaukee loss) over the final three games of the regular season ensures Boston won't be back here in Miami to open the playoffs next weekend.
GREEN BRUISES ELBOW
Celtics forward Jeff Green suffered a bruised left elbow in the fourth quarter and did not return. Green was in a world of hurt after landing hard on his left arm after an emphatic dunk. He tried to tough it out on the bench, putting a shooting sleeve over the elbow, but soon retreated to the locker room with trainer Ed Lacerte.
WHAT IT MEANS
The Celtics got a chance to give some role players extended run and, so long as Green's elbow injury isn't anything major, there were some positives to pluck from this one (Lee and Crawford had solid nights in spurts). Then again there were plenty of negatives, too (
Jason Terry
had another very quiet night; the 3-point defense was terrible; and defensive lapses were prevalent all over the floor -- though that could be expected at times without two starters). Boston expects to have
Paul Pierce
and
Kevin Garnett
back on Saturday night when the Celtics wrap up a Floridian back-to-back against the
Orlando Magic
. Two days off loom after that before Boston completes its regular-season schedule with another back-to-back (the Pacers visit Tuesday before a trip to Toronto on Wednesday).
April, 12, 2013
4/12/13
7:05
PM ET
MIAMI -- Talking with reporters a little less than an hour before tipoff,
Boston Celtics
coach Doc Rivers remained coy on his starting lineup, suggesting the team might sit one more starter beyond
Kevin Garnett
and
Paul Pierce
.
"It's something to do with injury, but not anything serious," said Rivers, who said the player was going through pregame warm-ups to gauge his availability.
The team later announced a starting lineup of
Avery Bradley
,
Courtney Lee
,
Jordan Crawford
,
Jeff Green
and
Brandon Bass
.
As for the Heat, Rivers said the Celtics were braced for them to play at least two of their Big Three, but said it doesn't impact their game plan much with
LeBron James
,
Dwyane Wade
and
Chris Bosh
on the floor.
"I could care less," said Rivers. "That doesn't have anything to do with us. That's more for them."
Heat coach Erik Spoelstra said his team would run Wade hard after missing the last six games, but it won't quite be full throttle.
"We want him to blow it out and get his wind so we will just read it as the game goes," said Spoelstra. "He won't play his normal 34 to 36 minutes."
April, 12, 2013
4/12/13
10:00
AM ET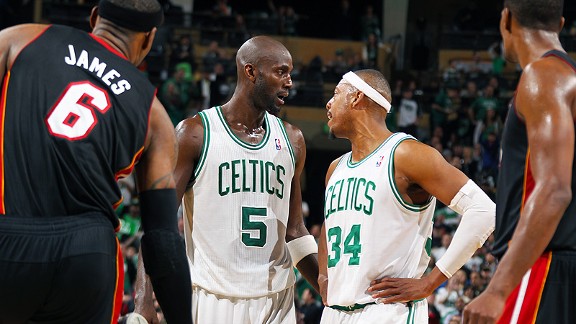 Nathaniel S. Butler/NBAE/Getty ImagesCeltics vs. Heat loses some sizzle without Kevin Garnett and Paul Pierce on the floor.
The Boston Celtics (40-38, 13-25 away) visit the Miami Heat (62-16, 34-4 home) on Friday night at AmericanAirlines Arena (7:30 p.m., CSN). Here's what to watch for:


*
EXHIBITION SEASON?
: With their seventh-seeded fate all but sealed and playing the first night of a back-to-back, the Celtics will err on the side of caution and rest both Kevin Garnett and Paul Pierce due to ankle soreness. After missing Miami's last six games (and eight of 10), Dwyane Wade is expected to return for the Heat, but LeBron James and Chris Bosh remain game-time decisions [
Update
: At shootaround, the Heat confirmed that James and Wade will play, while Shane Battier and Udonis Haslem will get the night off). Even still, the Celtics-Heat rivalry will lack the usual pizazz on Friday night. For Boston, the absence of veterans leaves extended playing time for younger players looking to make late-season cases for playoff playing time. The Celtics won't be focused on the end result, but getting individual players going instead.
*
GET GREEN BACK ON TRACK
: Jeff Green exploded for 43 points when Miami visited Boston last month, helping to fuel his monster month of March. He's slipped into a mini funk the last two games, missing 18 of the 25 shots he's put up (while settling for perimeter shots instead of attacking the basket). Without Garnett and Pierce, Green will be called upon to shoulder the scoring load and will get a chance to get himself back on track.
*
CAN HEAT SPARK TERRY?
: Jason Terry has often noted how the mere sight of Miami's colors gets his competitive juices flowing. Maybe more than any other player, the Celtics need Terry to pick up his play in the postseason and give the bench a sustained offensive spark now that Green is running with the first unit. Terry hasn't reached double figures in scoring his last three games and seemed particularly frustrated with himself after Wednesday's loss to Brooklyn in which he was 1-for-7 shooting with four points over 25 minutes. Terry can make people forget about his regular-season inconsistencies with a strong postseason, but ramping up a bit at the finish line would likely aid that cause.
*
WHICH GUARD WILL STEP UP?
: The recent return of Garnett has brought out the best in both Shavlik Randolph and Chris Wilcox, both big men playing well in shorter minutes. But the Celtics are still waiting for one of their guards to make a case for a potential larger playoff role. Whether it's Courtney Lee, Jordan Crawford, or Terrence Williams, there's additional guard minutes available if one of those players wants to snatch them up with their play over the final four games of the regular season.
April, 11, 2013
4/11/13
12:34
PM ET


The Boston Celtics announced Thursday that neither Paul Pierce nor Kevin Garnett will play in Friday's visit to the Miami Heat.
Both players traveled with the team Thursday for this brief two-game road trip, but neither will dress for the first night of a back-to-back in Miami due to sore ankles. Garnett sat out eight games due to left ankle inflammation before playing the last two contests for Boston; Pierce has missed two games recently due to sore ankles.
The Celtics are 0-3 in the three games that Pierce has missed this season.
Given that both Garnett and Pierce traveled to Miami, it's likely they could both be back in the lineup for Saturday's game in Orlando. The team officially lists them as day-to-day.
Celtics coach Doc Rivers lamented a need to rest bodies, but Boston appears resigned to settling for the seventh seed in the Eastern Conference and will rest players as much as possible.
"I don't love being in that situation, honestly, I'd love not to be, but that's the situation we're in," Rivers said after Wednesday's loss to the Nets.
PODCASTS
Baseball Tonight
Play Podcast Karl Ravech and Justin Havens put Clayton Kershaw's scoreless innings streak in perspective with Buster Olney and discuss the rash of injuries around MLB. Plus, Derrick Goold on Yadier Molina's injury and Alex Speier on the Red Sox.
Baseball Tonight
Play Podcast Buster Olney and Tim Kurkjian discuss the rosters for the Home Run Derby, Jon Lester's future and more. Plus, Indians P Corey Kluber on his All-Star candidacy and Tigers P Joba Chamberlain.