Boston Celtics:

2013Game8
November, 14, 2012
11/14/12
10:01
PM ET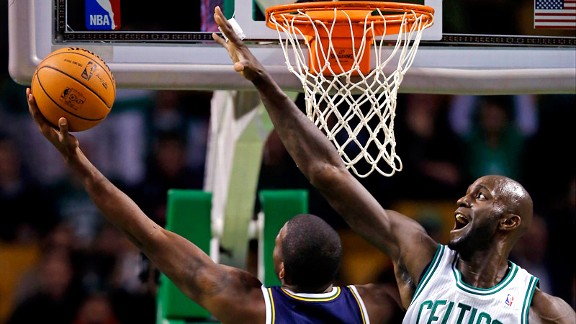 Greg M. Cooper/US PresswireKevin Garnett tries to protect the rim during Wednesday's game against the Jazz.
BOSTON -- Rapid reaction after the
Boston Celtics
defeated the
Utah Jazz
98-93 on Wednesday night at TD Garden:


THE NITTY GRITTY
Paul Pierce
scored a team-high 23 points (despite 7-of-17 shooting), while
Jeff Green
and
Leandro Barbosa
provided a bench spark with 16 points apiece.
Rajon Rondo
added six points and 10 assists over a mere 25:18, sitting out the final 16:55 after rolling his right ankle on a drive to the basket in the third quarter.
Paul Millsap
scored a team-high 20 points on 9-of-21 shooting with 12 rebounds for the Jazz, while old friend
Al Jefferson
added 13 points and 14 rebounds.
TURNING POINT
While it seemed Boston was in control for most of the night, Jefferson's 19-foot jumper with 1:56 remaining tied the game at 93 (and the Jazz actually had multiple possessions with a chance to take the lead). A free throw by Garnett put Boston on top 94-93 with 1:08 to go and Piece added two more freebies with 19.5 seconds to play. The Jazz missed their last five shots over the final two minutes as Boston escaped.
BARBOSA PROVIDES EARLY SPARK ...
Rondo -- he of the now 32-game double-digit assist streak -- had zero helpers in the first 12 minutes and Boston trailed by five after the first frame. Enter Barbosa, who produced a strong drive to the rim for a layup and a 3-pointer from the top of the arc to give Boston a spark. Barbosa had seven points over a stint of less than six minutes. But he wasn't done.
... THEN A LATE ONE TOO
When Rondo rolled his right ankle with 4:55 to play in the third quarter, Barbosa provided another offensive jolt, this time a couple of running bank shots and a driving layup for six points before the end of the frame. Barbosa finished with 16 points, 3 rebounds and 2 assists over 23 minutes.
BOLD PLAY OF THE GAME 1
Rondo registered his first assist midway through the second quarter when he delivered a high alley-oop feed to Garnett, who thundered it down for his first bucket of the game. Just a few minutes later,
Chris Wilcox
reaped the benefits of running with Rondo, throwing down his own one-hand alley-oop off a lob from Rondo.
BOLD PLAY OF THE GAME 2
Garnett showed Rondo a thing or two about a pretty pass, delivering a behind-the-back baseline feed to Barbosa for a layup and an 80-74 lead early in the fourth quarter.
BOLD PLAY OF THE GAME 3
Just when we were ready to give Garnett the play of the night award, here comes Green with the gold-medal effort midway through the fourth quarter. Garnett was swarmed in the paint when he kicked to Green in the corner. Green attacked the basket and threw down a vicious one-handed jam that put Jefferson on a poster. Green got a technical for the ensuing staredown, but Utah missed the free throw. (Watch it
HERE
).
RONDO'S STREAK ROLLS ON
Considering he didn't have an assist until midway through the first quarter, but departed midway through the third quarter with 10, Rondo did some work in the assist column during that 13-minute stretch. His double-digit assist streak is now at 32 games -- within five of former Jazz point guard
John Stockton
-- as he pursues Magic Johnson's NBA record of 46 consecutive games.
WHAT IT MEANS
Nothing comes easy for the Celtics, but they've now got a three-game winning streak. Barbosa came up big with Rondo sidelined and the defense came up with big stops down the stretch. What's more, Celtics coach Doc Rivers managed minutes on the first night of a back-to-back with
Brandon Bass
playing a team-high 32:11, while Garnett (29:40) and Pierce (29:13) had comfortable nights. The Celtics trek to Brooklyn for a national-TV battle on Thursday night, then have a weekend back-to-back by hosting the Raptors in a Saturday matinee before visiting the Pistons on Sunday night.
November, 14, 2012
11/14/12
7:27
PM ET
BOSTON -- When
Al Jefferson
visited Boston with the
Utah Jazz
last season, Celtics coach Doc Rivers sneaked in dinner with his former player. Their schedules didn't afford any such socializing this time around.
"Screw Al, I don't have time for him," Rivers quipped before Wednesday's game at TD Garden. "He's too good now."
Joking aside, Rivers likes what he sees from the 27-year-old big man, who is now in his ninth year in the league.
"He just keeps getting better and better," Rivers said. "The thing I thought I'd never say about Al, he's becoming a better passer. And I'm very happy about that for him. He just keeps working on his game. He hit that one little stretch where, he had lost a lot, you could see he's fought through that now. Making that playoff run, and he was a big part of it last year, has kind of re-stoked him and that's good. He's a heck of a guy."
Taken by the Celtics with the 15th pick in the 2004 draft, Jefferson spent three seasons in Boston before being dealt to Minnesota as part of the package that brought back
Kevin Garnett
. Jefferson is in the final year of his contract (one that will pay him $15 million). Would he entertain the idea of a Boston return if that option existed next offseason?
"Well, this is my first home, man," said Jefferson. "This will always be my home away from home. This is the first place I ever --
Danny Ainge
gave me a chance when nobody else did. So if that situation were to happen, I would love to do that again. But right now, like I said, it's just all about taking care of business and finishing the season out right."
A few other pregame nuggets:
November, 14, 2012
11/14/12
12:00
PM ET
AP Photo/Elise AmendolaOld friend Al Jefferson is back at the Garden on Wednesday night with the Jazz.
Fresh off a successful two-game road trip, the Boston Celtics (4-3, 1-2 home) return home to host the Utah Jazz (4-4, 1-4 away) on Wednesday night at TD Garden (7:30 p.m., CSN). Here's what to watch for:


*
BIG AL'S BACK
: Since being dealt away as part of the Kevin Garnett trade, old friend Al Jefferson only makes one trip to Boston each season. In five appearances as a visitor at TD Garden, Jefferson is averaging 18.8 points and 8.8 rebounds (though his visits with the Jazz have been tame and he's shot only 8-for-30 in those two games). Jefferson is coming off a 24-point, 17-rebound effort in Utah's triple-overtime win in Toronto (one in which he hit a crucial 3-pointer at the end of regulation as Utah won its first road game of the season).
*
JAZZ BEST VS. TRANSITION
: According to Synergy Sports data, the Jazz allow a league-best 0.892 points per play in transition (by comparison, the Celtics rank dead last allowing 1.477 points per play in transition). Boston did a good job cranking up the tempo in Chicago, but it's vital they maintain excellent ball movement if they want to put up points against the Jazz, who will want to make this a halfcourt game.
*
BOSTON'S TRANSITION D IN FOCUS
: The Celtics tightened up their own transition defense a bit last time out, but the Bulls are one of the worst teams in transition (and were playing with a third-string point guard). The Jazz rank middle of the pack in transition production, but 16.6 percent of their offense comes through transition (second only to spot-up shooting). Marvin Williams and Randy Foye both have excellent transition numbers so far this season, as does Derrick Favors on limited touches.
*
CAN UTAH STOP RONDO'S STREAK?
: Rajon Rondo's double-digit assist streak was on life support in Chicago, but a trio of late helpers, including a feed to Brandon Bass for a wide-open slam in the final seconds, made it 31 straight games with at least 10 assists. That's the longest streak since Utahs' John Stockton went 37 games in 1989. Can Stockton's old squad snap Rondo's streak? They'll need better halfcourt defense than they've displayed so far this season to do it.
November, 13, 2012
11/13/12
12:05
AM ET
Mike DiNovo/US PresswireThe Celtics are heading in the right direction with Monday's win in Chicago.
Fresh off Friday's loss to the
Philadelphia 76ers
, Boston Celtics captain
Paul Pierce
suggested that maybe it was a good thing that this slow-out-of-the-gates squad was heading out on a two-game road trip. Pierce figured it might be good to get away from all the noise after a 2-3 start and hoped the road would be a place where the Celtics could get their act together.
With back-to-back wins in Milwaukee and Chicago, Boston certainly appears to be moving in the right direction, not only in the win column but with the brand of basketball displayed on the court.
"Well, Paul's right. He's a wise man," Celtics coach Doc Rivers, informed of Pierce's pre-trip prediction, told reporters after Boston's 101-95 win against the Chicago Bulls on Monday. "I definitely think any adversity any time on the road is good. I don't know if you count early-season struggles as adversity or not, but it's a competitive group. They want to find their way and they're starting to do that."
While there's an obvious danger in putting too much stock in the first five games of any season, the Celtics had legitimate concerns before this trip. There were jarring defensive problems, particularly in transition; an inconsistent offense that looked out of sync while integrating new faces; and Boston's biggest offseason additions -- guys such as
Courtney Lee
,
Jeff Green
and
Jason Terry
-- were struggling to produce.
Boston's confidence grew with a solid second half in Milwaukee, but it jumped to a whole new level after Monday's best-win-of-the-young-season in Chicago.
"Our team is starting to find their way," Rivers said. "We thought coming in with this group that we could score. But it just takes time, and tonight, I thought, by far was our best rhythm offensively."
Added Rivers: "I thought it was a good team win. I thought every single guy did something, from [Jared Sullinger's 3-pointer] to
Chris Wilcox
's 3-point play. Jason Terry comes off the bench while they're making a run and he settles everybody down by making a shot. You know, there were just a lot of great efforts tonight."
With that in mind, we spotlight three of the key contributors in Monday's win:
PODCASTS
Adam Schefter, NFL
Play Podcast ESPN NFL Insider Adam Schefter weighs in on the Panthers' WR situation, Julian Edelman's future with the Patriots, Vince Wilfork's decision to ask for his release and more.
Spanning the Globe: 3/13
Play Podcast "Spanning the Globe" features ESPN Boston's Mike Reiss, Yahoo! Sports' Eric Edholm and ESPN LA 710's Mark Willard.
John Farrell, Red Sox
Play Podcast Red Sox manager John Farrell talks about whether he expected his team to make such a turnaround in one season, his relationship with his players, fans' expectations for the squad and more.