Boston Celtics:

2013Game82
April, 17, 2013
4/17/13
10:21
PM ET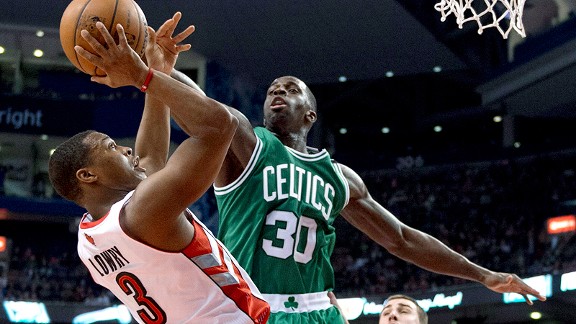 AP Photo/Frank GunnBrandon Bass swats a shot during Wednesday's regular-season finale in Toronto.
Rapid reaction after the Toronto Raptors defeated the Boston Celtics 114-90 in the regular-season finale on Wednesday night at the Air Canada Centre:


THE NITTY GRITTY
The Celtics got their starters some limited action (Paul Pierce and Avery Bradley each had 11 points in limited minutes) then leaned heavy on the end of their bench (even rookie Fab Melo played 17:26 and finished with two points, two rebounds, and four fouls). Jordan Crawford scored a team-high 16 points on 6-of-14 shooting with six rebounds and five assists over a team-high 36:14. DeMar DeRozan scored a game-high 24 points on 8-of-13 shooting, while Rudy Gay (19 points), Jonas Valanciunas (18), and Alan Anderson (16) all joined him in double figures for scoring.
GREEN FINISHES WITH PERFECT ATTENDANCE
Jeff Green said earlier this week that, after missing all of last season due to heart surgery, it was important for him to play in every games this year. Green and Brandon Bass were the only two Celtics players to appear in all 81 games this season. Both players had breezy nights as Green finished with nine points on 4-of-7 shooting with six rebounds over 17:10, while Bass added six points on 3-of-8 shooting with three boards over 17:41.
TURNING POINT
A tied game early in the second quarter, Toronto started breaking this one open before Boston even rolled in its junior varsity lineup. A 9-0 run by the Raptors helped the hosts take a double-digit lead (59-49) into the intermission. That lead was at 21 just three minutes into the third quarter after a Jonas Valanciunas dunk. The Raptors led by as much as 33 while finishing up their season.
WHAT IT MEANS
Bring on playoff basketball (good riddance, end-of-the-regular-season hoops). The Celtics rested veterans Kevin Garnett and Jason Terry, while avoiding any injury scares for those that dressed (Shavlik Randolph did not play in the second half due to a bruised back, but logged 12 encouraging first-half minutes). As most final games of the season tends to play out, this one turned into a shot-heavy pick-up game. The Celtics finish the season at 41-40 overall. They'll get two days of practice before visiting the New York Knicks to open an Eastern Conference first-round series at Madison Square Garden this weekend.
April, 17, 2013
4/17/13
9:44
PM ET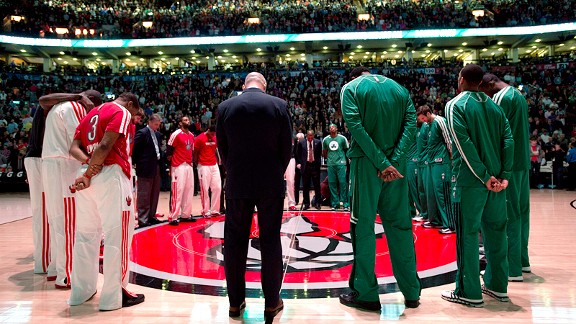 AP photo/Frank GunnThe Celtics and Raptors gathered for a moment of silence before Wednesday's game.
Before Wednesday's regular-season finale in Toronto, the Celtics and Raptors gathered at midcourt for a moment of silence in honor of the victims from Monday's bombings at the Boston Marathon. The Fenway staple "Sweet Caroline" then played during the Celtics' lineup introduction.
After the game, Boston coach Doc Rivers said of the pregame festivities, "I thought it was sensational. I thought it was really neat. I wish the fans had known the lyrics a little bit better to 'Sweet Caroline.' Other than that, it was terrific."
April, 17, 2013
4/17/13
7:09
PM ET
The Boston Celtics will rest Kevin Garnett and Jason Terry during their regular-season finale against the Toronto Raptors, according to the team.

Terry sat out Saturday's game in Orlando and coach Doc Rivers suggested he'd sit him again before the end of the regular season in order to give his 35-year-old legs some additional rest. Garnett missed eight games due to left ankle inflammation spanning into this month and will sit out two of the team's final three games overall with the Celtics hoping he's as healthy as possible for the start of the playoffs this weekend in New York.

April, 17, 2013
4/17/13
7:05
PM ET
April, 17, 2013
4/17/13
11:11
AM ET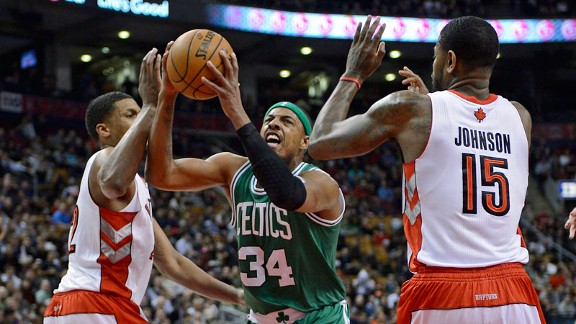 AP Photo/The Canadian Press/Frank GunnPaul Pierce and the Celtics wrap up the 2012-13 regular-season on Wednesday night in Toronto.
The Boston Celtics (41-39, 14-26 away) visit the Toronto Raptors (33-48, 20-20 home) to wrap up the 2012-13 regular season on Wednesday night (8 p.m., CSN). Here's what to watch for:


*
BACK TO BASKETBALL
: The NBA cancelled Tuesday's Celtics-Pacers matchup at TD Garden in the aftermath of Monday's tragic events at the finish line of the Boston Marathon. After a bit of a somber practice Tuesday, the Celtics get back on the floor in Toronto. Boston players talked about potentially being a bit of a diversion from Monday's bombings, hoping sports can bring some joy back to a region left rattled by the Marathon tragedy. It will be interesting to see how the Celtics respond after the incident in their own backyard and whether it gives them any sort of jolt considering what they represent as a Boston team.
*
LINEUP BALANCE
: Celtics coach Doc Rivers had previously planned to run most of his starters on Tuesday night, then rest them in Toronto. That plan has likely been altered a bit and it will be interesting to see if Boston elects to play some of its starters early, then let the bench carry the load later. The Celtics open the playoffs this weekend in New York and, after three days off, must balance getting their players some final on-court action (otherwise they'd be on as much as a full week of rest) with not risking health at this point of the regular season.
*
LET THE KIDS PLAY
: River said earlier this week that Boston's playoff rotation is set and that no one is really auditioning for spots tonight. "No, we pretty much know [the rotation]," said Rivers. "There are teams that we've had where there are nine guys and they separated themselves and that's your rotation... That's not this team. Use whatever rotation your guys want, but by Game 3 [of the playoffs], I can guarantee you right now, it won't be the same rotation. Unfortunately or fortunately, I'll let you know in a month or so which one is better, but I guess from a coaching standpoint, you'd rather know your nine guys and know that's how it's always going to be. But I don't think that's this team at all. I think there will be guys that will play. And a couple guys struggling, you throw in someone else, and you won't hesitate to do that with this group." With that in mind, the Celtics ought to lean heavy on some players that might need a final confidence jolt. Players like Courtney Lee, Jordan Crawford, and Chris Wilcox have all taken advantage of extended playing time in recent games.
*
PLAYOFF SCHEDULE FOLLOWS
: The Celtics will get a little more clarity on their first-round schedule after tonight's game. The team planned to stay over in Toronto after the game, will have an offday Thursday, and practice in New York on Friday. With Madison Square Garden booked Sunday for the New York Rangers, the Celtics are likely to play Game 1 on Saturday, but the rest of the schedule will be unveiled after all regular-season action is completed on Wednesday.