Boston Celtics:

2013Playoffs
April, 19, 2013
4/19/13
11:53
PM ET
By
Greg Payne
| ESPNBoston.com
NEW YORK -- The rivalry between Boston and New York might not be as strong in basketball as it is in baseball, but the Eastern Conference quarterfinal playoff matchup between the Celtics and Knicks, tipping off Saturday afternoon (3 ET, ABC), has the potential to kick it up a notch. The Knicks won the regular-season series 3-1, but as C's coach Doc Rivers likes to say, teams press the restart button in the postseason when the stakes get higher and tensions rise. With that in mind, it's time to examine where each club might hold an edge in this series. Although the Knicks' starting lineup might not be finalized, we're taking a look at each club's potential starting five, benches and coaches, to determine who has the advantage.
POINT GUARD
Bradley
Felton
Avery Bradley
(Celtics) vs.
Raymond Felton
(Knicks)
Felton gets points over Bradley for being more of a natural point guard, seeing as Bradley is better suited as an off guard but was thrust into the role in the wake of Boston's loss of
Rajon Rondo
for the season in January. Bradley still won't fill the role of a conventional point guard, as Boston will utilize multiple ball handlers to initiate the team's offense. Felton has posted solid numbers all season, and while his greatest contributions should come on the offensive end, Bradley holds greater potential for an all-around impact if he can emerge as a consistent source of offense (keep an eye on his corner 3-point shooting) while bringing his usual tenacious on-ball defense. Bradley's pressure defense could spell trouble for not only Felton, but New York's other primary ball handlers.
SLIGHT EDGE: Celtics
SHOOTING GUARD
Pierce
Shumpert
Paul Pierce
(Celtics) vs.
Iman Shumpert
(Knicks)
Pierce and
Jeff Green
are interchangeable at the shooting guard/small forward spots in this lineup, but we envision Pierce seeing more time in the back court. Shumpert's athleticism could make him a difficult cover for Pierce at times, but the Celtics' captain will happily return the favor on the other end, as he'll utilize his height and strength to attack the lane and create easier shots for himself. Pierce loves playing in Madison Square Garden, and with his jack-of-all-trades kind of role (don't be shocked if he registers a triple-double or two), he could be poised for one of his better playoff series in recent memory. Without a true lock-down defender in front of him, Pierce will want to put his stamp on this series early, before an emotional return to Boston for Games 3 and 4.
EDGE: Celtics
SMALL FORWARD
Green
Anthony
Jeff Green (Celtics) vs.
Carmelo Anthony
(Knicks)
Anthony is arguably the best player in this entire series, and there's no doubt Green will have his work cut out for him on the defensive end. In four games against the Celtics this season, Anthony averaged 25.3 points, 7.5 rebounds and 3.0 assists, although he shot just 35 percent from the field. As much as Green (and Pierce and
Brandon Bass
, who'll also spend time guarding Anthony) will need to make things difficult for Anthony when he has the ball, Green needs to channel an aggressive mindset on offense and force Anthony to work on the defensive end as well -- something Anthony most likely doesn't want to do. While Green could easily emerge as something of an X factor for the Celtics throughout their entire playoff run, there's little question that Anthony boasts the greater ability to take over a game (and potentially a series).
EDGE: Knicks
April, 17, 2013
4/17/13
10:35
PM ET


A look at the schedule for the Eastern Conference first-round matchup between the Boston Celtics and New York Knicks:
Game 1: Saturday, April 20 - Celtics at Knicks - 3 p.m. (ABC)
Game 2: Tuesday, April 23 - Celtics at Knicks - 8 p.m. (TNT)
Game 3: Friday, April 26 - Knicks at Celtics - 8 p.m. (ESPN)
Game 4: Sunday, April 28 - Knicks at Celtics - 1 p.m. (ABC)
Game 5*: Wednesday, May 1 - Celtics at Knicks - TBD
Game 6*: Friday, May 3 - Knicks at Celtics - TBD
Game 7*: Sunday, May 5 - Celtics at Knicks - TBD
(* - if necessary)
April, 14, 2013
4/14/13
7:09
PM ET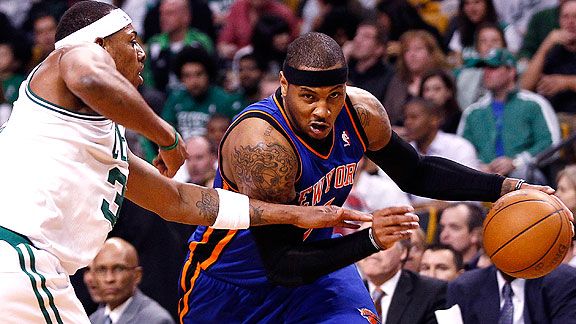 Mark L. Baer/US PresswireIt'll be Celtics vs. Knicks in the first round of the Eastern Conference playoffs.
After dispatching the Indiana Pacers on Sunday, the New York Knicks locked up the No. 2 seed in the Eastern Conference and will host the Boston Celtics in the first round of the playoffs starting this weekend at Madison Square Garden.
One note from ESPN Stats and Info: Since the NBA playoffs expanded to eight teams per conference in 1983-84, the Celtics have never been a seven seed. Boston, however, has been an eight seed on three different occasions –- losing all three. A quick glance at the Celtics' history as a seventh seed or worse:
2003-04: 8th seed vs. Pacers (Lost, 4-0)
1994-95: 8th seed vs. Magic (Lost, 3-1)
1988-89: 8th seed vs. Pistons (Lost, 3-0)
PODCASTS
Bill Simmons, NBA
Play Podcast Grantland's Bill Simmons discusses the state of the Lakers, Phil Jackson's future, the perception of Rajon Rondo, Doc Rivers' impact on the Clippers and more.
Baseball Tonight
Play Podcast Buster Olney chats with Jayson Stark about Ken Griffey Jr.'s uncomfortable interview with Linda Cohn and the value of spring training. Plus, Mike DiGiovanna on the Angels and Derrick Goold on Matt Carpenter's negotiations with the Cardinals.
John Farrell, Red Sox
Play Podcast Red Sox manager John Farrell talks about whether he expected his team to make such a turnaround in one season, his relationship with his players, fans' expectations for the squad and more.