Boston Celtics:

2013Practice
March, 4, 2013
Mar 4
1:45
PM ET


WALTHAM, Mass. -- Boston's veteran players indulged in a weekend away from the practice floor -- a luxury this time of year -- and raved about the benefits as the Celtics returned to full-squad activity on Monday.

As Kevin Garnett summed up succinctly: "Days off are good; they are always good."

Garnett, Paul Piece, and Jason Terry -- members of the team's 35+ club -- were all present on Sunday, but didn't have to go through on-court work. Even coach Doc Rivers escaped to Maine to watch eldest son, Jeremiah, play for the Maine Red Claws.

A full squad of 12 bodies -- minus only the rehab club of 21st birthday boy Jared Sullinger and Rajon Rondo, and Fab Melo on assignment in the D-League -- were back on the floor for Monday's session with a road back-to-back looming Tuesday (Philadelphia) and Wednesday (Indiana).

"It's a fine balance and I think [coach] Doc [Rivers] understands, especially with the older guys, who've got a lot more miles under their belt that know the things you need to do, even on the off days and coming back here the next day to practice and be ready," said Pierce, who noted he got in light shooting and some weight work on Sunday. "We've practiced so many times, we've played so many games at this point, you should be in a good enough rhythm, you should know when to get your rest and when to get in the gym, and I think as veterans we understand that, so it doesn't bother us to have a couple days of rest."

But on Monday, it was time to punch the clock again.

"[Practices are] very important. When you're gaining chemistry and you're gaining timing and everything, new guys coming in, you need these practices," said Garnett. "Although, I will say days off are great, practices are essential."

Read on for a few more notes from pre-practice access before Monday's session:


March, 4, 2013
Mar 4
12:59
PM ET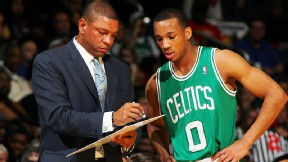 Ned Dishman/NBAE/Getty ImagesAvery Bradley conferences with coach Doc Rivers.
WALTHAM, Mass. -- During a break in the action of Friday's game against the Golden State Warriors, a referee approached Celtics coach Doc Rivers to ask if Avery Bradley had really endured double shoulder surgery before the season. We'll let Rivers take it from there.
"[The referee] said, 'I had one shoulder done and I was out six months and I still feel bad.' I said, 'That's why you're an official,'" Rivers recalled with a laugh. "I did see three bad calls after that, I said, 'My gosh, I was just joking.'"
Both Rivers and Kevin Garnett admitted that Bradley is likely not 100 perent this season. That hasn't stopped him from playing relentless defense, the sort that even officials take notice when he's hounding the likes of Golden State sharpshooter Steph Curry. Bradley missed the first 30 games of the season while rehabbing from surgery on both shoulders this offseason, which only makes what he's doing defensively all the more impressive.
"Avery is everything to our defense," said Garnett. "I think he's the anchor, if you will. He's the true inspiration of what it is. He's up on the ball, like 90-95 percent of the time. If you look at any other guard in the league, no one is playing defense like he is. He's just tenacious man. I call him the silent leader and it's by example."
With the veterans getting a day of rest on Sunday,
Bradley's leadership was thrust into the spotlight
, even as the youngest player on the floor as part of the team's nine-man practice.
"Although he isn't really loud, he's very vibrant," added Garnett. "I don't think he's 100 percent [healthy], which is scary. I think he's still working through some things with his past injuries, but he's playing hard and he's giving us everything he has when he's on the floor."
Rivers admits it's unique to find a player like Bradley, who is willing to invest so much of himself on a side of the ball where statistics still struggle to fully quantify his impact.
"He's unique. It sets him apart in a lot of ways," said Rivers. "There's not a lot of guys that want to [pressure the ball]. There are probably a lot of guys that can do it, but there are very few that want to, and that's the key part. Avery enjoys it, he enjoys the defensive assignments. He looks at the other team's best player at the 1, 2, or even 3 at times, and he's looking forward to matchups. That's a guy who understands who he is, and that's a good sign."
Bradley is second in the league while allowing a mere 0.678 points per play, according to Synergy Sports data (old friend Marquis Daniels is actually first among players with at least 200 defensive possessions this season). Opponents are shooting a mere 30.9 percent against him and generate points on just 31.4 percent of possessions against him (also second in the league). And that only scratches the surface as Rivers often points out how his ball pressure often forces opponents into their sets late and causes rushed shots that improve Boston's overall defensive numbers.
Just imagine what he's capable of when he's 100 percent.
February, 28, 2013
Feb 28
2:00
PM ET
WALTHAM, Mass. -- A handful of leftover nuggets after the Celtics had pre-practice access at their training facility on Thursday morning. Check out earlier updates on DJ White
joining the team
, Jordan Crawford
still settling in
, and Paul Pierce's
persistent neck pain
:
*
WILL T-WILL STICK AROUND?
: All indications are that the Celtics plan to keep Terrence Williams around after his 10-day contract expires following Friday's game against the Warriors. Celtics coach Doc Rivers wouldn't commit to what lies ahead, but suggested it was likely Williams would stay. Rivers did note that he wants Williams commit to being a ball-handler. "The first couple games, I thought he played terrific," said Rivers. "The Portland game he tried to do too much and he was thinking way too much scoring, instead of trying to be a point guard. I think he's a point guard. I didn't know that before. I'd heard that he could play a point guard, but I actually think he is a point guard and I think he can be that. After the Portland game, I told him, you've got to be more consistent, because he went back to trying to score and that's not what he is. He's not a scorer."
*
NOT EXPECTING BUYOUT HELP
: Rivers previously noted the Celtics are in the market for another big man to fill out their roster, but the team isn't expecting that talent to come from the buyout market. Players on other NBA rosters need to be bought out by 11:59 p.m. on Friday in order to be playoff-eligible for another team. "But no one is going to get bought out," said Rivers before cracking, "We were hoping some of the guys who made the All-Star team would get bought out, but none of them will. It's been really quiet. The trade [deadline] was quiet -- even though there was a lot of chatter about a lot of people -- and I think the buyout [might be the same]. But with buyout, you never know until the last second , when a guy just walks in and says, 'I want out' and the team says, 'Yes.'"
December, 4, 2012
12/04/12
3:22
PM ET
By
Greg Payne
| ESPNBoston.com
WALTHAM, Mass. -- Celtics coach Doc Rivers continued to stress the positives he's seeing from his team as he welcomed
Kevin Garnett
,
Paul Pierce
and
Jason Terry
all back to practice Tuesday, and prepared to have
Rajon Rondo
return to the lineup Wednesday following a two-game suspension.
"Overall, the last two games, I like where we're at," said Rivers. "But we've got to continue to do it. We've yet to be consistent, in my opinion. You can be consistent and lose a game, and I think Milwaukee was an example of that. I thought we played with the right spirit, but we just have to have that consistent effort."
Rivers said his three older veterans needed the extra day off, though both Pierce and Terry found time to get into the gym in the morning.
"Well, Jason and Paul came for sure and worked out," Rivers said. "They were here early. I mean, I think they were here at 9 or 10 o'clock in the morning, and both had sweats, and left before practice started. They needed that. I thought that was good for them as well."
Rivers said he'll obviously be pleased to have Rondo back in the lineup on Wednesday, but did stress that he was able to take several positives out of his point guard's time away.
"Well, I though the ball movement was better in some ways, but I don't know if it was smarter, necessarily," said Rivers. "You still want the ball in Rondo's hands. But I thought it allowed other guys to understand how important that is. And I think they saw that. There's always a positive in any negative, and you knew something good was going to happen. You knew more bad, not having him. But, overall, you can always get something out of it. When Kevin misses a game, Paul, you have to find something."
Read on for more notes from Tuesday's session, including Barbosa questionable for Wednesday's game, Rivers doesn't want to jump in Rondo's head, and high praise for Minnesota bigs.
December, 3, 2012
12/03/12
2:35
PM ET


WALTHAM, Mass. -- Boston Celtics coach Doc Rivers gave members of the 35+ club -- Kevin Garnett, Paul Pierce, and Jason Terry -- an extra day off and a respite from Monday's practice, then tossed his clipboard to veteran assistant Armond Hill to run the skeleton session.

Leandro Barbosa also sat out the brief practice due to illness. With two rookies on assignment with the Maine Red Claws of the D-League and Avery Bradley still on the mend from double shoulder surgery, that left a mere seven available bodies for Hill to work with.

What can you do with seven players?

"You can do a lot with seven guys," said Hill. "We got a lot of 3-on-3, we played a little 1-on-1, some 2-on-2 with the bigs -- but we also broke down some plays, where we were able to get what we were looking for as far as pick-and-roll defense, and offense. We got a lot done."

Coming off a game-heavy November, Rivers elected to give his veterans some additional time off, particularly with the team having three total days off before Wednesday's visit from the Minnesota Timberwolves (coming off a back-to-back, the Celtics took Sunday off as a team).

The veterans are expected back on the floor on Tuesday morning. The younger players didn't mind some extra time in the gym to iron out some wrinkles.

"It's definitely good to have days off," said Courtney Lee. "You get in here and we can work on some things that we lacked in finishing out the game with [on Saturday in Milwaukee]. For today, we let the older guys -- the guys that are 35 and above -- get another day off, so they can rest their bodies. So that's always good when you get those guys to refurbish themselves."

Jeff Green did have some fun when a reporter asked about practicing without the "old" guys.

"Don't say that around them, they'd be mad," joked Green. "Well, we just worked on some defensive schemes that a lot of the bench guys needed to improve on. It's different with them not being there. It's a lot quieter, you've got KG not there. But we just worked on some things, tried to continue on our defense, but we miss them. Those are our leaders. It's weird not having them in the gym with us, and for me, I like everybody to be there. But those guys need their rest and we just had to get better today with the group that we had out on the floor. We'll come back tomorrow with everybody."

A handful of other notes from Monday's brief session, including Rajon Rondo's return, Lee's meeting with Rivers, and planning the skeleton session:


November, 29, 2012
11/29/12
3:41
PM ET


WALTHAM, Mass. -- Celtics forward Jeff Green (sprained right knee) and forward/center Chris Wilcox (illness) did not practice Thursday and both are questionable for Friday's visit from the Portland Trail Blazers.

Boston is also awaiting word on the fate of Rajon Rondo, who could be suspended for his part in a dust-up with Kris Humphries that left both players ejected from the Nets' win Wednesday at TD Garden.

"There's a chance there's no Wilcox tomorrow, there's a chance there's no Jeff Green tomorrow," said Rivers. "So, they're checking a lot of things. But, I don't care who doesn't play. The guys that play, we have to be ready to play and ready to win."

Green tweaked his knee in the third quarter of Wednesday's game, but returned to action. It flared again overnight, forcing him to be a spectator at Thursday's practice. Wilcox was not spotted as he battles flu-like symptoms.

If shorthanded due to injury, Rivers said the team would consider recalling Kris Joseph and/or Fab Melo from the D-League. In need of frontcourt depth, the Celtics would consider the rookies on assignment with the Maine Red Claws.

"Well, we might have to [call them up]," said Rivers. "But it doesn't matter. Now, if they are unavailable from injury, yeah, we can bring them in. If it's because of Rondo or somebody else gets suspended, you can't replace those players on your roster."

If Rondo is ultimately suspended, Rivers said he would lean on the three-guard rotation of Jason Terry, Courtney Lee, and Leandro Barbosa to split ball-handling duties. Regardless of the severity of any penalty, Rivers hinted the team remains in no rush to make a move to add a pure ball-handler. And Boston's overall struggles have left Rivers no less inclined to make a roster move at any position.

"If there's somebody out there, we're obviously going to bring him in," said Rivers. "But we're in no rush. We're not going to overreact to the way we're playing. We're not playing well. Let's not overreact to it by trading the team or changing guys. Let's see if we can get this right first."
PODCASTS
Jeff Saturday, NFL
Play Podcast ESPN NFL analyst Jeff Saturday dishes on what Peyton Manning is like, Patriots-Ravens, the Cowboys' game management during the Packers' comeback and more.
Ron Jaworski, NFL
Play Podcast ESPN NFL analyst Ron Jaworski weighs in on Packers-Cowboys, the scrutiny of Tony Romo, Marc Trestman's decision to start Jay Cutler, Patriots-Dolphins, the Chiefs' offense and more.
Cris Carter, NFL
Play Podcast ESPN NFL analyst Cris Carter covers the criticism of Tony Romo after the Cowboys' loss to the Packers, the Giants' struggles, Tom Coughlin's future in New York, the state of the AFC and more.