Boston Celtics:

2013Round1Game2
April, 24, 2013
4/24/13
5:55
AM ET
With Kevin Garnett limited by foul trouble,
Boston fell into 2-0 hole versus the Knicks
:
And a look at how things are playing at ESPN New York:
April, 24, 2013
4/24/13
2:45
AM ET
NEW YORK -- The Celtics have done a solid job defending the 3-point line during the first two games of an Eastern Conference first-round series against the Knicks, but they let up just long enough during Tuesday's Game 2 and it might have ultimately caused them to unravel.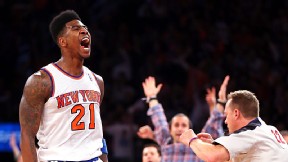 Elsa/Getty ImagesIman Shumpert had reason to celebrate during Tuesday's Game 2 win over Boston.
Owning a six-point lead coming out of halftime, the Celtics watched
Iman Shumpert
connect on a pair of triples over the first 122 seconds of the third quarter to tie the game and swing a pingponging momentum back to New York. The Knicks utilized it to dominate the third quarter, outscoring Boston by 21 in the frame en route to an 87-71 triumph at Madison Square Garden.
"They attacked us and we didn't handle it very well," said Celtics coach Doc Rivers. "We have to be able to do better. I don't know what we are doing wrong in the beginning of third quarters, but we gave up those two back-to-back 3s, which helped their confidence."
Later Rivers added: "It was our defense in the third quarter, clearly. We gave up 3s that we don't give up in this series. I don't know. We didn't come out with the same mentality we did in the first half. I don't know why and I need to find that out in the next two days."
The Knicks connected on 7 of 19 3-pointers (36.8 percent) on Tuesday, but were a mere 1-of-10 in the second half outside of Shumpert's early outburst. It was enough to help New York build as much as a 16-point lead as Boston struggled mightily to generate its own offense.
"We opened up their 3-point game," said
Paul Pierce
. "We came out and gave Shumpert those two early 3s ... and we've been defending the 3 pretty much well all game, and that was a point of emphasis. We have to do a better job, in that aspect, overall. You have a team that's shooting 40 percent [and averaging] 85 points -- a lot of things we're doing well, defensively."
Echoed
Courtney Lee
: "Those two 3s by Shumpert were huge. It was back-to-back, they tied the game up, and then once it's a game, it's anybody's game when it's tied."
Read on for a few other postgame notes on the bench:
April, 24, 2013
4/24/13
1:45
AM ET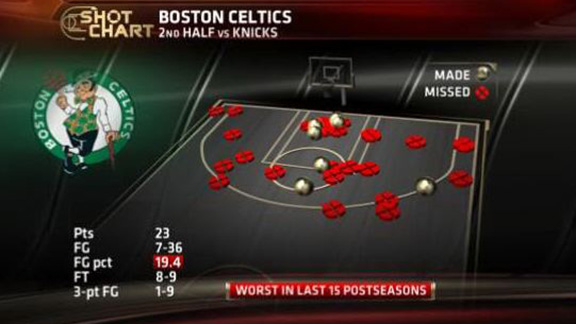 Once again, the Celtics shot themselves out of the game in the second half.
Game 2 between the
New York Knicks
and
Boston Celtics
was once again a tale of two halves. The Celtics led by six at halftime, shot 56 percent from the field, and held the Knicks to 38 percent shooting.
Carmelo Anthony
was also held in check (3-for-11 in the first half). But the Knicks struck back, as has been the theme of the series. Let's take a closer look:
Abysmal shooting
The second half was a completely different story from the first. For the second consecutive game, the Celtics appeared to run out of gas. Tuesday night they were 7-for-36 (19.4 percent) from the floor in the second half. That's their worst shooting performance in any postseason half over the last 15 seasons. Boston scored 24 points in the paint -- including the regular season that's tied for their lowest output in a game this season. During this series, the Celtics are averaging 27 points in the paint after putting up 38.1 during the regular season.
Offensive diversity
Anthony has scored 30 or more points in four consecutive postseason games. His production in both halves has been nearly identical. However, Anthony has passed 17 more times in the second halves of the games, helping the Knicks to a 33-point second-half advantage in the series. The Knicks scored 26 points on pick-and-roll plays in the second half in Game 2 after scoring 13 points on those plays in the first half. The Knicks averaged 1.18 points per play on the pick-and-roll in the game and averaged 0.68 points per play on isolations.
Importance of being up 2-0
When the home team wins the first two games of a series, they have gone on to advance 94.4 percent of the time. Only 15 teams in NBA history have come back to win a series after being down 2-0 (Oklahoma City came back from a 2-0 deficit last postseason). Game 3 on Friday will be even more important; no NBA team has ever come back to win a series from a 3-0 deficit.
April, 24, 2013
4/24/13
1:16
AM ET
By
Greg Payne
| ESPNBoston.com
NEW YORK -- Following the Celtics' 85-78 loss in Game 1 of their first-round playoff series with the
New York Knicks
, head coach Doc Rivers felt
Jeff Green
had been asked to do too much, between his scoring and having to defend
Carmelo Anthony
. But after Tuesday's 87-71 loss in Game 2, Rivers believed
Paul Pierce
was the overburdened Celtic, as Boston's captain couldn't will his team through its second consecutive game of second-half offensive woes.
[+] Enlarge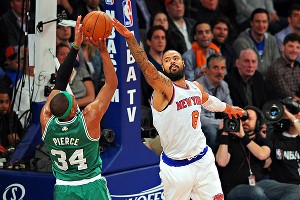 Len Redkoles/Getty ImagesPaul Pierce tried to force things offensively at times, and just couldn't keep the Celtics in the game.
Over 37:38 of floor time, Pierce had 18 points on 8-of-19 shooting and six rebounds and six assists, but he committed a team-high five turnovers and finished a game-worst minus-28 in plus/minus.
But in a game that saw
Kevin Garnett
battle foul trouble throughout, Green contribute a mere 10 points and the Celtics fall victim to some of the same problems on offense that hampered them in Game 1, Rivers summed up Pierce's night as trying to mask the team's many weak spots.
"He needs some help," Rivers said. "I think Paul was playing pretty well. He started getting tired in the second half because he tried to do everything."
The Celtics mustered just 23 second-half points in Tuesday's loss, the lowest second-half scoring output in franchise playoff history. Even more frustrating for the Celtics was how reminiscent it all was of Game 1, as a lack of ball movement and an aggressive Knicks defense hampered Boston's ability to put the ball in the basket.
Pierce wanted to keep his team in the game. He wanted to match Carmelo Anthony -- who scored a game-high 34 points -- shot for shot, isolation play for isolation play. But he couldn't, and it's unlikely that'll be how Boston fights its way back into this series, if it even can.
April, 23, 2013
4/23/13
10:44
PM ET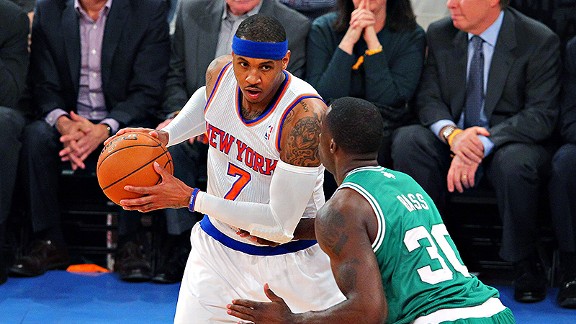 Brad Penner/USA TODAY SportsNew York's Carmelo Anthony is defended by Boston's Brandon Bass.
NEW YORK -- Rapid reaction after the
New York Knicks
defeated the
Boston Celtics
87-71 during Game 2 of an Eastern Conference first-round series at Madison Square Garden. The Knicks lead the best-of-seven series 2-0:


THE NITTY GRITTY
Carmelo Anthony
scored a game-high 34 points on 11-of-24 shooting, spearheading a key third-quarter outburst as New York raced away and tightened its grip on the series. Freshly minted Sixth Man of the Year
J.R. Smith
added 19 points, while
Raymond Felton
continued his role as Boston pest, chipping in 16 points on 8-of-14 shooting to go along with seven rebounds.
Paul Pierce
scored a team-high 18 points on 8-of-19 shooting with six rebounds and six assists but was again plagued by turnovers, committing a team-high five (with more of what he had labeled the "bonehead" variety) and was a game-worst minus-28 in plus/minus.
Kevin Garnett
finished with 12 points and 11 rebounds but played a mere 24 minutes due to foul trouble that limited his effectiveness for much of the first three quarters on a night the Celtics desperately needed to lean on him.
TURNING POINT
After a streaky first half that saw the Celtics build their lead as high as nine late in the first half (they led by six at halftime), Boston's offense crumbled in the second half for the second time this series. The Knicks opened the third quarter on a 24-4 run while building a 14-point cushion. Anthony scored nine points as the Knicks were 8-of-10 shooting during a 7:30 spurt to start the half, but it was Boston's offensive futility that sealed its fate. The Celtics were 1-of-11 shooting (9.1 percent) with Pierce contributing the only field goal as the Knicks raced away.
EARLY FOUL TROUBLE FOR KG
After three days of hearing about the importance of getting Garnett involved early, KG splashed a jumper 27 seconds in. But that was about as good as it got. A turnover and two fouls in an 18-second span forced Garnett to the bench with 8:39 to play in the first frame. Garnett got his fourth foul 3:30 into the third quarter and was a helpless spectator for the Knicks' game-changing run.
WILCOX MAKES PLAYOFF DEBUT
Celtics coach Doc Rivers went with
Chris Wilcox
as the much-anticipated first big off the bench (after not using one in Game 1) in what was Wilcox's first postseason appearance in an 11-year career. Wilcox played three scoreless first-half minutes, grabbed one rebound and was minus-6 in that span. If not for the lopsided nature of the game, he might not have returned. Rivers emptied the bench down the stretch, getting playoff minutes for
Shavlik Randolph
and
Terrence Williams
.
Courtney Lee
saw himself demoted to late-game minutes, playing the final 4:14.
WHAT IT MEANS
The Celtics will cling to the notion that a series doesn't start until a home team loses and say the Knicks simply held serve by winning the first two games of the series. But while Boston had its opportunities in each of the first two games, it also had head-shaking offensive lulls and critical errors in each that doesn't emphatically suggest a team capable of winning a best-of-seven series against a quality opponent. The Celtics hope coming home will provide a spark, but that alone will not be enough to get back in this series. Boston desperately needs to figure out how to mask its offensive deficiencies. Two days off await as the series shifts to Boston for Games 3 (Friday) and 4 (Sunday).
April, 23, 2013
4/23/13
7:30
PM ET
NEW YORK -- Basketball, finally.
While the
Boston Celtics
admit there are far worse cities to be stranded in than New York, the 72-hour crawl to the start of Game 2 has been arduous, particularly as they've been dwelling on a sloppy Game 1 loss. And after what amounts to three straight days of trying to correct all its errors from Saturday afternoon's defeat, Boston is relieved to get back on the court Tuesday night at Madison Square Garden.
"Especially on the road, you'd rather get right back at it," admitted Rivers. "You just feel like you're sitting around the room and doing things like that, but obviously being in New York helps in some ways. It's not a bad city to hang out in and go have dinner. So I think we'll be ready."
For the Knicks,
Pablo Prigioni
is back in the starting lineup after sitting out Game 1. How does that change things for Boston?
"Well, it just gives them another decision-maker. I mean, he's brilliant," said Rivers. "He's another
Jason Kidd
-ish type guy and so it just gives them another smart player on the floor and another guy that can create plays, and that makes them really good. It's no coincidence that when he's in the lineup they play better, because they have a lot of IQ on the floor at the same time."
The Celtics are hoping that a somewhat undersized backcourt of Prigioni and
Raymond Felton
allows Boston to take advantage at the 2-guard spot by getting
Paul Pierce
the ball near the post.
"We're going to attack whoever guards Paul," said Rivers. "I'm sure [Knicks coach Mike Woodson is] thinking the same thing. It doesn't matter who's guarding Paul, Paul's going to get the ball, he's going to get it in the post, they're going to come trap. Hopefully there's an advantage there."
Let's play some basketball.
April, 23, 2013
4/23/13
1:00
PM ET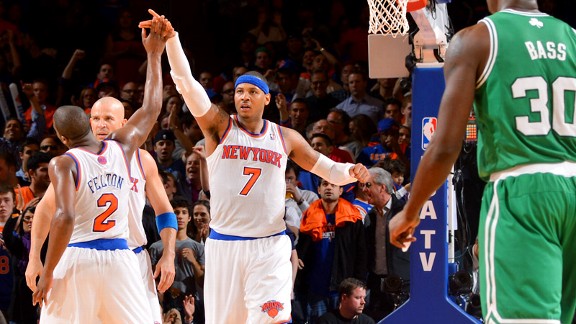 Jesse D. Garrabrant/NBAE/Getty ImagesCarmelo Anthony and the Knicks had plenty to celebrate during a Game 1 victory.
The Boston Celtics visit the New York Knicks in Game 2 of an Eastern Conference first-round series Tuesday night. Here's what to watch for:


*
MORE TOUCHES, SHOTS FOR KG
: Keeping with the annual spring tradition, the Celtics have preached a desire to get Kevin Garnett more touches and better shots in the postseason (this after he had a quiet Game 1, offensively). How does Garnett get himself easier looks? "Just play basketball, man," he said. "Our sets are called and our plays are designed for, obviously, movement, opportunity. Within those opportunities, I've just got to be aggressive with those, without coming out of formality or what we've been doing since this point. When I get baskets, it's because I've taken advantage of options within the offense and I haven't overstepped or anything outside of that. So I'm going to stick with that, but obviously being more aggressive with the opportunities that I do get."
*
C'S WANT BETTER PASSES
: The Celtics were plagued by 21 turnovers in Saturday's Game 1 loss. What's more, many of those turnovers were what Paul Pierce dubbed "boneheaded" plays. Celtics coach Doc Rivers thinks it's as simple as making better decisions with the ball -- and decreasing the degree of difficulty on some passes. "I thought most our turnovers were forced, guys were trying to do too much with the pass," Rivers said. "The good news is they were trying to pass; the bad news is they were trying to pass. Some of the passes, really, should have just been down the sideline and to the post, instead of the guy with the ball was trying to make the pass. Again, they are correctable, but give the Knicks credit, some of those turnovers were forced by [Jason] Kidd and some by their hands."
*
BENCH WARMING?
The Celtics watched a three-guard reserve unit of Courtney Lee, Jordan Crawford and Jason Terry combine for zero field goals and a measly four points in Saturday's Game 1. Rivers takes some of the blame for not playing his reserves more but said he simply needs more from whoever is on the floor for Boston in Game 2. "The bench didn't play a lot, so I don't overdo that [low point total]," Rivers said. "If our bench had of played and we only had four points, then I would have been like, 'We have to get more points from our bench.' We do have to get more production from our bench, but I didn't play them a lot. Our starters played a lot of minutes. So if you're going to do that, you're going to have to get more production from your starters."
*
LET'S PLAY SOME BASKETBALL
: The Celtics and Knicks essentially had three full days off between Games 1 and 2. Storylines from Game 1 have been picked clean, and it's clear both teams are ready to get back on the floor. It will be interesting to see how both sides respond to the extended rest. New York undoubtedly likes the downtime for its veteran legs, but both teams likely are a bit antsy. The question is whether there will be any lingering rust for teams that have played just one game in nearly a week's span.
April, 23, 2013
4/23/13
11:45
AM ET
By
Greg Payne
| ESPNBoston.com
NEW YORK -- After scoring 20 points in the first half of the Celtics' 85-78 loss to the Knicks in Game 1 of an Eastern Conference first-round series, Jeff Green mustered just six points over the final 24 minutes as he logged a game-high 45:35 of floor time and spent a portion of that defending New York's Carmelo Anthony.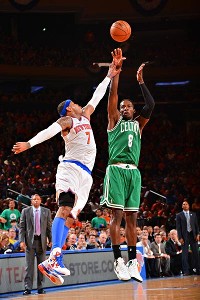 Jesse D. Garrabrant/GettyJeff Green gets up a shot Saturday.
Celtics coach Doc Rivers said fatigue from playing too many minutes might have factored into Green's second-half output, but Green said Tuesday he has to remain aggressive on offense, even if he's playing heavy minutes.
"I've just got to do it," Green said before the team's morning shootaround at Madison Square Garden. "I've just got to play through the fatigue. I've got to continue to look for mine, basically. There's no excuses now. I want to be out there, I want to compete. I want to play against the best, I want to guard Carmelo, I want to do it all. It's just something I've just got to get through."
Green found himself in a comfortable rhythm early on in Game 1 as he connected on 7 of 10 shots in the first half and made all three of his free throws. Said Green: "I got to the free throw line, I made a couple of shots on the perimeter to get me going and I got some layups in transition. That's how you get yourself going, that's how you get a rhythm."
But Green's rhythm evaporated in the second half as he converted only one of five shots and couldn't keep Boston afloat after it built a seven-point third-quarter lead. Between film sessions and practice time, Green said he has gotten a lot out of Boston's two off days and is ready to make the necessary adjustments in Game 2.
"Just continue to be more aggressive in the open court," Green said of what he can do better Tuesday. "That's about it. Defensively, continue to make everything for Carmelo tough, and just keep him off the offensive boards and get all the 50-50 plays."
April, 23, 2013
4/23/13
11:43
AM ET


NEW YORK -- More than 72 hours will have passed between the conclusion of Saturday's Game 1 and tipoff for Tuesday's Game 2 of an Eastern Conference first-round series between the Celtics and Knicks. Boston has spent much of that extended downtime focusing on all the self-inflicted mistakes that allowed New York to take an early series lead.

While the Celtics are not a team to reject extended rest, it's clear that players are eager to get back on the floor and clean up those miscues in the hopes of tying this series before it shifts back to Boston.

"We can't turn the ball over, we gotta stay in transition, we have to space the floor, but bottom line is, offensively, we have to play better, obviously," Celtics coach Doc Rivers said of his team's keys in Game 2. "I'm sure [the Knicks] are thinking the same way. A lot of our [errors] were self-inflicted, so we have to do a better job there."

The Celtics watched film Sunday and hit the practice floor on Monday. There's only so much players can do to ensure the same mistakes won't happen again.

"I don't know how you work on turnovers," admitted Rivers, whose team gave the ball away 21 times during Saturday's loss. "We really just got back into doing what we do. We worked on execution a lot [Monday], and that's something we've been doing for the last six weeks, really."

A few more notes and quotes from shootaround at Madison Square Garden:

• MUST-WIN GAME?: In every series, the team that loses the first game is swarmed with questions about the importance of Game 2 and avoiding a 2-0 hole. Is Tuesday a must-win game for the Celtics? "Every game is a must-win game," said Jeff Green. "It's the playoffs. That's the only way you move on is to win, so you go into every game thinking it's a must-win." After the Bulls, who are sharing the same New York hotel with Boston this week, evened their series with the host Nets on Monday night, Avery Bradley noted, "I feel like anybody would say it'll always be good to steal one of their home games away from them, just like Chicago last night. I'm pretty sure they were happy with that win, because it's always tougher playing away. So [the Knicks] probably feel like it's a must-win game because when they go to Boston it's going to be a little tougher."

• MSG MEMORIES: Rivers knows all too well that a 2-0 hole is not insurmountable. During the 1992-93 season, Rivers was part of a Knicks team that won 60 regular-season games; in the playoffs, the Knicks had a 2-0 series lead on the underdog Bulls. Chicago rallied to win the next four games, including a tight Game 5 in New York. Those aren't some of Rivers' fonder memories, but a friendly reminder of what's possible when a top seed holds serve at home.

• MORE BIG TALK: After leaning on a three-guard bench in Game 1, Rivers has hinted he'll add a big to the rotation on Tuesday. But he stressed that the game will dictate whether he sticks with that plan. Rivers had previously noted that he might go big only in the first half with the goal of simply driving down starter minutes to keep them fresh in the second half (Boston scored only eight points in the fourth quarter of Game 1). "It's really a game decision," said Rivers. "It's easy to state it now; I don't know what that does. So we'll kind of wait for the game to start, see how guys on our team are playing, and how their lineups are, and go from there."