Boston Celtics:

2013Round1Game3
April, 28, 2013
4/28/13
6:15
PM ET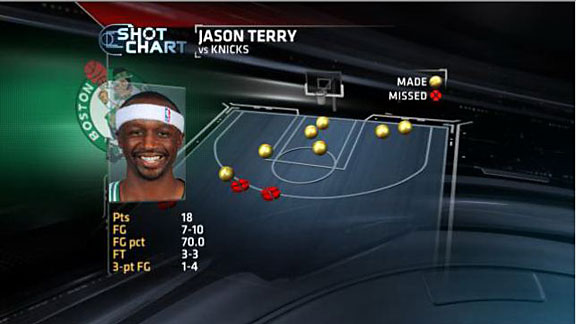 Jason Terry provided a bench spark for Boston in Game 4.
The
Boston Celtics
survived a comeback effort by the
New York Knicks
to prevail in overtime and extend this first-round series to a fifth game. Let's take a look at some of the keys to the outcome of this contest, one that snapped the Celtics' five-game playoff losing streak.
KEY TO THE GAME: C'S CATCH-AND-SHOOT WELL
The Celtics were finally able to put some points on the board in this series, and their performance in a number of areas contrasted their efforts from earlier in the series. The chart on the right shows the difference between how the Celtics fared on catch-and-shoot shots in the first three games of the series, compared to how they shot in Game 4.
Paul Pierce
, who was 0-for-12 on catch-and-shoots in the first three games of this series, was 4-for-7 in Game 4, with most of those makes coming early when the Celtics got off to their big lead.
JET THE UNSUNG STAR
Celtics guard Jason Terry scored nine of his 18 points in overtime, making all three of his shots in the extra period. Terry was 6-for-6 from 2-point range in this game, including 4-for-4 in the paint. He was 1-for-4 in the paint in the first three games of this series.
April, 27, 2013
4/27/13
9:15
AM ET
Three months ago, Celtics coach Doc Rivers implored us not to write off his team? After an uninspired effort in Game 3 it's clear
this team has no more fight in it
:
And a look at how things are playing at ESPN New York:
April, 27, 2013
4/27/13
2:05
AM ET
BOSTON -- Asked about
J.R. Smith
's flagrant-2 elbow that floored
Jason Terry
in the fourth quarter of New York's Game 3 triumph on Friday night at TD Garden,
Boston Celtics
coach Doc Rivers paused and seemed a bit emotional as he crafted his words.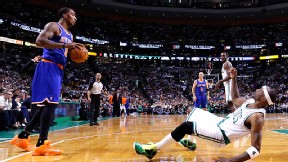 Greg M. Cooper/USA TODAY SportsJR Smith floors Jason Terry with an elbow in the fourth quarter of Game 3.
"I hate doing it, you know that. I don't know. I wish I was playing. I didn't like that," said a visibly angered Rivers. "[The Knicks were] up. So ... I'm going to stop. I've already given up money."
With the Knicks up 19 with seven minutes to play, Smith seemed aggravated by Terry's attempts to strip the ball near the 3-point line in front of the Boston bench. With Terry crouched and up on his body, Smith appeared to purposely swing his arm, sending Terry backward to the floor with an elbow that connected with his head.
Smith was assessed a flagrant-2, which comes with immediate ejection.
Terry did not make himself available to reporters after the game, but his reaction on the court said it all. He immediately popped off the court and pursued Smith, stopping only when both
Jeff Green
and Rivers intercepted him.
Smith attempted to defend his actions.
"I was trying to draw the foul," he explained. "[Terry] reached in one time, I thought he was gonna reach in a second time and I was gonna try to get a quick shot off, but they made a call that the refs saw, and there's not really much I can do about it."
Asked if the flagrant-2 was warranted, Smith added: "I don't really know, I'm not really the judge of that. I'm going to let them do what they do. I really try to stay away from getting into it with the officials, so I gotta keep my head. That was a bad basketball play on my behalf, just because I got kicked out of the game and my team needed me. I just have to be ready to play Sunday."
Like with all flagrant fouls, the league will review the tape and can add further punishment, including possible suspension.
Read on for postgame notes, including Rivers' thoughts on his lineup shuffle,
Fab Melo
's D-League honor and Rivers' take on his $25,000 fine for criticizing officials.
April, 26, 2013
4/26/13
7:35
PM ET
BOSTON -- Boston Celtics guard Avery Bradley said he wasn't feeling when he was tardy for the start of Thursday's practice, but suggested he's ready to go for Game 3 of an Eastern Conference first-round series against the New York Knicks.
"I just wasn't feeling that good yesterday," said Bradley. "But I'm good now. Just a stomach ache. But I'm fine now."
Celtics coach Doc Rivers, however, expressed some concern about Bradley's health, particularly given what the team is asking him to do as their primary point guard.
"He didn't practice much," said Rivers. "He wasn't feeling well, so we gave him a Tums, and we told him to sit there. Honestly, I've had this for three years now, when guys are feeling flu-ish or anything, I don't really want them near any other guy. I just think that's pretty sound advice."
Rivers hinted that -- without naming names -- he'd consider potential lineup changes that could ease the burden on some of his overwhelmed players, which could include Bradley as the top-unit ball-handler.
The Celtics ultimately elected to move Jason Terry into the starting lineup alongside Bradley, moving Brandon Bass to a reserve role.
"I don't mind the pressure on Paul [Pierce], honestly, I want to take pressure off a couple other guys," said Rivers. "I think there are some guys who were are just asking them to do things they can't do. We gotta relive the pressure from them. Paul, actually likes pressure, he doesn't mind. Carmelo [Anthony] -- they don't mind. That's what they do. That's why they make all that money. But we're asking other guys right now to do way too much. We don't have a lot of choices in the matter. We can add more guards on the floor at times with them. I just think it's too much, obviously. We have to figure out a way of relieving some pressure."
As for Kevin Garnett and the hip pointer suffered in Game 2, Rivers said he limited him in practice on Thursday, but only to preserve his health.
"He looked good," said Rivers. "To the point where I had to keep taking him out and I had to keep hearing him. I always look at that as a good sign, when he's screaming at me for taking him out of practice."
Before the game, the Celtics handed out
Boston Strong t-shirts
for fans in attendance and wore special green warm-up shirts adorned with the Boston Marathon logo. Hop
HERE
for more on the team's plan to honor members of the community that assisted in the aftermath of last week's marathon tragedy.
[
Note
: Updated at 7:57 p.m. to note that Jason Terry has moved into the starting lineup.]
April, 26, 2013
4/26/13
12:00
PM ET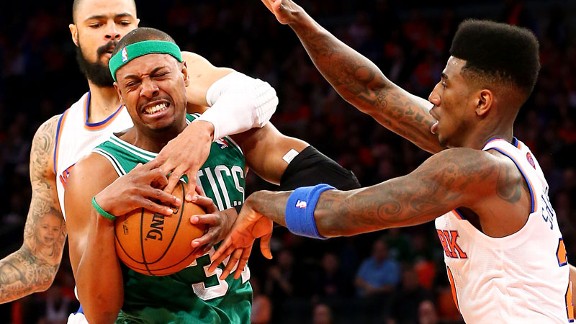 Debby Wong/USA TODAY SportCan the Celtics shake free of the Knicks' grasp back in Boston for Game 3?
The Boston Celtics host the New York Knicks in Game 3 of an Eastern Conference first-round series on Friday night at TD Garden (8 p.m., ESPN). Here's what to watch for:


*
NOBODY LOVES RAYMOND
: Entering the series, Boston's defensive worry list was topped by the likes of Carmelo Anthony and JR Smith. The one player the Celtics
really
need to stop at the moment? Raymond Felton. From our friends at Elias Sports Bureau: The Knicks have outscored the Celtics by an average of 22.8 points per 48 minutes with Felton on the floor, but have been outscored by 45.1 points per 48 minutes with Felton on the bench. That 67.9-point swing is the largest for any NBA team with-and-without a particular player on the court in this year's playoffs. Said Celtics coach Doc Rivers: "He's killing us. He's getting into the paint, he's attacking us... And we have to do a better job on him. I wish I could make a better statement than that, except for, we have to keep him out of the paint."
*
CHANGE UP THE HALFTIME SPEECH
: No secret here, the Celtics have been excellent for the first 24 minutes of Games 1 and 2 in this series, but have flat out disappeared in the second halves. To hammer that home, The Celtics are shooting 54.2 percent from the field in the first half in this series -- the highest such percentage for any team in this year's playoffs -- and 22.2 percent in the second half -- the lowest for any team in this postseason, according to Elias. Celtics coach Doc Rivers has noted the trouble doesn't lie solely on the offensive end as both sides of the floor are connected and getting stops will ease some of the offensive struggles for Boston by giving them more transition opportunities.
*
COMING HOME
: No one knows how Boston will respond to playing in its gym for the first time in 16 days, at least emotionally given that this is its first game in the aftermath of the marathon bombings. But the Celtics have always received a spark from playing at home and absolutely need to feed off the energy in the building. The Knicks will have confidence after winning two games in this building during the regular season. The question is can they get over the mental hurdle of having lost their last eight playoff games on the road. New York's last road win on the road? A victory in Toronto on April 29, 2001, according to Elias.
*
NUMBERS NUMBERS NUMBERS
: A few more of the stats and nuggets that jumped out from Elias' preview package: The Celtics have scored only 48 points in the second half during the first two games of the series. That is the fewest second-half points scored over any two-game span in NBA playoff history (previous low was 49 points by the Washington Capitols in the 1947 postseason)... In the history of the NBA playoffs, teams that have won the first two games of a best-of-seven series have gone to win the series 94 percent of the time (233 of 248)... In the history of the NBA playoffs, there have been 57 teams that have lost the first two games of a best-of-seven series against an opponent that finished with at least 13 more wins during the regular season, as the Knicks did over the Celtics in 2012-13 (54 to 41). None of those 57 teams came back to win the series.
April, 25, 2013
4/25/13
1:24
PM ET


WALTHAM, Mass. -- Boston Celtics coach Doc Rivers said he planned to limit Kevin Garnett's activity during Thursday's practice with the goal of having him on the floor for Friday's Game 3 of an Eastern Conference first-round series against the New York Knicks.

Garnett suffered what Rivers has compared to a hip pointer during Tuesday's Game 2 loss. Garnett didn't address the injury specifically when talking before Thursday's session, but said simply that he's 'confident' he'll be healthy enough to play.

"I didn't ask [the training staff]. That's my rule, I try not to ask. Because they may give you the answer you don't want to hear," Rivers joked about Garnett's status. "Right now, we're planning on him practicing. I'm not going to let him go through the entire practice, even if he's feeling good. I know a hip pointer, all you need is someone to bang into you or something. I don't even know if it's that, so we're going to be careful."

Garnett sat out 10 of Boston's final 13 games, including eight straight due to left ankle inflammation. He also missed two games before that due to a left adductor strain.

Asked if he felt physically ready for Friday's Game 3, Garnett offered, "We're a confident group." He then repeated that same answer when pressed on his health.

Rivers said he doesn't remember exactly when the injury occurred during the second half of Tuesday's loss, but was initially concerned it was a stomach issue.

"I asked him two or three times if he could keep going, because at the time, I didn't know what it was. I thought it was the stomach and when you see someone grabbing there you immediately think stomach muscle, which is the worst," said Rivers. "That's why in our era, we didn't do sit-ups, so we could never hurt that muscle, but that was my fear, and that's a bad injury. And it wasn't that. So after [team trainer] Eddie [Lacerte] told me it wasn't that, I was good."

Garnett was limited by foul trouble in both Games 1 and 2. With the Celtics down 0-2 to the Knicks, he knows how important Friday's game is.

"When you're down 0-2 to a good team that's playing really well, that has a rhythm, desperation is definitely in play," said Garnett. "We can't afford to think otherwise. This is it. We cannot go down 0-3 to any team, I feel like in the postseason. It'd be a very difficult situation to put yourself in."

Garnett does expect to get a lift from being back at TD Garden, playing at home for the first time in 16 days, and the first time since the marathon bombings.

"I'm looking forward to tomorrow -- being home, back in Beantown. Very much so," he said. "We haven't been home since all the current events and everything... so, yes, we're anticipating it being very emotional, very inspiring, and we're looking forward to coming out and trying to get this Game 3."
April, 24, 2013
4/24/13
10:00
AM ET
Over the nearly three full days of hype leading to Game 3 of an Eastern Conference first-round series between the Celtics and Knicks, you'll be reminded often about the perils of the 0-2 deficit.

By now you know the daunting data: Only 15 teams in NBA history have come back to win a series after being down 2-0 and that 94.4 percent of home teams that win Games 1 and 2 go on to advance. You'll be told the Celtics are, appropriately, 0-2 after losing the first two games of a series in the Kevin Garnett era (Miami eliminated Boston both times -- in seven games in the 2012 conference finals and five games in the 2011 conference semifinals).

And yet when Jeff Green was asked after Tuesday's Game 2 about the long odds facing his team and whether he was worried, he offered, "Not concerned at all."

What else would a player whose team is in an 0-2 hole say? Yes, the Celtics have put themselves in position to win twice in New York before cringeworthy second-half efforts helped the Knicks emerge. But Celtics coach Doc Rivers was a bit more blunt on the topic.

"I guess they say the series hasn't started -- and I've heard this corny line a million times -- until the road team wins," said Rivers. "I am positive the series has started because we are down 2-0."

If Rivers is looking for a confidence boost, he can ask Jason Terry to regale his teammates with tales of the 2005 Dallas Mavericks, who rallied from an 0-2 hole to top the Houston Rockets during the first round of the playoffs that year despite losing two home games to open the series.

"We lost those first two at home and went in their building and beat them pretty good twice and ended up winning in seven games," recalled Terry. "Again, it's a long series. You can't get too high or too low. You've just got to keep grinding and watch the film and understand what you have to do to be successful. And right now, it's playing a full 48 minutes of basketball. We haven't done that yet."

Will Terry impart lessons from that experience?

"No question," he said. "Our veterans have been through a lot. But the young guys must understand that them winning two games at home -- good for them. Now we're going to do our job."

Boston has no choice. No team has ever rallied from a 0-3 deficit.