Boston Celtics:

2013Round1Game5
May, 2, 2013
5/02/13
3:35
AM ET
By
Greg Payne
| ESPNBoston.com
NEW YORK -- Based on the way things had already unfolded, perhaps it shouldn't have been surprising that Brandon Bass hit what head coach Doc Rivers deemed the "biggest shot of the game" in the Boston Celtics' 92-86 Game 5 victory over the New York Knicks in their first-round playoff series Wednesday.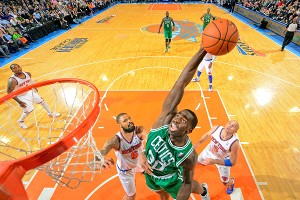 Jesse D. Garrabrant/NBAE/Getty ImagesBrandon Bass skies against the New York Knicks.
Boston had built a 75-60 lead with just over nine minutes left in the fourth quarter, but it then sank into one of its dreaded offensive droughts, as the Knicks clawed back within eight over the next three minutes. The C's were coming off of back-to-back turnovers when Bass took a Terrence Williams pass in the right corner, dribbled hard toward the lane against Tyson Chandler, spun back to his right, and put in a fading bank shot over Chandler's outstretched arm.
The shot restored order for the Celtics, who closed out the Knicks from there and cut New York's series lead to 3-2.
"I thought Brandon Bass -- I thought the bank shot he made was probably the biggest shot of the game, because we were leaking a little oil in that stretch, and that kind of settled us down," Rivers said.
But that shot wasn't the only instance of Bass bailing Boston out on Wednesday.
May, 2, 2013
5/02/13
12:40
AM ET
NEW YORK -- Boston Celtics reserve guard
Jordan Crawford
instigated a postgame flare-up by jawing at New York Knicks star
Carmelo Anthony
after Boston's Game 5 triumph over New York on Wednesday night at Madison Square Garden.
Crawford could be seen
shouting at Anthony as the two teams crossed paths
on their way off the floor following Boston's 92-86 win in an Eastern Conference first-round series. Celtics reserve
D.J. White
initially stepped in to move Crawford along, but tempers flared when
Raymond Felton
approached in defense of his teammate. Players, coaches and security from both sides stepped in to defuse the situation.
For his part, Anthony said, "I'm not thinking about no Jordan Crawford. Not at this point in time, I'll tell you that. I don't think he deserves for you to be typing [his name] right now."
Anthony had a
much-publicized postgame run-in
with
Kevin Garnett
during a regular-season game here in January. Crawford could have stoked that fire with his postgame comments.
Neither Crawford nor White cared to elaborate on the matter, but
Terrence Williams
, who tried to play peacemaker by bearhugging an angered Felton, downplayed the situation.
"If you watch the replay, I was just the guy to try to separate the teams, I don't know what happened," Williams said. "I was talking to [assistant coach Ty Lue], then I just turned around to see guys pushing and I don't know. I don't know how that started. The good thing is no punches and all that. And we'll see them on Friday."
Celtics coach Doc Rivers said he didn't see what happened, but wasn't thrilled with it, either (though it did afford him the chance to playfully jab former Knicks teammate -- and occasional pugilist --
John Starks
).
"I wasn't happy with it," Rivers said. "[Knicks coach Mike Woodson] wasn't happy with it. Let's play basketball. Let's play real physical basketball and let's walk off the floor. I don't know what happened. I'm glad Starks wasn't there."
May, 2, 2013
5/02/13
12:21
AM ET
NEW YORK -- To truly understand the significance of
Terrence Williams
logging valuable (nay, critical) floor time in the
Boston Celtics
' Game 5 triumph over the
New York Knicks
on Wednesday night, you have to understand just how far he's come since joining the team.
[+] Enlarge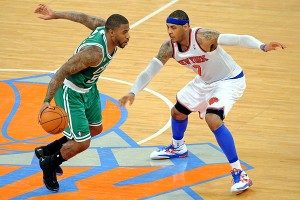 Joe Camporeale/USA TODAY SportsTerrence Williams' ball-handling skills provided a steadying influence for the Celtics in Game 5.
During his Boston debut in late February in Los Angeles, Williams committed a double-dribble, the sort of elementary miscue that typically rears its head in youth basketball games. Fast-forward two months and here is Williams on the NBA's playoff stage, being called upon to be a steadying presence for a Celtics team devoid of a pure ball-handler.
"When I came back from China, I was at home for probably 2½ weeks, I didn't touch a basketball when I was at home," said Williams, the former lottery pick (11th overall, 2009 draft) who signed with the Guangdong Southern Tigers at the start of the 2012-13 season with no viable NBA option.
"Let's be honest, I ran, but I didn't touch a basketball. I don't know if you guys remember, I played in the Lakers game and I double-dribbled because I wasn't used to dribbling the ball again. That's why I carry my ball everywhere now. That's how it happened."
May, 1, 2013
5/01/13
6:25
PM ET
NEW YORK -- Following the advice of veteran center
Kenyon Martin
to wear funeral attire, the
New York Knicks
arrived at Madison Square Garden with most players decked out head to toe in black suits before Game 5 of an Eastern Conference first-round series with the
Boston Celtics
.
Informed of their coordinated efforts to wear all black, Celtics coach Doc Rivers quipped about his own attire, "Me, too."
The Celtics had already downplayed the Knicks' plan earlier in the day at shootaround with
Paul Pierce
noting, "This is basketball. I'm not going to be dead after the game." And
Kevin Garnett
said he had not paid any attention to New York's "shenanigans."
Many of the Knicks wore all black to Sunday's Game 4 and the Celtics avoided the sweep with a win at TD Garden. With his team still facing an uphill climb with the Knicks owning a 3-1 series advantage, Rivers said his message to his team was simple.
"Win. Really, I don't think you need to get deep when you're down, you just want to make sure everybody wants to win," said Rivers. "Like I said before the last game, seventh games are easy; everybody wants to win a Game 7. I've always thought, not everybody wants to win when you're down 3-0 or 3-1. You just want the right guys to want to win. That's what we have to be; we'll be ready."
Asked if he thought any team would rally from a 3-0 hole, Rivers said he wouldn't mind his team being the first.
"I think that would be wonderful," said Rivers. "Someone's going to do it. And I want it to be us, obviously, since that's the situation we are in. But someone will do it. I really want to be a part of that."
As for what he's seen on film that has hurt his team, Rivers offered, "The clear thing that is obvious is when we start turning the ball over, and, in that stretch, give up offensive rebounds, then force shots, we usually lose leads or get down further. And that's been pretty much obvious to anybody this year."
May, 1, 2013
5/01/13
12:25
PM ET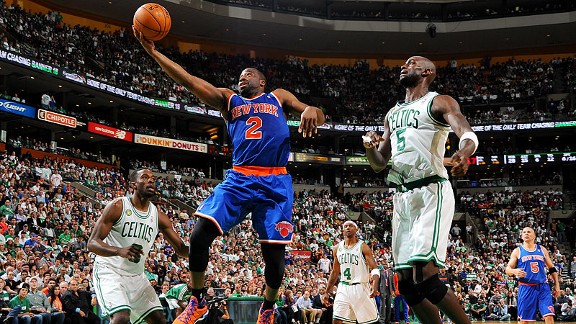 Brian Babineau/NBAE/Getty ImagesThe Celtics need to stop Raymond Felton to have success in Game 5.
The
Boston Celtics
visit the
New York Knicks
on Wednesday night in Game 5 of an Eastern Conference first-round series at Madison Square Garden (7 p.m., TNT). The Knicks lead the series, 3-1. Here's what to watch for:


*
WINNING ON THE ROAD
: Back in a hostile New York environment, the Celtics know the Knicks will be searching for an early knockout punch on their home turf. "We just have to come out ready to play," said Celtics coach Doc Rivers. "They are at home, they are going to try to feed off their crowd and all that. But at the end of the day, it's going to be between the lines. And it's going to be what they do, it's not going to be what anybody out in the crowd says or does. It's going to be between the lines." Echoed captain
Paul Pierce
: "They're going to amped up, their crowd is going to be emotionally into it. They feel like they've got an opportunity here at home, so I think that's going to be the early focus, is to withstand their early run. We know that we're going to take hits, but we've got to be able to hit back in the early stages, and we've got to maintain that through the four quarters."
*
J.R. IS BACK
: The Celtics took advantage of the absence of
J.R. Smith
during Sunday's Game 4 victory, but he's back after a one-game suspension for elbowing
Jason Terry
. Asked what kind of impact he expects Smith's return to have on New York, Terry said, "Hopefully none. If he comes out here and gets hot early, then it's going to be a long night for us. I'm looking forward to the challenge, as are my teammates." Smith, the league's Sixth Man of the Year, is averaging 16.3 points on 43.5 percent shooting in three games this series.
*
IGNORE THE NOISE
: From Smith's brash prediction that this series would be over if he had played in Game 4, to
Kenyon Martin
telling his teammates to wear funeral attire, Celtics center
Kevin Garnett
said he's tried to ignore all the noise. "I have not paid attention to none of the shenanigans," said Garnett. Pierce downplayed Martin's fashion advice, noting, "This is basketball. I'm not going to be dead after the game."
*
ONE POSSESSION AT A TIME
: Rivers has preached a one-game-at-a-time philosophy after his team lost the first three games. But now he's stressing an even narrower focus: One possession at a time. "Really, I think that's what you should do every game," said Rivers. "Obviously, it's easier to do in the playoffs, because you do have single-game focus. But I do think, to be really great, you have to get to not only one quarter, but one possession at a time. And play forward, and not play in reverse. I think that's where players get lost -- if they have a couple bad possessions and they are thinking about that, or thinking about the last game and the team made a run on them. You can't do that. It's hard, but you just can't. You have to play to the next possession, then the next possession, then the next possession. And that's difficult to do, but it's what you have to do."