Boston Celtics:

2013Summer
July, 12, 2013
7/12/13
3:50
PM ET
Rapid reaction after the Boston Celtics closed out summer league play with a 102-83 triumph over the Orlando Magic in the seventh-place game at the Amway Center:


THE NITTY GRITTY
The Celtics spread around the summer league fun, putting seven players in double figures, including a team-high 14 points for Tony Mitchell and 12 points for rookie first-round pick Kelly Olynyk (who added a team-high seven rebounds over a mere 15 minutes). Fab Melo posted 11 points, five rebounds, and a block over 18 minutes, while Phil Pressey capped an impressive summer showing with seven points and 10 assists. Boston (3-2) avenged its opening-day loss to the host Magic (2-3). Hop
HERE
for the full box score.
WHAT IT MEANS
Goodbye, summer league. The Celtics will not participate in the Vegas event, meaning their summer exhibitions are over. Olynyk proved to be one of the tournament's breakout stars and should land on the all-tournament team. Second-round pick Colton Iverson got a chance to showcase his toughness and made his case for latching on with the varsity squad if there's roster space (if not, a year overseas could loom). Pressey played his way into a training camp invite and, like Iverson, could be a nice young addition at the end of the roster should the Celtics have space to carry him.
July, 10, 2013
7/10/13
5:05
PM ET
ORLANDO -- Rapid reaction after the Houston Rockets defeated the Boston Celtics 85-78 on Day 4 of the Orlando Summer League at the Amway Center:


THE NITTY-GRITTY
Kelly Olynyk scored a team-high 19 points on 8-of-14 shooting to go along with 10 rebounds (six on the offensive glass) over 28 minutes. Phil Pressey had another nice outing, handing out 10 assists (negating 2-of-9 shooting and four turnovers over 26 minutes; he was plus-14 during his time on the floor). Tim Abromaitis kicked in 14 points and was a team-best plus-20 in plus/minus, while Courtney Fells added 10 points. Hop
HERE
to read the full box score. A quiet night for Fab Melo, who had one point and zero rebounds over 10 minutes.
TURN UP THE BASS
Brandon Bass was the latest visitor for the Celtics, dropping by for the afternoon to see Boston's summer entry and meet new coach Brad Stevens. Bass said he's been laying low this summer, and when asked about all the changes on the Boston roster, he offered, "I don't have no impressions, no feelings. It's the business of basketball." Bass stressed he's focusing on his own game and noted, "I'll be ready come training camp."
WHAT'S NEXT?
The Celtics have an off day Thursday -- and it's needed for a team that's been active for seven straight days, including the three days of practice upon first arriving in Orlando. Boston will wrap up summer league play on Friday with a championship-round game that will be determined by the overall standings after Thursday's games.
July, 8, 2013
7/08/13
5:00
PM ET
ORLANDO -- Rapid reaction after the
Boston Celtics
defeated the
Detroit Pistons
93-63 during Day 2 of the Orlando Summer League on Monday at the Amway Center:


THE NITTY GRITTY
Darius Johnson-Odom scored a game-high 22 points on 8-of-14 shooting to go along with five rebounds and two assists over 25 minutes, while
Kelly Olynyk
added 13 points on 5-of-9 shooting over a 21-minute stint, showcasing a few more of his slick offensive moves. Phil Pressey joined the group in double figures with 12 points, including a pair of 3-pointers. Hop
HERE
to see the full box score.
A LOPSIDED WIN
The Celtics opened a 21-point lead after the first quarter (30-9) and the 30-point differential tied the record for fifth biggest win in Orlando Summer League history. Boston's only bigger win: A 31-point triumph over Utah in 2009.
STARTERS IN FOCUS
The Celtics went with a starting five of Olynyk,
Fab Melo
,
Tony Mitchell
, Pressey and Courtney Fells. Pressey took the starting point guard role from
Nolan Smith
, who suffered a lower right leg injury in Sunday's opener. Smith, wearing a boot, watched the game from the bench on Monday. ... Mitchell produced one of the highlights of the game with an emphatic second-quarter chasedown block. ... Johnson-Odom opened the second half with the first unit, taking Fells' spot. ... Melo took three charges during the game (exulting after each).
TECHNICAL DIFFICULTIES
Olynyk picked up his first pro technical for a brief dust-up with Detroit's Tony Mitchell. That's two techs in two days for the Celtics (assistant coach Jamie Young picking one up in the opener).
NEED FOR 'SHEED
The Detroit Pistons
hired Rasheed Wallace as an assistant coach
and he was on the bench for Monday's game. Wallace spent one season in Boston and was part of the Celtics team that lost to the Lakers in the 2010 NBA Finals.
WHAT'S NEXT?
The Celtics play three more games at summer league: Tuesday vs. Indiana (11 a.m.), Wednesday vs. Houston (3 p.m.) and a championship-round game on Friday to be determined by the standings.
July, 7, 2013
7/07/13
7:25
PM ET
ORLANDO -- The Boston Celtics would like to see
Kelly Olynyk
shoot more. Of course, that's a whole lot easier to say after his sweet-shooting pro debut at the Orlando Summer League on Sunday.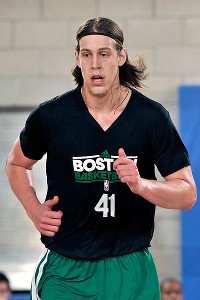 Fernando Medina/NBAE/GettyCeltics rookie Kelly Olynyk at work Sunday at Orlando Summer League.
In his first NBA action since being snagged by Boston with the 13th overall pick in last month's draft, Olynyk scored a game-high 25 points on 9-of-12 shooting, but the Celtics fell to the host Magic 95-88 during their summer opener at the Amway Center.
With the usual all-capitals disclaimer that -- IT'S ONLY SUMMER LEAGUE! -- Olynyk showcased a suitcase full of slick offensive moves and impressive NBA range while accounting for nearly a third of Boston's total field goals. A jumper two minutes in, followed quickly by a 3-pointer, got him off on the right foot. Olynyk had 17 points on 7-of-8 shooting before the intermission.
"Some shots fell early, which makes it easy for a player," Olynyk said. "Some teammates put me in a really good position to succeed, so I've got to thank them."
Olynyk turned in 27 inspired minutes and, while he still has strides to make on defense (he committed six fouls, but benefited from the breezy summer no-foul-out policy), about the only negative coaches could cite was that he was hesitant to shoot at times.
"I think Kelly is very, very skilled," summer league coach Jay Larranaga said. "He can shoot, he can pass, he can dribble. He plays defensively, he talks. Maybe one of his biggest strengths is how well he talks the game and stays connected to his teammates. He's got to not foul so much and he's got to shoot when he's open. He had some shots that he turned down; he's such an unselfish player. We need to keep encouraging him to shoot when he's open."
Head coach Brad Stevens, who observed Sunday's game from the sidelines, echoed those sentiments.
"I thought he made plays off a bounce, he shot it freely, which is really a positive thing," Stevens said. "I don't want him to be reluctant at all shooting the basketball. He can pass for his size. He's good at so many things that would be a tough matchup at a big position."
But it was unofficial assistant coach
Jared Sullinger
, the second-year forward, who implored Olynyk to not hesitate.
"Kelly's a great basketball player, as you can see," Sullinger said. "He has the inside game, outside game. I just feel like he has to be more aggressive. Especially in the summer league right now. Every time he touches, he should look to score and, the open shots, he's got to shoot them. I just think he needs to be more aggressive and be more assertive and let these guys know that he came to play."
Sullinger also offered some friendly advice on how to deal with the physicality at the NBA level. Olynyk got a taste of constant contact early on when he was aggressively backed down from the wing, eating an elbow that bloodied his lip in the process.
"You've definitely got to adapt to that stuff," Olynyk said. "I knew it was going to happen. I expected it. It didn't catch me off guard. You've just got to hold your guard, not back down."
Read on for more notes from the Celtics' summer opener:
July, 7, 2013
7/07/13
1:19
PM ET
Chris Forsberg/ESPN BostonPhil Pressey shoots a free throw during Boston's summer opener in Orlando.
ORLANDO -- Rapid reaction after the Orlando Magic defeated the Boston Celtics 95-88 on Day 1 of the Orlando Summer League on Sunday afternoon at the Amway Center:


THE NITTY GRITTY
Celtics rookie Kelly Olynyk scored a game-high 25 points on 9-of-12 shooting with seven rebounds over 27 minutes, while swingman Tony Mitchell added 16 points help pace the Celtics' offense. Fab Melo scored nine points and grabbed eight rebounds over 28 minutes, overcoming a sluggish start. Boston shot nearly 50 percent from the floor, but turned the ball over 23 times (both Olynyk and backup point guard Phil Pressey with a team-high five turnovers apiece). Hop
HERE
to see the full game box score.
SLOW START, STRONG FINISH FOR MELO
Second-year center Melo, who spent much of last season in the D-League, had an unimpressive first half in which he displayed much of the same limitations that were evident a year ago when Boston drafted him. He was better in the second half, producing a nice reach-back block on Magic rookie Victor Oladipo and finishing around the basket a couple times. He's still incredibly raw.
COACH SULLINGER
Jared Sullinger, in town to do conditioning work as part of his rehab from back surgery, played the role of assistant coach. He offered words of advice and encouragement to fellow young big men Olynyk and Melo, while also joining the coaches in the huddle during timeouts.
STARTERS IN FOCUS
The Celtics opened with a starting lineup featuring Olynyk, Fab Melo, Mitchell, Nolan Smith, and Darius Johnson-Odom. Smith, the Duke product who has spent the past two seasons with the Trail Blazers, had a couple early buckets before suffering a right leg injury. He limped off with trainer Ed Lacerte and did not return. Olynyk was the biggest bright spot on Day 1, scoring 17 first-half points on 7-of-8 shooting over 12:22 (more like Kelly O-Clinic, amiright?) He did battle foul trouble, but his debut would not be cut short as there is no fouling out of summer league play.
NEW SUMMER SHIRTS
The Celtics wore new black V-neck T-shirt jerseys. The short-sleeve look isn't for everyone, but it's a nice summer experiment with teams starting to adopt them as alternates around the league.
TECHNICAL DIFFICULTIES
Celtics assistant coach Jamie Young, showing some serious passion on the bench even in summer league play, picked up a fourth-quarter technical for a dismissive outburst after Olynyk got called for traveling late in the frame.
WHAT'S NEXT?
The Celtics play four more games at summer league: Monday vs. Detroit (3 p.m.), Tuesday vs. Indiana (11 a.m.), Wednesday vs. Houston (3 p.m.) and a championship-round game on Friday will be determined by the standings.
July, 6, 2013
7/06/13
7:00
AM ET
ORLANDO -- Greetings from the Sunshine State, where the weather is improbably more bearable than back home. The
Boston Celtics
are in the midst of three days of practice in advance of Sunday's start of the Orlando Summer League. On Friday, the team officially unveiled its summer roster:
Recent draft picks Kelly Olynyk (13th) and Colton Iverson (53rd) top the watch list in Orlando, along with one of 2012's first-round picks in Fab Melo (a chance to see how much he has progressed since we saw an extremely raw Melo here a year ago). But here are a few more names to keep an eye on:
* Missouri's Phil Pressey has some Boston ties (his father, Paul, coached on Doc Rivers' staff early in his Celtics tenure) and the team was clearly looking at him
potentially sliding through the draft
. With a need for backup ballhandling, Pressey could at least earn himself a training camp invite with solid play in Orlando.
* After going undrafted in 2012, Tony Mitchell made his mark in the D-League this past season, averaging 21.9 points per game for the Fort Wayne Mad Ants while earning the D-League Rookie of the Year honor (he also won the 2013 D-League dunk contest and landed on the D-League's All-Development first team).
* Nolan Smith, the 21st pick in the 2011 draft, appeared in 84 games over the past two seasons in Portland. New Celtics coach Brad Stevens is plenty familiar with the 6-foot-2 shooting guard after he propelled Duke to victory in the 2010 NCAA title game. ... Darius Johnson-Odom appeared in four games for the Lakers last season and averaged 21 points per game in 13 appearances in the D-League.