Boston Celtics:

2013Trade
February, 21, 2013
2/21/13
6:26
PM ET
BEVERLY HILLS, Calif. -- The Celtics approached Thursday's NBA trade deadline with a glaring need for an additional big man. They didn't add one, and actually, they had to deal away their first big off the bench to get necessary guard help.
You can do the math.
"We can't get into foul trouble," Celtics coach Doc Rivers joked while addressing his team's lack of frontcourt depth after sending
Jason Collins
to Washington with injured
Leandro Barbosa
in exchange for third-year guard
Jordan Crawford
.
Boston is dangerously thin up front with
Kevin Garnett
and
Brandon Bass
being backed up by a group that includes
Jeff Green
,
Chris Wilcox
and
Fab Melo
. And Rivers admitted his team's available bigs could further dwindle at times before the end of this road trip.
"Listen, I'm going to sit Kevin in games, and, so, those are the games it'll be an issue for us. We'll be really small," said Rivers. "We may have to add a D-League guy, [because] I would be surprised if Kevin played all three of these games coming up. That puts a lot of pressure on us. But it's what we're going to have to do."
Rivers said the Celtics will sift through those who land in the buyout scrapheap in the coming days and continue to monitor the D-League in search of additional frontcourt depth, but said nothing was imminent.
"You've got the two groups left: The guys are who don't like their teams anymore, or their teams don't like them -- that group is the buyout group, which is getting smaller each year," said Rivers. "And then you have the D-League."
Rivers admitted there's additional pressure now on Wilcox to fill the role of first big off the bench, a spot he's struggled to be consistent in this season.
"Chris has struggled, not in that role, he's just struggled," said Rivers. "We're putting a lot of pressure on Chris. Chris is going to have play well for us."
February, 21, 2013
2/21/13
6:14
PM ET
BEVERLY HILLS, Calif. --
Boston Celtics
coach Doc Rivers doesn't know a lot about
Jordan Crawford
, but there's only one thing he really needed to know.
"I know he can score and that's something we needed," Rivers said of Crawford, the third-year guard the Celtics acquired from the Wizards in exchange for
Leandro Barbosa
and
Jason Collins
at Thursday's trade deadline.
"Losing Barbosa, I kept saying it, that's hurt us," added Rivers. "We don't have that wild card off the bench. And I'm hoping [Crawford] gives us that. I know about the other stuff, too. I'm hoping, obviously, that our staff and we have some veteran players around here, that he can grow."
The 24-year-old Crawford, the 27th pick in the 2010 draft, has averaged 13.4 points, 3.1 assists and 2.7 rebounds over 26.2 minutes per game for his career. This season, he is averaging 13.2 points, 3.7 assists and 3.1 rebounds over 26.2 minutes per contest, starting 12 of Washington's 52 games. Since the return of
John Wall
from injury, Crawford's playing time has decreased and he had fallen out of favor, leading to Thursday's trade.
Rivers is hopeful a veteran locker room and a winning atmosphere can bring the most out of Crawford.
"The good thing and the bad thing is his confidence," said Rivers. "You rarely say that, but it was tough for him there to buy into a role because he looks at himself and says, 'I'm better than them.' I'm hoping that we don't have that issue here. Obviously, if we do, then it'll be a problem."
Rivers is also aware of Crawford's reputation as a less-than-stellar defender, but thinks his speed and athleticism could mask that, particularly in Boston's system with solid defenders around him. At the end of the day, Boston needed Crawford's talents -- even if it came at the expense of losing one of Boston's top locker room voices.
"Let me just say this: We lost a very important guy in our locker room in Jason," said Rivers. "You take away that, and then you add something else, you just never know with your locker room [how it will respond]. That was difficult for me. ...
"I protect my locker room. To let a guy go like that out of your locker room, for me, that was hard to do. Really hard. And honestly, if Barbosa doesn't go down, it wouldn't have happened. But he did go down, and we had to do something."
February, 21, 2013
2/21/13
5:06
PM ET
BEVERLY HILLS, Calif. --
Jason Collins
is no stranger to trades. Heck, his first night as an NBA player he got flipped from Houston to New Jersey after being selected with the 18th overall pick (this after the pick that was used to select him was dealt three times before it even landed with the Rockets).
Twelve seasons, four teams and three additional trades later, the 34-year-old Collins is off to Washington after the Celtics dealt him there as part of a package to bring back
Jordan Crawford
at Thursday's trade deadline.
Collins gushed about his time in Boston on Thursday while departing from the team hotel and prepping for his next NBA adventure with the Wizards. Trades, he noted, are simply an occupational hazard.
"That's part of the NBA. You're not just making a commitment, but you're making a commitment to yourself and then to the team and understand that there's a business side to the sport," said Collins. "It's not the first time I've been traded. Obviously, I understand everything that's involved in it."
Collins averaged 1.2 points and 1.6 rebounds over 10.3 minutes per game in 32 appearances for Boston, including a seven-game stint as a starter. The Celtics moved him Thursday in looking to add guard depth after being thinned by season-ending injuries to
Rajon Rondo
and
Leandro Barbosa
.
"I enjoyed every minute of it," said Collins. "Playing with future Hall of Famers, playing for a future Hall-of-Fame coach, in my opinion, in Doc Rivers -- one of the best coaches in the league. I learned a lot even for someone who's played 12 years in this league. I'm still learning new things every single day. I learned a lot from him. It was an honor to play for one of the greatest organizations in the history of the NBA."
Collins, a native of the Los Angeles area, said there's a small silver lining to being dealt while in these parts.
"I guess it's kind of fortunate that this is my home," said Collins. "So I'll be with friends and family tonight and on the plane back to Boston to pack up my stuff and then on to D.C."
As for any potential buyout with the Wizards, Collins wasn't concerning himself with that possibility.
"That's for agents and stuff like that," he said. "For me, I have a responsibility to honor my contract and move forward from there."
February, 21, 2013
2/21/13
2:30
PM ET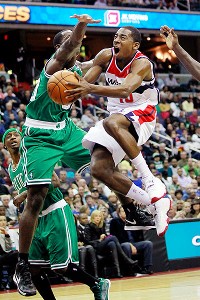 Geoff Burke/US PresswireJordan Crawford attacks the basket against the Celtics.
Rapid reaction after the
Boston Celtics
acquired guard
Jordan Crawford
from the
Washington Wizards
in exchange for
Jason Collins
and
Leandro Barbosa
before Thursday's trade deadline:
*
LOW-COST REPLACEMENT
: The Celtics were clearly not enamored with what they've found while combing the globe for free agents to replenish an injury-depleted roster in recent weeks and instead found a way to add NBA-caliber talent at virtually no cost. Boston trims a small amount of salary in taking on Crawford and his $1.2 million deal, while moving the minimum salaries of Collins and injured Barbosa. Initial iterations of the deal suggested the Celtics might part with rookie
Fab Melo
, but the final package allowed them to keep their project big man. Celtics president of basketball operations
Danny Ainge
previously expressed a desire to bring Barbosa back next season, while Boston is clearly in the hunt for big-man help after moving Collins in this deal.
*
CRAWFORD = NEW WILD CARD
: While Barbosa's minutes were inconsistent at the start of the year, a season-ending injury to
Rajon Rondo
afforded him 20 minutes per night, and he was able to provide an effective scoring punch off the bench. The Celtics will likely ask Crawford to do the same, leaning heavily on him when their often-sluggish offense needs a jolt. Sure, he's a spotty shooter -- career 40 percent overall and a mere 29.9 percent beyond the 3-point arc -- but he's shooting a serviceable 42.2 percent in the mid-range this season and has strong numbers in isolation (he's able to create off the dribble and draw fouls). If he accepts the "relief pitcher" role for a contending team like Boston, he has potential to thrive in a winning situation.

*
CRAWFORD'S FUTURE
: Crawford, the 27th pick in the 2010 NBA draft, has one more season on his rookie deal and is set to earn a manageable $2.2 million next year. That's a friendly number that Boston can either stomach or explore moving in the offseason. Crawford holds a $3.2 million qualifying offer for the 2014-15 season.
*
THE SCOUTING REPORT
: John Hollinger notes: "Crawford is the most superficial of basketball talents, a high-scoring gunner who takes terrible shots and barely tries on defense." Hollinger's scouting report isn't much nicer:
* Shoot-happy guard who takes terrible shots. Capable passer when mood strikes.

* Very quick and has a good handle. Can finish, but poor long-range shooter.

* Abysmal defender. Undersized for 2. Must add strength and dial up effort.
Not exactly a glowing report, but Boston isn't looking for a 30-minutes-per-night starter. This is a role player who fills a glaring need at the guard position. The Celtics can live with his shortcomings amid the hope he will aid the team's quest over the final 28 games of the regular season and into the playoffs.
*
THE BOTTOM LINE
: Once the Celtics determined that they would hold onto their core veterans at the deadline -- likely unmoved by what they could fetch in return -- they went the alternate route and added some depth to aid a playoff push. Again, this move costs them little -- they'll actually save about a $0.5 million -- and Boston remains comfortably on the tax apron (but under the $74.3 million hard cap after using the midlevel exception). Boston would have loved to sink below the $70.3 million tax line, something that trading Melo could have aided, but with the likely need to add another big man down the road (buyout deadline?), the Celtics were likely resigned to being on the apron and further subjecting themselves to repeater penalties that loom in future seasons.
February, 21, 2013
2/21/13
2:21
PM ET
LOS ANGELES -- The
Boston Celtics
acquired third-year guard
Jordan Crawford
from the
Washington Wizards
in exchange for
Jason Collins
and
Leandro Barbosa
on Thursday, according to sources.
Barbosa is out the remainder of the 2012-13 season after tearing his ACL earlier this month. Crawford is expected to fill Barbosa's void on Boston's bench after falling out of favor in Washington. Collins, a veteran center on a minimum deal, was a late addition in order to make the deal work under the terms of the collective bargaining agreement.
The 24-year-old Crawford, the 27th pick in the 2010 draft, has averaged 13.4 points, 3.1 assists and 2.7 rebounds over 26.2 minutes per game for his career. This season he's at 13.2 points, 3.7 assists and 3.1 rebounds over 26.2 minutes per contest, starting 12 of Washington's 43 games. Since the return of
John Wall
, Crawford has seen his playing time decrease.
Barbosa saw increased playing time after
Rajon Rondo
tore his ACL in late January, only to sustain the same season-ending injury less than three weeks later. Barbosa is waiting for an MCL sprain to heal before undergoing surgery to repair the ACL injury.
Celtics president of basketball operations
Danny Ainge
had previously expressed an interest in bringing Barbosa back next season.
Initial reports suggested the Celtics and Wizards were discussing a deal centered on swapping Crawford for rookie
Fab Melo
, but that never materialized. The Celtics view Melo as a long-term project. He's spent much of the season in the D-League, but is traveling with Boston now while providing emergency depth for an injury-depleted roster.
Collins is a bit of a surprise addition, especially given how thin Boston is up front. He had served as the first big off the bench, often spelling
Kevin Garnett
early, but that role will now likely fall to
Chris Wilcox
, while the Celtics will seemingly search the buyout scrapheap for a serviceable big man.
February, 15, 2013
2/15/13
11:30
PM ET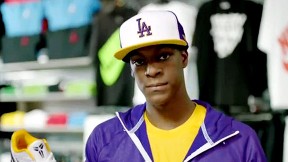 Champ SportsCeltics fans need not worry about seeing Rajon Rondo actually suit up in Laker purple (like in this commercial spot).
Los Angeles Lakers
general manager Mitch Kupchak denied reports that the Lakers and Celtics were in preliminary talks to trade
Dwight Howard
for
Rajon Rondo
.
"I haven't talked to
Danny Ainge
in weeks," Kupchak told ESPN The Magazine's Chris Broussard. "I made the statement a week or two ago that we're not going to trade Dwight Howard and that hasn't changed."
When asked if a possible Dwight-for-Rondo trade was discussed when he spoke to the Celtics weeks ago, Kupchak again said no. He said at no point this season has a Dwight-for-Rondo trade been discussed.
Hop
HERE
to read the full story.