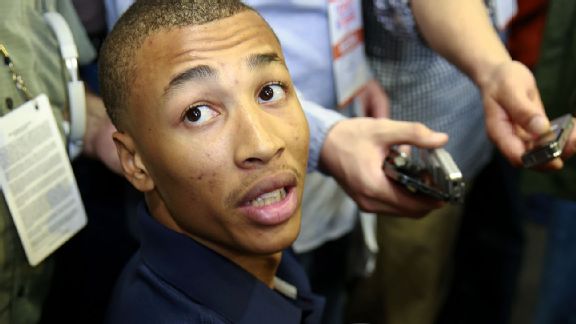 AP Photo/Charles Rex Arbogast
Dante Exum answers questions at the NBA draft combine in Chicago.CHICAGO -- The other draft hopefuls entering the room slowed their pace and started rubbernecking as they navigated the overflow media scrum encircling Australian guard Dante Exum on Thursday morning at the NBA's annual draft combine. Like everyone else in the building, even the players in this draft class yearned to know more about Exum, given the air of mystery around him.
With the three top members of the 2014 draft class skipping this week's event at Quest Multisport on Chicago's west side, Exum was thrust into a bright spotlight during a rare stateside access. A pack of maybe 30 reporters, with a handful of cameras trained on him, greeted the 18-year-old as he emerged for the first of two 45-minute Q&A sessions this week.
With his disarming Australian accent, Exum calmly and confidently answered questions that probed his development, his personality and his NBA desires. Exum sat out most of the on-court portions of the combine, but he engaged in some basic measurements and athletic testing. The way he carried himself in meetings, both with the media and privately with the teams he met with, should only bolster his draft stock.
Let's start with the basics: Exum is a 6-foot-6 guard who won't turn 19 until two weeks after the draft. He has been prepping for his NBA opportunity at the Australian Institute of Sport, but much of his public exposure stateside has been limited to YouTube highlight clips. He did play in the FIBA under-19 world championships in 2013, averaging 18.2 points and 3.8 assists per game, but NBA teams simply haven't been able to scout him very often up close.
Exum stressed this week that he sees himself as a point guard, though he didn't rule out the possibility of playing in a two ball-handler backcourt if he lands on a team with an established point guard. He reluctantly describes himself as part Russell Westbrook, part Manu Ginobili, then cautioned against comparisons.
His future a bit more uncertain a year ago, Exum pondered the idea of attending Indiana University and visited the campus. He also considered Oregon, Michigan, Kentucky and North Carolina, where his father, Cecil, played alongside Michael Jordan before playing pro hoops in Australia. Positioned as a top-5 pick in what many believe is a talented draft, Exum ultimately elected to make the jump directly to the NBA.
Exum might be the only player on the board with potential to make teams in the top 3 spots look outside the trio of Andrew Wiggins, Jabari Parker and Joel Embiid. The question is simply whether those teams will be willing to roll the dice without a longer look at Exum.
Even with All-Star point guard Rajon Rondo on the roster, some Celtics fans have lusted over Exum. His size and length, which will draw plenty of comparisons to NBA Rookie of the Year Michael Carter-Williams, are enticing even if Boston has more glaring positional needs heading into the draft.
The trouble Boston faces is that it has a 0 percent chance at the No. 4 pick this year, which, barring a team plucking him in the top 3 or Exum sliding down because of the unknowns, seems the most likely spot for him to go. The Celtics are hoping to vault to a top spot at Tuesday's draft lottery, but the most probable odds project them to walk away with the No. 5 or 6 selection. If Exum is still on the board at that point, the team faces an interesting decision.
Exum endeared himself to Boston fans a bit on Friday by detailing an attachment to former team captain Paul Pierce.
"I guess when I was young, my dad compared me to [Pierce] and that kinda made me want to watch him," Exum explained. "I love how he's a shooter and always has that mentality to win. You see that right now with him playing for the Brooklyn Nets. He just wanted to beat Miami so bad."
Exum couldn't catch many Celtics games in Australia, but he was familiar with the championship history of the team. He was scheduled to meet with the team for a private interview Friday.
In advance of the draft, Exum is working out near Los Angeles -- like the other top projected picks -- and said he'll wait until after Tuesday's draft lottery to determine who he visits (needless to say, teams in the top spots are most likely to get a visit or an invite to watch him work out).
Exum downplayed the notion that he only desires to play for the Los Angeles Lakers, suggesting the media "twisted" his words a bit after being spotted at a few of the Lakers' games this season. Not only does he share the same agent (Rob Pelinka) with Kobe Bryant, but Bryant dropped in on some of Exum's workouts and has dispensed advice about his future.
Like everybody else, Exum is itching to resume 5-on-5 basketball activities. But he has patiently navigated the draft process, worked on individual areas of his game, and remembered that there will be plenty of time to showcase his game again after the draft. Exum noted that he needs to work on his shooting and finishing at the rim, but suggested his defense is NBA ready.
Those who have studied Exum gush about the physical tools and the potential, but they remain somewhat leery without a lot to go on.
Some thought Exum was too strong in suggesting he's a clear-cut point guard at the NBA level. Asked about his preferred position, Exum noted, "I see myself as a point guard. I've always played the point guard position, that's where I feel comfortable. I think that's what I'm entering myself into the draft as, and that's where I feel like I need to play."
Exum admits the lack of tape on his game is both a curse and a blessing. Some teams have seen college players on the court 40 times this season but are lucky to have 40 minutes of film on Exum. Despite all the attention at the combine, he wasn't overwhelmed by it.
"In Australia, I've always been the main guy there, but coming over to the states, I'm just another fish in the sea," he said. "It is nice to get all the attention, but I'm taking it one shot at a time and just soaking up the moment and enjoying it."
The biggest adjustment as he preps for life in the United States? Navigating the roads.
"Australia and America are similar, really," said Exum. "The biggest thing to me is that we drive on different sides of the road. I haven't tried yet, but when my mom came, she was caught driving on the opposite side of the road. It was a scary situation. But she's adjusting well."
Early indications as the draft approaches suggest the same for Exum.