Boston Celtics:

2014Game1
October, 31, 2013
10/31/13
10:35
AM ET
Leftovers after the Boston Celtics lost to the Toronto Raptors in their season-opener on Wednesday night at the Air Canada Centre:
WALLACE FOCUSES ON DEFENSE
Gerald Wallace played 40 minutes and put up only one shot (a layup midway through the third quarter). There were quality parts of his line (3 rebounds, 2 assists, 4 steals) and while the team probably wants a little bit more offense out of him (3 points), he did an under-the-radar job on defense. According to Synergy Sports data, Wallace defended a team-high 21 possessions and limited the Nets to a measly 0.476 points per play (opponents were 4 of 14 shooting against him). Those are some very encouraging numbers, particularly when you consider the talent the Raptors have on the wings.
COACH RONDO LEADS FROM BENCH
CSN screenshot via @MrTrpleDouble10Rajon Rondo on the bench Wednesday night.
Sporting brown corduroys and a navy blue blazer, Rajon Rondo arrived at the bench for Thursday's season-opener looking like the hippest assistant coach in the league. With a basketball-skinned notebook, Rondo sat on the bench offering his usual advice to his teammates (and coach Brad Stevens). Said Stevens' of Rondo's presence, "I think this will be really good for him. It's kinda like when you redshirt somebody in college and they have to sit out however many games, they get to watch and learn and see it from a different vantage point, so whenever he comes back, he's going to be better for it. It doesn't feel like it now for him or us, but if our team can keep fighting like they did [Wednesday], that's OK. When he gets back, we'll be better." Rondo likewise gushed about his new coach's first game after the loss (hop
HERE
for more on that from the Boston Herald).
NO HOME COOKING FOR OLYNYK
Kelly Olynyk got to play his first NBA regular-season game in his hometown, but first-game nerves might have played a part in a tough night. Olynyk finished with four points on 2-of-5 shooting with no rebounds and three turnovers over 16:18. He was a team-worst minus-19 in plus/minus. As Brad Stevens politely put it: "I thought he looked like he was a first-time player on a road game in the NBA. But he's had great moments so far. I said beforehand he's going to be one of our players that we'll go to all year. He's just going to get better and better." Olynyk's head must have been spinning a bit because after the game he said he wasn't even sure if his parents ever made it. They did and when a reporter asked if he had a chance to talk with them yet he deadpanned, "No, I didn't have time during the timeouts or else I would have."
AGGRESSIVE FAVERANI LAMENTS MISTAKES
In his NBA debut, Brazilian center Vitor Faverani wasn't bashful. The Celtics went to him early and often on the blocks and he had 13 points (on nine shots), three rebounds, and two blocks by the intermission. His production quieted in the second half (0 points, 0 rebounds, 3 fouls in nine second-half minutes) and he was hard on himself about the drop-off. Faverani finished at minus-17 on the night. "Too much mistakes, but I feel comfortable on the floor and coach gave me minutes and confidence in me," said Faverani."But I make the mistakes, so that's bad." Stevens liked the rookie's aggressiveness while drawing the start. "Vitor was very solid early on; he's got so much room to improve and he's already improved," said Stevens. "I think certainly we've got a keeper there, and we just have to keep helping him get better and better and better."
October, 31, 2013
10/31/13
12:15
AM ET
TORONTO -- Maybe he's braced himself for nights like this because Boston Celtics first-year coach Brad Stevens found himself focusing on silver linings as he broke down his team's season-opening loss to the Toronto Raptors on Wednesday night.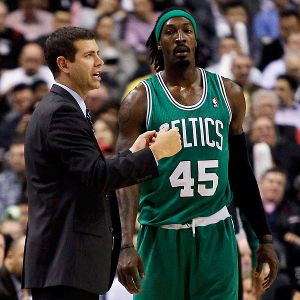 John E. Sokolowski/USA TODAYBrad Stevens coached his first regular-season game on Wednesday night in Toronto.
"I'm not a guy that takes a lot of positives in losses, usually," said Stevens. "But I am able to take away some things tonight that we got better at."
Stevens understands that there will be a lot of nights that will follow the same script as Wednesday's game. His young team played inconsistently over 48 minutes, rallying from a big deficit to make a late charge, but made critical errors that ultimately forced it to endure a 93-87 loss to the Raptors at the Air Canada Centre.
"I walk out of here and, certainly I'm disappointed because you're in a close game and you have a chance [to win], but I walk out of here with some positives to build on," said Stevens. "We're going to get better at handling the ball, we're going to get better rebounding, we're going to get better at keeping our guys in front of us, [but] we fought back and competed."
The Celtics turned the ball over 22 times leading to 20 points; were outrebounded 48-33 overall, with the Raptors utilizing 19 offensive rebounds to generate a whopping 28 second-chance points; and Boston's defense struggled when guards allowed dribble penetration and forced cracks in Boston's help defense that Toronto exploited.
But Boston also rallied from as much of a 16-point deficit to make things interesting in the fourth quarter, saw Jeff Green score a game-high 25 points while being ultra aggressive, and generated enough positive glimpses that Stevens is confident they took a step in the right direction despite the final result.
Stevens himself navigated another hurdle. Try as he might to downplay it, this was his first regular-season game and he was in the spotlight because of it. The 37-year-old Stevens apologized to reporters before the game for not feeling any nervousness before tip-off, and after the game he was focused more on Game 2 on Friday night against the Bucks than Wednesday's loss.
"I found myself in the same mode that I am during any game that I've coached in before," said Stevens. "I'll go back and kick myself for certain things, I'm sure. [But it's] not any time for any of us to sulk right now."
Added Stevens, "I felt pretty good out there the whole night, at least I felt like I knew what was coming and going. At the end of the day, we didn't do everything perfectly, I didn't coach a perfect game, but I think we can all rest assured that we've got a team that will fight, and we've got a team that will compete, and we can just shore up a couple of those mistakes, maybe we can come out on the other end of it."
Read on for a few more postgame notes, including no silver linings for Brandon Bass and Kris Humphries; troubles on the glass; and delay of game penalties strike again.
October, 30, 2013
10/30/13
11:11
PM ET
TORONTO -- On the eve of the
Boston Celtics
' season-opener,
Jeff Green
reclined on some mats inside the team's training facility in Waltham and talked with noticeable calmness in his voice. Despite an underwhelming preseason -- this after ascending to the throne of king of Boston's new-look offense -- Green promised his 2013-14 season would have more ups than downs and further embraced his role as go-to guy.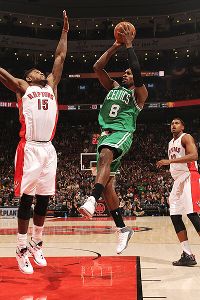 Ron Turenne/NBAE via GettyJeff Green did an excellent job staying aggressive against the Raptors.
But he still had to prove it on the court and Green started the regular season off on the right foot. Showing the aggression he often lacked during the eight-game exhibition slate, Green attacked the basket at every opportunity Wednesday night and the end result was a game-high 25 points to go along with five rebounds, two assists, a steal and a block over 37 minutes in Boston's 93-87 loss to the
Toronto Raptors
at the Air Canada Centre.
Green didn't just finish 8-of-16 shooting from the floor, he got the foul line for nine attempts (making seven) and rarely got caught waiting for the game to come to him. Thrust into the role of shooting guard in Boston's big lineup -- which often left him covering Toronto's talented tandem of
Rudy Gay
and
DeMar DeRozan
-- Green still found the energy to attack offensively, giving Boston much-needed scoring jolts.
The advanced stats are more encouraging than the standard line. Green accounted for a team-high 21 plays finished, generating 1.19 points per possession, according to Synergy Sports data. He generated points off 57.1 percent of his finished possessions, drew shooting fouls on 23.8 percent of his touches, and limited his turnovers (1) on a night the Celtics as a whole were sloppy with the ball. Green was plus-8 overall in plus/minus.
"I was kind of zoned out," said Green. "Going into the game, I just told myself, put your head down and drive. Be aggressive. And, if I play hard, the offense will come, but I wanted to focus on defense. I was guarding DeMar, he's a great player. I just wanted to try to be aggressive and put them on their heels."
October, 30, 2013
10/30/13
9:43
PM ET
TORONTO -- Rapid reaction after the Toronto Raptors defeated the Boston Celtics 93-87 on Wednesday night at the Air Canada Centre:


THE NITTY GRITTY
Playing under the cloak of Game 6 of the World Series back in Boston, the Celtics were expectedly inconsistent in their season-opener, mixing spurts of potential with painful stretches of miscues. Boston was generally fantastic in the odd quarters, but even-quarter struggles sank them. An aggressive Jeff Green scored a team-high 25 points on 8-of-16 shooting over 37 minutes, while Brandon Bass added 17 points on an efficient 6-of-7 shooting over 32 minutes. The Raptors put four starters in double figures, including Rudy Gay with a team-high 19 points.
TURNING POINT
The Raptors were threatening to pull away late, but a Jeff Green floater had Boston within four with four minutes to go. But Boston didn't have any more rally in them. Amir Johnson hit a turnaround jumper, Gay got a steal and hit a turnoaround fadeaway, and DeMar DeRozan added a driving bank shot as Toronto's lead ballooned to 10 with 2:34 to go, essentially sealing the win.
A CRINGE-WORTHY SECOND QUARTER
The Celtics started fast Wednesday and led by five after the first quarter, but couldn't get out of their own way in the second frame. Boston shot just 14.3 percent (2 of 14) in the frame and seven of the Celtics' 11 total points came at the free throw line. Boston also turned the ball over six times (and 11 times in the first half overall) as the Raptors opened a 12-point halftime lead (49-37).
BUT C'S ATONE IN THIRD FRAME
As bad as they were in the second quarter, Boston was equally as excellent in the third frame. Bass scored 10 points to spark the 34-point quarter which culminating with his putback slam to tie the game at 71 heading to the fourth. Boston shot 72.2 percent (13 of 18) and forced Toronto into nine turnover (for 14 points).
HUMPHRIES MAKES MOST OF OPPORTUNITY
With Jared Sullinger serving a one-game suspension and rookie Kelly Olynyk having a rough night (a team-worst minus-18 in plus/minus over 15:47; 2 points, 3 turnovers), veteran big man Kris Humphries seized the opportunity to make a statement. Despite an underwhelming preseason, Humphries finished with eight points and nine rebounds over 21 minutes against one of his former teams.
LOOSE BALLS
Vitor Faverani wasn't bashful in his NBA debut. The roookie center fired away early and often until foul trouble slowed him down a bit. Faverani finished with 13 points, three rebounds, and three blocks over 26:41, but he was a minus-17. ... Keith Bogans and MarShon Brooks earned DNPs. ... Gerald Wallace need 2 ½ quarters before taking his one and only shot -- a layup in transition. He had three points, four steals, three rebounds, and two assists over 39:52.
WHAT IT MEANS
The Celtics were competitive, but couldn't find a way to rallly again late as the Raptors hung on. The Celtics return to Boston and will have a day off Thursday before hosting the Milwaukee Bucks in their home-opener on Friday night at TD Garden.
October, 30, 2013
10/30/13
6:05
PM ET
TORONTO --
Boston Celtics
coach Brad Stevens finally revealed his much-anticipated starting lineup for Wednesday's season opener against the
Toronto Raptors
. He will go with
Avery Bradley
,
Gerald Wallace
,
Jeff Green
,
Brandon Bass
and
Vitor Faverani
.
The Celtics found success with the Wallace-Green combo late in the preseason and, with a desire to add size to the floor, were going to lean on a rookie big. If
Jared Sullinger
, who is serving a team-issued one-game suspension, had been available, Stevens suggested he might have put
Kelly Olynyk
in the starting group but expressed some reservations based on Olynyk's inexperience.
Faverani shined in his only preseason start during Boston's exhibition finale last week, swatting six shots in a blockfest, but Stevens said it wasn't just that game that helped elevate him to an opening-night start.
"It has been a lot less about that start and a lot more about what he's done consistently throughout the course of the preseason, regardless of when his opportunities have been," Stevens said. "He's played pretty well, he's played pretty consistently well.
"I think we need some size and length, whether it be Vitor or Kelly, in our starting lineup. I think that showed itself in a few of those exhibition games -- at the start of those games. Again, [Faverani has] been a pro for a long time, he's experienced some great environments -- better soon than never."
For his part, Faverani marveled at being a starter in his NBA debut.
"I never imagined it. Never," he said. "In training camp, before when I was playing in Spain. I can't believe it now."
The Celtics struggled with Toronto's size in two preseason meetings, particularly against second-year center
Jonas Valanciunas
, and Stevens hopes Faverani can strengthen the back line. He'll also help against dribble penetration from Toronto's talented backcourt.
"I think you saw in our last game, [Faverani] was one of our better defenders, period," Stevens said. "He has ability to protect the rim some, which if you remember the first time we played Toronto was an issue, and we were a little bit better last time, but not much at the start of the game. Hopefully a guy like that can make up for a few of your mistakes on the perimeter. And then, I think we have to be better going inside throughout the course of the year and he can score on the blocks as well."
A couple of other pregame quick hits:
*
NEVER NERVOUS STEVENS
: Poor Stevens has been peppered with questions throughout the preseason about his emotions leading up to his first NBA game. Much like his demeanor on the sideline, he insists he's calm and apologizes for being impassive. "I'm sorry. It's probably not as interesting as you want it to be," Stevens said. "I'm just ready to go. Eight exhibition games is a lot of dress rehearsals, especially over the course of 23 days. I'm anxious to see how we play. My biggest thing at this time of year, no matter who you're coaching, is you want your team to play hard and play to its best. Then you can make tweaks and adjustments after that. I'm more anxious to see how we play than necessarily about being out there."
*
OLYNYK THE C'S MINUTE LEADER?
: A Toronto native, Olynyk has been a popular topic up here. Asked about what Olynyk can bring to this year's squad, Stevens noted, "Well, unless there's unusual circumstances, he's going to play a lot of minutes and he may lead us in minutes. He's a guy that can do a number of different things. ... Kelly's certainly done a good job and will get ample opportunity."
October, 30, 2013
10/30/13
2:00
PM ET
The
Boston Celtics
open the 2013-14 season when they visit the
Toronto Raptors
at the Air Canada Centre on Wednesday night (7 p.m., CSN). Here's what to watch for:


THE STEVENS ERA BEGINS
: One of the hallmarks of a Brad Stevens-coached team is preparedness. After a preseason in which the Celtics focused on their own growth, it will be interesting to see how ready Boston is for Toronto (a team it saw twice in the preseason). This is Stevens' first chance to show how his tireless preparation for an opponent can aid his young squad. If there's one certainty tonight, it's that Stevens is ready for this game and the start of his NBA odyssey.
REAL GAMES!
The Celtics endured a 2-6 preseason and most pundits expect them to struggle this season. But it's incredibly difficult to gauge much from the preseason. Stevens still has the daunting task of figuring out minutes for his rotation (with virtually no separation occurring this preseason), but key players will be on the floor longer and the Celtics will get a better idea of where they stand entering this transition phase. Who will step up? Who wilts on the big stage? Players will be under more of a microscope in the regular season.
GREEN MEANS GO
:
Jeff Green
, who accepted the target that comes with being the new focal point of the Boston offense, produced an underwhelming preseason. After Boston's final practice of the preseason on Tuesday, he admitted he needs to up his production (and offensive aggression) but promised more consistency in the regular season. Said Green: "Of course I'll have my ups and downs, but I'll have more ups than downs. I can guarantee you that." He must prove it on the floor.
ENJOY THE PROCESS
: Let's face it, the Celtics are low on the Boston sports totem pole at the moment. The Red Sox are one win away from clinching the World Series; the Patriots are 6-2 at the midway point of the NFL season; the Bruins are off to a fast start; even the Revolution are headed to the postseason. As the Celtics take the difficult first steps in their rebuilding process, things might not always be pretty. But we'll say it again: Enjoy the process. It's fun to watch teams compete for titles (something we've been spoiled by in Boston over the past decade), but watching a young team grow can be just as rewarding. It's going to take time, but the Celtics are confident they will climb that mountain again, with Stevens now at the helm, and hoops fans should savor the progress and try not to judge based solely on the win-loss record.