Boston Celtics:

2014Game10
November, 16, 2013
11/16/13
6:00
AM ET
Headlines after the Portland Trail Blazers beat the Boston Celtics on Friday night at TD Garden:
November, 16, 2013
11/16/13
3:15
AM ET
BOSTON -- The
Boston Celtics
can thank their bench for keeping the team close in Friday's loss to the
Portland Trail Blazers
. While Boston's first unit labored (the starters were a combined 14-of-42 shooting -- including 0-for-7 beyond the 3-point arc -- for a total of 39 points), the primary five-man reserve group headlined by
Jared Sullinger
combined to put up 57 points on 23-of-39 shooting (finishing 7-of-11 shooting beyond the arc).
Courtney Lee
chipped in nine points for that second unit along with two assists, two blocks and a rebound over 17:20. Lee isn't playing big minutes this season, but he's making the most of his floor time. He remains one of Boston's most efficient offensive players, averaging 1.104 points per play, according to Synergy Sports data, and that ranks him in the 92nd percentile among all league players.
"I feel I'm just getting to the right spots and my teammates are finding me," said Lee. "The shots I'm getting, the ball is falling for the majority of them. For the most part, I think [I'm more consistent]. That's one thing, the more individually that everybody on the team is consistent with what they do, the more our team will be."
A handful of leftovers after Friday's loss to the Blazers:
ICE ICE BABY: After scoring a career-high 26 points while logging a season-high 36 minutes, Sullinger was asked if he was concerned his bruised right knee might swell on the team's flight to Minnesota. Quipped Sullinger, "That's why God created ice. Ice ice baby, according to that [Vanilla Ice] song. That's what I'm going to do right now." Sullinger was 11-for-18 shooting on the night and led the team in rebounding. Ice would be the only thing that could cool him off.


OLD C'S REUNION IN LA: The Staples Center -- of all places -- will play host to a bit of a Celtics reunion Saturday night as Paul Pierce and Kevin Garnett of the Brooklyn Nets visit Doc Rivers and the Los Angeles Clippers. Boston players have steadfastly maintained that they've moved on from the Big Three era and, apprised of the looming matchup on Friday, Jeff Green dismissed it all when asked who he thought would prevail. Said Green: "I could care less."


WHISTLE WHILE YOU WORK: Celtics rookie Kelly Olynyk committed four personal fouls in 16 minutes of floor time during Friday's game. It just wasn't his night as he turned the ball over two minutes in, then picked up two fouls 25 seconds apart soon after. He returned in the second quarter and got whistled for his third foul two minutes after checking in, forcing him back to the bench. It took 29 seconds into the third quarter for Olynyk to earn his fourth foul, but coach Brad Stevens stuck with him. Joked Sullinger, "Unfortunately, Kelly got the Sully treatment tonight." Sullinger was no stranger to whistles during his rookie campaign.


ENJOY THE RIDE: It's been a streaky season for the Celtics, who lost four straight out of the gates, won four straight, and now have lost two in a row. Asked if it's been hard to endure the roller coaster, Stevens said, "It's more topsy-turvy for everybody else than it is for me. I hate losing, I don't stomach it well, I don't deal with it well. But I'll be back at work tonight." Asked how he braces his players for the team struggles, Stevens noted, "They've got to handle that. And we'll talk about it. But it's a long season. It's a long season for everybody. Everybody is going to have ups and downs, and round and around. You're going to just manage it and be as good as you can [Saturday]. It's just like we talked before, there's no time to sulk. This stretch we're about to go on is as tough as it gets."

November, 16, 2013
11/16/13
1:19
AM ET
BOSTON -- One of the messages that
Boston Celtics
coach Brad Stevens has preached often to his team is the idea that it cannot take a single play off. These young Celtics are simply not talented enough to get by with anything less than maximum effort on every possession.
Asking for that over the course of 48 minutes per game, over 82 games per season, is mighty demanding. But these Celtics have no other choice.
[+] Enlarge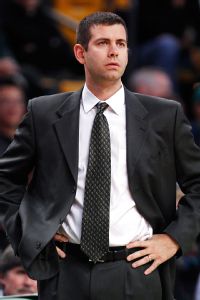 AP Photo/Charles KrupaThe Blazers "are going to make you pay if you relax at all," Brad Stevens said, "and they did."
That's why a sequence midway through the third quarter of Friday's 109-96 loss to the
Portland Trail Blazers
seemed to draw Stevens' ire. The Celtics were down five when
Avery Bradley
shuffled over to help on
LaMarcus Aldridge
, who had caught the ball alone on the left elbow. Aldridge swung the ball to Bradley's man,
Damian Lillard
, on the right wing, forcing
Jeff Green
to rush out to defend the 3-point line.
Lillard instead drove, but for whatever reason, Bradley just sort of froze near the foul line and watched him attack the basket, forcing Boston's defense to suck in. Lillard alertly kicked it to the corner to a wide-open
Wesley Matthews
, who missed the 3-pointer.
Disaster averted? Not quite. The Celtics failed to put bodies on Blazers during the shot attempt -- including Bradley, who was still wandering near the right elbow. The ball got deflected to Lillard on the left wing and he quickly canned a 3-pointer for an eight-point lead.
Stevens looked at Bradley, confused by his lack of recovery (in fairness to Bradley, he looked as if he might have had a shoe issue). But the inability to finish the possession led to the Trail Blazers' seventh 3-pointer of the night and put Boston in a hole it simply couldn't rally out of. Bradley spent the next 12-plus minutes on the bench before re-entering in the fourth quarter.
Stevens didn't single any individual players out after the game -- that's not his style, nor was Bradley the only transgressor on this night at TD Garden -- but the first-year coach reaffirmed that this team simply cannot relent at either end of the floor.
"We can't take plays off," said Stevens. "That can't be part of our M.O. It's not going to work out in the end for us, on either end of the floor. I'm not saying that we did without rewatching [the game film]. I've got to go watch it again, but those guys are going to make you pay if you relax at all. And they did. They really did."
Three-point defense was a major point of emphasis for the Celtics entering Friday's game, and while they held Portland to a respectable percentage (34.6) beyond the arc, it was often the timing and nature of how those 3-pointers were generated that stung.
[+] Enlarge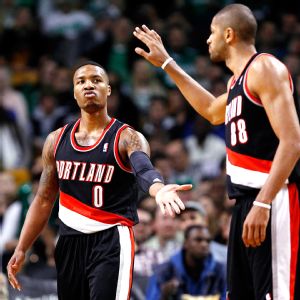 Mark L. Baer/USA TODAY SportsDamian Lillard and Nicolas Batum made some big 3-pointers to bury the Celtics.
For instance, the Blazers were up three with two minutes to go in the second quarter when Matthews caught the ball blanketed by Bradley in a late-clock situation. Matthews created some space with a dribble, then quickly stepped back behind the line for a tough 3-pointer and a 54-48 lead. You have to live with those.
But with the lead back down to three and under a minute to play in the first half, Lillard got dribble penetration after blowing past
Jordan Crawford
and, with four white shirts near the paint, he dished to an open
Nicolas Batum
on the right wing. Green couldn't scramble out quickly enough and Batum hit the team's third 3-pointer in 83 seconds.
"We really had some good moments defensively, and then we let our guard down at the end of the first half," said Stevens. "They got those three 3s -- one of which was a very good shot by Matthews, very well defended by Avery. And then the other two, we just relaxed on Batum and now you've got Batum going. And that's not a good thing. I don't know what he ended up with, but it sure felt like more than 18 because he hit some big ones that really separated the game and then, when we were scoring at the start of the second half and they were scoring every time too, we were just trading baskets. And in a comeback, you can't do that."
Echoed veteran
Gerald Wallace
: "[The Blazers] made some shots that were tough shots, contested shots. We lost a couple guys, guys that we know are great shooters, we lost them, let them get open looks, and let them get their rhythm going. And as good as they shoot the ball, you can't allow that against a team like this."
Crawford noted that Boston players got caught hanging their heads a bit after the Blazers made some big shots. Boston can't put itself in position to have its spirit broken by giving up uncontested perimeter looks.
Maybe Stevens hexed his squad before the game when he noted, "We've been good all year at defending the 3-point line and, knock on wood, because if we're not tonight, it won't be close."
The Celtics defended the line pretty well, but not well enough. Those lapses in focus, the few plays Boston took off, were too much to overcome against a quality opponent.
It's another lesson in just how locked in this team needs to be to compete on a daily basis.
November, 15, 2013
11/15/13
11:55
PM ET
BOSTON --
Jared Sullinger
did his best to strap the rest of his
Boston Celtics
teammates to his surgically repaired back Friday night, but even one of his best performances as a professional wasn't enough to cool down the visiting
Portland Trail Blazers
.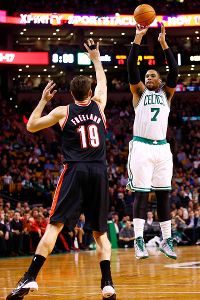 Jared Wickerham/Getty ImagesJared Sullinger keyed the Boston offense on Friday night against the visiting Trail Blazers.
Sullinger scored a career-high 26 points on 11-of-18 shooting, with a team-high 8 rebounds over 36 minutes (the longest non-overtime appearance of his short career) in the 109-96 defeat at TD Garden. The second-year forward showcased his offensive arsenal, making 5 of 9 shots at the rim, then stepping outside for a pair of 3-pointers.
On a night in which the Celtics had few answers for slowing down one of the league's most talented offenses, Sullinger put forth the kind of effort that makes you wonder what his ceiling is. Sure, he missed a couple of makeable shots and he turned the ball over four times, but, playing through lingering soreness in a bruised right knee, Sullinger proved again that he's been Boston's most consistent player this season.
So
we'll say it again
: Sullinger might be the most entrenched building block on this team as it determines whom it will build around during this transition phase. The combination of a rookie contract and a rising ceiling makes Sullinger the ideal sort of player to construct around.
Sullinger, whose rookie season ended when he underwent back surgery in February, admitted it felt good to have the sort of game he did on Friday (particularly coming back after missing a game due to knee soreness). He topped his career high by 10 points and carried this Celtics squad for prolonged stretches.
But as Sullinger sighed, "It feels great; at the same time, we lost."
November, 15, 2013
11/15/13
9:53
PM ET
BOSTON -- Rapid reaction after the
Portland Trail Blazers
defeated the
Boston Celtics
109-96 on Friday night at TD Garden:


THE NITTY GRITTY
The Portland offense was as good as advertised, as
LaMarcus Aldridge
led five Blazers in double figures with 27 points on 11-of-18 shooting to go along with a game-high 12 rebounds.
Nicolas Batum
and
Mo Williams
added 18 points apiece, while
Damian Lillard
had 17 points and four assists. The Blazers shot 48.8 percent from the field and made nine 3-pointers (even if Boston kept them to a manageable 34.6 percent beyond the arc). For Boston,
Jared Sullinger
returned after missing Wednesday's game with a bone bruise on his right knee and scored a career-high 26 points (his previous high was 16) while grabbing eight rebounds over 36 minutes.
Jeff Green
added 14 points but was a minus-15 overall as Boston's first unit had a rather atrocious outing.
TURNING POINT
In a one-possession game with under five minutes to go in the third quarter, the Trail Blazers closed out the quarter on a 17-8 run. Aldridge and Batum combined to score 21 points on 8-of-13 shooting in the frame, keying Portland's offense as it pushed its lead to double digits and led 90-78 heading to the fourth quarter. Both teams were 12-of-23 shooting in the third, but Portland hit a trio of 3s and got to the free throw line often while putting up 33 points. Sullinger tried to single-handedly will the Celtics back into the game in the final frame but couldn't do it on his own.
GOOD PRESSEY, BAD PRESSEY
Phil Pressey
showed us both ends of his spectrum, giving Boston's second unit a jolt to start the second quarter before fading. Boston went from down two when Pressey checked in to up eight in a little more than three minutes (with Pressey handing out a couple of assists and hitting a 3-pointer in that span). But the Blazers rallied back and Pressey had two cringe-worthy turnovers, helping Portland pull ahead before he was removed from the game. He finished with six points on 2-of-4 shooting with three assists, two rebounds and those two turnovers over 11:53.
LOOSE BALLS
MarShon Brooks
ended a six-game DNP streak by making only his second appearance of the season. He played the final three minutes with Portland ahead by double digits and did not score (missing the only shot he took). ... His former Nets teammates
Keith Bogans
and
Kris Humphries
were healthy DNPs.
WHAT IT MEANS
The Celtics have now lost two in a row to fall to 4-6 with the degree of difficulty in their schedule only set to ramp up on the road. The Celtics play the second night of a back-to-back on Saturday evening in Minnesota. That's the start of a three-game road trip that closes with a Texas back-to-back in Houston and San Antonio next week.
November, 15, 2013
11/15/13
10:30
AM ET
The Boston Celtics (4-5, 2-2 home) host the Portland Trail Blazers (6-2, 2-1 away) on Friday night at TD Garden (7:30 p.m., CSN). Here's what to watch for:


COACH'S TAKE: LOTS OF FIREPOWER: The Portland Trail Blazers own the third highest offensive rating (107) in the league and are averaging 102.4 points per game. Said Celtics coach Brad Stevens: "They are very impressive on film. Obviously, very very very skilled, can really shoot the basketball, really up and down their lineup. They shoot it extremely well off the bench. The guys in the starting lineup are explosive shooting and cutting. [LaMarcus] Aldridge is a matchup nightmare at the 4, for almost every team in the league. And [Robin] Lopez is really playing great for them right now at the 5. They are a good basketball team. I haven't watched a ton of the teams in the West, but I think they are in the upper tier of the teams we've played from that side of the ball."


SKILLED BACKCOURT: Stevens might have singled out the frontline, but much of Portland's success this season can be traced to a skilled backcourt of Damian Lillard and Wesley Matthews. Lillard's averaging 19.9 points, 5.8 assists, and 5.1 rebounds per game, while Matthews is one of the most efficient offensive players in the league. According to Synergy Sports data, Matthews is averaging a whopping 1.297 points per play. Aided by shooting 51.7 percent beyond the 3-point arc this season, Matthews sits in the 98th percentile among all offensive players.


FOR CELTICS, IT'S ABOUT EFFORT: The Celtics didn't come with the right intensity on Wednesday night against Charlotte and paid the price. The Bobcats started fast and built a big enough lead to keep Boston at arm's length the rest of the game while snapping the Celtics' four-game winning streak. Boston has been prone to lulls this season, but will need a 48-minute effort against a team as talented as Portland.


WHAT ELSE?: Jared Sullinger (knee) is expected back in the lineup for Boston. He's been maybe Boston's most consistent performer this season. ... The Celtics are playing the first night of a back-to-back that closes Saturday in Minnesota. Tonight's game closes a three-game homestand, while Saturday's visit to Timberwolves opens a three-game road trip.

(
Read full game preview
)