Boston Celtics:

2014Game11
November, 16, 2013
11/16/13
11:15
PM ET
Earlier this week,
Avery Bradley
expressed disappointment in himself for failing to give his all on the court. For whatever reason, the fourth-year guard just wasn't himself in a pair of recent games, prone to untimely missteps that hurt his team as the
Boston Celtics
embarked on what's now a three-game losing streak.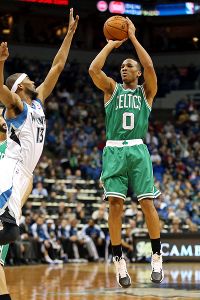 Jesse Johnson/USA TODAY SportsAvery Bradley pulls up for a jumper against the Timberwolves.
On a night thin on positives, Bradley was maybe Boston's only real silver lining in a 106-88 loss to the
Minnesota Timberwolves
on Saturday at the Target Center. Bradley scored a team-high 27 points on 12-of-23 shooting. The offensive outburst was one point shy of his career high (28 versus Atlanta on April 20, 2012) and matched his career high for field goals in a game.
Bradley thrived in the midrange, making 9-of-13 attempts in that zone. Last week we spotlighted
how much better Bradley has been playing off the ball
, but carrying the offense on a night when Boston's other go-to presences disappeared (
Jeff Green
and
Jared Sullinger
were a combined 1-of-12 shooting for 5 points) was a nice reminder of Bradley's offensive potential from that shooting-guard spot.
Bradley is playing with immense confidence in his midrange shot, connecting on a sterling 47.7 percent (31-of-65) of attempts this season. Early in Saturday's game, he fearlessly fired away while coming off screens at the top of the key. And he was able to create shots off the dribble on the wing, stepping back at times to create space for his jumper.
One area Bradley is still looking to re-establish is his 3-point game. Back in that breakout 2011-12 campaign, he shot 40.7 percent beyond the arc and was lethal from the corner. At the moment, Bradley is a mere 5-of-24 (20.8 percent) on 3-pointers (and just 23.5 percent from that corner spot).
Bradley is slowly digging himself out of the offensive hole he fell into while playing out of position at point guard to start the season. Boston's offense still lags with him on the floor. Through 11 games, Boston owns an offensive rating (points per 100 possessions) of only 94.4 in Bradley's 328 minutes of floor time. That's three points less than the team's season average (97.3) and that number jumps to 101.9 when Bradley is on the bench. What's more, Boston's defensive rating isn't as glossy as you might expect, hovering at 100.2 with Bradley on the floor (it is a point better than the team's average and it does rise about three points with him off the floor).
As this week proved, there's still plenty of room for improvement -- and more consistency -- from Bradley at both ends of the floor. But you know defense is typically going to be there from the All-Defensive second-teamer, and games like Saturday show again that he does have potential to be an offensive threat.
A few more thoughts after Boston's loss Saturday to the Wolves:
GREEN AROUND THE GILLS: Green told reporters in Minnesota that both he and the team played like excreta. It's good that he acknowledges a lackluster effort (though it'd be hard to sugarcoat a night when he was 0-for-6 with 2 points over 30 minutes). This was the first time in Green's career that he had been held without a field goal in 30 minutes of play (though there have been five other instances of him not making a basket while playing 20-plus minutes, including twice in Boston). With Bradley firing away, Green slid to second on the team in offensive possessions finished, according to Synergy Sports data. Bradley now tops the team at 173 possessions finished (Green is at 170). Considering Green is supposed to be the focal point of the offense, it's a bit surprising to not find him at the top of the list. Regardless of whether his teammates are getting him involved, Green has to be more aggressive and create opportunities for himself.


ROUGH NIGHT FOR SULLINGER: After playing 36 minutes Friday -- the most floor time of his career that wasn't an overtime game -- Sullinger really struggled Saturday. Maybe the bone bruise on his knee bugged him, maybe his wind was gone after Friday's effort. But Sullinger was minus-27 over a mere 13:42, finishing with 3 points while missing 5 of the 6 shots he took. Essentially he followed one of the finest outings of his career with one of his worst.


TURNING THE PAGE: The Celtics turned the ball over 22 times for 28 points. Woof. Many of their giveaways were cringe-worthy, just lazy passes that never had a chance. This was the first game of the regular season in which Boston didn't have a honest-to-goodness chance in the fourth quarter to rally -- and those turnovers were a big reason why. Boston's starting unit combined for 16 giveaways (four apiece for Green and Brandon Bass).

November, 16, 2013
11/16/13
10:35
PM ET
Rapid reaction after the
Minnesota Timberwolves
defeated the
Boston Celtics
106-88 on Saturday night at the Target Center in Minneapolis:


THE NITTY GRITTY
Kevin Love
paced three Timberwolves with 20-plus points, posting a team-high 23 points to go along with 12 rebounds while spearheading Minnesota's high-octane offense. Both
Nikola Pekovic
(20 points, 12 rebounds) and
Kevin Martin
(20 points) joined him in that club. The Celtics hung around for a half, then ran out of steam and watched Minnesota run away (even though both teams were playing a back-to-back).
Avery Bradley
scored a team-high 27 points on 12-of-23 shooting (one point shy of his career high) for Boston.
Vitor Faverani
, back in the starting lineup, added nine points and 14 rebounds.
TURNING POINT
Despite trailing by 17 midway through the second quarter, Boston closed out the first half strong (largely on the play of Faverani) and went into the intermission down five. The Celtics got a point closer early in the second half, but it was fleeting. Minnesota promptly embarked on an 11-0 run and Martin's layup had the hosts out front 70-55 with 7:01 to play in the third quarter. The lead never came back down to single digits.
WHERE'S GREEN?
Jeff Green
didn't have a single field goal, finishing 0-for-6 shooting with a mere two points over 30 minutes. He was a minus-6 in this game. He did grab seven rebounds and block two shots, but he also turned the ball over four times and was an absolute nonfactor in the game. Credit
Corey Brewer
with solid defense, but Green did nothing to get himself going late in the game.
LOOSE BALLS
With
Courtney Lee
sideline by a sore wrist,
MarShon Brooks
got his first extended action of the season and turned in eight points on 3-of-7 shooting with three rebounds and an assist over 17:36. ... One night after scoring a career-high 26 points,
Jared Sullinger
came crashing back to Earth. The second-year forward finished with three points on 1-of-6 shooting over 13:42. He really struggled to defend around the basket and was minus-27 on the night. Sullinger had played a season-high 36 minutes on Friday night after missing the previous game due to a bone bruise on his right knee. ...
Kris Humphries
got another brief opportunity, scoring four points and grabbing three rebounds over 11 minutes. ...
Keith Bogans
was not with the team due to illness. ... Boston shot just 39.5 percent from the floor and 27.8 percent beyond the 3-point stripe.
WHAT IT MEANS
The Celtics (4-7) have now dropped three straight, continuing the streaky nature of the 2013-14 season (lost four, won four, lost three). Boston gets a rare two-day break as this road trip shifts to Texas, where the three-game trek closes with games against the Rockets (Tuesday) and Spurs (Wednesday). This trip doesn't get any easier from here and the Celtics must regroup with the rare minor break in this brutal November schedule.
November, 16, 2013
11/16/13
10:30
AM ET
The
Boston Celtics
(4-6, 2-3 road) visit the
Minnesota Timberwolves
(6-4, 4-1 home) on Saturday evening at the Target Center in Minneapolis (8 p.m., CSN). Here's what to watch for:


REMEMBER THESE GUYS? The Celtics have film of Minnesota from the preseason, so that'll aid the quick turnaround. That said, it's not film the Celtics are going to want to study. You'll recall that preseason meeting as the game that Gerald Wallace questioned the effort level of the team after a lopsided 104-89 loss. The Celtics most certainly have to bring better effort this time around. The Timberwolves rank in the top 10 in both offensive rating (8th) and defensive rating (8th), and climb in net rating (5th). As STATS LLC notes on Minnesota, the Timberwolves rank near the top of the NBA at 108.7 points per game, and have averaged 114.6 while hitting 40.7 percent from 3-point range over their last five. Sounds a lot like the Portland team that Boston had few answers for on Friday night in Boston.


GET READY TO RUN: The Timberwolves are first in the NBA in averaging a whopping 102.3 possessions per 48 minutes. Boston's in the lower half of the league at 96.18 (though a cranked tempo has helped the Celtics when they take care of the ball and rebound). Boston's not going to win a track meet with Minnesota, but it can't be shy about running off defensive stops.


MORE FROM FIRST UNIT: Boston's starting five of Avery Bradley, Jordan Crawford, Jeff Green, Brandon Bass and Kelly Olynyk weren't particularly crisp on Friday. That unit combined on 14-of-42 shooting -- including 0-for-7 beyond the 3-point arc -- for a total of 39 points. In eight minutes of floor time together, the group was only minus-1, which suggests they atoned a bit on the defensive end, but Boston needs more offensive production from the first unit.


48-MINUTE EFFORT: It has all resolved back to this lately. The Celtics need to put together a complete game if they're going to compete with top competition. With a rare two-day break looming after Saturday's game, there's no reason for Boston not to go full tilt (even on the tail end of a back-to-back). Starters didn't play very many minutes Friday and need to set the tone early while avoiding the breakdowns that occurred when Boston relaxed against the Blazers.

(
Read full game preview
)
PODCASTS
Paul Solotaroff, NFL
Play Podcast Men's Journal's Paul Solotaroff weighs in on the characterization of Richard Sherman, the relationship between Sherman and Patrick Peterson and expectations for Darrelle Revis.
Baseball Tonight - Dominant Pitching
Play Podcast Adnan Virk talks to Tim Kurkjian about dominant pitching performances and the search for the next commissioner. Plus, Arash Madani on if the Blue Jays can make the playoffs.
Greg Cosell, NFL
Play Podcast NFL Films' Greg Cosell weighs in on whether the Browns should start Brian Hoyer or Johnny Manziel, the Jets' QB situation, Ryan Mallett's abilities and Robert Griffin III's development.